There was a list that has floated around for years titled "You know you're Chinese when..." and proceeded to list 100 items that were frighteningly true. One of the points was "You have Tupperware in your fridge with three bites of rice or one leftover chicken wing". I am also loathe to throw out food and indeed you may not find a single leftover chicken wing (I would have just eaten it) but I always seem to have leftover icing. I always seem to make too much of it, especially for cupcakes and cakes and whilst this is slightly deliberate in that I loathe running out of icing (so inconvenient mid piping) it means that there's always a surplus and eating it  straight from the container by the spoonful is not recommended if you want to fit into your clothes.
Dear Reader, you know I don't often insist that you make a recipe but if you happen to love carrot cake I'm going to have to insist that you make this ice cream. It is quite simply, heaven in an ice cream form. When Mr NQN came home from work I was so excited I was jumping up and down asking him to try it. He's not a huge carrot cake eater but he adored it.
This method could of course be easily applied to most cakes so watch out for my Red Velvet Cake and Apple Pie ice creams. It is of course quite rich as it has swirls of cream cheese icing and crumbled carrot cake throughout the richly speckled ice cream but as they say it's quality, not quantity. At first people that tried it thought that it was a strange concept, and I suppose it is for the uninitiated. But similarly with my Lamingtonmisu which may have caused a double take, there was a respectful silence once it was sampled.
I brought some carrot cake ice cream to Liss's Australia Day Barbecue. I'm absolutely in love with her three girls Eloise, Laura and Olivia and after meeting them promptly offered myself up for baby sitting duties which is not something I do often. I was so delighted to see that some things never change and that this could have almost have been an Australia Day from when I was a child.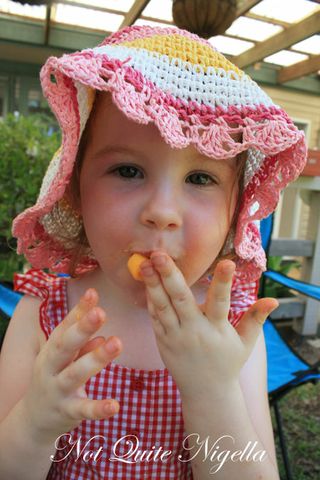 A rite of passage for many Australian children: stuffing your sweet cheeks full of cheezels!
There were cheezels, cordial, pavlova, barbecued prawns, sausages, lamington (tiramisu), vanilla slices and of course what better Australia Day activity than the Slip and Slide! There were also salads galore, Vietnamese rice paper roll wraps, lamb kebabs, European cheeses, Asian style chicken and ribs, olives, Turkish bread and dips and salsa which of course reflects Australia's multicultural heritage.
Wheeeeeeee!
Sadly for Mr NQN there was a weight limit to the Slip and Slide so he wasn't able to play on it (and breaking a kid's Slip and Slide is the best way to become the least popular kid in town) but the kids had a ball.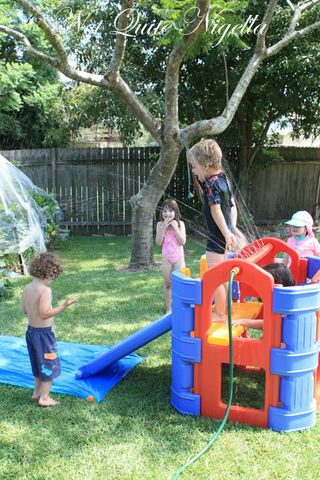 So tell me Dear Reader, what's your favourite way to cool down on a hot day? ice cream? Slip and Slide? Or shopping in an air conditioned shopping centre?
Carrot Cake Ice Cream
An Original Recipe by Not Quite Nigella
600ml cream

3 cups carrot cake, crumbled (recipe below) or you can use a store bought one

1 cup cream cheese frosting (recipe below)
For Carrot Cake
1 cup plain flour

2 teaspoons baking powder

1/2 teaspoon bicarbonate of soda

2 teaspoons cinnamon

2 teaspoons nutmeg

1 cup caster sugar

1 cup grated carrot

1/2 cup chopped walnuts, toasted and cooled

1/2 cup crushed pineapple, well drained

160ml oil

3 eggs
For cream cheese icing
15g butter softened

40g cream cheese

3/4 cups  icing sugar sifted

1 teaspoon of lemon juice
Step 1 - Line a non stick loaf tin with baking paper. Preheat oven to 175C. In a large bowl mix the flour, baking powder, cinnamon, nutmeg, sugar until combined. In a jug beat eggs and oil until emulsified and then stir in carrot, pineapple and walnuts. Add wet to dry ingredients and stir to combine. Scoop batter into lined loaf tin and bake for 45 minutes until a skewer inserted comes out clean. Cool and crumble.
Step 2 - To make cream cheese icing, beat the butter and cream cheese until smooth and then beat with icing sugar and lemon juice.
Step 3 - In the bowl of an electric mixer using the whisk attchment, whisk the cream until soft and voluminous but not stiff. Fold 2 1/2 cups of the crumbled carrot cake into the cream reserving half a cup of it for sprinkling on top. Fold 3/4 cup of cream cheese icing into it reserving 1/4 cup of the icing to drizzle on top. Churn in an ice cream maker for 20 minutes. Resist the strong urge to eat it there and then. Sprinkle remaining cake crumbs on top and drizzle some cream cheese icing on top and then freeze until set.