"OK - grabbed a table next to the row of hanging ducks..." Geoff SMSes me when I am busy trying to cross the city to meet him. And why this particular location in front of a row of hanging ducks? Why a merry group of seven are on the pursuit to find the best Peking Duck in Sydney just in time for Chinese New Year! Accompanying me this afternoon and evening I have David (the chef from Perama), his wife Belinda, Anna & Phillip, Geoff & Rachel and Mr NQN!
We're starting at the afternoon hour of 3:30pm and our aim is to try as many Peking Duck restaurants as possible given stomach space and time. Although it's not a scientifically controlled study, it's about as accurate as we could get given time and various factors etc.
The brief was simple
We would only order Peking Duck and any drinks we needed. We wouldn't waste space on any other food.
We would eat it as it was served to us and not ask for any variations
Our second course would be sang choy bao (filled lettuce leaves)
We would score the pancakes and lettuce cups each out of 10. We were permitted to adjust our scores on the first three places to ensure that they weren't judged too easily or harshly
We tried to not take up too much time at each place as they were busy so the tables could be used on other customers
So without further ado, read on for our quest to find the best Peking Duck!
East Ocean, Chinatown
**Our first meeting point was auspiciously blessed with a nearby row of hanging ducks. I was a little unsure as to how this whole evening would turn out but I think the ducks were a good omen.We told the waiter "We'd just like One Peking duck, that's all, and the second course will be Sang Choi Bao". He didn't bat an eyelid and before long the wooden trolley is rolled out. It sat there for a few minutes until someone came along, strapped on some latex gloves and started carving. David calls this special brand of knife skill a "Dexter" rating.
Most of the skin is used in the duck which is an advantage of having the duck carved in front of you. Many that I've dined with feel that sometimes the whole duck isn't used for your serve or a very small duck is used so you don't get value for money. Here we see that most of the skin is used bar some areas.
East Ocean Peking Duck Pancakes
As Geoff explains, some Peking Duck is served with a sweet hoi sin sauce but some are also served using sweet bean sauce called Tian Mian Jiang. Here they use the sweet bean sauce. They wrap each pancake up and tuck in the bottom to make for easy eating but I do notice that the pieces of skin are small enough for them to fold it up easily and I prefer larger pieces of skin. There is also meat on the duck pieces whereas for me, having just the skin is ideal as it lends it a delicious crunchiness. I ask him about the skin and he hands us the drumsticks. "Here you can try those" he offers by way of answer.
East Ocean Sang Choi Bao
The sang choi bao aren't too bad although they're not particularly packed with meat which we find more pronounced as the night goes on and we try other sang choi baos that have more duck meat. This appears as mostly finely diced vegetables.
Overall rating:
Pancakes: 39/70
Lettuce: 35/70
Cost of Peking Duck $62.50
Number of pancakes provided: 12
Charged for tea? Yes $2.50 each
Cost of Tsingtao beer $7
Wet napkin provided? Yes
BBQ King, Chinatown
**
Whenever you ask where to go for Peking duck, many people suggest BBQ King. After all if you call yourself the King of anything, you have to follow up with some rather good food in that genre. It's a shrine devoted to duckdom from the display at the front and the many, many images of hanging ducks in every form. David spots the chef wandering around sporting a cleaver.
BBQ King Peking Duck Pancakes**
We take a seat and order our Peking Duck and some beers for the boys and a sparkling mineral water for me. The drinks never materialise but they set down a hoi sin sauce which is incredibly sweet and some spring onions with chilli. Chilli? We are intrigued. Now how will that work? They also tell us that even though there are 7 of us, you only get 4 lettuce cups and they're not being flexible about it.  At $72 it's the most expensive duck too.
Some duck slices are meaty whereas some are skin only**
The duck isn't carved at the table and they bring out the pancakes and the waiter very liberally applies the sweeter than sweet sauce. The duck pieces themselves have some meat on them, some pieces much more thickly than others so I choose a skin only piece. We take a bite, hesitantly at first because there is chilli in it but we find that it actually isn't so bad. The chilli balances the sweetness of the sauce well. The pancakes are more yellow in shade and resemble crepes and Anna finds these "rubbery" and they're slightly cold even though the pancakes are brought out in a warming dish with a candle underneath.
BBQ King Sang Choi Bao**
The lettuce cups are huge here and quite overfilled which is not surprising as they only gave us four cups. They're almost impossible to eat without spilling and it leaves us wondering why they set a 4 lettuce cup limit to this course as lettuce isn't that costly a commodity. The filling is very strong in bamboo shoot and not much else. We offer Phillip an extra lettuce cup and he says sagely "I don't want to fill up on a 4.5 score duck".
Overall rating:
Pancakes: 36.5/70
Lettuce: 34.5/70
Cost of Peking Duck $72
Number of pancakes provided: 12
Charged for tea? No
Cost of Tsingtao beer: It never arrived although they did try to charge us for them.
Wet napkins provided? Yes, although they smelt very strongly of lemon disinfectant
Golden Century, Chinatown
Golden Century has always been a reliable place for my family. If people ask us where we eat, it's usually here (except yum cha where we go elsewhere as the lines are too long here). Whilst it can sometimes miss the mark it usually does well especially as far as the live seafood goes. Belinda and Anna talk to the Walkie Talkie wielding Cheongsam wearing hostesses who tell them "You have to be gone by 8pm" she says. Not a problem!
**Golden Century Peking Duck slices
We sit down at a massive table suited for 10 and Geoff's wife Rachel has to leave but Mr NQN who has finished sailing takes her place. We're greeted with a warm real towel although it does have that childhood comfort smell of Dettol. The duck serve is for 8 pieces only and is $60.
**Minimal meat underneath-YAY!
There's no carving done in front us here but I get excited when they set down the plate. The skin is almost translucent which means that there's no meat lurking underneath. It comes with the sweet bean sauce and when I sink my teeth into it I know that I've found my favourite. The skin is beautifully crispy and flavoursome and the pancake is delicate and the glorious fat drips down onto my hand and I just don't care. This is the Peking Duck that my dreams are made of and others are nodding in agreement. Scores are high for these pancakes.
The lettuce cups are also very meaty and delicious with the unmistakable aroma of Peking Duck and they're excellent indeed. We're struck by how meaty these are compared to the previous two. We leave a little refreshed and Phillip is quite taken by the name of one of the counter staff: "Heaven". Indeed.
Overall rating:
Pancakes: 51/70
Lettuce: 48.5/70
Cost of Peking Duck $60
Number of pancakes provided: 8
Charged for tea? Yes $1.50 per person
Cost of Tsingtao beer: $7
Wet napkins provided? Yes, as soon as we walked in we were given refresher towels
Marigold Citymark, Chinatown
Marigold Citymark Peking Duck
I used to love Marigold Citymark a decade or so ago for dinners as it looked a bit more elegant and I loved the silver spoons and silver chopstick rests. We're shown to a small table at the back (without the silver spoons) which is fair enough as we haven't booked. We're given a plate of prawn crackers and order the duck. The duck is brought to the table and carved in front of us. It's hot and steaming and the duck juices run appealing out of the duck when it is cut.
_ Marigold Citymark Peking Duck Pancake_
The staff are very efficient with four staff members tending to our Peking Duck. Its hot and tasty although there is the overpowering flavour of the spring onion which is too strong and overpowers most of the other flavours. Everyone except for Mr NQN and I give it a rating of 8 out of 10 whereas Mr NQN rates it a 6 and I rate it a 7. The pieces have a layer of meat underneath and David likes the carving action of the man here and gives him a Dexter rating of 4.5/5.
**Marigold Citymark Sang Choi Bao
We try the sang choy bao and it's not bad at all although there isn't a very even distribution of meat and the vegetables. They're a little stunned when we request the bill.
Overall rating:
Pancakes: 52.5/70
Lettuce: 46.5/70
Cost of Peking Duck $58
Number of pancakes provided: 12
Charged for tea? Yes $2 per person
Cost of Tsingtao beer: $7
Wet napkins provided? No
Rhodes Phoenix, Rhodes
**
We've decided to branch out a bit further and try Geoff's suggestion of Szechuan Garden although Szechuan cuisine is quite different. We high tail it over to Crows Nest and by now it's getting late. We get a bit lost and when we sit down Geoff realises that the Peking Duck is no longer on the menu. Lotus chef @danhong tweets his recommendation of Good Luck Chinese in Enfield and this is a place that Maeva O'Mara has recommended to me only that very afternoon so we make frantic calls there to try and secure us a duck. Most Chinese restaurants in Chinatown have duck at the ready but not so much in the suburbs. Especially Good Luck Chinese where they make it to order. Maeve mentioned that "If you show up a minute late, they'll give your duck to someone else" and she affectionately calls him the duck nazi. The idea of visiting a duck nazi is thrilling and we make a frantic phone call to him.
"Can we come tonight for some Peking Duck?" I ask.
"Hang on a minute" says the female voice on the other line. A man picks up the phone and I repeat my request.
"OK 75 minutes from now you come please. At 9:45pm. We'll see you at 9:45pm"
A minute later he rings back and tells us that there was a no-show so if we come in in the next 30 minutes we can have their duck. Phillip is on the other phone to Rhodes Phoenix and they close at 10pm so we decide to try and get to Rhodes Phoenix and then to Good Luck  in time. We pick up our legs and start running to our respective cars yelling "We'll see you at Rhodes!!". We have just 1 hour to get to Rhodes Phoenix, eat our Peking Duck and then to Good Luck Chinese in Enfield so that our duck isn't taken away from us. Breathelessly we throw open the car doors and the Finn inside Mr NQN takes control of the wheel. We're in SMS contact with each other and we agree that whoever gets there first should just order as time is of the essence.
My phone buzzes and it's a message from David. "We are 5 mins away...except...ahhhhh road works" and before we get the chance to comprehend what he means, we hit the said road works where three lanes merge into one and then merge with another road. It's like the scriptwriter for our Duck Off movie has thought that there wasn't quite enough drama and they'd throw a spanner in the works. We're craning our necks and Mr NQN does some advanced Finn driving again and we make it through the roadworks with a huge sigh of relief. Desperate, I ring Good Luck restaurant and beg him to let us arrive at 10pm which he agrees to. The car screeches to a stop outside the Rhodes Shopping centre and I leap out of the car in a blur ignoring the expression of the startled youths sitting outside the shopping centre and Mr NQN yells "You go first!" as he has much longer and faster legs. I grab the camera and I run towards the sliding doors which open much to my relief, and we run up the escalators to Rhodes Phoenix. Geoff is already sitting at a table nursing a cold glass of Coke and he tells us that he has already ordered and informed them that we are in a hurry. "You have 30 minutes, don't worry!" the waiter says.
Rhodes Phoenix Peking Duck pancake**
Everyone else arrives and we are all excited at having made it. We order drinks - after all duck chasing is thirsty and thrilling work. The duck is carved ahead of us by an efficient team although it's carved using an entirely different method from other places. The duck is almost cut roast duck style rather than lifting off all the skin and we have a look at the duck when he has finished carving and I see one half has almost all the skin intact (much to my horror). And next to them is an even more efficient team of people spooning some sang choi bao mix into lettuce leaves. Of course it's not the meat from _our _duck as there was no time to remove the meat from ours but we appreciate the efficiency with which the men with earpieces take our orders and administer to us.
The piece above this one was swapped for this less meaty piece**
The pancakes aren't bad but again there's a mix of meaty and less meaty pieces although most are very meaty. I manage to swap mine and take a bite. Even though I've had a few pancakes already, the running around has served to stimulate my appetite and it's tasty with nice thin pancakes.
**Rhodes Phoenix Sang Choi Bao
The Lettuce cups contain a lot of meat and skin but Anna finds that there are some burnt pieces in her sang choi bao.
We're given a complimentary serve of fortune cookies with frighteningly prophetic sayings such as "You will overcome many obstacles" which of course we immediately understand to be what we've just endured. Little do we realise that there would be one final test.
"So nine thirty.... are you're seeing a movie here?" a waiter asks?
"Errrm" we say contemplating having to explain our Duck Off concept to him and dreading doing so. "Yes yes" we nod smiling. Sometimes, like with parents, they're better off not knowing what you're up to.
Overall rating:
Pancakes: 44.5/70
Lettuce: 43/70
Cost of Peking Duck $53.80
Number of pancakes provided: 12
Charged for tea? Yes $2 per person
Cost of Tsingtao beer: $6.50
Wet napkins provided? No
Good Luck Chinese Restaurant, Enfield
**
Our last stop was of course one that was made even more exciting at the prospect of the whole process of having a duck made to order for us and the fact that it could be snatched away from us if we were late. It was 9:25pm by the time we left Rhodes Phoenix and we high-tailed it over to Enfield. A miscommunication meant that there was confusion and we got slightly lost on the way having gone too far. While frantically backtracking Geoff calls me"Is it Good Luck Chinese on 182 Liverpool Road in Enfield? he says "Because I'm standing outside it and it's closed". Eek! I panic and call them and the man answers the phone. I explain and he laughs and lets Geoff in (who we figure must fly places as he gets there so quickly). Phew! We had one man in the door!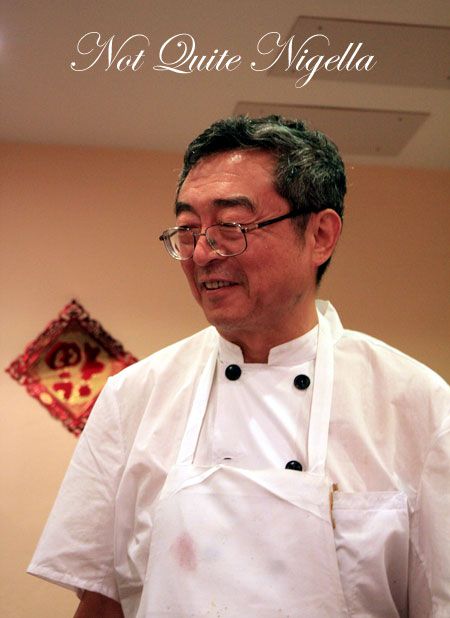 It's raining lightly and we are the last to get there and walking up to the restaurant we see the large picture of the Peking Duck in the window. At this hour of 10pm, we are the only table there. The chef is still in his chef's whites but he is friendly and perhaps rather relieved that we turned up to claim our duck. They bring out our duck, head and all and we fill our own pancakes. The duck is good although some parts aren't as crispy as I'd like but we can choose meat or skin pieces. It reminds me a bit of a roast duck rather than a Peking duck as some pieces of skin are quite soft. The sauce is a favourite with everyone and the pancakes are slightly thick but most definitely homemade. You lift off one and it is actually two stuck together as that is the way they are rolled. According to the waitress, each Peking duck is cooked to order and takes 75 minutes from ordering to serving so people need to call ahead in order to try some. They sell about 10 ducks a day and 20 on weekends.
Good Luck Peking Duck**
"Is that a 5D?" the chef asks Mr NQN who is holding a camera and it turns out he is photography buff. Our waitress asks about the photographs curious at the photo taking and we tell her of our Duck quest. She tells us of a how there are some groups of seven people who order two ducks and we chuckle at the idea of two ducks for seven people until Philip points out that we've had six ducks this evening! David kisses the duck beak and then take a bite of it and pries out the brain which he reports tastes just like offal.
Good Luck Soup course**
The second course is a soup and when she sets it down we're immensely happy. It's the perfect end to our duck quest, the soup flavoured with the duck bones which still sit in the soup, pieces of wombok and other vegetables and pieces of duck that weren't used in the first course. Anna is so enamoured she drinks straight from the bowl and it hits the spot with all of us perfectly. As if you'd come home with the rain pouring outside from a big day of drama and your mum made you the most perfect comfort food. I ask everyone for ratings for the soup and a round of "Nine!" and "Ten out of ten!" abounds as this very satisfied group depart after having six ducks over the space of seven hours. We had so much fun that plans are made for a Part Deux.
Overall rating:
Pancakes: 53/70
Soup course: 64/70
Cost of Peking Duck $60
Number of pancakes provided: 12
Charged for tea? Not sure
Cost of Tsingtao beer: Not sure (sorry it was late!)
Wet napkins provided? No
Impressions from our intrepid Peking Duckers
What we learnt early on was that at first everyone had slightly different preferences when it comes to how they like their Peking Duck, most of us agreed and points didn't differ very much at each establishment. We all concurred on what made a tasty Peking Duck.
**Anna:
Peking Duck-I think I started this pilgrimage believing that I liked quite a lot of duck flesh in my pancakes because I like duck so much. But the hands on education I got during our duck off converted me to more crispy skin and a small amount of moist duck meat, to achieve a balance of texture and flavour. I much prefer the sweet bean sauce served at some of the restaurants to the hoi sin sauce which was slathered on some of our pancakes. Also prefer to 'build' the pancake myself to get the right balance of ingredients. So: pancake, needs to look and feel handmade, light and silky in texture. not rubbery or flabby. Crisp skin, small amount of moist duck meat, some sweet bean sauce, a moderate amount of spring onion/shallot, some cucumber and if the sweeter hoi sin is used, a small piece of mild fresh chili to offset the sweetness.
Sang Choi Bao-Plenty of Duck meat, a good quantity of textural ingredients, waterchestnuts, bamboo shoots, crispy fried vermicelli. Combined thoroughly to create an even presentation. Small servings to as not to overwhelm the lettuce cup. It must be fragrant and moist but not too wet.
Highest ranked pancake: Good Luck, Enfield. Highest ranked sang choi bao: Rhodes Phoenix, Golden Century & Marigold (equal).
Belinda:
I have always preferred Peking duck that has a generous amount of flesh attached to the crispy skin. However after sampling the one at Golden Century I am a convert to the skin only pancakes as this ensured that the following course of San Choy Bao was flesh filled and there was no mistaking you were getting your money's worth of duck.
**A truly memorable gastronomic journey! Great company and delicious duck. My favourite choice for best duck was from Golden Century. Crispy duck skin (devoid of any duck flesh), hoisin sauce perfection and delicate pancake made for a stunning mouthful. Their San Choy Bao was also my number one pick.  Juicy and flesh filled, will definitely be returning to indulge in the near future.
Last on the list was BBQ King, minus points for sloppy serving style and sickly hoisin.
Highlight of the evening was the high adventure of driving maniacally to fit in as many Peking ducks as possible.  Finishing near midnight with the duck soup at Good Luck, was true comfort food and a fantastic way to end the Peking duck quest.
Highest ranked pancake: Golden Century. Highest ranked sang choi bao: Golden Century
David:
You know there is a perfectly good scientific and medical reason why physicians and nutritionists strongly advise that 6 portions of peking duck a day is highly inadvisable. But I can give them 7 hours why they are crocks. They are 7 hours in your life when you live...and 7 hours of no regret ( except when your personal trainer gives you a dressing down for your shortcomings) but nevertheless when in jest I said to Lorraine that we should do a peking duck crawl I said it as a passing fancy I didn't in my wildest dreams think that Lorraine and six others would agree that was one great idea. And what a wonderful seven hours of adventurous trepidation of textures,tastes,smells,sights and community sense that the peking duck delivers. It was the centrepiece of a communal gathering of varying tastes...some liked the crisp skin only some the meat, some liked the sickly sweet bottled hoi sin, some the more subtle fermented bean flavoured. Others regaled in the oily discharge of the san choy bau the others the deep nutty chestnut crunch..but it was unanimous the peking duck rules as a wonderful way for family and friends to come together  and be joined by the sharing of a wonderful thing that is the peking duck.....
_Highest ranked pancake: Marigold and Good Luck (equal). Highest ranked sang choi bao: Rhodes Phoenix.
_
Geoff:
I'd initially hoped at the start of the day that we would track down a Sydney derivative of the duck feasts that I've enjoyed over the years in Hong Kong and Beijing. These have ranged from the most extravagant 6-8 course banquet that presents every element of the duck including the head, feet and offal to the more easily digested 2-3 course meal that serves the skin with pancakes, the meat in a lettuce cup as San Choi Bao and finally the bones and other remnants as a soup. However, given the number of restaurants that we tackled, I'm both relieved and a little disappointed that we were offered only two courses in each establishment.
The essential elements of my ideal Peking duck are:-
Celebration - this is supposed to be a special meal, and as such I have an expectation of a little table theatre to support the sense of occasion
Pancakes - should be more than merely a container for the duck, they should add texture and the faintest hint of the aroma of sesame
Pancake filling - Crispy, dark, lacquered mahogany pieces of almost embarrassingly rich skin removed from the duck before the steam from the flesh removes the crispness, and served before the fat gets a chance to cool. The sauce should cut through the fatty skin, without being too sweet or over powering the essential ingredient.
San Choi Bao - The filling should be heavy with the flavour and texture of the duck meat, contrasted with a little crunch and freshness from some fried noodles, water chestnuts or bamboo shoots.
Soup - should be light and nourishing to ease the guilt of the preceding decadence!
Highest ranked pancake: Marigold and Good Luck (equal). Highest ranked sang choi bao: Marigold and Golden Century (equal).
Lorraine:
Peking Duck Pancake-I am a traditionalist when it comes to Peking Duck and have a strong preference for skin only and only skin in the pancake. This means as little meat as possible with a generous portion of skin in the pancakes and the skin must be very crispy (differentiating it from a roast duck). I prefer the sauce not too sweet and not too much green spring onion preferring the white part. I like delicate, thin pancakes.
Sang Choi Bao- For the lettuce cup, I look for a lot of duck meat, the contrasting crunch of freshly fried noodles and I like diced water chestnuts and an even distribution of each ingredient.
Tonight was such a  fun filled evening and like Belinda, I really enjoyed our race against time to try and make as many Peking Duck restaurants as possible. I like to think of it as a Race Around Sydney-The Peking Duck edition!
_Highest ranked pancake: Golden Century. Highest ranked sang choi bao: Golden Century.
_
Mr NQN:
First course-crispy skin without too much meat, a relatively sweet sauce and sufficient cucumber/spring onion. More than one helping.
Second course-For the sang choy bao I like a largeish lettuce leaf which is structurally sound, I don't like it when the leaf breaks and oozes all over my hand. The lettuce leaf should have a lot of filling and it should look like we got the rest of the duck from the first course.
I thought it was fun, a bit of a crazy adventure around Sydney. I'm used to doing these crazy sorts of things being married to Lorraine.
_Highest ranked pancake: Good Luck. Highest ranked sang choi bao: Rhodes Phoenix. Did not visit East Ocean or BBQ King.
_
Phillip:
Peking Duck Pancake-When I started on the mission to find the best peking duck in Sydney I thought that I preferred my duck with more meat than skin. However as the night progressed I realised that my preference was for mostly crispy skin with a little bit of flesh for moisture. In terms of the pancake I like it thin with a bit of spring onion a slice of cucumber and a bit of chilli to offset the sweetness of the sweet bean sauce which I prefer to Hoisin Sauce which some were made with.
Sang Choi Bao-My Duck Sang Choi Bow would be moist, not wet, meaty with all ingredients water chestnuts, bamboo shoots etc well mixed and importantly not over full making it unmanagable.
_Highest ranked pancake: Marigold. Highest ranked sang choi bao: Golden Century.
_
So Dear Reader, we know we didn't make it to a lot of places, so for our Part Deux, if you have any Peking Duck suggestions, feel free to let us know!
Eerily prophetic fortune cookie messages**
East Ocean
1/421-429 Sussex St, Haymarket
Tel: +61 (02) 9212 4198
BBQ King
18-20 Goulburn St, Sydney
Tel: +61 (02) 9267 2586
Golden Century
393 Sussex St, Haymarket
Tel: + 61 (02) 9212 3901
Marigold Citymark
Level 4 & 5, 683-689 George St
Haymarket NSW 2000
Tel: +61 (02) 9281 3388
Rhodes Phoenix
Rhodes Shopping Centre
Level 5, 1 Rider Boulevard
Rhodes NSW 2138
Te: +61 (02) 9739 6628
Good Luck Chinese
182 Liverpool Rd, Enfield
Tel: +61 (02) 9747 4625