Tetsuya Wakuda
I do have a few dreams left and many of them involve eating at spectacular restaurants around the world. One of them is located here in Sydney and it's one that I haven't visited in over seven years as the last time was for my 30th birthday. So I was very happy to be invited to attend a Electrolux Masterclass with Tetsuya Wakuda at his world famous restaurant Tetsuya's. Only twelve classes are held a year and needless to say, spots are very much limited to a lucky few.  Tetsuya would be showing us how to cook some dishes and talking to us about how he likes to cook and answering any questions that we had for him. To top it all off, we'd be sitting down to one of his famous degustations, an epic 10 courses that no soul in their right mind would ever pass up. And the best part? One of you Dear Readers, have a chance to win a spot at a Masterclass including, flights, accomodation and transfers! :) Yes the Electrolux Tetsuya Masterclass is a "money can't buy" event and tickets to it are not available to the general public so the only way to get to attend one is through invite only-or of course a competition like this.
The evening started with a chauffered car pick up. The driver opens the door for me (don't you just love that?) and I get into the car and we pick up Christie and Peter on the way. We arrive along with the other bloggers invited and enter the upstairs newly fitted kitchens. We mingle with some champagne while Tetsuya and his staff are busy prepping for the evening's class. After a short time we are ushered into the new kitchen, a stunning marble topped island with knee pad activated sinks, a sleek fridge and a shiny induction cooktop. And this would be this kitchen's maiden voyage!
His first tip after welcoming us and confessing his nervousness is about induction saucepans. People are apparently put off from buying induction cooktops thinking that they will need to buy new saucepans but he tells us that if you place a magnet on the base of a pan and it sticks, it will be induction cooktop safe and he also mentions that 80-90% of pots made today are induction suitable.
Tetsuya and Christie
_
_
Adding ricotta to the scrambled eggs
First he takes Christie's hand and has her feel the bottom of a saucepan heat up. Then he shows us how to make scrambled eggs his style which is what he usually likes to eat for breakfast. His involves a secret weapon - a teaspoon or two of creamed corn and some ricotta. He believes that the creamed corn makes the texture of scrambled eggs lighter and prevents them from going tough and rubbery. He adds a lot of butter and some oil to the pan and stirs them rapidly with a spatula but mentions that he doesn't use a lot of butter in his cooking. We notice he uses oils like olive oil and grapeseed oil. After he is finished everyone gets a taste and they're incredibly light and creamy.
Scampi
Next up is scampi, a favourite of mine. He shows us a rather clever way of cooking them using tightly wrapped cling wrap in a 90 degree oven which cooks them partially but still gives them that lovely texture that raw scampi has. He presses the scampi under the cling wrap for doneness and we all get a taste. They taste beautifully fragrant with the garlic, herbs and oil.
_His knife-custom made for him by MAC _
The roasted sesame seed oil on the left and the unroasted on the right
The next dish with scallops slices horizontally uses two types of sesame oils, the roasted sesame oil which we're probably all familiar with and a lighter sesame oil that has virtually no smell and a very mild sesame flavour which is made from untoasted sesame seeds (it is available at Tokyo Mart for Sydney siders).
On top of the layer of scallops, he lays some wakame in the centre in a little pile and then a ring of herbs around it including a very interesting ingredient, a thin red reed-like item which we later find to be roasted chillis finely sliced. He then heats up the sesame oil and then pours it over the scallops where it boils and partially cooks them. They're divine and with a distinct Chinese edge to them as I always think of Chinese food when I taste sesame oil.
Seasoning the fish
His next dish is a simple fish one where snapper fillets are almost confited in oil after being seasoned with just salt and pepper. Interestingly the plates that he uses for this dish is beautiful and is made by his long time friend Mitsuo Shoji whom he first got to know when Shoji dined at his restaurant. When the waitress asked him how he found his meal Shoji commented that the sauce on the tuna was a little to sweet for him. Tetsuya then came out to discuss this with him and they became friends from then on. He now stops by every evening for a glass of French champagne (or after-work medicine as he calls it) and samples various items that Tetsuya offers him much to the exasperation of his wife who would complain that he never ate dinner at home. Tetsuya calls Shoji his "Gokiburi" or cockroach in Japanese.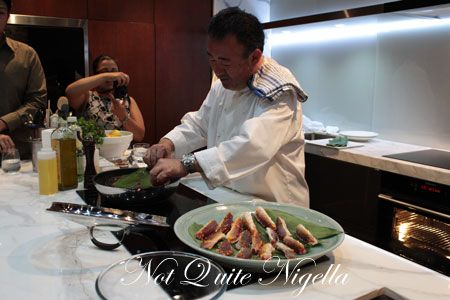 Uncooked Alaskan Crab Legs
Cooked Alaskan Crab Legs
The next dish he demonstrates is a simple one-steamed Alaskan crab legs which are steamed on bamboo leaves which just protect them when they're being rapidly steamed. The crab legs are already pre split and turn from a purplish shade to a bright coral on no time and we devour the sweet meat hungrily thinking of that show "The Deadliest Catch".
Guess what he's making?
The last dish comes slightly from left field if you are familiar with his typical Japanese French fusion cuisine. We looked at the ingredients and he then told us he was showing us how to make a Chicken Tagine-the tagine-less induction way. I could see a few of us were skeptical especially when he told us that it only takes about 30 minutes but he tells us that it is a great item to cook for dinner party guests. I ask him if he entertains very much and he tells us that he does it so much here that he doesn't tend to do it at home as he is single and there's no-one else to cook for although when he is invited to a friends houses for dinner, he ends up doing the cooking.
Long Pepper
Chicken Tagine
He uses the Herbies Tagine Mix as well as Long Pepper which is a new item for many of us. These whole long peppers smell quite star anisey and peppery and would certainly lend a lot of flavour. He also adds green olives, preserved lemon, anchovy paste which Tetsuya (or "Tets" as everyone seems to call him) says can be substituted with fish sauce if you don't have it. He sweats off the vegetables, adds the seasoning and seasoned chicken thighs, then adds the tomato puree and after about 30 minutes he then plates it up. It smells ambrosial and we eat this eagerly. I did not expect to love this dish but it was fantastic comfort food and tasted like it had been baking in a tagine for a couple of hours. He asks us if we have any other questions and we all get a photograph with Tetsuya. We're then led to our table where we partake of our 10 course degustation.
Bread and butter
Bread and butter isn't just bread and butter here. Here the bread is a fresh sourdough roll and the butter is an unsalted creamy butter mixed with truffles, parmesan and ricotta which is just heaven with a sprinkle of salt on top. I commit the cardinal rule of someone that knows that they're about to feast on 10 courses and eat the whole thing.
Chilled Japanese Pumpkin Soup with White Miso Cream
My first thought as I dip my spoon into the silky smooth chilled pumpkin soup is "Mmm" followed by "Why isn't miso a more common pairing with pumpkin soup?". Eaten like this and they make perfect sense together.
Sashimi of Kingfish with blackbean and orange
This dish is very similar to the scallop dish we tried before, the fresh kingfish slippery on the tongue with that lovely texture to it and an aftertaste of orange zest.
Soft roast Scampi tails with herb & citrus oil
These gorgeous scampi tails are such a moreish texture with that strong shellfish flavour and they're highlighted with a herb sauce and a confit of witlof which is charred before serving which just melts in the mouth. The slight bitterness counters the sweet scampi well.
Salad of confit ocean trout with zucchini and non pastuerised roe and goats cheese
His signature dish, the confit of ocean trout is well known. This is a slight variation on the one I had many moons ago. It comes with a finely diced but richly flavoured eggplant topping and sits on a round of goat's cheese and delicious pasteurised ocean trout roe.
Raviolo of Octopus with oregano and black olives
If there was one dish that perhaps some at the table weren't quite in love with it was probably the octopus raviolo which had diced octopus, sushi rice, oregano and black olive. I wasn't immediately in love with the black olive and oregano dominating the other flavours.
Breast of chicken with creamed sweet corn and foie gras
Ahhh there's the creamed corn again, did you spot it? The breast of baby chicken is tender and moist and a wonderful match for the sweet creamed corn and foie gras. Even though I know I'm full, I finish it all.
Sirloin of Wagyu with Braised leek, Sansho and soy
The rare Wagyu sits atop of what looks to be three stout pieces of leeks. I think to myself that the leeks look a bit thick to be good but they're sweetly caramelised and fall apart easily. The Sansho Japanese pepper is a nice contrast and soy sauce glaze gives it an appealing sweetness.
Pione Grape Sorbet with Sauternes Jelly
A little palate cleanser before dessert, this grape sorbet is made with the macerated skin of the grapes that have been peeled. It is then made into a soup and then churned into a sorbet. At the bottom are three delicious peeled grapes.
Cannellini beans with mascarpone and soy caramel
Beans are quite common in Asian desserts but these tiny cannellini beans are unsweetened and sit in a blue cheese anglaise with a soy sauce caramel. I loved the first few bites with the after taste of the blue cheese but couldn't finish my portion as it became too rich for me after a few bites.
Floating Island with Double Anglaise of vanilla bean and praline
This light floating island has a special ingredient to counter that distinct egg white smell - finely ground rosemary! It's light as a feather and has a centre of oozing raspberry sauce and chocolate and sits on a hazelnutty praline and vanillla bean anglaise.
Petit fours
The petit fours are green tea marshmallow, coffee and date friands and chocolate macarons with a lemon butter and pink peppercorn filling. The friand is gorgeously eggy and the macaron is fascinating with the piquancy of the lemon butter but the earthy spiciness of pink peppercorns.
So I know, all you want to know now is how you enter to win a place at one of Tetsuya's Masterclasses.* For your chance to win a place at Tetsuya's masterclass, leave a comment below telling me your dream restaurant to dine in.* Then, thanks to Electrolux and Not Quite Nigella, tell us in 25 words or less: *What is your favourite feature in Tetsuya's new Masterkitchen? Enter your 25 words or less answer here on this link only. *The competition concludes 4th May 2010 at 12 midnight EST. The 12 best entries received will win a single invitation to an exclusive Tetsuya Master class at Tetsuya's restaurant, 529 Kent Street Sydney, NSW – on the evening of Tuesday 24th August 2010 from 6pm. This will include return economy airfares from the major prize winner's nearest Australian capital city and one nights' accommodation on the night of the Master class Tuesday 24th August 2010. A private car will transport the winner and their guest from their accommodation within the Sydney Metro area (50km radius from Sydney city centre – GPO) to Tetsuya's restaurant for the master class and then back to their accommodation within the Sydney Metro area stipulated above.
Congratulations to the winner Linda L. of Castle Hill!
So tell me Dear Reader, which restaurant is it your dream to dine in? Mine is El Bulli or The Fat Duck, what is yours?
Tetsuya's
529 Kent St, Sydney, NSW
Tel: +61 (02) 9267 2900