After our Hooters exploit, Queen Viv, Miss America and my husband and I needed to go somewhere a little more on the beaten track to debrief on our experience out in the Wild West. We needed somewhere quieter that did not involve fried chicken. Walking past San Churro a week or so ago, I was immediately drawn to the gorgeous shiny black facade and windows-if I had a shop it would look like this.
I spied their Valentines Day special in their window: For $25 you get your choice of any two drinks (non alcoholic), a tapas plate and 4 boxed truffles. Considering the tapas plate is $15.90 and drinks are around the $4-$5 mark, its not bad value, you're basically getting the boxed truffles for free and there's probably more than we need for the four of us so tonight we order this with a traditional spanish hot chocolate and a Mango shake. We could also choose the type of chocolate for dipping (I chose milk from a choice of milk, dark or white) and the truffles (Pasion and Dulce de Leche Caramel).
Its understandably busy tonight as its Valentines Day and where else should you go but a Chocolateria? Still, as promised, the Churros are cooked to order, as all deep fried food needs to be. It seems not only is Valentines day the day for chocolate, but for us this year, its the day for deep fried.
Our long rectangular tapas plate arrives within 5 minutes of ordering, with three long twisted churros randomly dusted with icing sugar, ice cream, chocolate sauce, dense chocolate brownie, chocolate dipped pretzels, truffles, marshmallows and box of truffles. Breaking off the crunchy, corrugated churro, it reminds me of chinese fried bread but with less greasy residue on the fingers. I sink my teeth in with a satisfying crunch. Its spongey but not wet spongey and its delicious, albeit very, very light in the cinammon, perfect when lightly dipped in the chocolate and then in the ice cream. Despite how full we are, we make fast work of the churros.
The chocolate pretzels are crisply salty and chocolately which only enhances the taste. I'm not certain what flavour the ice cream is but its perhaps a coffee flavoured one. Its good if not particularly memorable amongst all of these goodies. The brownies are gloriously moist and rich, a very decadent small wedge of chocolate.
We try the truffles and start with the Pasion with yellow stripes on top. Its made of milk chocolate and passionfruit and is heaven, with the pure, tangy passionfruit flavour soaring above the chocolate. I want to buy a box of them and its has many heads at our table nodding. The Dulce de Leche is next, its very, very sweet as its caramel and it reminds me of a Jersey caramel. Also good but we much preferred the Pasion. And yes we did quarter them, to do otherwise would be unfair!
The spanish hot chocolate arrives, in the signature San Churro curved cup. Its dark like mud and dipping a spoon into the almost solid top layer, it feels like thick melted chocolate. A sip into it and I can't say that the taste was my favourite. It tasted more like cocoa powder than the kind of hot chocolate I enjoy. If that sounds ridiculous, I understand as I know a lot of Hot Chocolates are made with cocoa. However I like hot chocolate Max Brenner style just with melted chocolate in milk. This tastes like its made more from cocoa powder which still retains its powdery texture. My husband though, enthusiastically digs in to it and finishes it in no time.
The mango shake is a little tardy to the table but its an impressive sight. A very tall, chilled glass topped with whipped cream, it tastes like REAL fresh mango with a white chocolate milkshake. Its very creamy, perhaps a bit too creamy given the amount of rich food we've consumed over the past 4 hours and its a meal in itself.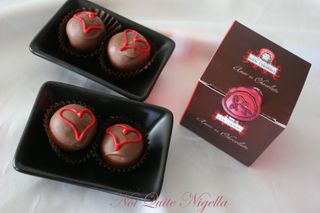 We take the boxed truffles home, as no-one can fit in another morsel of food. Opening them up, they're adorable chocolate truffles with red hearts on top. They're a little too sweet with an almost gritty sugary taste inside, if we have a magic tablecloth that could transform these, they'd certainly be the Pasion truffle.
Chocolateria San Churro
47 Glebe Point Road
Glebe NSW 2037
Tel: +61 (02) 9692 0119
Mon-Thurs 9am-11pm
Fri-Sat 9am-midnight
Shop G107, Westfield Miranda
600 Kingsway
Miranda NSW 2228
Tel: +61 (02) 9532 5892
Sun-Thu 9am-9:30pm
Fri-Sat 9am-midnight
Shop 609, Westfield Chatswood
1 Anderson Street
Chatswood NSW 2067
Tel: +61 (02) 9412 2276