I was tired and grumpy and terribly hot here at home and all I could dream about was working in an air conditioned office. The only benefit to working in an office apart from office birthday cakes. Even in the heat I was thinking about dinner (you can't keep a good eater down). I wanted to make something good with the mince I had taken out of the freezer but a ragu seemed a bit too Wintery and jaffles although very tempting, weren't quite hitting the spot. I wanted cake too but this was not practical as I wasn't in the mood for creaming and all of that production until it hit me when surveying the tortillas that I had in my fridge. I could make a quesadilla cake! I usually use chorizo or ham in a quesadilla but the mince would make it easier to cut.
I was inspired by a friend's lasagne that she had made quickly using tortillas and I figured that putting it in a spring form pan would eliminate some of the issues that she had getting it out of the baking dish. And I do recall seeing an Oprah episode where a woman had invented a lasagne pan with collapsible sides much like a spring form- I had always hoped that this would make its way down here.  I know I know, this isn't particularly photogenic but I like to think that it has a certain layer cake like quality. But trust in that it tastes delicious and is a good way to feed hungry mouths. The best part of it is that it can easily be made with a multitude  of other fillings, whatever you'd put into a quesadillas which can be as simple as cheese and baby spinach for vegetarians or you could do a lovely chorizo, cheese and baby spinach for a bit of spicy meaty goodness.
And even though I don't have any little ones running around the place here, I have the feeling that there would be no problem getting them to eat this. Mexican food is of course quite fun for children but telling them that they're having cake for dinner will quite possibly, make a child's day.
So tell me  Dear Reader, what food makes your day?
Quesadilla Cake
Adapted from Taste.com.au
800g lean, good quality beef mince

2x 420g/ 2 x 15 ozs tins of red kidney beans, drained

1 onion, diced

140g/5ozs tin of tomato paste

1 teaspoon ground cumin

1/4 teaspoon ground oregano

A few drops of Tabasco (optional)

1 teaspoon cayenne pepper

1/2 cup bottled salsa

salt and pepper

3 flour tortillas

2 ripe avocadoes

2 tablespoons sweet chilli sauce

A squirt of lime juice

2 tablespoons light sour cream (it's like drinking Diet Coke with your meal ok?)

2 cups baby spinach leaves

2 cups grated cheese
Round spring form tin 21cms in diameter to fit flour tortilla.
Step 1 - Make seasoned beef mince by frying the diced onion in 1 tablespoon of oil in a large frying pan until onion is softened and translucent. Add beef mince crumbling it with your hands and then cook until browned all over (about 10 minutes). Add cumin, Tabasco sauce and tomato paste and cook for a further 5 minutes. Season with salt and pepper and leave to cool slightly.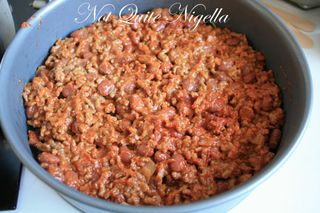 Step 2 - Preheat oven to 210C/410F. Take a spring form pan that fits the size of your flour tortilla. Line with parchment and place a flour tortilla on the bottom. Place a handful of the baby spinach leaves on the bottom and then sprinkled with cheese. Dividing the mince into two, place a half of the mince mixture. Repeat with another step of baby spinach and cheese and the remaining mince. Top third and final tortilla with cheese (not too much though or it will be hard to slice it) and bake in oven for 20 minutes until the cheese is golden and melted. Cool for 15 minutes.
Step 3 - While it is cooling, make the quick guacamole by mashing the avocadoes, sweet chilli sauce and lime juice. Place avocado pip in centre of guacamole and cover with cling film directly on top of the surface of the guacamole. When quesadilla cake has rest, place some baby spinach leaves on top and serve with sour cream and guacamole. Serve in wedges like a cake!