Looking for a really quick, simple and healthy dinner? Look no further than these chicken kebabs! You can make them from chicken breast mince or chicken thigh mince and preparation is done in 10 minutes! The flavouring is made with a spicy mixture featuring onion, garlic and rogan josh curry paste and they are served with a grated cucumber and carrot yogurt raita! Too easy!
This idea came to me when my friend Miss America complained about the food in hospital during his recent stay. We promised to bring him something for lunch one day that we could all eat together. I was going to bring cake and then he dropped the bomb on us:
"My physio man is really pleased with my progress. And so am I. My doctor informs me that I am borderline diabetic so goodbye lovely cakes etc. Bloody hell! I'm half expecting him to pop his head in tomorrow and say "Oh, did we mention the cancer?" No requests for lunch. Will leave it up to you to surprise me! XXXX"
Poor Miss America! Anyway we visited him and despite our better judgement, acquiesced to his request for chocolate bars. He had left the slices of roast beef that he was given for lunch aside. These kebabs are just as good or even better the next day once the flavours developed. This recipe makes quite a lot so we had some leftover to eat that evening. After dinner I washed my hair and crawled into bed but just then I heard a screaming from nearby. At first I thought it was children playing-our apartment window looks onto many but it became apparent within a few seconds that this wasn't playing at all.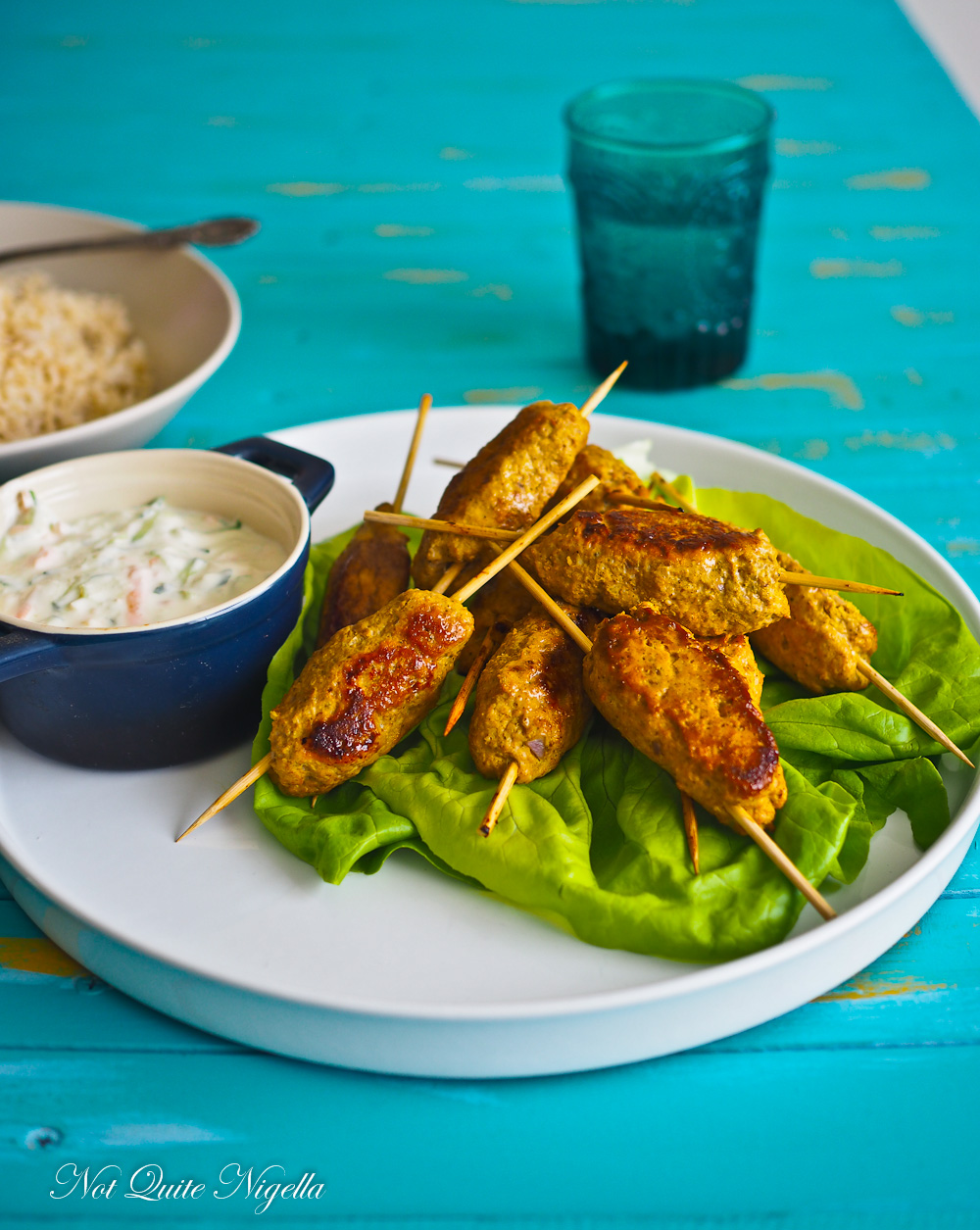 "Honey, that doesn't sound good," I said to Mr NQN. He immediately went out to investigate while I listened on the balcony in my pyjamas. The screaming increased and I started to get goose bumps when all of a sudden there was a blood curdling scream of "HELP ME!!!".
Immediately I rang the police. I heard banging and saw people walking under our balcony towards the noise. I saw Mr NQN among them. It was in our block of apartments and there were four of them who pounded on the door of the apartment trying to help. And do you remember that awful man Henry who is head of the strata committee (the one who keeps denying us permission to have a dog?). Well he butted in and told everyone to shoo and to leave the couple alone to sort it out themselves!! Luckily he is regarded as a useless nuisance among all residents because when someone is screaming "Help me" most people try to help.
Three police cars and six police arrived within minutes. The couple that lived in that apartment had just moved in a couple of weeks ago and they were constantly screaming at each other. We never heard what had happened to them but I hope that the woman is ok and I'm glad we don't live in a world full of people like Henry.
So tell me Dear Reader, have you ever been in a situation like before? Would you try to help? And if you were in hospital, what would be your top food request?
DID YOU MAKE THIS RECIPE? Share your creations by tagging @notquitenigella on Instagram with the hashtag #notquitenigella
Chicken Kebabs
An Original Recipe by Lorraine Elliott
Preparation time: 10 minutes plus 15 minutes resting time.
Cooking time: 12 minutes
1 large red onion
3 garlic cloves, peeled
500g/1.1lbs. chicken mince (thigh is more moist, you can also use breast)
2 tablespoons lemon juice
3 tablespoons rogan josh curry paste
2 cups natural yogurt
1 cucumber
1 baby carrot
1-2 cloves garlic, finely grated
Salt to season
Basmati rice to serve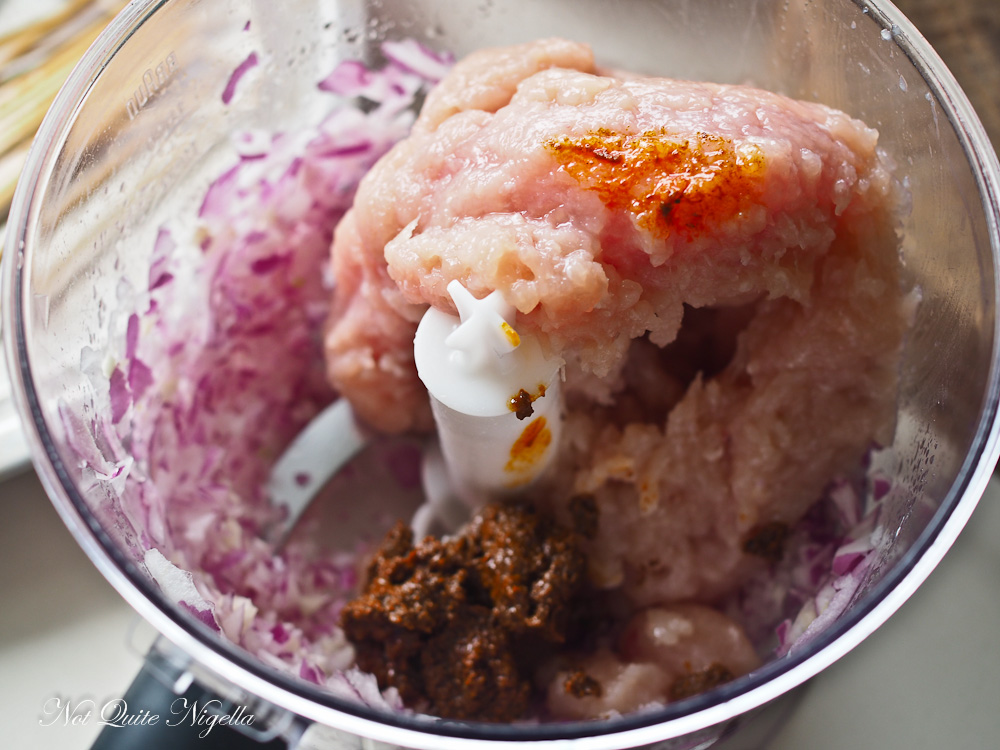 Step 1 - First if you are making rice, start the rice first as this will take the longest. Then place the onion and garlic in a food processor and process until minced. Add the chicken, lemon juice and curry paste and whizz around until combined. Place the mixture into the fridge to firm up for 15 minutes. Meanwhile soak bamboo skewers in water and preheat oven to 200C/400F and line a baking tray with foil.
Step 2 - Make the raita. Grate the cucumber into a tea towel and then squeeze to get rid of the water. Place the cucumber, grated carrot and 1 clove of garlic in a bowl along with the yogurt and stir until thoroughly combined. Season with salt and taste-add more garlic or salt if you want. Set aside.
Step 3 - Take a ball of the mince with wet hands - it should have firmed up nicely (if you try and shape them straight away onto the skewers it will be too loose). Shape around the skewer and place on the tray. Bake for 5-6 minutes each side. Serve with the raita and basmati rice.
If you don't know what to do with the extra rogan josh paste, try this amazing crab curry recipe! It's SO good!