Love these scarecrows!
Town 1: Tilba
We were on the third day of our Sydney to Melbourne Road Trip and doing quite a bit of driving on this particular day. We had mentally prepared for the long drive - I had drinks at the ready and snacks as well as wipes for my hand washing OCD. Our first stop after breakfast is the Tilba region of which there is Central Tilba and Tilba Tilba. Central Tilba's main street is where most of the shopping and eating action takes place and we start off our tour at the ABC Tilba cheese factory where we stop off for some morning tea snacking. At the front counter there are a range of cheeses with tastings for all varieties available. Mr NQN and I try some as sampling is encouraged and my favourite is the chive and the Tilba gold where he likes the Olive cheese.
There's all sorts of useful kitchen items as well as their own honey which are also sampleable. I try the round box honey that reminds me of a golden syrup which I think would be perfect on some crumpets so I choose this along with some ginger lollies and I admit rather randomly, a cling wrap cutter (well I do make Mr NQN sandwiches every day!).
I lament not having a fridge as we're travelling as there is a three layer cheese wedge for sale that combines the chive cheese with a layer of sun dried tomato cheese and another cheese. Of course the alternative was just to buy it and eat the whole wedge (ok not that odd for me) but we had a lot of eating to do that day as you'll see...
A Penny Farthing outside a store
Rose & Sparrow Tea Rooms
We then head out of the store and up the street and spot some nice homewares in some stores. It reminds me of Arrowtown which is a  gold mining town in New Zealand. There's Rose & Sparrow which was recommended by the SMH Good Food Guide so we stop for lunch. The menu is on the chalkboard inside and there are a lot of gluten free options. Mr NQN chooses a burger and I go for the mandarin and almond gluten free cake for morning tea which reminds me of those lovely flourless orange cakes. All of the cakes are homemade here. The service is not particularly friendly and we get our order after everyone else, even the people that arrive after us.
The coffee is great and I try the cake given to us with a fetching nasturtium. It's quite tart and for those like a tangy citrus (Mr NQN doesn't). It's also covered in a tangy mandarin syrup and served with cream. It's quite a large slice though and we have trouble finishing it.
I try some of Mr NQN's Tilly burger and it's not bad with lots of fresh salad in it as well as strings of fresh beetroot. He finds the bun a bit too tough and I think it could do with more relish (most of it has fallen out of the bottom and sits on the plate below) but otherwise it's good value and fresh.
While we eat, we watch a magpie stalk a stack of plates on a nearby table...
Town 2: Merimbula
Our next stop is at Merimbula where we drive through the town and towards the beach as Mr NQN feels a surf coming on which is rather handy as we have brought his surfboard along. He drives to a lookout and we see the magic words "Kiosk" so we stop there as it looks charming and has a great view. But wait! There is a film crew walking around the converted shipping container and we walk past Dermott Brereton who strokes a surfboard while staring out at the water. He is there shooting an episode of Getaway. There is a pump pack of free sunscreen (we notice things like tomato sauce are free when we drive here which is never the case in Sydney and now free sunscreen!) and there's also chicken salt for the  hot chips-heaven! I order a cup of tea while Mr NQN opts for a caramel milkshake and a surf.
Madame Flavour Tea
Caramel Milkshake
Vegetarian panini $8
The tea is a Madame Flavour Earl Grey and I also order a vegetarian panini which comes with grilled eggplant, zucchini and sun dried tomato. It's not bad although it needs some pesto which they seem to have left out. There are also local pies and sausage rolls from Pambula for $4.50 and a bacon and double egg panini.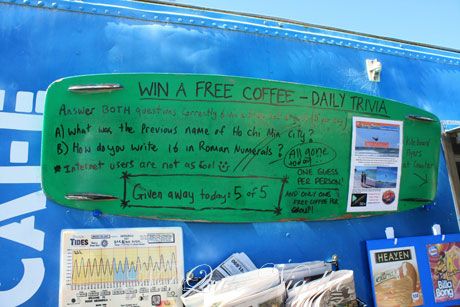 On the left there's a daily guessing competition where people can win a free cup of coffee with the warning line "Internet users are not cool". Mr NQN comes back after an hour of surfing. The Getaway episode is the talk of the locals who frequently stop by. A local stops by and remarks "Good that we've got this brown water now, there's nothing to film now so we won't be overrun". Despite that remark, they are friendly though!
Town 3: Eden
A slush puppy machine twirls and a short time later we're in Eden where the seafood industry is prominent. Fish & chips by the wharf are said to be a tradition here so we stop by Hooked on Seafood which is an old style fish & chips shop complete with a fish poster showing the different varieties of fish caught. The sign that beckoned to us was "Fresh local prawns" and we eagerly lined up. There were two local prawn varieties, a king prawn and a school prawn. The king prawns aren't really that big but when I ask the girl behind the counter which is better of the two she admits that she hasn't tried them so she offers me one of each to try.
It's a no brainer with the king prawns being sweeter and fuller of flavour than the bland school prawns. There are also fried items such as Sea Shanties for $1, crab claw balls for $2, salt & pepper squid for $3 and sea scallops for $1.50 so we buy some of these too along with some calamari and chips as Mr NQN is hungry after the surf. There's locally caught flathead, pink ling, tiger flathead and Jackass Morwong (don't you just love that name?).
Calamari & Chips $6
The crumbed calamari is tender and delicious an whilst the chips are old fashioned fat chips. The tartare is creamy and not too tangy. The prawns are both of our favourites and sitting on the wharf with a multitude of beady eyed and hungry seagulls eating these prawns is a great way to pass the afternoon.
Salt & pepper calamari, a crab claw and scallop
The deep fried selection isn't as promising as it's heavily doused in table salt. The crab claw isn't real crab of course but it's crunchy on the outside and soft inside. The best of the lot is the battered sea scallop which is soft and delicious inside its oily batter pocket. The salt and pepper squid is thick with a hard batter and tastes mostly of salt and no pepper (but for $3 we were willing to gamble on it).
Town 4: Mallacoota
We cross the border from NSW to Victoria where we reach our destination for the night: Karbeethong Lodge in Mallacoota. Set beside the lake the grounds are gorgeous and guests wander in and out and explore the lake front and the drawing rooms.
The Drawing Room
The view looking out onto Mallacoota Inlet
The rooms however err on the basic rather than luxury side and the one we are assigned to is quite chilly indeed. This is the first time we've had to use the heater on the whole trip.
Mallacoota is a small town with widely differing seasonal population. In Winter the population is 900 and in Summer the population is 10,000. Prior to arriving we were told that there is really only one place to dine here and that was at a place called Lucy's and were warned by many than Mallacoota was not the best place for a foodie to travel. We were also told that we needed to stop by earlier in the day to order some special handmade dumplings for that evening.
We stopped in out of curiosity as we are still full from the fish and chips. After all how many Chinese restaurants are also second hand stores and DVD stores? The sign outside saying local abalone with noodles $20 was also drawing us in. Lucy is a small woman in a bandana who is busy tending to her food. At 6pm it appears  many of the residents of Mallacoota are already there and in walks a retired gentleman who excitedly says to her "We're here for the Peking Duck!". We asked her about the dumplings and she tells us that yes they usually sell out but tonight should be ok. I let Mr NQN know but we're both quite full from the fish and chips so we're uncertain as to whether we'll come back or not.
We drive back to the lodge and after checking in and surveying our room we chat to the manager of Karbeethong Lodge, Patrick who tells us that Lucy's serves local abalone and that they have a little farm out the back where they grow their own vegetables and herbs that they use in the food. With those few lines we're sold! We take the quick drive there and there's Italian opera playing. Inside there are lacquered Chinese tables with an imposing jaguar mid prowl with an incongruous orange stack hat bicycle helmet under one paw. There is also an outside deck area.
Second hand store
DVD rental
And sure enough there's a room full of DVDs to rent and beyond that there's the vegetable garden and a second hand area. We order and pay at the counter and I  order abalone and sea urchin with home made rice noodles as well as a serving of six dumplings. I order a soft drink and it's a no name branded drink. Interestingly, the Peking duck here is served in 4 courses and is the princely sum of $27.95 for 4 people. We wish we had pre booked it (and pre booked stomach space) just to see what it was like.
Abalone and sea urchin noodles $25
Lucy sets the noodles down and says "That's the abalone and that's the sea urchin". I try the noodles and whilst they're full of vegetables and quite a generous portion, I'm not a huge raw bean sprout eater and the broth tastes more seasoned by soy without the added flavours of garlic, ginger or chilli. Mr NQN likes it though and finishes it.
Pork dumplings 6 for $10
The dumplings come out as 6 huge parcels and they have a delicate skin and a generous amount of pork, chive and water chestnut filling. We're given some chilli and garlic sauce which is quite sweet, like a sweet chilli sauce with garlic. Together they're rather good indeed and I can see why they sell out of them. Indeed some customers that arrive at 8pm while we are eating are told that there are no dumplings left.
We sleep peacefully that night, having finally reached Victoria. What is up next? Victoria unlocks some of its secrets!
So tell me Dear Reader, are your holidays action packed or relaxing affairs?
ABC Tilba Factory
Bate Street, Central Tilba
Tel: +61 (02) 44737 387
Rose & Sparrow
Bate Street, Central Tilba
Tel: +61 (02) 4473 7229
Bar Beach Cafe
Off Lake Street, Merimbula, NSW
Tel: +61 (410) 698 497
Hooked on Seafood
253 Imlay St, Eden NSW
Tel: +61 (02) 6496 1659
Karbeethong Lodge
16 Schnapper Point Drive, Mallacoota, Victoria
Tel: +61 (03) 5158 0411
Lucy's
64 Maurice Avenue, Mallacoota, Victoria
Tel: +61 (03) 5158 0666.