Like an elephant in the room, it's impossible to write about Christchurch without referencing the recent 2010/11 earthquakes. Even if you put it out of your mind, the city's huge reconstruction efforts (46 street works in the CBD on the day that we visited) jack hammering and rebuilding are a curious juxtapostion to the bronzed patchwork of fallen Autumn leaves, weatherboard houses and Gothic buildings.
Far away enough so people gain perspicuity yet still in front of them, the events of recent years have spurred Cantabrians into rebuilding their city with a different perspective. Street Art now adorns walls that would have otherwise laid plain.
185 empty chairs for each person that perished in the 2011 Christchurch earthquake
Instead of laying dormant, vacant sites are injected with use and installations through Gap Filler projects. One of the quirkiest ideas is the "Dance O' Mat" where people insert a $2 coin into a converted ex-laundromat washing machine and dance to music. Because sometimes, you just need to dance when you're walking down the street.
Shops have sprung up selling reclaimed woods from the earthquakes. A store "Rekindled" sells jewellery and furniture made from this wood. Two of the best areas for "Kiwiana" or New Zealand souvenirs and treasures is the Container Mall with a neat collection of fantastic boutiques. The other area is The Tannery which we will explore later at lunch.
Even the church has gotten into the act. Relocated to the corner of Hereford and Madras Streets in Latimer Square, the transitional or cardboard church is made up of large cardboard pillars with an enormous cardboard cross hung on the back wall. Designed by Emergency Architect Shigeru Ban, it now holds events, fashion shows and cocktail parties.
Nowhere is this sense of newness and regeneration more apparent than at C1 Espresso. From the outside it looks like a bank building or something formal. It is in the middle of a vast construction effort with very little surrounding it except for the detritus of development.
Once you step inside you start to notice the little details. The Bitcoin ATM. The old fashioned sewing machine or dentist tap water dispensers. The bathroom accessed by a set of sliding bookcases. And then there's the series of ceiling tubes that deposits sliders to each waiting table.
That's right, owner Sam Crofskey's idea to install an elaborate system or pneumatic tubes to delivers sliders fresh from the kitchen has been a test of mental and business strength. He first saw the idea after visiting a Hooters and seeing waitresses pinning tickets on a wire. After much testing (initially with sliders travelling at 140km/h!) where burgers fell apart in the tube, they have a system that delivers them fresh to tables at 20kms an hour. And ironically, the slider tubes require more staff than less including one man whose job is to add more tubes and to fix and maintain current ones.
Short black $4
C1 Espresso also grow their own coffee in conjunction with vulnerable communities in Samoa. Initially it started as a mistake as Sam thought that they were buying coffee beans and the Samoan community thought that they were there to show them how to grow coffee. It has now eventuated to them supporting the community and allowing them to forge ahead even if Sam and his business aren't around.
Their "OK!" nectars are made from fruit bought from hundreds of Samoan families. A truck drives around to each neighbourhood and a family can sell one mango or a dozen. His plan is to increase the number of families involved from 1,000 to 3,000 over the next few years. After hearing all of that I try a coffee. A short black comes in a shot glass and it's a smooth, full bodied coffee.
Corn fritters $17.80
The corn and coriander fritters come with a choice of bacon, guacamole, salsa and sour cream or a vegetarian version with feta instead of bacon. They're excellent fritters - crispy on the outside with plenty of juicy corn inside.
Pneumatic tubes
The sliders are only available from 4pm so we have to head back to try them later. We place our order at the counter and they take our name. As luck would have it, there is a booth free right next to where one of the tubes ends so we take a seat there and wait for our sliders.
Sam loading the canister in the kitchen
I expected a noise to sound the sliders' imminent arrival but the canister quietly travels up and down the plastic tubes before stopping about 20 inches away from the opening - that's the brake that stops people from hurting themselves. We slide the panel up and retrieve our canister.
The three sliders and a small serve of curly fries sit snugly in the metal and wood canister. Each burger is wrapped in wax paper but the fries sit unwrapped but firmly packed. The fried are good but we can't wait to unwrap the sliders. There are six slider flavours to choose from with two vegetarian fillings and they can all be made gluten free.
Beetroot cured salmon gravlax, spicy lamb meatball and courgette & edamame fritter sliders
I try the beetroot and cured salmon gravlax with celeriac and horseradish remoulade. It's delicious and I wish that we had more gravlax or fish sliders in Sydney. The spicy lamb meatball is more a traditional meat slider burger filling-good and cooked in tomato ragu with smoky babaghanoush and vegetable pickles to set it apart. But the favourite slider is the courgette and edamame fritter with avocado and mint salsa and cos lettuce. Sure the fritter doesn't really hold together but it is packed with flavour and just as the girl at the counter said, "It's not just for vegetarians."
The earthquake has given Sam a lot of perspective. "I do stupid things all the time like build two cafes next to each other," he says but now things are purposefully built at different locations. Sam is also unapologetic that no skim milk is served, it's full fat only. "I say to people that complain, people are having their houses flattened. Go and find a real problem," he says with a measure of defiance.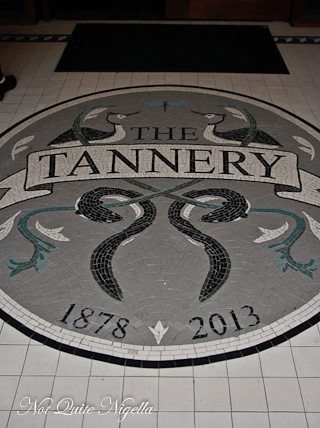 After breakfast and a shop, we take the drive to The Tannery on Garlands Road in Woolston. Driving around Christchurch can present a challenge as so much construction is taking place that streets can often be unexpectedly closed down. Still The Tannery with its 50 or so shops is worth taking a drive out to, particularly for boutique shopping.
The lynchpin of the Tannery is the pub where Zak Cassels of the Cassels family brews beer. The brewery serves up pizzas and salads along with their range of eight beers and stouts. Next door is Gustav's the restaurant, also owned by the Cassels family. We start with samples of the pale ale, Dunkel and the Milk Stout. The pale ale is light and with the distinct aroma of lychees while the Dunkel is like cold filter coffee. The milk stout is sweet, strong and rich.
Gustav Lindstrom was the name of the builder of The Tannery which was established in the 1870s. It was the ideal location back then as it was the furthest that one could travel up the Avon River and it served as a point to ship produce from. The decor of Gustav's is based on Zak's father Alisdair's billiards room from the comfortable William Morris chairs and floral wallpaper. A cream AGA stove stands in the back room.
Crottin Crusted Portobello Mushrooms $12
The menu has a range of tapas or share dishes followed by more substantial mains. We decide on a few while warming up. The food arrives quickly. The portobello mushrooms are topped with a Crottin goat's cheese and grilled. They're a good starter and the cheese has that distinctive tang of goat's cheese.
Sticky lemon and chilli venison ribs $15
I must admit that when I saw the venison ribs I was immediately lustful as we don't often get venison ribs in Australia. They're sticky sweet and spicy while the meat is tender and juicy. I particularly like the pronounced spiciness.
Salmon gravlax $12
As much as I enjoyed the ribs, the salmon gravlax is my favourite of the share plates. Adorned simply with a vinaigrette the salmon is fresh and luscious in texture.
Pork Gorditas $14
The pork gorditas arrive three to a serve and are served on a soft corn tortilla. I've often seen gorditas stuffed and then deep fried but here they're served open with soft pulled pork, pico de gallo and shredded red cabbage.
Devilled steak on rye bread, pickles, watercress and horseradish mayo $22
The devilled steak is a creamy slightly sweet, mustard and Worcestershire sauce on steak. It sits on a thick slice of rye bread with thinly sliced pickles, watercress and horseradish mayonnaise. It also comes with a serve of their crispy golden shoestring fries.
Boutiques line each side of the main building that was designed to look like Sydney's Strand Arcade. We poke our heads into the shops which are a curious mix of old school barbershop, tonic store, house made cakes and dainties as well as boutiques stocked with emerging fashion designer outfits.
We return to our hotel for the duration of the stay. I am staying at The Establishment in Fendalton one of the more elegant neighbourhoods in Christchurch. If your impression of a B&B is a dusty, crocheted doily lounge room I promise that this will readjust one's thinking.
The Establishment is thoroughly modern with three stunning suites to choose from. I'm in the Totara Suite on the ground floor which has a little outdoor deck.
The king bed is comfortable and there is a good sized closet with slippers and a well stocked bar with complimentary mineral water, juice, coffee, tea, chocolate and biscuits. Internet is included although the connection can waver at times and for those of us (yes me included) that forget chargers, each room has a range of phone chargers already plugged in for use.
The bathroom has a two head shower, heated shower rail and their own line of shampoo, conditioner, body lotion, body wash and soap in a refreshing spearmint and a delicious smelling Thai scent.
Jen is a wonderful host and always thoughtful without being intrusive at all. When I wax lyrical (okay obsessed )over a Denheath custard slice, she finds a stockist in the local Coffee Culture store. They only have two left but they make a special trip to pick up up some more and she collects them. I have one waiting for me as a midnight snack along with a bottle of Tokay that she has thoughtfully left out.
But first, where are we off to next? Why it's dinner! Stay tuned Dear Reader...
So tell me Dear Reader, have you ever experienced a natural disaster first hand and how did you react? And would you be intrigued by the idea of a slider delivered via a series of tubes?
NQN travelled to and explored Christchurch as a guest of Christchurch and Canterbury Tourism
C1 Espresso
185 High St, Christchurch Central, Christchurch 8142, New Zealand Open 7 days 7am-10pm http://www.c1espresso.co.nz/
Gustav's Restaurant
3 Garlands Rd, Woolston, Christchurch 8024, New Zealand Phone:+64 3-389 5544 http://www.gustavs.co.nz/ Open 7 Days 5pm till 11pm
The Establishment
50 Clyde Road, Christchurch, NZ http://theestablishment.net.nz/