All images taken on a Sigma 17-50mm F2.8 EX DC OS lens
Mr NQN and his Danish friend Viggo are two peas in a pod. They're both software developers that adore talking nerdy stuff, are around the same age, have Nordic sensibilities and their mums are incredibly similar too. They're also born within a day of each other so this year we decided that a shared birthday dinner was in order. Each of us had a special bottle of red wine that we wanted to drink on this occasion. For us it was a bottle of 1983 Koonunga Hill Claret so I looked around for a steak house that would let us bring these wines in. Steak restaurants of course love to have you order from their wine list because steak goes so well with wine and a BYO steak restaurant was proving elusive.
I rang one place. "I know that you don't do BYO but we've got two special vintage bottles of wine that we'd love to have with our dinner. We'll pay corkage of course but would it be possible to bring those in?"
There was a pause and the woman on the other end of the line said "Oh we wouldn't allow that sort of thing under any circumstances!" as if I'd asked if I could bring an incontinent, rabid pitbull along to dinner.
"Oh" was all I could muster up. "Really? Most restaurants don't mind if it's a bottle that they don't have and it's a special occasion."
"Well we're not most restaurants" she replied haughtily.
So I asked on twitter if anyone knew a place that did a good steak and wouldn't mind us bringing some wine. Stuart Knox, the owner and sommelier at Fix St James, 2012 Sommelier of the year, Len Evans scholar and former sommelier and restaurant manager of Forty One piped up. Not only did they do always have several steaks but they're such wine enthusiasts that bringing wine to their wine bar is just fine by them.
Fix St James is a 50 seater restaurant and wine bar with outdoor seating (if you dare brave the winter cold but blankets are provided) and I'm the last to arrive on this chilly winter's night. Louise and Viggo's bottle of wine has already been opened and I hand them my bottle. They ask us how long the bottle has been standing before they decant the wine. Our waitress pops back with exciting news-it smells wonderful.
Foccacia
The complimentary bread is a fabulous, crispy edged, toasted foccacia with plenty of herbs and salt served warm.
'Ode to Fergus' - Bone Marrow Parsley, Duck Fat Croutons $15
I'm a little obsessed with bone marrow, that wonderfully creamy and yes fatty centre of the bone that you spread on bread. Mr NQN is less enamoured but likes this combination with the fresh parsley lifting the fattiness of the unctuous marrow. You scrape out a little from the inside of the bone with the spoon and put it on the thick duck fat croutons and parsley. Louise wasn't as enamoured of the deep fried duck fat croutons finding them a bit oily with the fatty marrow.
Hot Smoked Salmon with Dutch Cream Potato Salad $19
The hot smoked salmon salad was one of my favourite courses. it had a generous amount of hot smoked salmon, onions and soft chunks of Dutch cream potato and watercress.
Smoked Eel & Pyengana Soufflé $22
The smoked eel souffle was quite small, especially for the price and the smoked eel flavour was quite light with the Pyengana cheddar dominating. Still it was light as air with the sauce worth mopping up with the bread.
Beef Tartare with Egg Yolk & Chips $32
The well seasoned anise scented beef tartare came pre mixed with a side of chips with an egg yolk on top which we broke to coat the tartare with its creamy texture.
Greenstone Creek Chateaubriand $95
Time for the mains! There were a few steaks on offer that evening but we went with the chateaubriand which is around 500g or 1 pound of beef.  It is served with mushrooms and jus and is a tender, flavoursome cut of steak that goes beautifully with the wine. We tried our Koonunga Hill 1983 Claret and it is a stunning wine. I received it at the Penfolds Recorking Clinic a few years ago and we had been saving it up for a special occasion.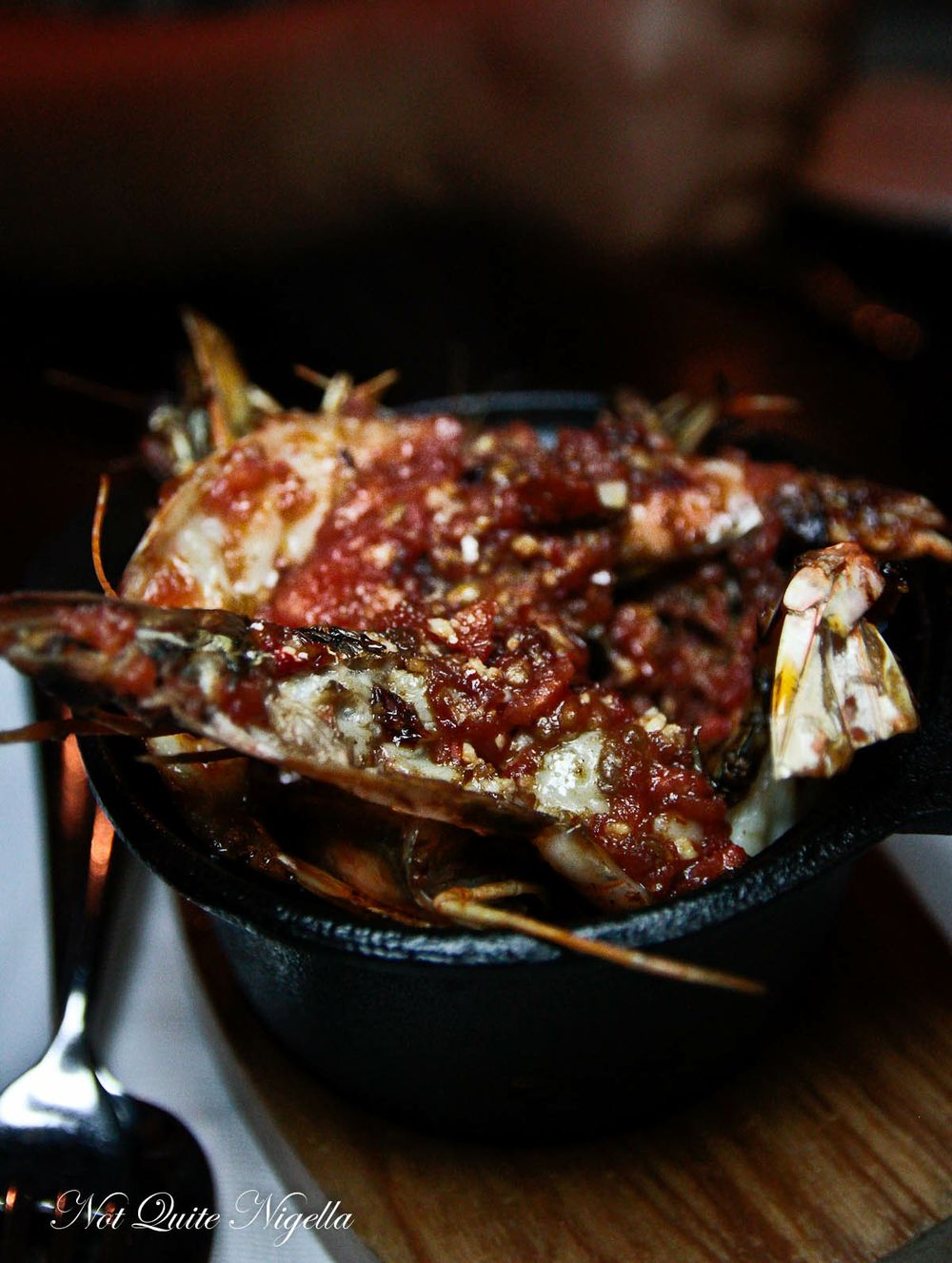 Sizzling Tiger Prawns with Garlic & White Wine $25
Mr NQN was still a little more peckish so we decided to order the prawns as Louise had seen several orders for these go past her. The prawns are butterflied and there are about 8 or 9 halves in this sizzling cast iron pot and they're intensely flavoured with chilli, garlic and white wine.
Apple, Walnut, Radish & Whitlof Salad $17
Considering I liked the other salad I was eager to try another and this one was wonderfully refreshing and sweet from the apple. I'm not a huge raw witlof fan so I bypassed the witlof pieces and enjoyed the sweet, refreshing crunch of the granny smith and apple matchsticks, watercress and walnuts.
Three cheeses $26
I was in a cheese and salad mood and as much as I love dessert, with the wines and the Tokay that they brought out I just wanted to have cheese as dessert. We chose three cheeses: Holy Goat La Luna, Pyengana cheddar and Gorgonzola piccante. All three cheeses are favourites and do not disappoint and they come with a pear and ginger chutney, poppyseed lavosh, a chunk lightly toasted fruit and nut sourdough, some garlic croutons and half a fresh date which are the perfect accompaniments to the cheeses.
Crème Caramel $12
The creme caramel is all wobbly goodness. Not overly eggy the caramel is the predominant flavour and every lick of this is gone quickly.
Apple, Pear & Rhubarb with Oat Nut Crumble $14
The filling under the brown sugar, oat and nut crumble topping was apple, pear and rhubarb although it appeared to be mostly rhubarb with its distinctive stringy texture. It's a warming dessert although the cream is a bit too thin to pour over it and ice cream would have been a better match.
Chocolate Fondant with Vanilla Ice Cream $14
Ordered for chocolate cake enthusiast Viggo, the chocolate fondant had a intensely thick liquid chocolate centre and a little of this rich little beauty goes a long way. Especially when you've been a guts with the cheese. Who me? ;)
So tell me Dear Reader, do you have a special bottle of wine that you're saving for a special occasion? And do you like bone marrow or do you find it too fatty?
Fix St James
111 Elizabeth St, Sydney NSW 2000
http://www.fixstjames.com.au/
Tel: +61 (02) 9232 2767
Lunch: Monday 12noon-3pm, Tuesday to Friday 12noon-3.30pm
Dinner: Monday to Wednesday 5.30-9pm, Thursday to Saturday 5.30-10pm
Drinks: Monday to Friday all day 'til late, Saturday 5.30pm til late