"I think you use a syringe and you inject the soup into it"
"No no too fiddly, I think it's like a blob of gelatine that they put in it"
"No no you're both wrong. They cook the meat and the skin separately and then put them together and pour soup inside and seal them up"
Dumpling Auntie
It's almost Chinese New year and as an avid Xiao Long Bao eater, I had always sworn to find out how they put the soup in these little beasties and when New Shanghai asked me if I would like to learn how to make these dumplings I jumped at the chance. My mother is also curious to know so she comes along. Shanghai dumplings seem to have taken over as the new Yum Cha and on weekends (and some weekdays) eager hordes queue to try these delicious little morsels.
Dumpling Auntie
Traditionally these dumplings are actually eaten as breakfast foods or snacks in the afternoon rather than the way in which we eat them here as lunch or dinner. Today the two dumpling aunties are going to show me how to make four of the dumplings. The fillings and dough are all made up already but they'll show me how to fill them and Shirley and John who own New Shanghai will explain the differences in making each bun.
Roll the circle mainly around the outside...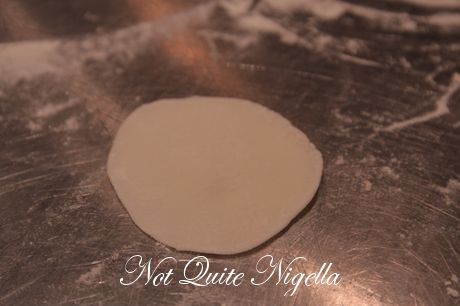 So that the centre is slightly thicker than the edges
First up are the regular gyoza type dumplings. These are steamed and then pan fried. The skin for this and the Xiao Long Bao are the same although the Xiao Long Bao are rolled thinner. They show me how to roll the skin which has an emphasis on rolling out the sides leaving the centre slightly thicker as the sides are to be pinched and gathered together. I watch as the other dumpling auntie fills a dumpling with the pork filling and then cradles it between two fingers in the hollow of her thumb ad forefinger and pinches the sides using her right hand while turning the dumpling slightly with her left so that they can a slightly rounded shape.
Fill generously (fill with less if you are starting out though)
Pleat with thumb and index finger
Ta-da! Sort of...I'm not getting hired _with this one _:P
My turn! OK not bad, she kindly fixes it up for me before I see that it has made the cut (although they might have binned it when I turned away to avoid hurting my feelings ;) ).  Each Dumpling Auntie has worked for years making these dumplings and they can make them all.
Xiao Long Bao attempt one
Hmm could have used some more pleats!
Second attempt: fail. No-one wants their meat showing do they?
Now for the Xiao Long Bao. They estimate that they make up to 1,000 of these a day. The secret to how they get the soup in them is this. John remains a little evasive I think in an effort to keep the secret recipe a secret but it is with pork skin broth which produces gelatinous cubes that once steamed, melt into a soup. The other trick to these is in the pleating.  You sit it in one hand (your left if you are right handed) and fold each over in tiny pleats using your pointer finger to fold it against the already folded pleats in a total of 22 pleats per dumpling!
Watching the pro do it
Pinch, pinch, pinch
And if you, like me, love the puffy, pan fried dumpling with the lovely burnished bottoms but often found that you were too full to eat them as they always arrive last I now know the reason why. The filling and method for these dumplings is the same as the Xiao Long Bao but the dough is a different yeast dough. They store the dough in the fridge and these dumplings are only made once an order is placed or the dough will start to puff and develop and the result will be a puffier, more porous dough.
My last attempt
In a powerful commercial steamer like this, Xiao Long Bao are steamed for a total of a mere two minutes
Once they are made (and these Dumpling Aunties only take a few minutes to make a batch), these are then moved onto the frypan area where they are placed in a lightly greased frypan and then once they sit there they ladle over about four ladles full of oil and 1 of water-yes water! This is then cooked for 10 minutes which explains why they take so long as each batch is cooked to order. And yes don't lift the lid while you are cooking these as the water and oil combination is explosive!
Four ladles of oil and one ladle of water. Yes, seriously!
She's a brave woman opening up the pan halfway through...
But look how purty they are!
Chinese proverb: a brave person opens up the pan fried dumpling pan once they are cooking ;)
White Tea $3.50 per person
A couple of weeks later dumpling fiend Mr NQN and take a seat to try these dumplings for ourselves. It's busy with a crowd gathered at the front. We take a seat and the crowd is mixed-there are Chinese families as well as people from all sorts of ethnicities. The design inside here evokes that of a Shanghai alley and there definitely appears to be an effort to raise this above the usual Shanghai dumpling eateries. There is a selection of teas from white tea, spiral green tea, dragon as well green tea as well as additional extras like XO sauce (a divine and extravagant mixture of dried scallops, dried shrimp, chilli, garlic and Yunnan or Jinhua ham)  for $2 for a small serve- I looove XO sauce (I've considered carrying it around with me)!
XO chilli sauce $2
#514 Stir fried Chinese rice cake with blue swimmer crab $18.80
The non dumpling dishes are the first to arrive as we start with the stir fried rice cakes with blue swimmer crab. The crab itself is plentiful with a soft shell and soft, sweet meat in that distinctive delicate blue swimmer crab texture. The sauce is gingery and flavoursome and the rice cakes are chewy and spongy.
#613 pork belly braised overnight in sweet soy sauce $12.80
The pork belly is straight from my mum's repertoire-it arrives with a flourish and other tables crane their necks to see what it is. A woman leaving the table next to us enquires as to what was contained within this urn type receptacle. The pork belly is soft, unctuous and sweet and salty rich with the long layered stratified pieces showing the meat and various layers of fat. It's perfect with a bowl of plain steamed rice.
#201 New Shanghai Xiao Long Ba steamed mini pork bun 8 pieces for $7
Aha! The xiao long bao. They were all plump and juicy and delicious although they don't quite have that distinctive ginger flavour that Mr NQN likes so much. I have a newfound respect for the number of pleats on top of these.
#209 Deep fried pastry filled with white radish, dried shrimps and shallots 4 pieces for $9.80
I do like radish filled pastries with seafood and these aren't bad although they could be more crispy.
#213 Steamed vegetarian dumplings 8 pieces for $7.80
These vegetarian dumplings are filled with vermicelli, mushrooms and greens that give them a slight crunch and a good mix of flavours. I would imagine that vegetarians would be quite happy with these.
#217 Mini prawn and pork short soup 15 pieces for $9.80
This was an item that we hadn't thought that we'd really go for but these end up being one of our favourites. Again it's the mixture of pork and seafood that goes well together to make the small wontons juicy little morsels full of flavour. There are 15 of these wontons in this seaweed and tiny dried shrimp flavoured clear broth. And given that it's a complete meal in itself for $9.80 it beats most of the other offerings in the outside food court.
#204 New Shanghai pan fried crab meat and pork bun 8 pieces for $12.80
I have to admit that I do like dumplings that have a bit of crab or prawn with the pork as this really gives the meat a better texture and added dimension of flavour. True to what we now know, these come out one of the last items. The bottom is lovely and golden brown and crunchy and there is a lot of soup inside these. Bliss.
# 218 Shepherd's purse and pork wonton tossed with sesame butter, red chilli oil and spice 10 pieces for $9.80
We wanted to try these dumplings as they sounded quite different. These dumplings I have to say were a little odd. The sesame butter reminds me of a runny peanut butter and they are paired with a red dried chilli oil and cucumber. The dumplings are filled with a mixture of pork and vegetables but looking closer it looks more vegetable and it has to be said that the dumplings are large. We both preferred them without the sesame butter.
#219 Steamed fish dumpling 10 pieces for $9.80
Now this is where the XO sauce came in handy. They're quite mild tasting white fish mince filled but when I dip them in the XO sauce the flavour really sings.
So tell me Dear Reader, if you could carry around a condiment or sauce with you in your bag, what would it be?
And don't forget that you can win a dumpling banquet for four!
NQN and Mr NQN dined as guests of New Shanghai
New Shanghai Chatswood Chase
Shop B-038, Lower Ground Floor, Chatswood Chase, Chatswood, NSW
Tel: +61 (02) 9412 3358
3 hours free parking at Chatswood Chase