I am torn about going to Darling Harbour. On the one hand, it is so touristy and full of tourist traps and on the other hand, it's right next to the water and it's ever so fun playing tourist in your own town on occasion. As often happens, the lure for me however was not the view or an event but the lure of seafood. Helm Bar in Darling Harbour has a different special every night and on the weekends you can get 1 kilo of prawns for $25. You know me - I am anywhere there are prawns to be had.
There is the lower deck that is supposed to serve the meals, including a selection for $10 and under but it's empty and there's more people upstairs so we sit there. We take a look at the menu. The prawns are a given but Mr NQN is a bit of a mussel fanatic and wanted to give one of their big cast iron pots of mussels a go (on a weeknight there is a All-You-Can-Eat mussel night for $19.90). We also decide to give a $10 and under meal a go too. Looking around the patrons are typical mixed Darling Harbour crowd of tourists and locals. $15 jugs of beer are popular here tonight it seems.
Our burger comes out and it's topped with lettuce, tomato, bacon, cheese, caramelised onions and a fat, juicy beef patty on a soft, untoasted sesame seed bun. It's juicy and moist although I find myself adding some aioli to it to give it a bit of extra flavour. Mr NQN likes the fact that it doesn't have a dry, toasted bun and that the patty is juicy.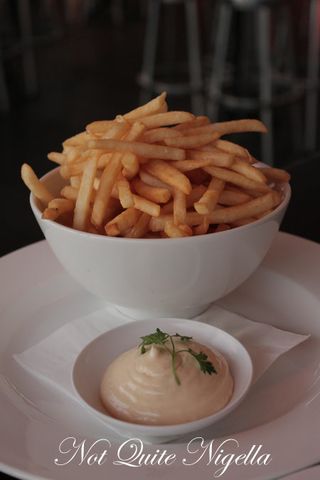 Aioli is my crack and the fries are nice and golden albeit a touch cold.
My eyes light up at the sight of 1 kg of prawns. All. To. Myself. OK Mr NQN gets to help out quite a bit but a girl can dream can't she? The prawns are Queensland farmed prawns and they huge, sweet and fresh. They come with a thousand island sauce but I much prefer peeling them, squeezing lemon and lime juice all over them and then dunking them in the aioli. And because I'm a good wife and Mr NQN is a good husband I peel a huge load of prawns for him.
_Pot of mussels in a Thai coconut curry sauce $19.90 with a Margan 2009 Semillon
_
Mr NQN is making fast work of the mussels in the cast iron pot. He has chosen the coconut curry sauce to go with them as that was recommended. It's spicy, perhaps a tad too spicy if you want to drink the soup by itself . On the mussels, the chilli is still quite hot but it's manageable.
Anyway I know that you're hungry for prawns now! So thanks to the nice people at Helm Bar we are giving away prawns for you and FIVE friends plus bubbles at Helm Bar & Bistro! All you have to do is tell me who you would take with you and why! *Yes I think this pretty much guarantees that you will be the most popular person in your social circle ;) Simply add your answer as a comment to the story. The com*petition ends at Midnight AEST 11th August, 2010. You can enter this once daily.
*CONGRATULATIONS CATE G.!*
This offer is valid for 6 months and can be taken on any day or night except for Christmas or New Years Eve. You will need to be able to make your own way there and back (sorry darlings, my private yacht is out of service
).
Best of luck!
Love,
Lorraine
xxx
Helm Bar, Darling Harbour
Aquarium Wharf, Wheat Road, Darling Harbour NSW
Tel: + 61 (02) 9290 1571