Mother's Days can be tricky. You want to find somewhere good that will please your mother but often, especially if you are  paired up, you might have two Mothers to keep in mind. And if you are anything like Mr NQN and I and you have mums that are polar opposites. My mum: conservative, wears pearls, loves butter and expensive presents. Mr NQN's mum: vegetarian, artistic and wears purple flowing clothes with scarves and never celebrates birthdays. So in my research, when I came across a place conservative enough for my mum yet artistic enough for his, I picked up the phone to book straight away. And got the answering machine of course since it was 8pm.
We arrive at 12 noon having dismissed the idea of the Afternoon Tea (said by some to be not as good as lunch). Tuulikki (Mr NQN's mum) was waiting outside and we headed towards the restaurant on the ground floor. Underneath is the cafe (where we later peek and see a lot of exhausted people sprawled on chairs) and to the right they hold a children's art class (a good idea to park your kids while you lunch although I think you have to collect them afterwards ;) ).
There are floor to ceiling windows and the whole room is like a glass cube perched on the side of Woolloomooloo Bay.  The pick of the tables (and one that you can request when booking) are the ones facing the Harbour. Service is all male, smooth and efficient and comes in all sorts of soft accents. When there are exhibitions, the restaurant features set menus of 2 or 3 courses with an entry ticket and currently there is an Archibald Prize Set menu with 2 courses plus ticket for $59.50 and 3 courses plus ticket for $70. We go a la carte and share the food whilst Tuulikki as the only vegetarian picks her own.
Confit prawn, crisp pork belly, pickled cucumber $22
This is good, with a huge single prawn cooked well although the confit of prawn here doesn't taste particularly different from other methods of cooking it unlike confit of duck which has quite a different texture. There is a soft pork belly and a vinegary pickled cucumber with flecks of chilli. It's for those who might want a bit of seafood with meat (and no I didn't mention surf and turf did I? ;) )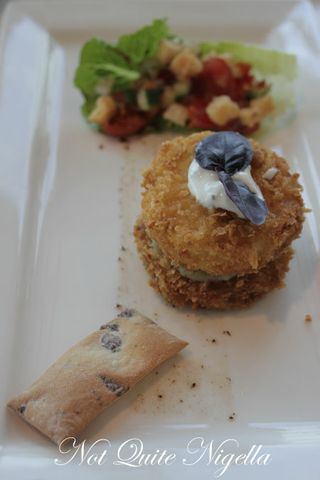 Baked eggplant, fatoush, sheep's milk yoghurt, mint $19
Tuulikki's eggplant is soft baked and then crumbed and fried so that it has a soft centre and a crunchy outer. She enjoys this very much although I only tried the eggplant as it wasn't a huge serve.
Cured ocean trout, fennel, watercress, roe, honey mustard dressing $22
The serve of the thinly sliced cured ocean trout is generous but it is very strong in flavour from both the salty roe and salty ocean trout and there was a lot of mustard dressing which could have used a bit more honey. Relief is in the peppery watercress although some more salad or a fresh lemon olive oil would have been lovely.
Brioche crumbed duck sausage, green lentil, raspberry vinaigrette $20
Although this is a single crumbed duck sausage, it is not an ordinary sausage. There is soft, tender duck meat packed in a sausage shape and it reminds me of a rillette. The crumbing gives it a nice light crunchiness and the raspberry vinaigrette gives the lentils an interesting sourness although I preferred the duck sausage on its own.
Chicken, taleggio, duxelle, creamed parsnip, madeira jus $31.50
As soon as they sat this dish down I smelt thyme. Full disclosure Dear Readers, I just don't like thyme and it makes me nauseous although I realise I'm in the minority. The serve is generous and it comes with a parsnip mash. I am also not a huge parsnip lover - it's ok and I'm not a Don Burke on the matter but I kept hoping that the creamy spoonful would be any other kind of mash so I never was going to love this dish. Neither do my parents (maybe the thyme thing is a hereditary thing).
Confit pork cheek, pickled cabbage, apple crisp, calvados sauce $30.50
This dish is however my kind of people. The pork cheek is softer than soft with the fat, jellied layers while the thick crackling is super crunchy-the kind of crunchy that you hear in your ears.  And the cabbage and apples are such a classic pairing that is hard to go wrong.
Wild rocket, pear, goats curd, caramelised hazelnuts $10.50
We share a side salad with red wine cooked pears, little crumbled pieces of goat's curd, lightly toffeed hazelnuts and wild rocket with a light dressing. My favourite parts are of course the red wine cooked pears and goat's curd and whilst the idea of the toffee hazelnuts are nice they mostly sank to the bottom of the salad.
Rhubarb & mandarin jelly, coconut, apple foam $16
Mums all love dessert don't they? Well actually Mr NQN's mum doesn't really but my mum does so we order a couple to share. The jelly is set in a glass and is strongly flavoured with the rhubarb and mandarin. There is also some liquid with the apple and coconut foam. It's fresh and it's fruity.
Chocolate & chestnut mousse cake, pistachio ice cream $17
The chocolate and chestnut mousse cake looks impressive. The cake itself doesn't taste like chestnut really, more like a chocolate mousse cake with a thick layer of glossy ganache on top. The pistachio ice cream is a disappointment. It tastes like almond paste with some ground pistachios. Although I've never been able to find a good pistachio ice cream here that can compare to the pistachio ice cream at Berthillon in Paris, it looks like my search continues. Interestingly, the chocolate triangle looks as though it would be crunchy but isn't.
So tell me Dear Reader, what are your in laws like? _Are they similar to you or quite different? And do you get along?
_
Art Gallery of NSW Restaurant
Art Gallery Rd, Sydney, NSW
Tel: +61 (02) 9225 1819
Lunch: 7 days, 12noon - 3pm
High tea: 7 days, 2 - 4pm
Brunch: Saturdays & Sundays, 10am - 11.30am