"I'm such a wuss, I don't want to leave the house, even for the promise of dinner. Must fly North for this Winter methinks!" I tweeted one night. I was being a drama queen but only a little bit. The weather had turned cold. It was 10 degrees in the morning and I would grudgingly open the windows to let fresh air in only to close them a few minutes afterwards. But the more I thought about it the more the lure of going out appealed to me. I was envisaging warm, Winter comfort food and since I'd left it too late for me to cook it for myself I ended up getting ready in record time imagining lovely warming roasts.
In the Macquarie Gateway building, the entrance is via Loftus Street in Circular Quay. There is the bar outside where patrons warmed by drinks and tapas congregate. I meet Mr NQN after work and we adjourn into the restaurant area. Capital Grill does a busy trade during lunch times but at night it is quieter. The menu looks full of Winter warmers and although I don't tend to order chicken very much at restaurants the sound of bread sauce and gras jus and chestnuts is too hard to resist.
We start with an amuse bouche that goes along with our thick cut fresh sourdough bread. It's a spiced pumpkin soup with a distinct ginger and prawn flavour. It's smooth and warming and nicely flavoured. Service is very smooth and friendly.
This was Mr NQN's choice-he's a sashimi and raw lover from way back (well since he was a child raised on raw food). It's a delicate mix of thinly sliced Hiramasa kingfish given a piquant twist with the pomegranate seeds and bursting salmon roe pearls. The watermelon vinaigrette gives it an unusual, hard to place dimension.
I mentioned how I was bunkering down for Winter didn't I? This was my choice. The prawns are a touch dry but the tortellini with the sweet, concentrated pumpkin filling and toasted almond browned butter are fantastic. It's the kind of dish I can easily imagine inducing food envy and I think this would be great even without the prawns.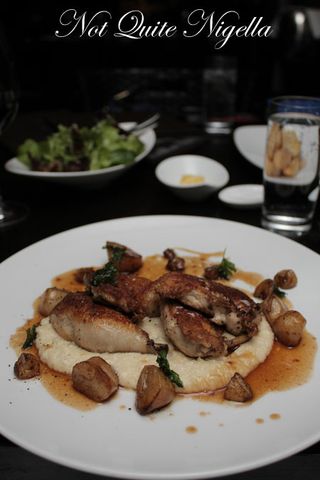 This was my choice and it comes out with two delicate dark meat pieces and two white meat pieces on the bone sitting atop a generous serve of bread sauce which is aromatic with nutmeg. Bread sauce is similar to a slightly lumpy, bready bechamel sauce-don't let my description put you off as it is delicious. It's pure comfort food and nicely paired with sweet chestnut morsels and jeruselum artichokes. The chicken is lovely and tender particularly the dark meat portions.
The steak is a pasture fed 350g steak from Riverina in South Australia. There are some gristly bits around it but it's cooked nicely medium rare. The hand cut chips are good and the thick bearnaise sauce is strong in tarragon.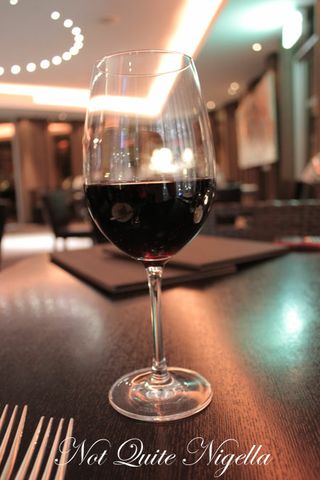 Mr NQN enjoys a glass of 2006 Rioja Crianza Solar Viejo from Spain.
The salad is full of delicate leaves and is dressed in a tangy verjuice dressing.
Chef Zac Sykes comes out (formerly of Fish Face, The Pier, Omega and Toko) and says hello and we chat for a bit. He's friendly, sweet and chatty. Some people come here for the fish as they know his pedigree but of course being in a business district there are always the steak loving business men. They've been open since just before Christmas last year but have been plagued with construction issues so people don't necessarily know that they are there.
Continuing my ongoing "comfort food" theme I go for the caramalised brioche. It comes out as two caramelised buttery discs of brioche spread and topped with raisin puree and a warm anglaise cream poured over it in an ode to a bread and butter pudding. It's good yes and I find myself murmuring assent and nodding a lot as I spoon mouthfuls of the sweet, buttery toasted brioche lightly soaked in foamy cream into my hungry mouth. Did I just say that I was hungry? OK I wasn't hungry per se but I was hungry for this.
Mr NQN loves his poached quince which is underneath a blanket of champagne sabayon and an unexpected layer of passionfruit. Quince and passionfruit is not a combination you see very often with the Wintry quince and tropical passionfruit but it works well.
So tell me Dear Reader, what is your go-to comfort food of the moment? Chocolate? Pudding? Chips?
A most interesting mural equation!
NQN and Mr NQN dined as guests of Capital Grill
Capital Grill & Bar
6/1 Macquarie Place
Sydney NSW 2000
Tel: +61 (02) 9247 4445