Rene Rezdepi: the "world's best chef"
The man to my left getting snapped talking to people looks tired, very tried but deep in concentration when he speaks. He's smaller than I imagined and some around me are whispering how different he looks with his beard. He is wearing a jacket, a linen shirt untucked and exposing dark chest hair, jeans and sneakers. Rene Redzepi is the chef at the best restaurant in the world Noma, in Copenhagen.
I count at least four newsreaders and there is the Masterchef alumni Matt Preston, Gary Mehigan and George Calombaris there for good measure too. I see many of the editors of food magazines and newspapers-there are at least three tables of media there. Yet this is not just an industry event because 140 diners have paid $395 for the privilege of dining with and listening to the world's best chef speak. They're Qantas frequent flyers-Rockpool's Neil Perry is a Qantas ambassador and this is the inaugural event for the launch of "epiQure" the new Qantas food and wine online community. Apart from being able to buy wine with free delivery and earn 3 points per dollar spent they also get access to events like this. Marco Pierre White was also rumoured to be coming although we are told that he wasn't able to come.
Neil Perry and Rene Redzepi
Matt Preston is standing on the illuminated stage and a large spotlight casts on him and he introduces everyone to the proceedings of the night. The menu tonight is mostly made up of dishes served here at Rockpool Bar & Grill.
Baby beetroot salad roasted, helly, raw with barrel aged feta dressing served with 2010 Penfolds Autumn Riesling and 2005 Penfolds Bin Aged Released Riesling
There is a flurry of efficient waitstaff and before we know it, we have our first course. This was such a pretty dish with beetroot done three ways with a creamy rich aged feta dressing. Simple but effective and the sweet beetroot contrasted well with the occasional burst of richness from the cheese.
Blue fin tuna tartare, Moroccan eggplant, cumin mayonnaise and harissa served with 2010 Penfolds Bin 311 Chardonnay and 2007 Penfolds Reserve Bin A Chardonnay
This dish was s surprise in that we usually see tuna tartare with Asian herbs and spices. This was most definitely Moroccan themed and worked beautifully the creamy textured tuna cubes were sublimely soft and sat on a bed of Moroccan spiced softer than soft eggplant. There was a small dollop of cumin mayonnaise and harissa to also bring home the Moroccan theme. This was a dish that stirred a lot of controversy for one guest who was angry about using blue fin tuna given that the restaurant is one that is conscious of sustainability issues. Neil gets up and explains that he uses sustainably farmed Southern Blue Fin tuna.
Rich and noble prawn congee, star anise scented peanuts, Chinese fried bread and chilli oil served with 2010 Penfolds Bin 23 Pinot Noir and 2008 Penfolds Cellar Release Tempranillo
Still standing on the stage, with a tea towel tucked in the back of his apron, Neil explains that the congee that we are about to eat is a "rich and noble congee". Traditionally congee is made with leftover rice to stretch it out but this one isn't and it would be closer to what the aristocracy would eat. The prawns are served whole and tail-less and are beautifully succulent and sit on a shallow layer of twice cooked rice porridge. The is crunch and chew value from the crunchy star anise scented peanuts and little cubes of Chinese fried bread and a drizzle of chilli oil comes to the fore right at the end deep in the throat and mouth.
Rene Redzepi and Matt Preston
Before the next savoury course comes out Matt Preston and Rene Redzepi take to the stage where Matt interviews Rene. Rene speaks with a very light Danish accent and his English is excellent. He is modest when asked about winning the best restaurant accolade and says that in reality the best restaurant cannot exist and compares it to everyone choosing the best colour-an impossible feat. He talks about Denmark traditionally not having a rich culinary culture for fine dining partly due to their mostly Protestant upbringing and history. He cites the film Babette's Feast as an example of how people used to eat in silence and have one meal, one dish and look at food as fuel for the body.
Matt asks him how did he start redefining fine dining? He started really exploring other exciting cuisines like French and Spanish cuisine. Eight years ago he thought "Let's start using products from the region." Whilst it is simple to put Danish ingredients into existing recipes it doesn't change the recipe. An example he uses is that of using Danish sugar in a creme brulee. That in itself doesn't make it a Danish creme brulee. Instead he wanted to put things on a plate that reflects where you are. It's the "time and place" for which he is known.
Matt asks him how one can achieve time and place and Rene answers that it is a complex question "I don't know how to answer" he says, possibly the effects of being tired not helping. He suggests looking back in time-anything from 150-800 years back in time. For us in Australia, to look that far "it's a whole different story." He tells us that there is no such thing as the best ingredients, you can cook anywhere. "Good food can happen anywhere. If it happens in Copenhagen it can happen anywhere. It's a great inspiration."
And the last question, what are the top five food experiences around the world that Rene can recommend?
Step 1 - Chateaubriand. a bistro in Paris that  is impossible to get into "and would probably reject you". He quotes Alain Ducasse who says that food should be a reflection of society and this place is an example of this. It isn't traditional bistro food but "modern, innovative, unpretentious and full of life." and is also inexpensive.
2 & 3. San Sebastian as a destination-he cites Mugaritz and Extebarri as two restaurants.
Step 4 - Faviken in Northern Sweden is "Like steeping into a fairy tale of Hans Christian Anderson." He describes the chef as like a smurf exploring every mushroom and animal. He considers it "astonishing, genuine and full of life."
Step 4 - Ubuntu in Napa Valley which is a vegetable restaurant. Rather than seeing vegetables as garnish there they see them "as a lead guitarist... It's genuine with fantastic food."
Wood Fire roasted Burrawong chicken with baby carrots and pea sauce served with 2008 Penfolds Bin 389 Shiraz Cabernet, 2007 Penfolds St Henri Shiraz and 2008 Penfolds RWT Shiraz
The burrawong chicken breast was wonderfully tender and it comes with an assortment of heirloom carrots and a creamy, smooth pea sauce. And the wine lovers here must have been in heaven with this selection of Penfolds wines, two for each savoury course but three wines for this chicken course!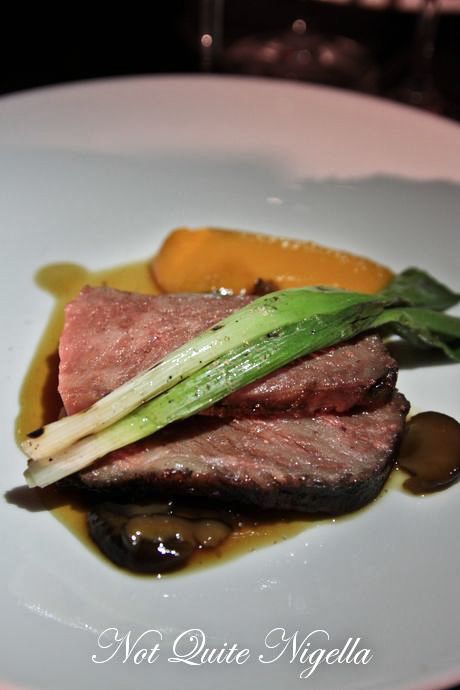 Slow cooked David Blackmore Wagyu short rib, charred with red braised shiitake mushrooms, yam and ginger puree served wtih 2001 Penfolds Grange and 2004 Penfolds Grange
"Do you want yours? Because I want yours" I say to Mr NQN. He gives me a look and then moves his plate away from my insistent hands. The David Blackmore wagyu short rib is an example of wonderfully melty wagyu. In fact I think this cut and treatment best exemplifies the properties of wagyu with the rippled fat and wonderfully soft, melty texture.  And like the Moroccan treatment of the blue fun tuna, there is an Asian influence to this dish which you don't see that often with beef. The aroma of star anise hits our noses and then the smooth ginger infused yam puree and slippery braised shiitake mushrooms all combine to make this a dish that is worth pinching from someone else. But Mr NQN put up a hand and blocked off any attempts to pilfer a piece. And these were both matched with bottles of Penfolds Grange, one 2001 and one 2004-the 2004 is particularly good. Oh yes the wine lovers were rejoicing that night...
The story of David Blackmore who produces the 100% Japanese wagyu at his Victorian farm is an interesting one. He holds the exclusive rights to full blood Japanese wagyu in Australia known as Japanese Fullblood and are known as the only cattle containing no contamination of inferior genes.
Steve Lienert, senior wine maker at Penfolds
Sharpe family strawberry mascarpone cake served with NV Penfolds Grandfather Tawny
We were curious to ask what the Sharpe Family referred to-the strawberries or the cake recipe. It turns out that the Sharpe family are the strawberry growers in Brisbane who make these strawberries. It is a sweet, light mascarpone cake topped with dehydrated strawberry flakes and filled with mascarpone and diced strawberries. A light, fruity and creamy end to the night. Neil comes around to say hello to guests and shake hands. He's very friendly and personable and sits down for a chat and answers some questions from our fellow table mate David from Australian Business Traveller.
Oh and I left one last answer from Rene until the very end. What is next for Rene Redzepi and Noma? He says that they will simply be doing the same for the next five years. For all of the fame and accolades he still considers his restaurant an infant. He wants to keep exploring regions like treasure hunters picking up coins and jewels. He tells us of finding a native plant which tastes like coriander. To the Danish, coriander is considered quite exotic yet they've got a native plant that tastes just like it. He marvels and comments that have they been so blind to this and wonders what else is to be discovered.
"Is there such a thing as perfection?" Matt asks. Rene answers no. Thomas Keller told him that perfection doesn't exist. To Rene the process is interesting and if you reach the end (perfection) then the end is boring. There is nothing perfect. "Nourishment is really as close to perfection as you can get."
So tell me Dear Reader, what's a place in the world that you can recommend to eat at? And where do you want to eat in the world?
_NQN and Mr NQN dined as a guest of epiQure. _
Rockpool Bar & Grill
66 Hunter Street, Sydney NSW
Tel: +61 (02) 8078 1900