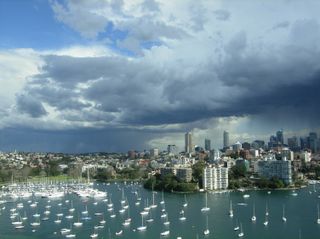 Teena, Gina and I decide on Ottoman Cuisine for a Sunday girls only lunch one day. The weather looks promising this Sunday. It's a sunny (relatively) balmy day in Sydney. I am running ten minutes late and I rush past the MCA which is crowded with tourists enjoying Sydney's sun. Suddenly little pieces of white specks blow over everyone and black grey cloud passes over the sky. Everyone scrambles in different directions and all I can say is "I wish I was filming this!". My friend Shelby took the above photo from her place-fantastic huh?
Moral of the story? Well if I had been on time I would have completely missed the sudden storm but as it turns out I was caught in it so I cabbed the final way to Ottoman Cuisine on Pier 2 of Dawes Point. We are partaking of their Sunday Lunch where you get a nine course tasting menu for $55. Ottoman Cuisine started off in Canberra where it became famous and the location here is a lovely waterfront one with all floor to ceiling glass views of the harbour.
We start off with the colourful dip platter which features four house made dips beetroot, crushed eggplant, babaganoush & hommus. They're all delicious but the eggplant is definitely the favourite with its slight smokiness and the well rounded flavour with chilli and carrot. The beetroot is rather striking and it's a combination of yogurt, dill and beetroot. The bread is soft and fresh and we order some more to mop up the dips.
There are some changes to the menu today. Our next course is a selection of three things. There is a lamb sausage which is very nicely seasoned, some char grilled zucchini pieces and there are three dolmade halves which are wonderfully fresh, warm and stuffed with rice and pine nuts. Some olives round off the platter. Teena and Gina order some wine and it comes out in a very generous sized glass.
Another change to the menu is stuffed zucchini flowers filled with goat's cheese. They're done well with a crispy outer although we were hoping for something a bit more Turkish.
The more Turkish comes in the form of the Etli Borek which I recall trying one year at the Taste of Sydney event. Here they are crisp home made filo rolls filled with slow braised veal shank, currants & pine-nuts, served with pomegranate & yoghurt sauce. I recall the filo being thinner and more spring roll pastry like when I had these at Taste of Sydney launch whereas the pastry here is a tad thicker and bubblier. It's still good and the pomegranate and yogurt give this an interesting aspect although I wish there was a bit more of the sauce.
Now you don't expect to enjoy char grilled mushrooms as much as we enjoyed these. In fact these were one of my favourite courses. They're tossed in a moreish combination of cumin, oregano & mild Aleppo chilli. Pure umami!
Our last entree is the dolma which is salmon, crayfish & prawn wrapped in vine-leaves, lightly battered, served with savoury piquant sauce. It's quite tasty with the salmon being moist although I find myself hoping that this will be the last deep fried course as this is the third one.
Our mains come out and despite being told that we will get chicken, the char grilled fish arrives.  The fish is moist and cooked through and is served with preserved lemon mayonnaise. It also comes with rice and a delectable pomegranate and cos lettuce salad which is highlighted with a touch of mint which I really enjoy.
Our last main dish is the pounded veal which comes out like a schnitzel without the breading in three large pieces. It is tender and has us full but not burstingly full. I'm glad Mr NQN didn't come along as he might be hungry.
We finish off with our desserts, a lovely hand rolled baklava and Turkish delight which comes in two flavours, a rose and an orange flavour (which has tones of strawberry and mango). It comes with some lightly sweetened cream.
Our final round? A Turkish coffee of course! Thick and syrupy, I adore Turkish coffee!
So tell me Dear Reader, do you enjoy storms and rainy weather?
Ottoman Cuisine
Pier 2
13 Hickson Rd
Dawes Point New South Wales 2000
Tel: +61 (02) 9252 0054