I haven't queued for a restaurant in the longest time until this last month. I just find that I prefer to wait until the enthusiasm dies down to try a restaurant (and practically speaking, I'm often wearing queue unsuitable shoes). One of the few times I recall queuing was for Bodega, Ben Milgate's and Elvis Abrahanowicz's tapas restaurant in Surry Hills so when I heard that they were opening up an Argentinian restaurant on Cleveland Street I was curious. The thing with queuing is that the food has to be good to make up for the sore feet and legs.
Gina, Teena and I are stationed outside Porteño at 11:45 am one Sunday for lunch (update: Porteño no longer do Sunday lunch) and we smell the first enticing aroma of charcoal and grilled meat. Having driven past here on a Tuesday night at around 9pm we witnessed a swarm of people gathered in the courtyard outside waiting for a table and we wanted to avoid a similar fate. Bookings can only be taken for groups of five or more with a maximum of twelve and some have complained that there is an allocation for tables of two which runs out early. At 12 noon the doors swing open and everyone gets a table to sit at in a civilised version of musical chairs.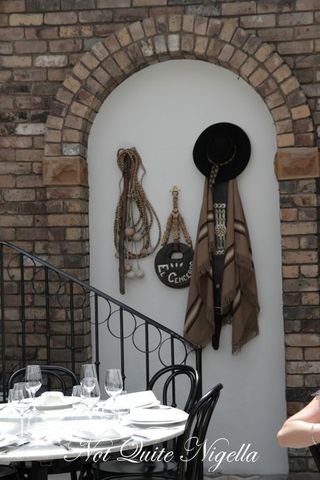 Porteno is a much bigger number than Bodega and seats 120. There's an upper floor bar as well as a multi tiered dining space with white washed walls and black wrought iron and alternating areas of shade and light. The Argentinian details carry on through to all aspects even to the South American cigarette ads in the bathrooms. And at the front, the two tattooed rockabilly styled owners and chefs Ben Milgate and Elvis Abrahanowicz are tending to the giant open hot coal oven whilst other food is created in the kitchen.
The stars of the show are the roast suckling pig and the roast lamb. We had heard grumbles about these two signature dishes running out and so curious, I ask Ben about how many lambs and pigs they go through a day and he says that it's always two pigs and two lambs-they simply can't do fit more on the grill and each beast is cooked for between six and eight hours. Yep even on a Saturday! So put in your order as soon as possible or line up early to avoid disappointment ;)
Outfitted authentically as an Argentinian restaurant the wait staff are staff are picture perfect and straight from central casting, so much so that I wonder how long it takes them to get ready! It's Rockabilly meets Argentina, if there were ever such a thing (and we suspect it might have just been started here).
Elvis tends to the food like a surgeon bent over a patient while Ben tends to the parilla grill (another way to grill meat flat over coals) and rings the bell. We watch as Abrahanowicz's father pairs up with his son and plays the role of asador turning the butterflied spread eagled pigs and lambs with a metal pitchfork on the slightly ritualistic looking coal grill. The Argentinians know about grilling steak and have seven different ways, asado being just one.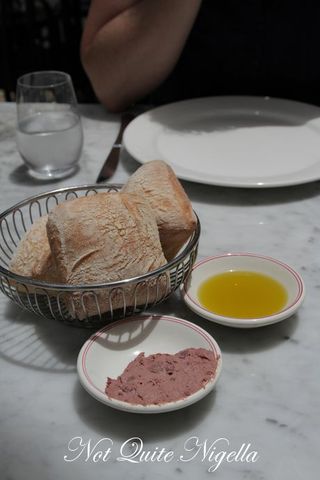 _Pane di Casa bread and pate $2 per person _
The menu is of course meat heavy-there's no use pretending that Argentinian cuisine is anything but. We start with the pane di casa which are warm, soft white bread rolls served with a pork liver pate which has an smooth spreadable texture with coarse ground meat dotted throughout it.
I sometimes find empanadas can be dry from the filling or the pastry or a combination thereof. These aren't dry at all, they're freshly fried, prettily pleated and slightly blistered from the hot oil but importantly they're not oily. They are filled with a slightly saucey beef mince mixture and of course a single whole olive.
I do like blood sausage but find that I can only eat a little bit of it usually. This morcilla aka the Argentinian blood sausage with roasted red peppers and thin garlic slices is an exception. So soft it is spilling out of it's casing it is dotted with little cubes of fat and has a slightly spicy aftertaste right at the very end. It doesn't have that metallic taste that some blood sausages do from the iron in the blood. The morcilla and the rest of the meats apart from the pork and lamb are cooked on the parilla grill over hot coals.
Ahh the lovely eight hour suckling pig is brought out and we crack at it with the steak knife like a meaty savoury version of ice magic. The pork has a deliciously thick layer of soft fat between the hard crackling and the meat. I prefer my crackling a bit more blistered so that it crunches easily but I do like the unctuousness of the fat and the meat together and I'm secretly quite glad that I am not addicted to the crackling (aka my version of crack). And when we couldn't finish it our waiter offers to pack some up for a tasty sandwich the next day.
We were given two sauces, a very garlicky chimichurri and a criolla sauce which has red chilli, onion and oil which is very mild and actually not very spicy at all.
The 8 hour suckling suffolk lamb comes out in a very large serve (and it even has Saltbush lamb still visibly printed on the skin!). I love the flavour of saltbush lamb and the meat is tender and excellent together with the chimichurri which gives it a herby goodness and contrast to the richness of the lamb. Value is an aspect where Porteno has been criticised but even with the three of us, there is a lot of meat leftover as the serves are substantial. We see large plates of ribs and chicken being brought to the other tables.
We asked for advice from our waiter as to which side order to get and he suggested the brussell sprouts. I'm not normally a huge lover of them, they usually have to be generously served with bacon for me to enjoy them but these babies are delicious. They're halved, deep fried and served with lentils and torn pieces of enormous mint leaves with a slight crunch and deep fried goodness to them.
Now if you have eaten South American sweets, you'll know that they a) love dulce de leche and b) they love their sweets very sweet. So whilst pairing dulce de leche with meringue may seem overly sweetly ambitious, it is very South American. Their postra chaja is an interpretation the Uruguayan meringue cake with peaches and whipped invented in the 1920s by Orlando Castellano who named it after a bird called el chajá.
This dessert has large pieces of crunchy topped meringue with a soft layer underneath it, lashings of thick dulce de leche milk caramel, crunchy toasted peanut and mango pieces that are soft and sweet from being cooked sous vide with sugar syrup. It's sweet - I didn't have to tell you that but the textures are lovely with the soft mango, crunchy meringue and peanuts and fluffy meringue underside.
The pina colada spider is filled with pineapple soda, diced pineapple pieces, clear pineapple jelly, coconut meat and a silky smooth coconut cream ice cream and a few pieces of coriander (which jarred a little for me). It's refreshing and sitting under the skylight has heated us a little so we spoon the fizzy sweet liquid and fruit into our waiting mouths before popping around the corner to do some shopping. Yup Rockabilly meets Argentina is delicious indeed.
So tell me Dear Reader, do you like very sweet desserts or do you order the cheese plate?
Porteño
358 Cleveland Street, Surry Hills, NSW
Tel: +61 (02) 8399 1440
Dinner: Tuesday to Saturday from 6pm
Bar: 6pm - late Tuesday - Saturday 2pm - late Sundays