There are certain challenges when trying to introduce a cuisine into a country especially one largely unsampled and unheard of. And for years native Peruvian chef Alejandro Saravia has toiled trying to introduce his country's cuisine to Australia through his Taste of Peru dinners and cooking classes. There is the struggle against using ingredients like guinea pig which many people associate with Peruvian cuisine, lest it become a gimmicky cuisine. There is also the wider misconception that Peruvian food is just like Mexican food or Spanish food.
Fast forward to a few years later and after working in kitchens across Sydney (Pier, Sails and El Bulli) and biding his time, Alejandro has finally stepped out into the spotlight with a restaurant of his own making the food that he wants to, with Morena serving modern Latin American cuisine.
Chef Alejandro Saravia
What does Morena mean? Alejandro explains that Morena is a Latin American woman, brunette specifically, and a woman that can fill up a room with her presence. She is sexy, fun but  elegant. And this is the sensibility that he is trying to impress upon us-it's Peruvian fine dining but with a Latin American warmth to it. Part of the St Margaret's development it sits where Guru and The Battery used to.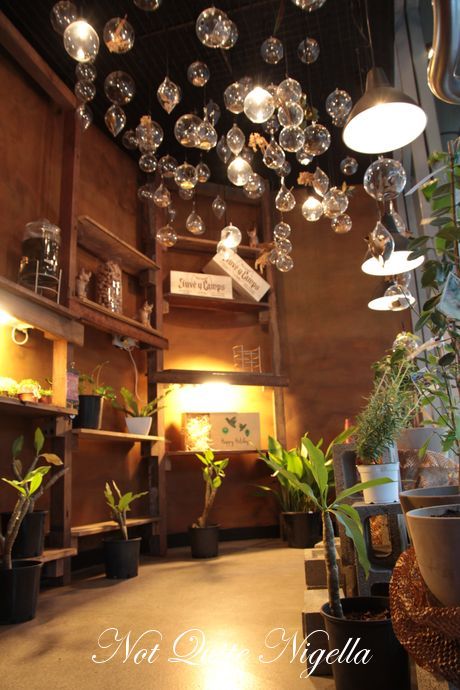 The front entrance is an eye catching verdant scene glowing with hydroponic lights. The scene is a joint venture between Morena and Queensland's Kendall Farms. They grow them the very important "Aji Amarillo" or the Peruvian yellow chile pepper which up until now, they had to use dried or in a paste form. It took the farm just two crops to get it just right.
Morena has Australia's first pisco bar, pisco being that eminently drinkable grape brandy that lends itself to sour flavours without being too mouth puckeringly sour. Here they experiment with many different cocktails including Pisco infused with coca leaves (the leaves that are used to make cocaine but have actually been part of the Inca and Andean diet for many years-and no the end result bears no resemblance to cocaine! ;) ).
Pisco Sour $17
The Pisco sour is a frothy foamy drink made with Santiago Queirolo Pisco, lime juice, sugar syrup and egg white shaken vigorously and served in a wine taster with a couple of dashes of bitters and has a distinct aniseedy taste to it. It is finished off with some finely grated kaffir lime zest. Limes are sweeter in Peru while they are more acidic here so to compensate they also use some lemon juice.
Morena Chilcano $18
The Morena Chilcano is Alejandro's favourite. He predicts that when the Summer weather hits and they open up to the courtyard outside in February this refreshing cocktail with Pisco infused cucumber, lime juice and ginger ale will be the hit.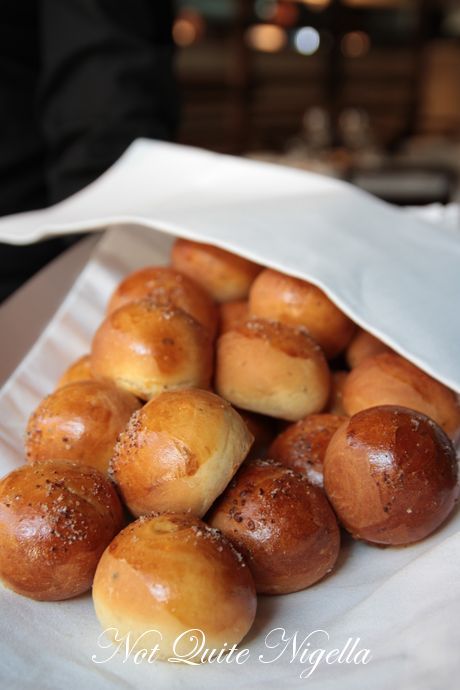 The bread is baked on the premises daily and is a lovely, warm round roll with quinoa and it comes to life when paired with the coriander seed and black pepper infused Italian olive oil. Service is sweet and they explain things to us. However as we're dining early (way too early for the Surry Hills crowd) and are the only customers, we feel a little claustrophobic as two wait staff hover over us.
Peruvian ceviche with kingfish, cancha and caramelised sweet potato and seaweed $20
There's a degustation menu with 6 courses for $105 or with matching wines for $135 but we went a la carte as we wanted to try some other dishes. We start with what has to be the signature dish, a Peruvian ceviche. Although ceviche is a dish that spans many countries, the difference between others and Peruvian ceviche is the use of aji amarillo and it is not considered a Peruvian ceviche without it. The waiter tells us that the fish today is kingfish instead of the pink snapper on the menu and it comes in even sized cubes dressed with lime and lemon juice, balls of sweet, caramelised sweet potato and cancha which are crunchy, dry roasted Andean corn-corn being another item that is used extensively.
The flavours are tart, moreish and the texture of the kingfish is sublime. There was some brown seaweed at the bottom which was quite strong in flavour and I didn't really go for this as I preferred the fresh flavour of the kingfish and I felt that the seaweed detracted from the fish. They key to good ceviche apart from fresh fish is using freshly squeezed juice as storing lemon and lime juices overnight can turn them bitter.
Causas 3 $18
Causas 3 is actually based on the historical dish of causa. When Peru was fighting for independence they used to feed the troops on what they could get their hands on which was potatoes. It is a dish based on mashed potato and historically they mixed with aji and lime and as named Causa as it would sustain the troops to fight for the "cause". The causa here consists of three quennelles of mashed potato and each is flavoured with a different ingredient.
The top one is flavoured with parsley and other herbs and is topped with a creamy avocado and tiny, crunchy cubes of fish (and is my favourite of the causas). The yellow causa is the original causa and is desiree potato mixed with aji amarillo to give it a more golden colour and topped with large kernels of Andean corn. The third orange causa is given blush with roasted capsicum and topped with tender, braised octopus. And all of these dishes are plated very prettily and as per my resolution after the photography class last year I love playing around with the manual settings on the camera and using  my favourite Sigma lenses to try and capture these.
Andean Garden $18
The Andean Garden is all about soft and gentle flavours. There are three types of potatoes used here and it starts with a desiree and huacatay potato gnocchi, slices of royal blue potato and kestrel potato chips, all with different textures. It sits on a lima bean puree, a serve of quinoa "soil", broad beans and purple heirloom carrots to give it sweetness.
Asado con Chimichurri $32
Our mains arrive and the Argentinian style beef short ribs are enormous. The bones have been removed and I didn't take out a ruler but I'd guess they were at least 15 cms long and full of soft, tender, fall apart beef topped with smoked salt flakes. To the side was a swirl of earthy, sweet beetroot puree and chunks of roasted golden beetroot. On the opposite side was a delicious chimichurri with a melange of herbs, coriander being a strong one. A drizzle of merlot jus and olive oil finishes this off. It is lovely and rich but the chimichurri and beetroot lighten the unctuous, soft meat.
Seco de Alpaca $34
The most popular main dish is apparently the alpaca as I'm sure that people are curious as to what it tastes like. There are two cuts of alpaca here from a backstrap that has been slow cooked  for eight hours and is just packed with flavour with a soft, pull apart texture. There is also two loin pieces which are cooked blush pink that remind me of a slightly gamey pork loin. The alpaca comes from Illawarra Prime alpaca in NSW. Alongside the alpaca is a carapulcra which is a dry potato and peanut stew that adds flavour as well as a smooth celeriac puree. This all sits on a coriander and beer sauce which adds another flavour element.
Solterito salad $8
We ordered the solterito salad as we wanted to try the Andean home made cheese which is mild in flavour with an almost feta like consistency. There are poached, halved cherry tomatoes, tiny dried pitted olives, those large kernels of Andean corn, broad beans, basil leaves and a piquant aji amarillo dressing.
Emoliente 
The emoliente is a digestive that they make in house and they are the only ones in Australia to do this. It is similar to a herbal infusion where they infused herbs, cocoa leaves, flax seeds, una de gato (cat's claw) bark, lemon and an anti hangover ingredient  to make what they call "Andean tea". Andean Tea is commonly sold by vendor carts on the streets of Peru. They mix their version of Andean tea with Pisco and serve it with a single ice cube and it is sublime-sweet, velvety soft and with a heady mix of herbs we both adore this.
Dessert tasting plate $28
Now make sure that you leave room for this because the dessert tasting plate is something! With three out of the four desserts covered, there is a caramelised rice pudding with a crunchy bruleed top, a cube of purple corn jelly (which tastes like a berry) and semi dried raspberry on top which has a lovely creaminess underneath the crunchy top. There are also picarones, gorgeous crunchy and light bite sized pumpkin and sweet potato dumplings that are like little donuts. They come with a caramelised raw sugar, clove and cinnamon syrup as well as a divine white chocolate mousse and poached apple.
Then lastly, and definitely not least, is the tres leches cake, a holey, spongey, soft cake soaked in three milks after which it is named: full cream, evaporated and sweetened condensed milk. And to make the cake even better, the sides are toasted in a pan so that the outside is crispy and the inside soft, but not wet. Alejandro says that they achieve this by soaking the sponge but then draining the excess milk. And it is served with an excellent pineapple ice cream and diced pineapple. Heaven is this tres leches cake.
So tell me Dear Reader, do you always save room for dessert? And have you ever tried Peruvian cuisine?
Morena
425 Bourke Street, Surry Hills NSW 2010
Tel: +61 405 90 2896
Open Tuesday to Sunday from 6pm for dinner