We were sitting at the bar and considering the dessert menu at Boca, an Argentinian restaurant in Darlinghurst, when my friend Ute exclaimed loudly.
"Dulce de leche! That stuff is disgusting!" she said, accidentally booming her words across the bar. As in in slow motion I watched as the sound waves travelled across to the chefs standing behind the bar. Their eyes widened and their mouths fell open in shock.
"Oops!" she says covering her mouth. I laugh and whisper to her under my breath "maybe you should bring up Maradona's Hand of God goal next and then we'll get chucked out?"
I was first put onto Boca by the lovely Deb that I worked with on the Discovery Channel's food show. She is Argentinian and knowing that I had recently visited Buenos Aires, asked me if I had tried Boca. She told me that it was authentic Argentinian.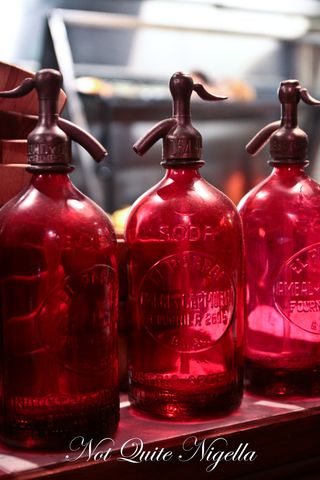 They've taken great pains to recreate the feeling of La Boca, the soccer mad, working class area of Buenos Aires where tourists pay to pose in front of cut outs of tango dancers. Upstairs, the decorating scheme is blue and yellow vertical stripes, the colours of the soccer team Boca Juniors.
Pictures of Maradona line the walls and the bar, in front of the parilla grill (pronounced parisha in Argentinian) is where the action is. The chefs are very friendly and offer us morsels from what they are preparing which is nice considering what Ute had said about dulce de leche! ;)
Sangria with white wine and a penguin jug$6
I felt like I should order something to drink as I wasn't driving that evening and was sitting at the bar. The sangria comes with wither white or red wine and has strawberries and mango in it. And yes that's a penguin shaped jug!
Feta with toasts
The feta with toast was a complimentary course because the parmesan fritters were taking a bit longer than usual. That was a nice gesture and we top the crunchy melba toasts with creamy feta cheese, olives and pickles.
Torta frita $3 each
The torta frita are fried parmesan fritters served as a long crispy triangle. The pointy end was a bit dry but the further into the fritter was the better part and it reminds me of those moreish parmesan cheese biscuits.
Provoleta $14
I recall having this at a traditional Argentinian steak house in BA. Provoleta, which is a grilled Provolone cheese is grilled until it melts, caramelises and blisters. The chimichurri here is spicy, most Argentinian food is not spicy at all, but the spice is actually something that goes well in chimichurri. The spicy sauce is also sold in the restaurant's store as is a range of Argentinian items including ponchos, mate cups, yerba mate (the omnipresent tea). The provoleta also came with two cubes of sweet potato jam which were nice but I didn't think were really needed as the cheese was perfectly complemented with the chimichurri.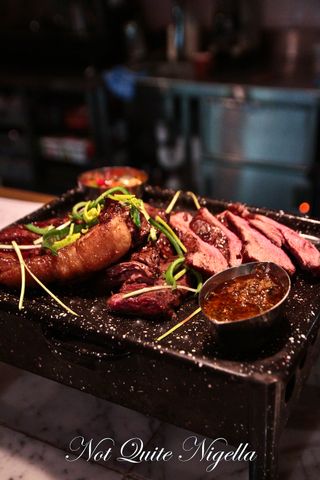 Parrillada Gaucho: Inside skirt steak - Sirloin - Lamb$ 69.00
The grilled meat is really what Argentinian mains are all about and so we turned to the grill menu where they lay out options for 1, 2 and 3 people and the eat for two comes with one side dish. We go for a combination of things and the waiter explains that we can pick a combination too which is good. We go for the sirloin, beef short ribs and lamb. He cautions us against the beef short ribs warning us that they are fatty but stubborn as a mule, I still want to try them.
_Beef short ribs _
We end up with a sizzling hot plate which is slightly different from what we ordered as they had accidentally given us the skirt steak and left off the beef short ribs but an enquiry produces the short ribs a minute later. The sirloin which a Tasmanian grass fed is succulent and delicious as is the lamb which is the pick for both of us, especially with the spicy chimmichurri and the Ensalada de berro (watercress Spanish onions, avocado and caper salad) giving the rich meat a nice contrast.
The salads look to be adapted for the Sydney market too as a typical Argentinian salad would be iceberg lettuce, tomato and onion. Alas, I should have listened to the waiter as we both found the beef short ribs just too fatty for us and they are best slow cooked until they fall off the bone rather than grilled.
Zapallo en almíbar $13
We considered the dessert menu and the alfajores but to be honest I thought that $13 for a biscuit no matter how nice seemed a tad high. We went for the waitress's recommendation which is said to be a dessert found in the Argentinian countryside. Cooked for four hours, this pumpkin dessert is nothing like I expected.  The three chunks pf pumpkin have a crispy outer, much like biting into a crisp apple yet the inside is soft and yielding. It is slow cooked with sugar and vanilla bean to give it that lovely translucent quality much like quince and it is served with whipped vanilla cream. It's so unique and delicious and I contemplate hunting down a recipe to make this at home. And although I couldn't finish it I ask for the remainder to take home with me as I know that Mr NQN will love it. He finishes it in about two mouthfuls flat ;)
So tell me Dear Reader, do you like dulce de leche caramel? And do you prefer to sit at the bar or at a table?
Boca
308-310 Liverpool Street Darlinghurst NSW 2010, Australia
Tel: +61 (02) 9332 3373