When I was young, I was a little (ok a lot) obsessed with Lady Diana. I possessed a scrapbook, my most treasured possession, filled with clippings about the Royal Wedding. I don't know what percentage of girls or boys grow up wanted to be princesses or princes (and I suspect more girls want to be princesses than boys want to be princes) but I was certainly one of them. I wanted my hair like hers (thankfully my parents ignored that, that would have looked incredibly strange on an Asian child) and I wanted fluffy angora sweaters like she wore-shame that I am fiercely allergic to angora. I think I just really wanted whatever it took to be a princess.
Not so any more. Whilst it would be nice to have a staff of twenty or more attend to you, I think that being a modern day princess is not all that it is cracked up to be. I wonder if Princess Mary is allowed to be stupid, act like a child, throw a Halloween party or just go wherever she wants without an entourage in tow? In a strange almost twist of fate, back in 2000 when she met Prince Frederick, I was offered a job at the advertising agency where she worked. Now I just let my princess fantasies simply extend to being invited to the wedding. Yes  a wedding guest at a Royal Wedding, I could do that. I could behave myself and act appropriately for a day.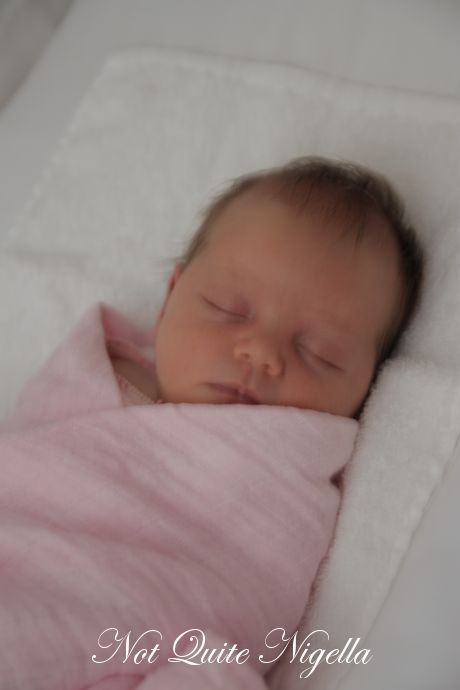 Poppy Ava
The timing for these cupcakes in relation to the Royal Wedding is coincidental. These were in fact to celebrate the birth of two babies-Aura Lily from Mr NQN's sister Araluen and Poppy Ava from my buddy Christie. Both girls arrived within days of each other-sadly when we were both overseas so we had to wait until we got back to see them. And even though both girls aren't related, don't you think they look strangely alike? Christie's Poppy Ava was fast asleep so we didn't get to play with her but we did play with Araluen's little girl Aura Lily.
Aura Lily
I am pleased to report that she has a healthy appetite! Auntie Lorraine is already making future plans to take her out to Afternoon Tea and other tasty morsels. I was rather chuffed to see that she looks quite like Little My from the Moomins. I secretly call her Little My-I hope her mum doesn't mind but as grandmother Tuulia told me there is a Finnish saying "Rakkaalla lapsella on monta nimeä" goes "A dear child has many names".
Little My and I-ahem I mean Aura Lily!
I've provided a tutorial on how to make these decorations-they're really very easy although they are time consuming, particularly making the ropes that sit around the velvet pillow. Because of the drying time, the plus and the minus is that they need to be made a day or two ahead. That can be a good thing if you are wanting to make these ahead for a party but not so good if you are in a hurry. And these cupcakes are very Finnish in that they have cardamom which is a flavour I recall having quite a bit in sweets on our trip to Finland.
So tell me Dear Reader, did you ever want to be a princess or a prince?
Araluen and Aura Lily
Princess Crown Cupcakes
Cardamom and Sour Cream Cupcakes
220ml/8 fl. ozs. sour cream
3/4 cup caster or superfine sugar
1/2 teaspoon bicarbonate or soda
1 teaspoon ground cardamom
For white chocolate ganache
150g/5ozs white chocolate
To decorate
Coloured fondant in pink (or white which you can then paint gold)
Marshmallows if you are making larger cupcakes
You will also need a rolling pin ruler, paring knife, piping tip and cutters-you can improvise but I used a petal cutter and a diamond shaped cutter.
Step 1 - Make the crowns first. Have a medium sized parchment lined tray ready. These need to try overnight or for several hours. Dust a clean surface lightly with cornflour and roll out the pink fondant-not too thin, the crowns will have to sit up on their own. Using a ruler, cut out 10cm/4inch by 2.5 cms/1 inch strips. These are going to be your crowns.
Using the cutters to fashion the crown
Using the small round end of the piping tip to make small dots
Step 2 - Using the cutter, cut the pink fondant strips as shown. Then using the tip of a fine piping tip press down lightly to make the patterns as shown above. Then with a paring knife, cut out three diamond shapes. These will later be coloured in gold. Carefully lift them from a surface and place them on the parchment lined tray. Shape into a circle-either around a small rolling pin (I used a cannoli mold) or you can freeform them. Wet the two ends lightly and seal together. Allow to dry overnight.
Cut out diamond shapes
Seal the edges together with water
Ta da-crowns!
Step 3 - Make the cupcakes. Preheat oven to 160C/320F and line a muffin tray with 12 liners. In a bowl whisk the eggs, then whisk in the sour cream and caster sugar. Switch to a spatula and fold in all of the remaining dry ingredients i.e. the flour, bicarb, baking powder and cardamom. Mix until just combined. Using an old fashioned mechanical ice cream scoop (you know the kind with a sweep release), scoop out batter into liners and bake for 15-20 minutes. Cool completely.
Step 4 - Make chocolate ganache. Melt the chocolate and cream together and then cool until it becomes a spreadable consistency. Spread over the cooled cupcakes and if you are making large or Texas sized cupcakes (I used the crown liners which were quite wide), slice a marshmallow in half horizontally and place in the centre of the ganached topped cupcake.
Step 5 - Now it comes to making the red velvet tassel edged pillow. On a clean surface, dust lightly with cornflour-or use a non stick silicon mat. I find this easier when working with highly coloured fondants so that the white cornflour doesn't show up. Roll out the red fondant and cut out squares-around the size of the cupcake (see pics).
Step 6 - Wet the edges of the squares. Wash your hands carefully to get rid of any red fondant and using a very clean surface massage the white fondant into little balls. Roll it out into a long, thin sausage rope-if it gets too thin and breaks then just roll it up into a ball and start again. Make the sausage into a hairpin shape and gently twist the two strands around each other. Press gently but firmly along the wet edges of the red fondant cutting off any excess. Do that for all four sides of each cushion. Then fashion some tassels using triangles-using the paring knife just press down lightly to draw little vertical "strands" and affix these to the four corners of the red square. Gently place them on top of the cupcake.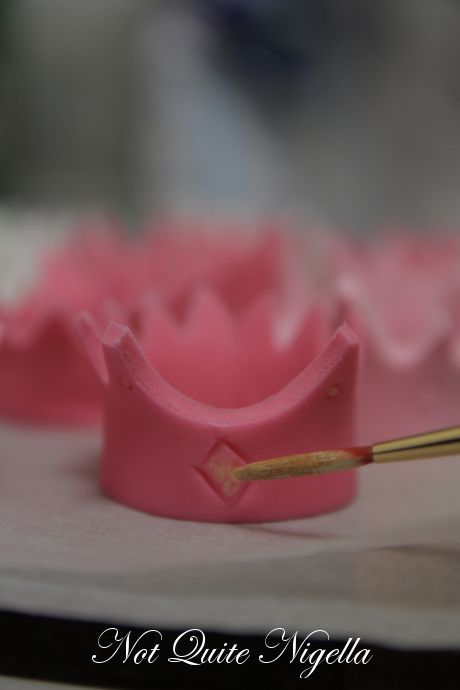 _Painting in the details with edible gold paint
_
Painting the ropes gold
Step 7 - Mix the vodka with the gold dust until you get a bright, shiny gold. Paint the diamonds and circles on the crown. Then lightly wet the base of the crown and affix this to the centre, on top of where the marshmallow sits. Paint the white rope and tassels gold.