I'm a very dramatic person. I have to admit that I do love attention on the odd (ok every day) occasion and that I feel like the world is a stage. And that's kind of how they serve the food here at Smith's on Bayswater where the food is on stage, or at least a cut of it is. A butcher, a wine merchant and a restaurant Smith's is owned by Kingsley Smith (of the Kingsley's steakhouses) who has now branched out on his own.
I'm slightly too young to remember it in its former incarnation as Bayswater Brassiere so I'm not sure how the inside  differs although I will say that it's the greeniest, leafiest steakhouse I've come across with a wall of herbs, a tree with a thick twisted trunk growing through the ground, potted upside down herbs and foliage every which way you look. What is in keeping with a New York style grill, apart from the huge menus is the service which is friendly and deferential.
Obviously being a steakhouse the focus is meat but there are a range of prices with mains starting as a low (for Sydney) price of $24. I'm almost tempted to try the Mandagery Creek venison sausage roll (oh how I love sausage rolls!) with spiced cherry ketchup for $16 or the Wagyu Reuben sandwich for $16 with Russian dressing or the cherry gazpacho but when we ask for a recommendation from the waiter he points straight to the Butcher's Block. The star item is the grass fed sirloin from O 'Connor, Gippsland in Victoria and is sold by the weight for $6.50 per 50 grams (minimum 150g).
Le slab of beef: the star of the show
"Well please follow me to meet the chef" our friendly waiter Carlo tells us. Stevan and I leave the table and front up at the marble station where the chef is waiting for us with a huge slab of sirloin. Kingsley explains that unlike grain fed beef which has white fat on it, the better grass fed beef has yellow fat on it to reflect the grass. I ask for a 150 gram steak but the first cut is of a 250 gram steak. They offer to reslice it but I don't want it to go to waste (not that they would have thrown it out) and I take the 250 gram steak instead.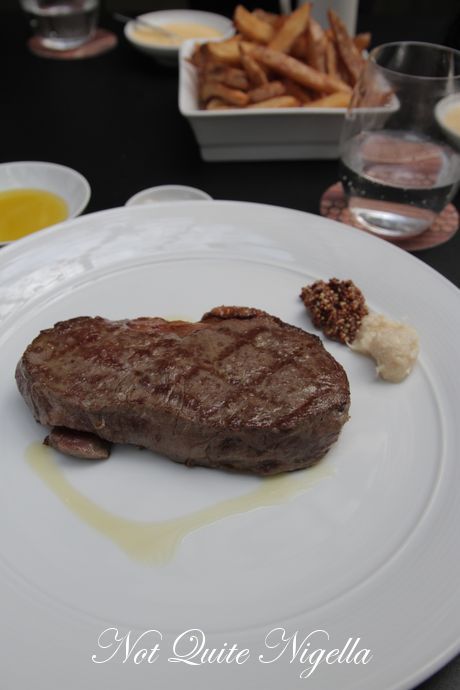 Grass Fed Sirloin 250g $32.50
Our steaks do take a while to arrive although the restaurant isn't quite full (it was a very early booking at 5 o'clock). We receive a jus and a bearnaise sauce with the steaks and I was hoping for a few more steak sauce choices. Our waiter also appears with a tray of Milawa mustards including a seeded, horseradish, hot English and French mustard all from the mustard town in North East Victoria (which I visited recently, story to come! ;) ).
Milawa mustard selection
The steak is delicious, on the rare side of medium rare which I'm not complaining about. It's flavourful and I manage to finish it all. I prefer the veal jus slightly over the bearnaise but they're both quite good on the steak.
Grass fed rib on the bone $34
The grass fed rib on the bone (MSA Gympie Qld) is a hulking piece of meat also cooked on the rare side of medium rare. I must admit that I prefer the sirloin as it is a bit too thick for me to have so rare. But if you like thick, rare steaks on the bone then this might be for you.
Salad tossing at the table
Hearts and Leaves $15
As the steaks come without any adornments, we order salads to provide a delicious and much needed vegetable component. Carlo takes the bowl from underneath the salad bowl and mixes a dressing made up of Wirraninna Ridge aged apple cider vinegar from Bilpin, a Cintra Estate caramelised red wine vinegar and a Novella Koroneiki Extra Virgin olive oil for a deliciously sweet dressing on the mixed leaves with broccoli, radicchio, white asparagus and small potatoes.
Hand cut chips $9
The hand cut chips look...well hand cut. They're not really crispy at all which is quite the opposite of how I like my chips and although I can usually eat loads of chips I do the calorie versus taste equation and only nibble on a few.
Peach Melba $12
Dessert time! As soon as I saw the Peach Melba on the menu and the magic words "white peach" under it I was smitten. I am a  fiend for white peaches and do an internal happy dance when I realise that it must be white peach season already. This is different from your usual Peach Melba i.e. poached peaches draped in a raspberry sauce and vanilla ice cream. This has an olive oil sponge disc which has a slightly savoury flavour to it, white peach segments, white peach schnapps jelly and freeze dried and fresh raspberries and a dollop of vanilla bean whipped Chantilly cream. It is lovely indeed and I particularly like their interpretation that doesn't stray too far taste wise from the original (although it does looks wise).
Cheesecake $12
I try some of Stevan's cheesecake which actually resembles small blocks of deep fried tofu! The cheesecake has a light texture and is paired with a blueberry sorbet, a mango sauce and blueberry sauce dollops. Whilst it's good, I don't think it needs both mango and blueberry together, either one would suit it just fine.
Herb wall
We look up and the restaurant is crowded at 7:30pm and we spot Jonathan Coleman eating there (anyone remember him?). I vow to come back to try the sausage rolls and with mains under $30 for the non steak variety and in the low $30s for a fantastic steak, I don't imagine I'll have any trouble coaxing Mr NQN there.
So tell me Dear Reader, do you like it when you get to visit the kitchen or see how something is prepared in a restaurant?
Smith's on Bayswater
32 Bayswater Road, Kings Cross, NSW
Online booking only
Open 7 nights, 5pm until late and Friday lunch