I recall the first time I walked into Neil Perry's Rockpool Bar & Grill about 6  months ago. You see my Inner Burmese (no road sense) had struck again and I promptly got lost and I meant to walk into Spice Temple. I felt like a child walking into an adult's domain. Everything was incredibly tall and silver and sleek, like New York's Chrysler Building. The pillars were sky high and reached to the higher than high roof. I in turn felt like little I was little more than 80cms tall and a child in high heels. Waiters in white jackets bustled about, men in suits lunched and I almost expected Don Draper to walk past me. I vowed to come back. One day. Maybe when I was grown up.
Fast forward to a few months later and I was lucky enough to be taken here by Winston and Sandra. Just a couple of weeks ago, it was newly minted by the SMH's Good Food Guide as the Best New Restaurant. On the table are four books plus the large paper menus that are printed out each day. There's the Red Wine menu, the White Wine menu and then there's also a booklet that explains the differences between the types of meat.
Lastly there's the cocktail menu with a page of "Rockpool Bar & Grill House Rules" which may be terrifying at first for a split second before you realise they're meant in an amusing way. Things such as "Gentlemen, do not approach ladies, and if you're lucky enough to have one approach you, endear her as you would your Mother"; "Don't look fiercely at people, or talk loudly or  harshly, but cultivate a smiling countenance and a quiet, but firm tone of speech" and of course " No hooting, no hollering". And to add to the retro Mad Men vibe, service is old school deferential and unfailingly polite.
The House Rules
There is much indecision when faced with a menu like this. There are cold plates, hot plates, salads and then there's the grill section. And who's kidding whom? The grill section is where you want to plant yourself firmly. It is however an expensive patch of Real Estate with steaks heading up towards $110. This is why this particular restaurant is off limits on most corporate lunch lists. Neil Perry advises people to share steaks to try and taste the differences between them. The cynic among us would think this was to help repay the way for the reported $35 million fitout for both the Bar & Grill and Spice Temple. Yes in Perry's world there's no such thing as a GFC and I chuckle at the last House Rule "Remember, nothing is on the house, except for the roof" .
Bread and butter
The bread is a lovely crunchy sourdough baguette slice and the butter is sublimely creamy like a lovely French butter.
Meals are brought to the table American style, where the waiter rests the tray on a fold up table and serves from there.
Joselito Iberico Jamon, Jamondul Serrano Jamon Reserva, Fratelli Galloni Parma Proscuitto with pickles $29
Tables are slightly too small for Perry's sharing philosophy so we do a lot of juggling. The Joselito Iberico Jamon, Jamondul Serrano Jamon Reserva, Fratelli Galloni Parma Proscuitto with pickles comes as three woven ribbons of jamon with the Iberico being the darkest shade to the Proscuitto as the lightest. They're all delicious and distinct. If anyone thought that all Jamon was the same this plate would convince them otherwise. The pickles are a sweet punctuation and reminiscent of Asian pickled vegetables.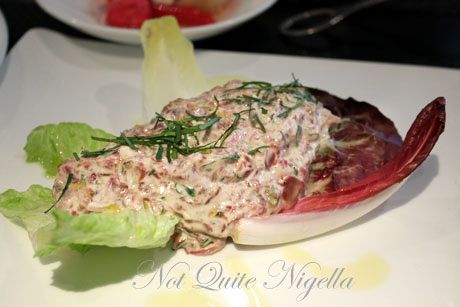 My Steak Tartare with Chips $25
I didn't add "My" for myself, I assume that the "My" in the dish's name is Perry's. We're used to seeing a circle of raw mince with an egg yolk in the centre so when they put this down we have to do a second take. It's the Steak Tartare alright but it is mixed with mayonnaise and seasoned. I always find Steak Tartare a bit of a risk, they can be bland with acrid onion and it can be as appealing as eating a raw hamburger patty but this one is absolutely perfectly seasoned with a hint of mustard and spring onions balancing the creamy whole egg mayonnaise well. The hand cut chips are deliciously crispy and golden.
Wood Fire Grilled Vegetables and Goat's Cheese Salad $19
With all of the meat it was Sandra's prudent idea to order the grilled vegetable salad. The wood fired grilled vegetable salad is perhaps not the most exciting dish with the goat's cheese being a bit of a let down and very much missing that distinct goat's cheese flavour. It's almost as if it has been mixed with a mascarpone or another creamy cheese as the flavour is so muted.
Wagyu Bolognese with hand cut Fettucine $25
Bolognese is one of those dishes that I am always disappointed in when I order it out. It seems that as far as this particular pasta dish is concerned, nothing beats home made. So we try this with much anticipation in the hopes of breaking the bolognese dry spell. The pasta is firm - too firm - and not as silky fine as a hand  made fresh pasta should be. I don't mind the sauce but Winston is disappointed and says that he wouldn't order it again.
David Blackmore's Dry Aged Full Blood Wagyu Topside 220 21days aged $49
We're offered a choice of sauces to go with the steaks. There's a house made BBQ, a Harissa a horseradish and three mustards. I choose the Harissa and homemade BBQ and they're both fantastic even though the Harissa isn't as spicy as I've had and prefer. I adore my Wagyu but lately I find that I prefer the Cape Grim Grass Fed Beef from Tasmania in favour of the fattier Wagyu and have been ordering that instead of Wagyu. The steak comes pre sliced into neat strips and is perfectly cooked. Sinking my teeth into the Wagyu it instantly feels and tastes different from the Cape Grim that I've had lately. It's good but it is a fattier cut and you can really taste it.
The Sauce Selection
Rangers Valley Dry Aged 300 Day Grain Fed Fillet 250g $65
The thicker cut of the Rangers Valley is also delicious, tender and well cooked.
Beetroot, mache and feta salad with pistachio nut dressing $19
The beetroot salad with mache and feta and a pistachio nut dressing is decorated with little jelly cubes or beetroot water. I wish the feta was creamier though and I find the beetroot jelly cubes a bit too "earthy" for my taste.
Black Forest Trifle Inspired by The Fat Duck's BFG (Black Forest Gateau) $20
We ordered the Black Forest Trifle for our chance to try something somewhat similar to The Fat Duck Black Forest Gateau. Is it a trend of chef's playing homage to living chef's dishes? Is it a love letter disguised as dessert? Both desserts come to the table and they're enormous. I don't just mean big, I mean gi-freakin-ormous and we're a bit stunned at the size. The bowl is about 16cms in diameter and there's a layer of rich chocolate cake, some cherries and a thick blanket of cream with a cherry in the centre and a sprinkle of chocolate shavings. There is an unmistakable flavour of kirsch but both Sandra and I dislike the artificial taste of the cherries - like cherry lip balm that tastes nothing cherry, it's that faux cherry flavour that I don't like. Give me fresh cherries any day.
Passionfruit Pavlova $18
After reading all the raves for the Passionfruit Pavlova I had to try it. It's also enormous with huge balls of vanilla bean double cream on top and passionfruit seeds raining down the sides of the pavlova. It is very good indeed but then the baker in me says that whilst it's a good pavlova it's less intricate than some of the other desserts on offer.
When we look at our phones, we realise that it's 4pm. All Fridays should be like this. Don Draper would agree I'm sure.
So tell me Dear Reader, do you get to go out for work lunches very often and where do you usually go?
Rockpool Bar & Grill
66 Hunter Street, Sydney, NSW
Tel: +61 (02) 8078 1900
Open: Monday to Friday 12:00-3:30pm
Monday to Saturday 6pm-11pm