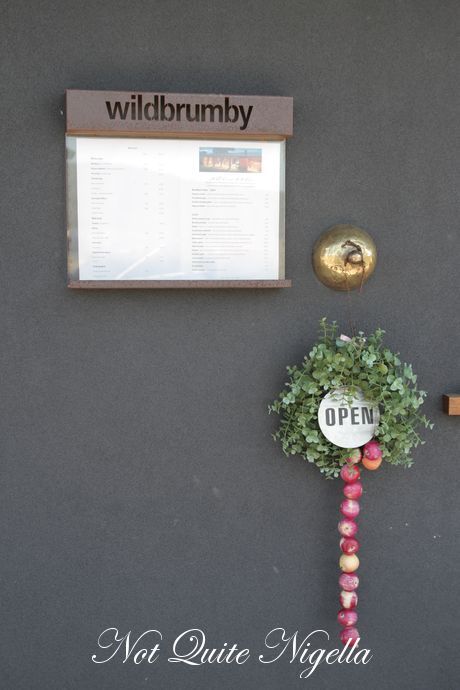 Any trip involving Queen Viv and I always has an element of getting lost. This was no exception. We were on our journey to the Snowy Mountains and had picked up our rental car. We then got a good 10 minutes lost amongst roadworks around Canberra airport and when we finally extricated ourselves from the maze I was frantic but Queen Viv patted my arm and said "Don't worry, I'm used to getting lost".
Two and a half hours later, and without getting lost (it's hard to get yourself lost following the Monaro Highway) drive to the Snowy Mountains! Now I realise that you might think "Why on earth is she going to the snowy Mountains when there isn't any snow?". Well despite being able to walk in vertiginous heels, I am a klutz when it comes to the snow so I actually don't mind missing out on the snow (apres Ski is another matter darlings ;) ).
We arrive at the Wild Brumby Schnapps Distillery where we are greeted by owner Brad and Jo from Snowy Mountains Tourism. I know I don't drink a lot but I have had some lovely butterscotch schnapps in my life and it's a drink I am happy to try.
Eight years ago Brad and his Austrian born wife Monica started Wild Brumby distillery and they are reportedly the only true schnapps distillery in Australia. We take a seat outside and Brad offers us a sip of their most popular schnapps. I take a sip and this is a pure, sweet, smooth peach syrup. I ask if there are any flavours added as it tastes so much like how you'd imagine the sweetest white peaches to taste and he tells me no, there are no added flavours at all, the fruit taste is from the fruit itself. I down my shot in no time before realising that I only had a muffin on the plane this morning and that I had better pace myself.
Still when he offers me a taste of the butterscotch schnapps I don't refuse. The butterscotch schnapps is actually an item that isn't traditionally made in Austria and he tells me that you also won't find it in Europe as it is an American and Australian item. I quickly finish that and go onto the sour apple schnapps which is served over frappe ice which is gorgeous-it's not sour as such but it is made using granny smith and tart apples. I'm getting a taste for this! ;)
The peach schnapps is popular as it is a relatively low alcohol level at 18.5% whereas some schnapps can be 40% and above. It is such a popular ski time drink that became popular because the RSA (Responsible Service of Alcohol) laws meant that serving a 40% alcohol was not practical whereas this lower alcohol schnapps allowed them to serve it to patrons. Cheaper or not properly made schnapps contains high amounts of methanol which is the ingredient that can make people blind.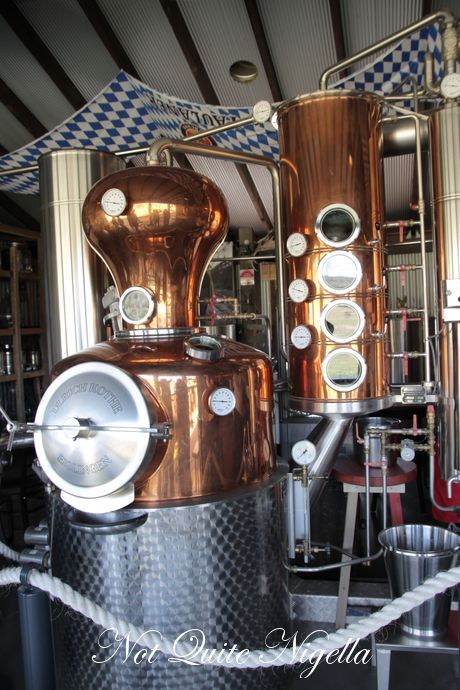 Part of the schnapps making process-the 150 litre double boiler
And what is the secret to their schnapps? I ask because I've had quite a bit when tasting but I don't get that flush that I do whenever I drink. One of the secrets is having a good relationship with the fruit growers so that they receive fruit that is ripened on the vine. The fermentation process is strictly controlled and takes about 3 week. The distillation process is done in the enormous 150 litre double boiler in the centre of the restaurant. The fermented fruit is piped across from the adjacent location where it ferments in the German copper machine and it is distilled from there.
It's time for lunch so we take a look at the menu which is all very Austrian in theme as Monica is from a family of bakers and  distillers. They started off their food operation as a single pot of goulash which they served along with tea, coffee and schnapps and its popularity meant that this increased to two pots and then three. They then decided to make schnitzel (pan fried here, not deep fried) and took on a cook that specialised in schnitzel.  Now between this property and their other restaurant Knickerbocker they have six chefs. As much local produce is used on the menu and the entire property has no septic system and it is run on three giant 5000litre worm farms. Brad uses the castings on the grounds.
Goulash $18
The Austrian goulash is different from Hungarian goulash which is less spicy as it doesn't have paprika. The meat is tender (they use high country meat here) and the sauce rich and tomatoey and it is paired with roasted kipfler potatoes.
Kassler $18
Queen Viv's Kassler is a juicy piece of pan fried pork with crushed potatoes covered with a layer of sauerkraut and peas. "This is good but I don't think I can finish it" she says but then a moment later it is finished.
Potato and leek soup $8
Pumpkin soup $8
Lemon Gugelhopf $4.50
The lemon and almond meal gugelhopf has a light lemon sugar icing and is moist and freshly baked.
Chocolate flourless cake $5
The Austrian chocolate flourless cake has a medium ground nuts (hazelnut and almond) and is served warm with some whipped cream. The slightly coarser ground nuts give it a interesting texture so that it tastes quite unlike the normal flourless chocolate cake.
Hot chocolate with a shot of devil's tongue (chilli schnapps)
I can't resist trying the hot chocolate with a shot of their devil's tongue chilli schnapps (for research purposes Dear Reader, I'm sure it will be great in Winter ;)  ). Sipping from the shot, it is spicy and tingly all over the palate but when added to the hot chocolate, it's juuust riiight.
We drive past the bronze cast of the brumby (this is wild brumby horse territory after all) which I get out the car to photograph. When I open the door a gentle but stereophonic sound surrounds us. Queen Viv and I get out of the car and stare around the tulip covered pond hearing a throbbing noise pop up occasionally near us. It's like a sea of gentle noises and we realise that it's the orchestra of frogs and wildlife!
And where are we off to next? Why just down the road (Alpine way, it sounds so...snowy!) to the Lake Crackenback Resort where we are to indulge in a spot of Fly Fishing to catch a rainbow or a brown trout and to have a much needed spa.
Matt from the Novotel Lake Crackenback greets us and takes Queen Viv and I out for a spot of fly fishing. This particular resort has a lot of free activities including archery, golf (yes golf is free here!), mountain biking, trout fishing and canoeing. Guests can also ask for their catch to be cooked for them!
Hey laydeez...
Oh hai!
We pass plenty of native wildlife including a family of kangaroos and a mum with a joey in her pouch. The grounds here are huge and they open up the resort to locals to enjoy as well as guests.
Wombat hole
Dry flys
Wet flys
Matt puts on the wading gear and shows us the lures which he makes himself. They simulate the types of insects that the trout would feed on. Casting and fly fishing  is quite an art and there are wet and dry lures and you would use one depending on the time of the day as that influences whether trout swim close to the surface. The dry lures sits on the surface on the water whereas the wet ones are designed to sink down into the water.
After about twenty minutes of waiting there's a splash in the water and victory! A trout caught. We throw him back as we don't quite have time to eat him and he is of a good breeding age. Matt slowly introduces him back into the water and with a gulp and a swish of his tail Mr Trout is off.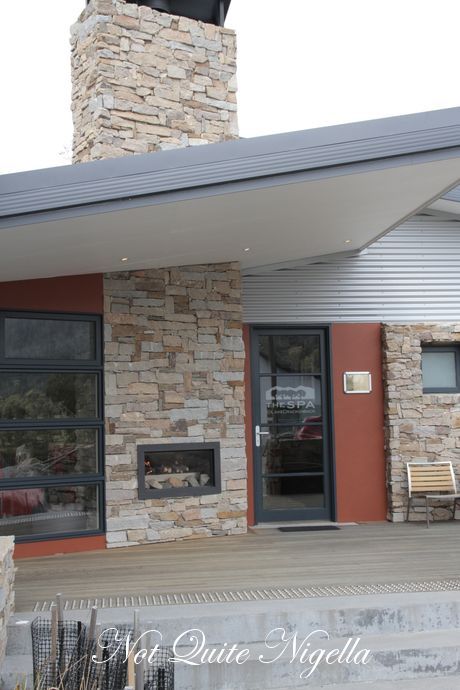 Spa time! Sore from filming the Cornetto ad just a few days before Queen Viv and I gratefully head into the spa.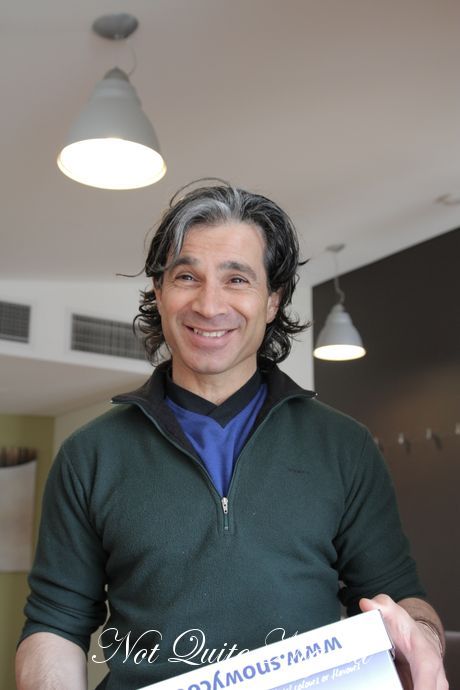 Oooh cookies!
But before we go in, Nolan from the Snowy Mountains Cookie Company stops in and hands me a box of his Snowy Mountains cookies. A former ski pro and photographer he and his wife started  the Snowy Mountains cookie company. They use real butter, free range eggs, chunky couverture chocolate and their cookies have no added preservatives, colours or flavours.
While I wait for Queen Viv to come out of her massage, I try one in the waiting area of the spa. There are eleven types of cookies and they range in texture and filling from double chocolate and walnut; chunky chocolate and oatmeal; pecan, sultana and oat (Mr NQN's favourite) and my favourite which was white chocolate, apricot and coconut which has an unusual texture in between a soft chewy and a crunchy cookie. The gluten free ones are great too and they bake at 1,020 above sea level!
I sit next to the crackling fire and nibble the cookies while Lisa the therapist works on Queen Viv who emerges completely blissed out. It's probably good that she went first or we might have issues driving home! I go into the treatment room and lie down and have a wonderful massage with heated massage oil (genius!) and what feels like a two hour massage. I emerge completely unkinked and unstiffened and sip my jasmine tea. I do love a journey like this...
And I want to take this opportunity to say a big Merry Christmas to all of my readers. This whole blog is really written for you and I often say to myself "Oh I can't wait to tell my readers about this-I know they'll appreciate how exciting it is!". I appreciate every reader, comment, every click, like or retweet. And unlike previous years, I'll be sharing some of our Elliott Christmas at home with you. I wish you all happiness and joy for your Christmas celebrations! xxx
So tell me Dear Reader, are you a fan of the snow?
NQN and Queen Viv travelled and explored the Snowy Mountains as a guest of Tourism NSW
Wild Brumby Distillery
Corner of Wollindibby Road and The Alpine Way, Jindabyne, NSW
Tel: +61 (02) 6457 1447
Novotel Lake Crackenback Resort
1650 Alpine Way, Crackenback, NSW
Tel: +61 (02) 6451 3000