"I'm going to pinch that light!" I whisper to Queen Viv.
"What, the gigantic one that is bigger than you?" she asks.
"Well ... ermm yes I may need your help!" I say looking around furtively.
Oops allow me to rewind a little, I was too busy chattering on for a moment. We've just entered the Pender Lea Post Office, a converted post office in Jindabyne. It is owned and renovated by husband and wife team Warren Hickey and Sonja Schatzle. And I've fallen in love with a light...
Warren (left) and Sonja (right)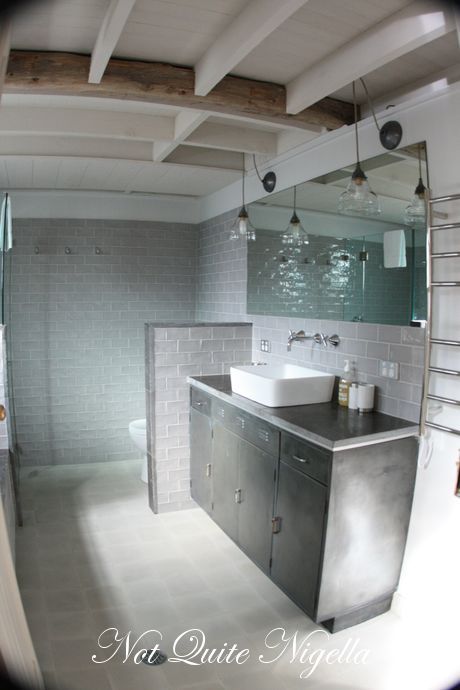 The sink cupboard which Sonja rescued and restored
Queen Viv and I are staying here for the evening during our trip to the Snowy Mountains and we are also having our very own meal prepared by chef Warren. His wife Sonja's experience in merchandising at Harrods and Marks and Spencer shows in the details and she is also an avid fan of the internet. "I love the internet" she says smiling. She points to a board that has come from ebay. The rafters are from ebay and they also love reclaiming and reusing items buying a 150 year old woolshed in nearby Braidwood and using that in the renovation.
I just love details like this!
Darlings, you know I am a devil about the details and I notice that there is a Diptyque candle, room temperature Evian, organic milk, Welsh blankets on the beds, old fashioned light switches, French soap and decorating touches include old lasts, vintage tart molds & pine cones. The properties are powered by their very own windfarm too.
His and her shower heads-win win!
Lovage and forgotten herbs
In the herb garden outside they grow lovage, tomatoes (ox heart, black Russians), salad burnet (celery) and in weeks to come they will install a wood fired oven.
Warren cooks
Spatchcocks ready for roasting
Warren formerly from Level 41 and Bathers Pavilion is also a former private chef. They also owned Merritt's Mountain House and after tiring of working with food for 17 hours a day they decided to cater for friends that were formerly clients from the restaurant. Suddenly what was supposed to be a move into reducing their working hours became an even bigger job and they were booking out three weeks in advance. They were both flown over to Aspen and then to London to cook for wealthy clientele.
King prawn, snow pea & mustard cress rice paper rolls
Sonja brings over the appetiser and they are rice paper rolls filled with local prawns from Merimbula with sesame, herbs and topped with mustard cress. They're a perfect balance of flavours and sweetness and freshness.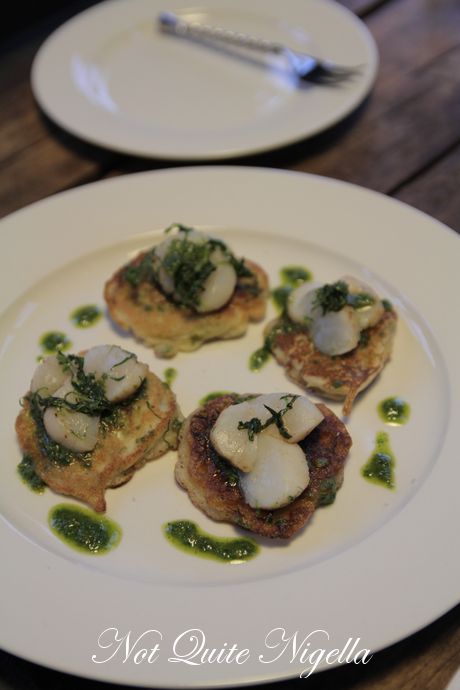 Hervey bay scallops with basil, leek & chilli fritters
Our starter is a lighter than air leek fritter topped with basil puree and seared Hervey Bay scallops. The scallops are plump and the heady basil puree and fluffy fritters are a lovely match.
Most. Gorgeous. Light. Ever.
You know I have a thing about lighting fixtures and when I'm working on the main table in the fireplace room, Queen Viv suddenly says "Look up" and I see the most gorgeous lamp shade ever. I want to run away with it. It's from London and the decorating for the house was not done by an interior decorator but by Sonja who clearly has an eye for it and a bit of an obsession with reclaiming items like the stone and timber which is all reclaimed.
Bread: Brasserie Bread caramelised garlic loaf and rye bread with butter and truffle butter
Sashimi yellowfin tuna, snapper crab and avocado tartare & pomegranate balsamic
OK either they are psychic or they've researched just how much I love seafood and despite the fact that I've polished half of the canapes, I cannot resist any of it. This dish is really an example of a deft touch with the freshest of ingredients. The sashimi tuna and spanner crab go perfectly with the avocado with a hint of sesame both texturally and tastewise as they're all delicate flavours.
Buckwheat soba noodles with eggplant and mango and lime and chilli dressing
This is an unusual sounding combination but it actually works beautifully. The mango is never too sweet and the eggplant cubes are buttery soft. It's like soba was meant to be paired with eggplant and mango and the lime and chilli dressing gives it a lightly sour and spicy aspect.
New season asparagus and pancetta  salad and 12 year old balsamic
The asparagus are thin and tender and the pancetta is cooked until slightly crispy. It is dressed with a lovely, syrupy 12 year old balsamic.
Stuffed spatchcock stuffed with porcini mushrooms and sourdough
"I think I may have over catered" Warren says. Perhaps, but it doesn't stop me from eating much of the roast spatchcock stuffed with porcini mushroom and sourdough stuffing and topped with a sweet, roasted cherry tomato. The meat is juicy and the stuffing has just the right seasoning. There are also French beans but I'm afraid I just stuffed myself with spatchcock and didn't get a chance to try these.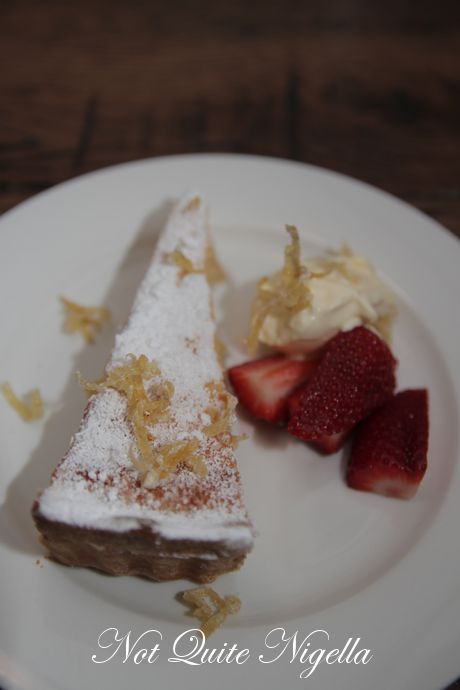 Lemon custard tart with King Island cream and strawberries
Despite feeling completely full with savoury goodness my hand lifts the fork to the tart and gives my waiting mouth a forkful. It's a lemon custard tart which gives it an eggy creaminess rather than the straight lemon curd tart. The pastry is crisp and later that night I see the rest of the tart in the fridge and do my best to avoid sneaking down later for another piece.
I retire upstairs to the loft room to do some work and get ready for bed. You do need to bring toiletries and we weren't able to locate a face washer and tissues and if you are a light sleeper you may also want to bring some earplugs as the wood means that it may creak. Still, I went to bed with a tremendous smile on my face still dreaming of that food and the light...
The next morning we say goodbye to the lovely Pender Lea Post Office and head home. There are two things that I love to do. Shopping and eating. Give me both and you can amuse me for days on end. And whilst I was upset that Mr NQN couldn't come with me on this trip due to sailing commitments (yawn!), I was very glad that shopping and eating loving Queen Viv was my travelling companion.
The Lott is a gorgeous little shop and cafe in Cooma on the way on our drive home (avoid those fast food places!). The menu has fresh flavours with an emphasis on local produce and whilst a lot of it isn't made on the premises, it's brought in from great local suppliers. And did I mention the shopping? No? Well I managed to buy about half a dozen essentials-essentials, yes!
The soy chai latte is fantastic-sweet with lots of cinnamon and aroma. Queen Viv finds that it isn't quite hot enough for her but I actually prefer my drinks at a more drinkable temperature like this. In my rush to go shopping, I forgot to photograph this-oops! :(
While we are waiting for the food, we walk around the store oohing and aahing at the little bits and pieces that we like. I buy two of these notebooks for darling friends that I know will love them and a flat bottomed wooden spoon.
_Caramelised leek and walnut tart _
We try one of the specials of the day, the leek and walnut tart. The pastry is buttery and the caramelised leeks are sweet in an eggy base and there is the occasional nutty crunch of the walnut.
Picking plate $17.50
The picking plate was full of local goodies including a peppered sirloin and kangaroo prosciutto from Poachers Pantry, ash chevre goats cheese from Hoppers Farm Thredbo, Fleetwing Hill olives, house made tomato and raisin relish, a rosemary labne, a King Island camembert, Maggie Beer quince paste and the Mersey Valley cheddar. The bread is from Wild Rye bakery in Pambula. The morsels are delicious as is the warm, spongey bread with the light crust.
Chicken panini, mayonnaise and avocado $13.50
The chicken filling inside the panini is delicious as it is tender chicken breast with a herbed mayonnaise which is fragrant in dill. I just wish that the bread was lightly toasted or warmed as it is served cold. As I've overextended myself, I ask for this to be packed up to go to eat on the way home.
Lumberjack cake
We had just one tiny smidgen of room left and that was going to be filled with the lumberjack cake. I do love a good cake name and a name like lumberjack is just so evocative. You just know that it won't be a delicate, light French cake. It's going to be sturdy and enough to power a lumberjack to do lumberjacking! This cake is a dense apple and date cake which is firm but not dry with a topping of shredded coconut. It's emergency dessert stomach time but I do adore this little cakeful of goodness and polish off every last bite.
Queen Viv and I keep shopping and buying until we realise that our little jaunt to the Snowy Mountains is over! With some reluctance we pack up and say goodbye to the Snowy Mountains.
So tell me Dear Reader, what's your favourite type of shop?
_A cute find! Don't you love English names like Patience Gray (which I misread to say Gravy), Primrose Boyd and David Gentleman :P
_
NQN and Queen Viv travelled to the Snowy Mountains as a guest of Tourism NSW and stayed and dined at Pender Lea as guests of Pender Lea and dined at The Lott as guest of The Lott.
Pender Lea Post Office
The "Food and Wine Lovers" package with a five course dinner and matching wines is available for 6 guests or more and is priced at $159 per person. There are also 2 person packages available.
Enquiries 1800 352 088 or Email: info@penderlea.com.au or www.penderlea.com.au
The Lott Foodstore, Bakery and Cafe
178-180 Sharp Street, Cooma, NSW
Tel: +61 (02) 6452 1414
Open: 7:30am-4pm Monday to Thursday, 7:30am-late Friday, 8am until 4pm Saturday and Sunday