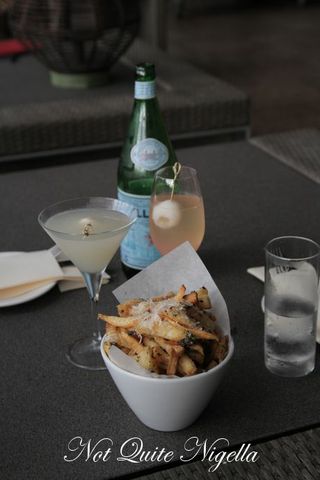 Mr NQN often complains that I'm always in a hurry. I always complain that he's always in a dream like trance and every trip involves me herding him to get ready "We're running late! Are you ready?" is often a cry of mine. However this evening, I'm in no hurry at all.
It's the first night of the Sydney Festival and there's a tell tale excitement in the air. People are in good moods and the weather is balmy. And we're positioned right on the water at Woolloomooloo Bay wharf at the bar at Manta and settled into a deep banquette lounge. And I'm not moving. A boat sails past pumping dance music with people dancing on the bow. Later, a boat cruises past with the entire thirty of so passengers singing Happy Birthday. Hundreds of people walk past and provide us with copious amounts of eye candy and entertainment.
I have learned the hard way that I am a very cheap drunk. So for me to have a cocktail I must have food and food that can soak up alcohol or I'll soon be climbing up on one of those boats. The angel chips do the trick. Last time we ate at Manta they were a little too rich as we had them along with a huge steak and lobster but outside of this they're just what I need. They are generously coated with truffle salsa and parmesan and the chips are golden and crunchy (although the chips at the bottom don't get that moreish blanket of parmesan)
The Manta martini is filled with freshly crushed lychees and lemongrass syrup shaken with Belvedere vodka and apple juice, served straight up martini style. It's very strong and fruity with a distinct Asian flavour to it from the lychee and to a lesser extent the lemongrass which is more subtle.
_Asian bellini _
The Asian bellini has lychee liqueur, champagne and watermelon liqueur at the bottom. Once stirred, and the watermelon liqueur does have the tendency to settle, it is sweet, bubbly and giggle making.
There are usually three varieties of oyster but being oysters, a couple of them aren't at their best so we have two oysters to choose from. There is the Sydney Rock from Moreton Bay and Sydney Rock from Port Stephens. They both taste quite different. At Manta they explain that they are all freshly shucked and never under running water, just brushed to get any grit or shell out if there is any. So the oysters taste like the sea brine. The Moreton bay are subtler in flavour with a more straight briney taste whereas the Port Stephens oysters have myriad flavours from the sea. And you can order them on the muscle if you would like.
There are three types of caviar available, the ocean trout roe ($38), oscietra ($165) and beluga ($265) per one ounce serve. It's an item that they don't sell a lot of as most people don't go for it. But not me, I love caviar borne of having a Russian friend in High School. Her parents spent a small fortune buying caviar and she was nonplussed about the stuff whereas I loved visiting her and getting a taste of caviar. This caviar is the ocean trout roe so technically not caviar but roe. The beads are small and firm on the outside which makes me quite hard to pop and there isn't a great deal of the salty nectar inside. I have to admit that I didn't really go for this roe as I love the gentle popping and resultant explosion of salty caviar. It is served with sour cream tiny radish batons and diced cucumber on thinly sliced bread that is not quite crouton, not quite fresh bread.
I recall adoring this dish last time but this time it is fresh but is a bit bland in comparison as there isn't enough salt to bring out the lovely flavour of the kingfish (last time there were different accompaniments).
_ _The summer breeze cocktail is a long, icey drink of sweet berries and is eminently drinkable. It's a blend of fresh watermelon, blueberries and raspberries shaken with cranberry juice, Belvedere vodka and Chambord. And for those that don't drink very much, the sweetness of the cranberry juice and berries makes this easily downed and as the name suggests, perfect for hot evenings like this.
I equally adored the pineapple sorbet mojito as it was full of fresh mint and pineapple flavours. There was fresh mint and pineapple sorbet with lime and sugar, Havana Bianco rum, served over ice, topped with soda water. Another refreshing drink for summer.
Suddenly the heavens open up-not rain my dear readers but the shades pull back to give us a glorious view of the last half hour of light before darkness descends. And did you know that the shades along all of the restaurants are controlled by a little wind measure that sits atop some of the poles? I had to ask because I was curious as all of the shades along the wharf pulled back at once.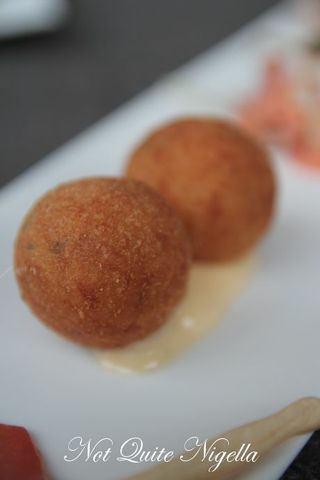 Mr NQN was getting quite hungry at this stage and wanting a bit more substantial fare so we tried the hot tasting plate of appetisers. This has two leaves of San Daniele prosciutto, grissini which was lovely (although I don't really like grissini); a locally produced hot smoked salmon with sweet  pickled fennel and capers; fried Clarence River calamari, rocket and aioli which is tender with a very light flour coating and two pumpkin, pinenut and goats cheese arancini balls which sit in a streak of mayonnaise.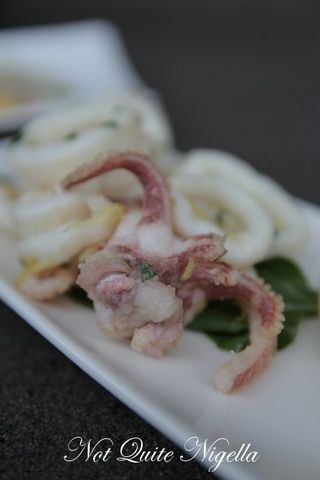 The dish that we both loved and the definite favourite for the evening was the tender char grilled Western Australian octopus with shaved baby fennel, fregola pasta, chilli, garlic and a Pedro Ximénez vinegar with a fabulous balance of spicy, garlicky and the Pedro Ximénez vinegar has a caramelised balsamic vinegar flavour to it.
We were up to our last cocktails of the evening and Mr NQN opted for a Treuse and Surrender which is a muddled cucumber and basil mixed with Martin Miller's gin, green Chartreuse liqueur, apple juice and a hint of lemon juice served in a martini glass. It's very strong as it's served straight up and has a refreshing quality from the cucumber, apple and lemon juice.
This was a good cocktail to end on considering that the sun was setting as these were set down, The Manta sunset has peach nectar, Aperol liqueur (a sweeter and less alcoholic version of Campari), Belvedere Vodka and a touch of fresh lemon juice strained in a martini glass and served with a cinnamon sugar rim and maraschino cherry. The cinnamon sugar rim was what lured me (and what a great idea for an apple cocktail!) and this looks the part of a sunset too.
There are three choices for dessert on the bar menu, home made sorbets and ice cream, petit hours and macarons and cheeses and given the heat, we decide on the sorbets. The presentation for this could have been a little more interesting and practical (I'm thinking a glass perhaps) but the fresh fig ice cream is divine. In fact this along with the octopus are my favourite dishes. Having eaten copious amounts of fresh figs in my lifetime this tastes like a creamy fresh figs with that ever so slight coconutty flavour that comes from fresh figs. The strawberry sorbet is also good and tastes like fresh strawberries but the fig has won my heart.
As I said, I was in no hurry to leave and before we realise it we've been lounging on the banquettes for almost four hours. It just wouldn't be prudent to rush in this heat would it? ;)
So tell me Dear Reader, are you often in a hurry?
Manta
The Wharf
6 Cowper Wharf Road 2011
Phone (02) 9332 3822
Open 7 days