Yesterday I posted about Nigella Lawson's Masterclass at the Melbourne Food and Wine Festival. During it she cooked a dish originally from Italian cookbook writer Anna Del Conte that would immediately send people's head whipping around for a double take. Vegemite spaghetti. She assured us that despite its rather kitsch and alarming sound, it was in fact delicious and if I've learnt to trust one thing it's that when she says that it's delicious, it usually is. I will admit that Vegemite isn't usually to my taste and every time I say it I feel terribly "Un-Australian" (whatever that may mean).
Since it had three ingredients plus parmesan cheese it was easy for me to try it. I used the Barilla wholemeal spaghetti which is the only wholemeal pasta I like although it is near to impossible to find at the store! I was recently sent My First Vegemite which is a less salty version of the savoury spread and I decided to use it here. Embarrassingly, I preferred it but not after spying the note that it was recommended for children 1+ years old. I guess that would be me!
The spaghetti was in fact quite nice. It reminded me of a treat that I make myself once every 6-12 months. When I or my mother make soy sauce chicken I keep the salty, caramelised sauce for another day and use it as a spaghetti sauce. It's not a dish I make often as there is an absence of vegetables but I figured using wholemeal spaghetti would work in my dietary offset program (like carbon offsetting but for diets). And after trying it I must say that sure it's not magazine spread beautiful but it tastes very good indeed.
Vegemite for kids-or me!
My friend Gina once told me of a friend of hers, a male college buddy that had invited her and her friends over for dinner. He wasn't much of a cook and quite poverty stricken as most university students tend to be (she also told us that he would come out to eat with an empty wallet and a fork to spear bits off other people's plates). As if to spectacularly illustrate both points he served up a single course of plain boiled rice to his dinner guests.
"Do you have any soy sauce or ketchup?" Gina asked him and shaking his head offered them salt to have with their rice. She declined. Little did he know that if he had three ingredients in his cupboard, four if he wanted to stretch it, he could have cooked the girls a lovely meal. Yes, three ingredients. And one of them is Vegemite.
Not Quite Nigella meets the Nigella!
And for those of you that asked, I am very excited to confirm that yes I did get to meet the Domestic Goddess one-on-one during the festival and here is a slightly blurry photo taken of us together! Which brings us to the book news. During talks with my publisher at Penguin Books it was suggested delaying the publishing date of the book so that I could include the chapter on meeting Nigella in it among other things! I thought that it was a marvellous idea; when I read Julie & Julia, I really wanted to know whether she had met Julia Child and meeting Nigella in person and chatting to her was the very best last chapter to the book I could have envisaged. We talked about food and shoes-two very important topics! So I am putting on my patience cap and waiting as the book publication date has now changed to 2012.
I know, I know, 2012 is forever away! They had to explain to me why 2012 (and I must have sounded like a baby that had had its dummy taken out). From July to September there are writer's festivals: Sydney is in May, Byron Bay in July or August, Melbourne in August and Brisbane in September. Because there are international authors coming for these festivals as well as lots of Australian authors, the book-related publicity around that time can focus on those authors so it's best not to publish a first-time author in those months. And many of you know that October-December is the craziest time to launch a first time author with Christmas and there is a very probable chance that it will be completely lost in the fray. So 2012 it is! But I hope you'll agree with me that an interview with the woman that inspired the whole blog is worth holding up a book publication date for!
Speaking of Ms Lawson, I did manage to take some video of her which I didn't have time to put up on yesterday's post but here she is in all of her honey voiced glory! If you do want to meet her, she is doing a book signing tomorrow at David Jones Elizabeth Street Sydney store at 12:30pm this Wednesday the 16th of March.
So tell me Dear Reader, what would you have worn to meet Nigella and what would you have asked her?
Vegemite Spaghetti
Adapted from Kitchen by Nigella Lawson
375g/13ozs dried spaghetti

50g/1.7ozs unsalted butter

1 teaspoon Vegemite (or Marmite, Promite-I used 2 teaspoons My First Vegemite)

freshly grated parmesan cheese to serve ( I actually preferred this without it but you might like it)
Step 1 - Cook the spaghetti in a large pot of salted boiling water according to directions. Drain and rinse under water keeping a cup of the pasta water.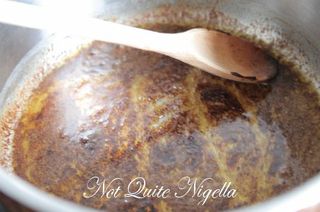 Step 2 - In the same pan, put on the heat and evaporate the water and then melt the butter and add the Vegemite and a tablespoon of the pasta water and mix to dissolve. Add the cooked pasta and more pasta water to combine if necessary. Serve with grated parmesan cheese if you like.