Asian Mothers Are The Best Mothers?
Ms G's is also not your mum's regular local Chinese restaurant.
There's a cryptic glowing "six two one" scrawled pink neon sign on a wall. Some among us would know that with those three numbers the name Ms G's is a pun on the notorious flavour enhancer MSG. Ms G's is a pan Asian eatery where the menu proudly proclaims "Asian mums are the best mums" and it's no coincidence that I've brought my mother here this evening. The decor is semi rustic and there are four floors. There are booths in the lower floor and tables on the upper floor and the middle floor in which you enter on has some tables and a bar and on the bottom level is the kitchen.
As I mentioned, this is also not your mum's regular local Chinese restaurant.
Actually it is Lotus chef's Dan Hong's new restaurant and there he is in the kitchen flipping pans and bringing up plates. The staff are  are numerous with svelte young girls and guys. During the night we spot Flying Fish chef Peter Kuruvita dining there with his brood and is that Elvis Abrahanowicz from Porteno that whizzes past down the stairs into the kitchen? Matchbox cars line the tops of booths, a dinosaur sits in front of the speakers and at each table there is a stainless steel cutlery and sauce holder (we're just missing the tissue boxes!). Amongst the chopsticks and forks and spoons there are colourful thick bubble tea straws so we take the cue and order a bubble tea cocktail.
Pina 'Pearls' Colada $14
We asked the waitress whether there were bubble tea drinks and she tells us that the cocktails fall into two categories: packaged (that is in a plastic cup with the Ms G logo on the sealed plastic cover) and the unpackaged which we presume to be cocktails of the more regular variety. She tells is that the Pine Pearls Colada has pearl bubbles in it. It arrives with a cute Ms G cartoon figure on top and features Appleton VX & Havana Club Blanco rum, pineapple, coconut, yogurt sorbet, green pearls and a lot of crushed ice. It's pleasant with overtones of coconut, rum and pineapple although we were hoping for the fat tapioca pearl balls that you suck up the straw with a suction sound that echoes through your ears. These were the small sago balls and didn't really require the large bubble tea straws.
Mini bánh mì- crisp pork belly or chicken katsu $6 each ($24 total)
We ordered a couple of each of the bánh mì. They're small dinner roll sized rolls filled with a crispy chicken katsu or a pork belly with the requisite pate, cucumber slices, carrot shreds, herbs and onion. I particularly like the crisp and crunchy chicken katsu one although there were the inevitable price and size comparisons between these bánh mì and the ones at a takeaway shop which happens if you bring you Asian mother and family to dinner. You can get a much bigger bánh mì for the same price but they won't of course have chicken katsu or crisp pork belly inside.
Vietnamese steak tartare, prawn crackers $18
Mr NQN loves steak tartare and this Vietnamese version comes with prawn crackers instead of the thin crunchy crouton pieces. We break the yolk around it which gives the steak a creaminess and the strong seasoning here is of fried eschallots.
Prawn toast, yuzu aioli, herbs $14
The prawn toast was my mother's favourite with an earth shattering crunchiness from the buttery toasted sourdough. It is generously topped with mint, spring onions and coriander and a distinct yuzu (a Japanese citrus fruit that is a cross between a mandarin and lemon) mayonnaise. And although this is usually served in four pieces we appreciated the fact that the kitchen took note that there were five of us and cut this into five pieces.
Fried baby chicken, kimchi mayonnaise whole $30
The fried baby chicken is portioned out into eight pieces and is piping hot and crunchy and well paired with the kim chi mayonnaise which has that distinct kim chi flavour.
Egg noodles with XO sauce, braised duck, soft poached egg $16
These egg noodles are something that my mother used to cook us a lot. Here they come out with an XO sauce, soft braised duck and a soft poached eggs and herbs and the waitress tells us that the chef recommends that everything is stirred up together. The egg yolk makes this very creamy and it pairs well with the yolk coated noodles and braised duck although I don't taste much of the distinctive XO sauce which usually imparts such a fabulous and spicy flavour.
Braised pork belly "Hue Style", konnyaku noodles, lemongrass, chilli broth $24
The braised pork belly comes out in three gelatinously wobbly rectangles of meat and fat with three bundles of konnyaku noodles which are those slightly bizarre wobbly noodles made out of the konjac plant that are high in fibre with zero calories (and they are naturally flavourless except for the flavour the liquid is stored in-it's great diet food!). Anyway, I digressed, the konnyaku noodles sit in a lemongrass and chilli brother highlights with kaffir lime leaves and I find this best if you get some of the broth with the pork belly as it can be a bit plain without it.
Crispy spiced tofu and fried eggs, cherry tomatoes, coriander, Thai basil $21
The last savoury dish is a simple dish with two sunny side up fried eggs, spiced tofu cubes, heirloom tomatoes and whole basil leaves. Despite it crossing all sorts of cuisines, it is actually very good together, especially given how fantastic the tomatoes are and again the egg yolk acts as a creamy dressing.
"Stoner's Delight" banana ice cream,chocolate, rice bubbles, pretzel, peanut brittle, marshmallow $12
It's definitely not your usual Chinese restaurant when the dessert menu sounds enticing and offers more than deep fried ice cream with a choice of three toppings.  And our Chinese mother definitely doesn't know what a stoner is as we watch her read the menu brow furrowed asking
"What is a stoner?" she asks looking at us curiously.
"A stonemason" Blythe and I reply closing the subject.
The interestingly named "Stoner's Delight" is a mixture of banana ice cream (and it is real banana ice cream-yay!), pieces of rice bubble and chocolate slice, pretzel and shards of peanut brittle and toasted passionfruit marshmallow. It is just the right mix of crunchy, sweet, tart, melting and soft and would make a stoner even out of my mother.
"Jam Doughnut" cinnamon doughnut ice cream, raspberry jelly $12
The "Jam Doughnut" comes out looking like an ice cream sundae with little curls on top. There are scoops of cinnamon ice cream, mountains of whipped cream, raspberry sauce and then discs of jam doughnut holes that have been sliced and then crisped so they are like sweet cinnamoney croutons. Wacky stuff but it works.
Pandan chiffon cake, strawberries, coconut sorbet $12
I must admit I thought that this looked like way too much things on one plate. But I was wrong and we end up fighting over the last scraps of this dessert. The pandan chiffon cake has a slightly crunchy glazed caramel top, diced strawberries and sits in coconut sago with a scoop of coconut sorbet on top. And just like in my mother's kitchen my sister and I fight for the last bits.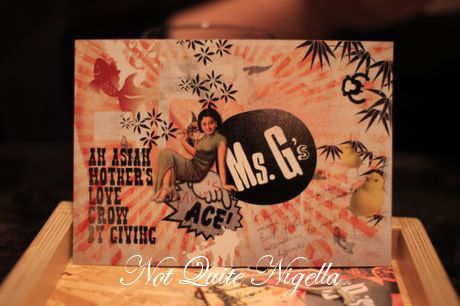 So tell me Dear Reader, do you go out to dinner with your mother often? And who chooses where you eat?
Ms G's
155 Victoria Rd, Potts Point, NSW
Tel: + 61 (02) 8313 1000
Open Monday to Sunday for dinner, Lunch Friday to Sunday