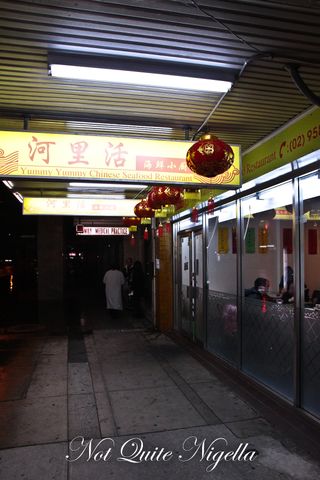 It first came to me via a text on my phone. My friend Buxom Wench asked if I had tried Yummy Yummy restaurant in Riverwood. She accompanied her question with a photo from her dinner there and the tempting offer of live mud crab for $37.60 a kilo. I knew that her parents, with whom she had eaten, were the harshest of critics of Chinese food so given that they had loved it, it was surely worth a visit?
So there we were, with my own two harshest critics of Chinese food, my parents Rose and Ronald. Mr NQN was driving my father's car and we were discussing crab. My father, hard of hearing, loves to talk about the price of crab (a real Chinese father past time) and the idea of a bargain such as this animated him.
"So how much are mud crabs normally?" I ask him.
"How much are nightclubs?" he asks.
"He's getting his hearing aid tomorrow. Finally" my mum answers, relieved.
A quick 30 minutes later, we've arrived at Riverwood, hungry with all of this mud crab talk. Our booking it seems has gone astray but no matter, the owner finds us a table, right near the door that swings open all night. Even though eating crab is a messy task, the freezing cold weather means that coats stay on all night and crab is negotiated around sleeves. We take his recommendations for other dishes and my father orders two small crabs. They bring them out for us and there is a male and female crab. My father is immensely pleased and tells us that female mud crabs are more expensive.
It's not long before all of the food hits our table and we watch table after table of people walk in. Those without bookings are turned away out into the cold weather outside and I feel sorry for them. The crab arrives and it is enormous.
Interestingly, they pile the vermicelli noodles on top whereas most places put the crab on top. The crab in XO sauce is plentiful with soft and silky meat inside. The noodles have pieces of crab interspersed throughout them and the whole dish silences everyone and there is just the contented nodding of people immensely happy with a much anticipated dish.
The crispy skin chicken is a dish that they recommended repeatedly. It was an enormous serve of the crispiest skin and tender meat underneath it. There is also an aromatic salt and pepper accompaniment to dip the chicken into.
The bean curd hot pot, ordered because the weather called for something warm and soothing, is full of char siu, beef, chicken, prawns, squid and soft, spongy blocks of tofu. The thick sauce is made for spooning on rice and this too satisfies, particularly tofu loving Mr NQN.
There are several types of fried rice on the menu and we went with their recommendation. It has a generous amount of prawns and chopped up scallops and does the job well of soaking up the sauces.
The steamed barramundi is fresh and served with spring onion, sesame soy and ginger. It is good but I'm completely full from the other dishes and this came out quite a bit later. I'm still busy fishing out pieces of crab from the large black pot.
With two choices for dessert we decided to bypass the dessert and they bring us a plate of complimentary mandarins and they are sweet and juicy. We ask how long the price of the mud crab will last and it will be for another 3.5- 4 weeks. And with that time limit, we are already planning our return ;)
So tell me Dear Reader, are your parents hard to please with food or restaurants? And do you ever order dessert at Chinese restaurants and if so, what do you choose?
Yummy Yummy Chinese Seafood Restaurant
258 Belmore Road, Riverwood, NSW 2210
Tel: +61 (02) 9584 8536