Dear Reader, I know the title suggests that I was hanging out with the chefs from the television show Iron Chef but alas my visit to Cabramatta with my friend Christie and her baby Poppy to buy ingredients to make Pho didn't involve either Chen, Sakai or Michiba.  After shopping, the hot summer weather meant that Christie, baby Poppy and I sought the relief of air conditioning, high chairs and yum cha food at the Iron Chef restaurant.
We're shown to a table and given a high chair and then the wonderful, gratifyingly fast ritual of yum cha ordering begins. A woman suddenly appears with her trolley of steamed goodies and gives us a hearty "Good morning!" She lifts up the lids of her selection and we're happy to see our favourites here. We pick and choose the ones we want and bypass the ones that don't thrill, she stamps our card and we commence one of our favourite rituals.
We ordered this dish because she had made a special mention that this was available just for Chinese New Year. It came in a steamer but inside is a glass bowl filled with clear broth, strands of coriander, an enormous pork and seafood dumplings and slippery, clear mung bean noodles underneath the dumpling. The broth was just what we needed in this heat-I always thought that eating hot soup or curries in heat was counter-productive but it refills our energy reserves nicely. The pleated dumpling, and you can perhaps see that it is a Titanic sized specimen floating in the sea of soup, is filled with pork mince and prawns as well as some bamboo shoots to give it crunch.
Christie and I both adore seafood-we have such similar food tastes and we first bonded many years ago when we started talking about our mutual love of cream. Seafood is another item that we gladly snaffle up and this is a goody. Sometimes I find seafood dumplings have those bits of peanut which I do not like at all as they taste soggy but this is full of prawn and scallops with a thin, translucent dumpling skin.
My favourite dumplings, these were very good indeed the large prawns having a wonderfully fresh texture to them. My kingdom for a tower of steamers!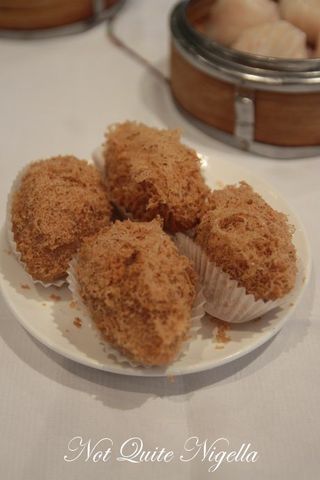 This was the first time that Christie had tried these and she was curious about them. They're deep fried dumplings filled with pork mince, pork pieces and vegetables and then covered in pureed purple yam which is then coated in super fine, delicate crumbage that melts on the tongue. They need a little more seasoning but the texture of these is what wins us over.
We weren't won over by these at all-even Poppy who loves these rejected them summarily. The prawn texture wasn't as springy as the ones in the har gow and they tasted a bit flat and over steamed.
"Ooh what are those?" I say spotting some dumplings. I've been wanting to try some yum cha fare that is a little different from the norm. These were round balls made up of seafood mince on top of whole shiitake mushrooms. The texture for this dish was good although I did find that these needed a little seasoning too.
By now we were getting quite full but I saw these at another table by on my way back from the restroom so we ordered a serve of these with the restaurant manager as we didn't want to bother the yum cha ladies with opening up all of their baskets if we were only after one dish. We asked the restaurant manager what was in them and he thought about it for a second before suggesting that he try one of ours and let us know! They're very friendly here and I think Poppy had them wrapped around her little finger. These ended up being seafood dumplings containing prawn, scallops and little tendrils of octopus and finely sliced Chinese greens all topped with fish roe which we both enjoyed (although the Adrian Monk in me thinks that they could have distributed the fish roe a bit more evenly).
Christie and I were too busy talking when we looked over and saw that Poppy, who had already finished eating her selection of goodies, had taken a fork (from where I have no idea-resourceful little girl!) and was dragging the steamer of dumplings towards her!
Then the inevitable happened... round steamer basket rolling across the restaurant floor, seafood balls in the pram and slippery shiitakes on the carpet. Ahh Poppy, you are a funny little girl!
And yes we can still see you Poppy ;)
Spying something else new, we had to order it. They seem to like using a lot of the seafood mince which is something that you see a lot in Asian food, particularly street food. This comes as three very large deep fried triangles of seafood mince filled in the centre with pieces of prawn (the prawn similar in texture to the one in the chee cheong fan, a bit flat) and avocado that is served warm and cooked. It's definitely unusual but not bad but they're also very, very filling.
The egg custard tarts comes as three small tarts to a serve and the woman warned us that they were very hot as they had just come out of the oven. The custard was sweet and eggy and the pastry was crispy but not quite reaching the heights  or number of layers of some multi layered egg custard tarts pastries.
We ordered this at the very last minute, in fact after our bill had been handed to the waiter we had to try this as it was a little different and there weren't that many dessert choices going past (we didn't see any of Christie's favourite, mango pancakes at all). It's a large serve and made up of a dense, slightly moist coconut cake. I don't know if I could eat the whole thing, it's quite dense and dry in texture and not really what I expected.
In the whole franticness of yum cha I never really see which items get stamped with medium and large (and do "small" ones even exist?) so I don't know the prices of everything but Christie and I are pleasantly surprised to see that the bill for all of these dishes comes to $68.20 which we were surprised at considering that we really ordered everything that took our fancy.
So tell me Dear Reader, did you do anything for Chinese New Year this year?
Iron Chef Chinese Seafood Restaurant
84 Broomfield St, Cabramatta NSW
Tel: +61 (02) 9723 6228