A good Sunday to you Dear Readers! Guess where I am taking you to today? Why we're headed to Tasmania. Did you ever wonder how the food got from the seedling to the farmer to your plate? I have and being a city born and raised kind of gal I had pretty much no idea. So let me take you on a tour where you will learn how Australia's best ocean trout is harvested and where it swims, how to pick a good onion, which country prefers larger carrots, how wasabi, saffron and tomatoes are grown and see sapphire potatoes and banana eschallots all in the one story!
Hill Transplants
We are truly starting from the very beginning at a place where all of the above ground produce like lettuce, celery and cabbage come from. Did you know that most of this produce is actually grown from seedling rather than seeds directly into the ground? Obviously under the ground vegetables like potatoes and carrots are grown straight from the ground but these above ground vegetables start from seedlings. And Hills Transplants is where they create seedlings for farmers. They start with a Canadian peat moss which they believe to be the best and a tray is filled with aerated peat moss and then a machine picks up single seeds and deposits them in the centre of the peat moss. It must be a single seed only to grow ideally.
Daly Gourmet Potatoes
"Don't get too excited" I say quietly to myself. "People tend to back away from people that get excited over purple potatoes" I reasoned. There is a recipe that I have been waiting to make for almost a year and the key ingredient missing is purple potatoes that keep their colour after cooking. I've tried several in vain and so don't hold much hope that these will retain their colour. But after my enquiry they confirm that these are indeed purple potatoes that keep their colour! Joy! Bizarre food joy yes! Embarrassing food joy yes!
Gerard and Susie Daly explain to us how they came to discover the purple potato. They harvest 35 tonnes of potatoes a year and every year they incorporate an heirloom variety of  potato. This year is the purple "Sapphire" potato which was found at the back of a storage shed that belonged to the local university. They decided to give it a go and here we are months later with actual purple potatoes! When cut open the potatoes have a little white ring around them and a purple inside and to retain their colour as they lose a bit of their vibrancy, they advise to boil them with their skins on. They're grown at Marion Bay in the South East of Tasmania.
Milton Farm
Our next stop is a Milton Farm, a wasabi, saffron, cauliflower, onion and cabbage farm where the sixth generation Parker family takes the long process of harvesting wasabi, a process that can take up to 2 years.  They sell to restaurants such as Cutler & Co and Quay who also purchase their flowers which they post up in ziplock bags. The wasabi is what everyone wants to know about though and as it is such a time intensive product compared to cauliflower that takes 3 months, the prices are expensive. Harris Farm sells the wasabi stems for $180 a kilo and as they're sold in small quantities they package them up so that they aren't easily pinched! The stems are grown year round whilst the wasabi flowers and baby leaves are available during winter.
Here they grow in the ground whereas in Japan they grow in water. Is there a taste difference? Apparently they held a blind taste test with chef Tetsuya and he couldn't tell the difference. Notice the green on the wood in the picture coming up below? That comes off the wasabi naturally over the years! We try some of the wasabi which is freshly grated on two types of graters, one that they make and sell here and a fascinating one from Japan which is made from sharkskin which is a very rough surface with small "bubbles" on it. You can also use a ginger grater or a very fine Microplane grater.
Melina Parker talks to us about the saffron which is a short flowering season from the end of March to the beginning of May. It can be backbreaking work as the flowers fall on the ground and are quite intermittent (and why "child labour" in this case is appealing to them as children are much closer to the ground!). Saffron to us are the three pronged, dried red stigmas of the Crocus Sativus flower. In their first year they harvested 3 grams from their basketball court sized plot of saffron and it it takes about 200 flowers to make one single gram of saffron. And did you know that bees can get drunk off saffron?
Brandesma tomatoes
The next morning we're off early again! This time we're off headed to Brandesma tomatoes to see some tomatoes. Brandesma is a family owned third generation business on 7 acres in the middle of suburbia. Anthony and his brother bought the business from their mother and father.
They are suppliers to the biggest vegetable chain in Australia called Costas and they are one of four Perino growers. Perino tomatoes are found in supermarkets and are small red tomatoes that measure high on the "brix" scale of sweetness. A cherry tomato will brix at about 6-7 whereas a Perino will brix at 11 which is high for tomatoes. They have a high dry content so that they also don't burst  and they are touted as a snacking tomato. Theirs is a greenhouse operation which he tells us allows him to have a consistent product 52 weeks a year. He shows us the vines at the base are enormous and have been measured to a typical length of 14 metres.
A man with a vibrator! They use a vibrator to pollinate the plants in the absence of natural pollinators like bees.
We then make our way into the packing area where machines photograph and grade each tomato picked and sort them into sizes and colours. Some are quite green-the green tomatoes above will be ripe in 5 days although of course the flavour of ones that are allowed to ripen on the vine are different to the ones that ripen from green once picked. And  the best way to store and eat tomatoes? At room temperature as below 12C the enzyme that flavours tomatoes is killed!
Forest Hill Farm
"We almost went broke for the first two years" former traditional farmers turned organic gardeners the Benson family say. It's another family business (I'm convinced that there is no other kind of farming business here in Tasmania) and they are Australia's largest organic vegetable growers in Australia. Starting 12 years ago their top product is carrots followed by onions and potatoes of which they grow 12 varieties.
The challenges for them is speed. Without a wealth of knowledge on the subject in the world, farming organically means trying new things and if they don't work, trying again with something else and doing it quickly to find the solution as quickly as possible.
There are certain things that they know already like for example the onset of weather or a season means that they can anticipate the appearance of certain bugs but the temperature here with the cooler weather with less humidity means that there are less bugs and insects. Currently broccoli and cauliflower is proving a challenge. We watch as the carrots are hand graded. Some will go into bags (and carrots are usually sorted to the same size) and some will go into juicing bags if they are oddly sized or have nicks.
We take a look into the farm shop which is full of a great range of organic produce at a steal. The organic Australian garlic is a mere $20 a kilo so I buy some and they give us some red cranberry potatoes to take home-the pink actually increases in these once they are cooked. They also have some Bill's Beetroot Marmalade which we will try later this evening.
We take a drive out to one of the farms where we see some of their workers weeding the soil. It's down on the knees work here and they've found this the best way to remove weeds most effectively.
Premium Fresh
Ahh the purple carrot! And did you know that carrots were originally purple and that the Dutch bred the purple out in favour of the orange carrot? Owned by the Ertler family, they are debuting their purple carrots to us greenery and all and they are magnificent specimens indeed. Along with a large range of vegetables they show us their onions. I often have issues with onions. Sometimes I cut into one that I bought only a few days before to find that it has a soft layer of brown onion or it is wet with an air pocket between the layers. They tell us to look for heavy onions that don't feel spongey or light. This means that the layers are densely packed together.
And what about a no cry onion? They have been trying to devise this but with the tears, comes flavour. If this affects you a lot (it does me) they advise buying white onions as they are sweeter and meant to produce less tears.  And why are items such as carrots so cheap? There is currently an oversupply of carrots. And interestingly, each country wants different sized carrots. Apparently Japan loves big carrots so that they can use them for carving!
They process their onions by harvesting them and then letting them dry out for 2-3 weeks until they are totally dry. Onion prices can vary a little as onions are more prone to a crop fail than carrots which remain quite steady price wise. They also show us a newer product available in April this year which is popular with European chefs called the "echalion" or banana shallot which is a cross between an eschallot and an onion with the sweetness of an eschallot but much easier to peel and less fiddly than an eschallot can be.
Harvest Moon
On the other side are the Harvest Moon people who are competitors to Premium Fresh. But before we visit their location we're off to lunch at one of their farms. Neil Armstrong (but not _the _Neil Armstrong and is whom Harvest Moon gets its name from) drives up to the top of a hill where a welcome sight greets us.
Prepared by chef Daniel Alps from Alps and Amici who prepared our lunch just yesterday it is a divine spread with 41° South hot smoked salmon, Spreyton avocado dip, baby beetroot with pomegranate dressing (divine!), roasted cauliflower with lemon and mustard poppy seed, eggplant with lemon and garlic, horseradish potatoes and bean salad, Ronnach farm hot smoked quail, Woodbridge cold smoked ocean trout and a divine Greenham beef with spring onions and purple carrots which just sings with flavour to its very core. Wines were provided by Ghost Rock winery on the central north coast of Tasmania.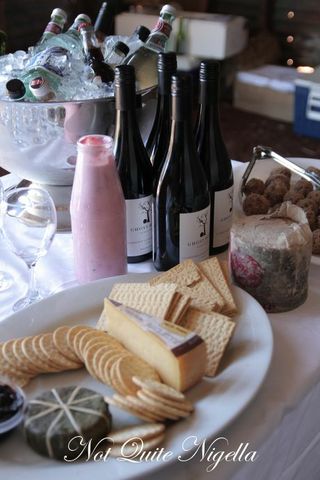 For dessert we have a cheese board with a Pyengana Truckle cheese which is a divine, crumbly, nutty hard cheese, Heidi raclette and a Tasmanian apricot nectar which is lovely mixed with some sparkling mineral water. And of course that Elgaar berry smoothie which is so divine.
We next visit their factory which processes onions, potatoes and leafy greens among others they are trying to promote the idea of seasonality with vegetables. We all know that fruit and certain vegetables have definite seasons but they tell us that all vegetables do and they are trying to increase awareness of this.
We notice some heads of broccoli coming off the conveyor belt into a wooden bin. I ask them what was wrong with the head of broccoli and they tell us nothing really, it's just that it is considered too large and supermarkets won't buy it because customers don't like large heads of broccoli. All of us are a bit stunned by this as the broccoli looks perfect.
Simplot
We are then off to the Simplot factory. This is now the only remaining facility that packages frozen vegetables. Now I admit the only frozen vegetable I buy is peas. I prefer fresh vegetables and have access to them so I don't buy frozen vegetables whereas fresh peas really start to get starchy quite quickly unless you are using them straight from picked which I don't have access to. They tell us that all peas packed for Birds Eye is Australian, specifically Tasmanian from three places whereas McCain is packed in New Zealand. We walk through the factory and watch a lot of beans and peas being processed from beginning to end. There are huge containers of fresh peas and beans that were picked this morning and undergo a blanching process and then a snap freezing at -18c. In the freezer where this happens they actually pump the chilled air under them so that they bounce up and down!
Petuna
Our next stop is to see a working trout farm in action. Ocean trout can only be farmed in Australia off the coast of Tasmania. Specifically, Macquarie harbour which is about seven times the size of Sydney Harbour. The water in this harbour is ideal for its purity, there's rarely a boat seen here and if anything there may be only about five fishing boats out at a time (last night and this morning we are the only boat in the harbour). Also because the water is a mix of fresh and salt water it is brackish water so the fish can find their own levels of comfort as the top layer of water is warm and just underneath it is colder water. The brackish water is also an advantage as bacteria doesn't like it.
Petuna which was started by Peter and Uma Rockcliffe hence the name currently processes 2,000 tonnes of ocean trout. It is also the fish made famous by family friend and Tasmania enthusiast Tetsuya Wakuda whose signature dish of confit of ocean trout is made using this ocean trout.
The Petuna ocean trout is renowned due to the fat and marbling content. Each trout takes about 16-18 months until it is ready to be harvested. We board the feed barge the SS Liberty where the food is stored and dispersed. Paul who lives on the boat for a week at a time shows us the pellets that the fish are fed. They're fed a mixture of fish protein, fish meal and fish oil and oddly they smell exactly like dried Chinese fish! I didn't try one out though...
"Trouts are like the ducks of the ocean, they'll eat anything whereas salmon are shyer" Tim tells us. Indeed they are said to be very aggressive eaters and will even eat gravel. The only threat to the cages are seals who like to eat the guts of the fish.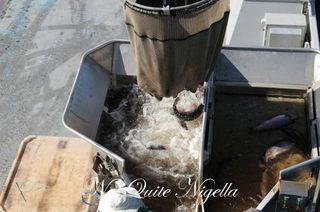 They harvest three days a week from 7am to noon in order to make the shipping times and each harvest day a delivery boards the Spirit of Tasmania ship bound for Melbourne. They are only harvested when needed and when an order is placed. Each cage holds 35,000 fish and is worth $120,000. They have 50 cages here in Macquarie Harbour and a total of 70 cages and three other leases at different locations. We take a look at the harvesting barge which is where they take large strainers and  move the fish, stun them and then process them.
A day later we visit the hatchery in Cressy which unfortunately has no hatchlings but they tell us that that it is a three year ahead process with the fingerlings. They need four times as many eggs as the final number of desired fish and the process goes from rootstock to eggs to fish. Every year they hatch 2.5 million eggs and out of this 1.5 million eggs are grown here at this location.  For every 1 kilo body weight of fish 2,000 eggs are produced. Once the eggs are fertilised and they can see a fish starting to be produced (the eyes, not the most appealing thing I must admit), they put them in the water in the pens and the trout take to the water easily. Interestingly salmon are a little harder and have to be tricked into thinking that it is Spring as their body has to undergo a process for them to accept the saltwater. They do this with the use of lights.
Our dinner is quite the feast expertly prepared by Petuna's chef. There is ocean trout, cold and hot smoked trout, eye fillet kebabs, caesar salad. And what happens to all of this fabulous Tasmanian produce? Apart from serving us platters of delicious hot and cold smoked trout we also get to try Bill's beetroot marmalade. Bill who has joined us for dinner was formerly a lawyer who decided to hang up his torts for the wonderfully wacky world of preserving.
He uses beetroot from the Forest Hill organic farm and only these as he finds that the deep purple shade can't be found with other produce. All of the marmalades are made in small batches and can be found on the "mainland" and online (see how I picked up the Tasmanian lingo? ;) ). The beetroot marmalade is divine-not a chutney or relish it is firmly in the marmalade territory with a sticky sweetness that isn't ever too sweet. It goes well with the trout and the beef. Apart from his beetroot marmalade, he also has a red pepper marmalade, a spiced pear chutney, a spiced tomato and apple chutney and Caroline's caramelised onion.
Christmas Hills Raspberries
**
Christmas Hills Raspberries is a family business run on two twenty acre farms with four children each contributing something different. One looks after the cafe, another the raspberries and another one looks after the dairy whose products are used in the cafe. At the front of the cafe they sell raspberry themed products including teas, syrups and jams but also raspberry scented socks! The pick is the fresh raspberries coated in chocolate which they sell by the tub and there are samples at the front. Given how raspberry prices are criminally high in Sydney I try one and it's a lovely combination of tart and sweet and Tim buys a box for the road to snack on.
I start with a hot chocolate raspberry which is a little sweet but not overtly sweet with a hint of raspberry syrup and two vanilla marshmallows on the side.
Now if only they served _this _on the plane! It is a single pancake, thick and fluffy with two huge scoops of double cream ice cream (using cream from their farm), raspberry sauce and fresh raspberries. Stunning and calories be damned each bite is savoured. What a tasty start to the day.
Ashgrove Cheese
A big painted cow greets us. "Hello Ms Cow" I tell her "Nice to meet you and your painted buddies." We've arrived at Ashgrove dairy which produces cheese, milk and cream. It too is a family business and we meet Jane who shows us the cheese making process which customers can view through their window. They have 1,200 friesian cows and only started bottling milk three years ago, their cheese business has been going on for much longer than that.
The factory is currently making a Lancashire cheese and a feta cheese and we watch whey soaked cheese curds awaiting the next process. The leftover whey is then fed back to the cows so that nothing is wasted. All of the rennet used in their cheeses is made using a non animal rennet and most of the regular range is available at supermarkets but the premium product is the aged cloth bound cheddar.
They are only one of two cheese factories that make cheddar the traditional English way as it is time intensive and involves turning the cheddar every 5 minutes for 1 hour. It has a nutty flavour which dries the tongue and sucks the moisture from it which is a sign of a good cheddar. The hand made process from beginning to when it is ready to age is about 24 hours but aging can take anywhere from 2 months which is the bush pepper cheese to 2 years.
Jane points out that the "wacky" flavors such as wasabi and lavender in their regular range were devised in conjunction with lcoal producers. The lavender is made using a Bridestowe lavender which is a low camphor lavender which is better for cooking as it is less bitter. The wasabi cheese took 5 years to develop and was a costly exercise as the wasabi cost them $600 a kilo. And if you're interested in shopping, the store stocks Tasmanian only produce. Being an island community, the food companies all help each other and Jane tells us that she, Christmas Hill Raspberries and Anvers chocolate all work together. She uses Anvers chocolate in their ice cream and they use her cream in their truffles.
"You should see the milk during winter, there is this much cream on top" Jane tells us measuring 2 inches with her fingers. "We don't do anything to the milk to normalise it, whatever comes out of the cow is the milk. During spring we even get people saying to us you're thinning the milk but that's just calving" she says.
The milk that they produce comes in three varieties, a full cream, a skim and a green milk which is a non homogenised milk. This milk is pasteurised but not homogenised which is a mechanical process that distributes the fat throughout the milk. Some people purport that in doing this, the fat particles become harder to digest. Some parents buy the non homogenised milk for their children with skin problems as it seems to help them (and if you think about the allergies today, there do seem to be a lot more of them). She also tells us the goats milk which is often prescribed for kids that are lactose intolerant actually is higher in lactose but has smaller fat particles so it is easier to digest. Another interesting point is the longer you leave the milk before processing the more male pheromones come out and because goats milk has such low yields, it is often left for longer which is why it can smell goaty!
Anvers Fudge
Our last stop has the magical words "Chocolate Tasting Room" emblazoned on the outside. Now if that isn't going to stop a tourist or a local I don't know what is. We are at Anvers Belgian chocolate and they sell fudge and truffles. There is plenty of sampling available and I like the mocha fudge which is smooth and creamy. There are also huge blocks of fudge for a mere $8! It's a sweet ending to some food filled days exploring Tasmania.
So tell me Dear Reader, are you a city person or a country person?
Many of the places that we visited are working factories and farms and are therefore not open to the public for OH&S reasons. I have included a list of the places that are open to the public.
Forest Hill Farm
520 Wilmot Road, Forth TAS
Tel: +61 (03) 6428 2416
Christmas Hills Raspberries
Bass Highway, Elizabeth Town TAS
Tel: +61 (03) 6362 2186
Ashgrove Cheese
173 Bass Highway, Elizabeth Town TAS
Tel: +61 (03) 6368 1105
Anvers Fudge
9025 Bass Hwy, Latrobe, TAS
Tel: +61 (03) 6426 2958