There was Mr NQN his eyes wide glued to the television. He was riveted, watching a stark naked man running across the ice.
"Honey come have a look! Bear is running across the ice naked!!!"
"And I would want to see this, why?" I asked raising an eyebrow from the comfort of the other room.
I'm convinced most men have a secret man crush on Bear Grylls or at least want to be him. For me, I'm still wondering why his name is Bear and why he keeps doing the things that he does and whether at night he sits in a 5 star hotel getting pampered or simply pulls up stumps on the side of a road and unfurls his sleeping bag. I have also learned never to interrupt Mr NQN while he is watching him. Not that I could pull his attention away. "Shhh...Bear" is all he will say to quiet my questions, his eyes not moving from the screen.
Mr NQN was having his brother over and they were going to do manly sporty things while I was away. I knew that they would both be starving and helpless (where has the caveman that seeks food out gone?) so I needed to buy some food to feed them lest they raid the ingredients that I had bought to test out recipes with. So I made them brioche to eat. But as life is often  about marketing something properly I told him that instead of it being a sour cream custard brioche (code for "fancy") my down to earth husband would be content with "some bread with some custard on it." I dared to buy them some brie and some Afghan bread and knew that they would be fine and fed.
I got this recipe from the new Raymond Blanc book "Kitchen Secrets" that I was sent to review. He is of course one of the most well regarded French chefs in the world. It is a hard cover cookbook with all manner of French goodies broken up into sixteen chapters including a chapter on chocolate. At the beginning of each chapter he gives you a great explanation on working with said ingredient (for example, in the chocolate chapter he tells us the ideal heating temperatures and why and when technical things like graining of chocolate occur among many other things). He even shows how to make chocolate cups using acetate and all of those cool little things that you would no doubt be called to do if you worked in one of his kitchens.
In each recipe there are annotations where he explains in further detail why things occur and gives tips to get the best result possible. I really liked this as there were times that I was unsure about a method and he explains why it works and why he does it. It was a little like having him in my kitchen. There are full page photos for every dish and the dishes are unashamedly French (although there is a chapter on spices and chillies) so this might be good for a moderate level French cook. Because of the additional detail most recipes span 2-3 pages including the photo.
The cookbook version
I gravitated towards this recipe because I do love brioche but I have always found it very time consuming. His version is simpler and the addition of a crème fraîche custard (or sour cream custard in my case) in the centre sold me completely. The brioche itself is easy to make in the bowl of an electric mixer-I think it would be too difficult to do by hand because the dough gets quite sticky (although I'm happy to be proved wrong by anyone that makes it by hand easily). The sour cream custard is a cinch and is made in a jug with a whisk and before I knew it I was baking my own Raymond Blanc brioche.
The resulting brioche is light, sweet and buttery-the lemony sour cream custard filling is gorgeous and although mine didn't end up being as burnished brown in the centre and split slightly it wasn't too bad and quite achievable. And Mr NQN? Well he did me proud. When I got home I noticed that the proper cheese knife was used for the cheese. And when I asked him about it he said "Of course, what did you think I would use?" before turning his attention back to watching Bear drink some muddy water.
So tell me Dear Reader, does your male friend/partner/relative think that he is Bear Grylls? Or is there someone else that they want to be?
P.S. Don't forget to check out if you have won something in the To Market To Market! The winners have been announced and I still haven't heard back from all of you and the prizes will only be held  until July 13th! x
Summary:
Achievability: 4 out of 5. His restaurant Le Manoir aux Quat'Saisons has two Michelin starred chef but there are only a few truly intimidating recipes in here. Most of it is very achievable particularly given the excellent notes.
Usability: 3.4/4 out of 5 I love eating French food but I don't cook it very much. If you enjoy cooking it then this you will use it a lot.
Degree of difficulty: Medium, some are hard but some are easily done. There is a good range.
Food porn score: 3.5 out of 5. Nice clear photos and a photo for every recipe. Styling is quite simple.
Post it note tabbed recipes: 7
Gift book: Yes, especially for Francophiles or those harbouring fantasies of working in his kitchen.
Sour Cream Custard Brioche or Gâteau à la Crème Fraîche
From Kitchen Secrets by Raymond Blanc published by Bloomsbury $59.99
For brioche dough
250g/8.8 ozs. strong white bread flour (Blanc recommends Shipton Mill No. 4)
12g/ 0.5oz  fresh yeast 1
4 free range/organic medium eggs
150g/5 ozs. unsalted butter, at room temperature cut into small cubes
For the creme fraiche filling
4 free range/organic medium egg yolks
45g/1.5 ozs caster or superfine sugar
finely grated zest of 1/2 a lemon
150g/5 ozs creme fraiche or sour cream
To finish
2 egg yolks, lightly beaten for egg wash (I used just one)
caster  or superfine sugar for sprinkling
The dough with everything added but before the final increase of speed
To make the brioche dough: Place the flour, salt, sugar 2 and yeast in the bowl of an electric mixer fitted with a dough hook, keeping the salt and yeast apart. Add the eggs and mix on the lowest speed until completely absorbed 3.  Increase to the next speed setting and mix for another 5 minutes until the dough comes away from the side of the bowl. Now add the cubes of butter 4 and continue to mix for 2-3 minutes until fully incorporated.
Once the dough comes away from the sides of the bowl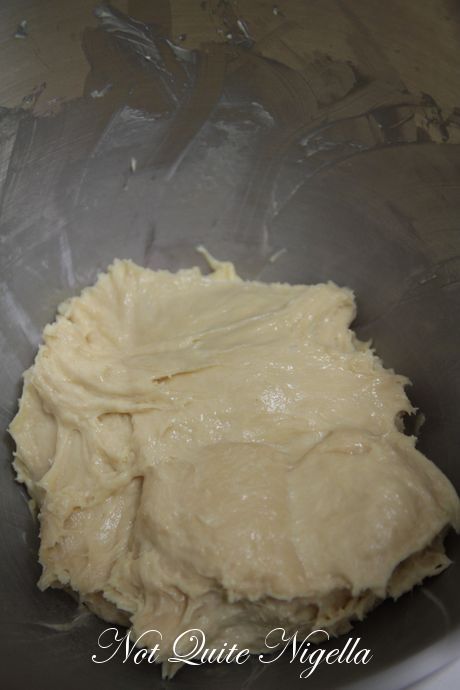 Before the first rise
For the first proving: Remove the bowl from the machine and cover with brioche dough loosely with a tea towel to prevent the surface from drying and to stop a crust from forming. Leave to rise at room temperature 5 for 1 hour. Then refrigerate the dough for 1 hour 6.
After the first rise
*To make the creme fraiche filling: * In a large bowl (I did it in a jug), mix all the ingredients together until evenly combined, then cover and reserve in the fridge.
Patted out in the tart ring
To shape and prove the dough: Lay a 35 cms piece of greaseproof paper on your tray and sit a tart ring on top (you don't need to grease the ring) 7. Place the dough in the middle. With lightly floured hands flatten the brioche dough, pushing it from the middle to the outside until you have an even thickness of 3-4mm and a raised rim of about 1 cm. Leave to prove at room temperature for 25 minutes 8; Preheat the oven to 200C/400F/Gas 6 and place a baking stone or tray on the middle shelf.
After the second rise, egg glazed with the custard inside
To prepare for baking: *Knock back the dough base with your fingertips, to the edge of the raised rim *9. Brush the rim with egg wash. Pour three quarters of the creme filling into the brioche case. Carefully slide the gateau onto the baking stone or hot baking tray and pour in the rest of the filling.
To bake the gateau: Bake for 10 minutes, then sprinkle caster sugar over the surface and bake for a further 15 minutes until golden brown and cooked 10. Remove the ring and transfer to a wire rack to cool slightly. Serve warm.
Notes from Raymond Blanc:
1: If fresh yeast is unavailable then dried yeast can be used but halve the quantity.
Step 2 - The inclusion of sugar is to help the yeast ferment and produce carbon dioxide-creating wonderful bubbles and air pockets, giving a light and soft bread.
Step 3 - At this stage the proteins within the gluten are being worked, making them more elastic. This happens as the liquid ie the eggs, is absorbed into the flour.
Step 4 - Adding the butter in small pieces at room temperature enables it to be incorporated quickly into the dough, producing a silky smooth texture.
Step 5 - Here the optimum proving temperature is around 22C, which is more or less kitchen temperature. The warmer the room is, the faster the proving time, but a slow fermentation creates a better flavour and also a greater rise.
Step 6 - You will need to chill the dough at this stage, otherwise it will be too soft to work with. Chilling will also slow down the proving.
Step 7 - A ring mold isn't essential. You could simply shape the round with your hands and let the gateau take its own shape, flattening the case until you have the desired thickness and creating the rim as described.
Step 8 - This second proving will help to develop the flavour and puff up the dough.
Step 9 - You will need to knock back the dough to create a well for the creme fraiche mixture, do no touch the risen rim.
Step 10 - To make sure the gateau is cooked, gently life one edge with a spatula and check that the base is golden brown in colour.