As former Manly residents, Mr NQN and I always like coming back. It's the laid back atmosphere, the friendly locals and the beach views. Sure, we moved and that was because the last straw was watching a drunk guy being carried out of the notorious pub with one bouncer carrying each of his limbs which seemed to be a too frequent late night occurrence on Saturday nights. So we fled to the nearest safe enclave Mosman and then over the bridge to the East although we do like to revisit Manly as we feel like we know it like a local.
We had first heard of Frankie's Number from a colleague of Mr NQN's and we thought that we would try it out one weekend. We were also finally mobile after 2 months of immobility (Elphaba our naughty green car was too temperamental) and we had a new set of wheels called Purdy our new beloved Prius on loan from the kind people at Toyota and the world was our oyster!
We arrive at 7pm after nabbing a park it seems miles away. We had rung that afternoon and asked if we needed to make a booking. Since there were just three of us, the woman on the phone told us that we could come in and they'd find us a table. But knowing how popular this place was we didn't leave it to chance and arrived at 7pm which proves fortuitous at 7:30pm when the bar and restaurant swells with people.
Decorated in a 50/60's style with a pin up girl in their logo poster there is some fabulous retro furniture. As Queen Viv, a child of the 60's says "They've nailed the 60's atmosphere" and it reminds her of a bar set up in someone's rumpus room "But in a good way" she adds winking. It's comfortable and service is friendly and personable in that Manly way. And why the name Frankie's Number? Frankie is the owners  Staffordshire Terrier who used to get chased around a lot in the park so they would say to each other "Frankie, the other dogs have got your number!"
Mr NQN and Queen Viv order wines but I can't have any as I'm driving and Mr NQN asks for a recommendation. The waiter, who we later learn is one of the owners Justyn, confesses that wine is not his forte but asks his partner Sahra behind the bar to make some recommendations. She has previously worked behind the bar at Pocket Bar and as a wine rep for Winestock. Mr NQN orders a glass of Tisdall cabernet merlot on their recommendation and it's a good choice. All wines are available by the glass.
We ask for some menu recommendations and end up with one entree and two mains to share as well as sides. The entree is the white bean cassoulet with chorizo, quail egg and toasted grain bread. The cassoulet is quite light in flavour whereas a cassoulet is usually quite bold with all of the various types of meat like pork belly, toulouse sausage, confit legs, pork hock and salt pork submerged and cooked for hours. This is a much lighter version with just the chorizo and reminds us of baked Turkish eggs with beans that you can often get at cafes for brunch rather than the full bodied Winter beast that is cassoulet.
The favourite dish of the evening this was politely fought over by all of us. The pork loin is tender and comes as four discs of pale pink meat rolled in porcini dust and alternated with slices of black blood pudding which gives it a complementary saltiness and soft texture. The parsnip puree finished off the pairing of pork and blood pudding perfectly.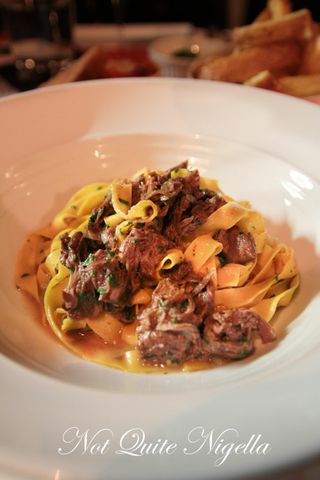 The saffron tagliatelle is a large dish with silky ribbons of saffron tagliatelle topped with lovely, soft braised beef shin and it is said to have mixed mushrooms although none of us find any trace of the missing mixed mushrooms. The dish is hearty and sustaining and what you need for a chilly Winter's evening.
We tried the twice cooked hand made wedges and not quite as fried crispy as other twice cooked chips we've had it is an enormous serving that is perfectly seasoned and becomes irresistibly moreish when dipped in the aioli.
The steamed greens were cooked so that everything retained a good crunch although it does need a light drizzle of oil or butter to bring out the flavour and almonds.
By the time dessert came around the whole place was furiously busy but one of the bartenders notices that we're ready to order dessert and so he comes over to take our order. There were three desserts on the menu that evening and since we were quite full from the mains we decided to share two. The strawberry panna cotta is quite firm and grainy and lacks the tongue melting wobbly texture. Although it does taste of fresh strawberries we feel that it needs more sweetness. The liqueur milkshake shot that accompanies it is foamed at the top and tastes of strawberry yogurt liqueur.
The affogato was a very generously portioned size of four scoops of vanilla ice cream and two espresso shots of coffee and Frangelico. It's just the pick up we need in order to brace ourselves for the cold outside and there is a new surge of stomach space made for this dessert which has Queen Viv tipping the glass to her mouth for the last drops.
We pass a very drunk guy who proclaims his love to the world and then accidentally headbutts one of the perspex phone booths while girls pass by wearing tiny dresses and heels braving the cold. Then we notice that someone has pinched the P plates from Purdy! How very strange! I mean who steals P plates?
So tell me Dear Reader, has anyone ever stolen some random from you? Or conversely, have you ever pinched anything strange? And do you prefer living in a quieter suburb or one where there are lots of places to go out and people around?
Frankie's Number
Shop 4, 9-15 Central Ave, Manly NSW
Tel: +61 (02) 9976 6737
Open 12pm-12am Tuesday to Sunday