It was a Saturday morning when I rose early, had a facial appointment, ran some errands and returned home at noon. To find Mr NQN fast asleep like a baby. The poor thing works terribly hard but I did think that rousing him at noon seemed a reasonable hour. "Wake up, it's sunny and gorgeous today!" I exclaimed.
"Mmhummpummh" he muffled into his pillow.
An hour later we were driving across the bridge along with half of Sydney winding our way down Military Road into Sydney Road in Manly and then making our way to the promenade on the beach. The Pantry is situated in the old beach house and information centre and it is smack bang on the beach. As far as locations go, there really isn't much better.
Reservations aren't taken for breakfast but they are for lunch and dinner and it is open all afternoon. Service from our first waitress is on the cold side only reaching the warmth of a smile once or twice which seems  unusual for Manly where service is usually very warm and friendly. Another waitress is friendlier and there seem to be plenty of waitstaff floating around but none to take our order.
The astonishing thing about this place, and I hope it doesn't change, is the prices. Considering the view which is rather priceless and you can practically smell the salt water on the surfers paddling out onto the waves, the prices are incredibly reasonable. We didn't try Laporello's iced coffee but he assures us that it was good and worth a repeat visit for.
Nduja is that very popular now Calabrian spreadable sausage in a casing. We ask the first waitress to check that this is their nduja whereas we've mostly had the traditional nduja which spreads like pate or rillettes. This is a salami similar to the one I had at La Piadina made by Quattro Stelle and is the hard or piccante version without olive oil added to give it that spreadable consistency. The nduja piccante salami is very thinly sliced and very dry and spicy although not what I was craving for which is the spreadable nduja.
They had just sold out of their last order of the arancini balls so we go for the pickled octopus. Served cold and tender it evokes memories of Mediterranean holidays and beachside meals. It's just the right side of vinegary and has a great texture without a hint of rubberiness.
The Angus beef burger comes out on a large soft bun with a juicy beef patty and sweet caramelised onion jam. The small side of coleslaw is also on the sweet side and yet the soft bun and juicy patty make this burger very satisfying. The chips are golden cooked French fries that are well salted.
The egg tagliatelle comes with a generous amount of tender calamari rings, a little chilli butter and a sprinkling of cheese and pangritata breadcrumbs. A squeeze of lemon and this is a good dish with lots of fresh flavours.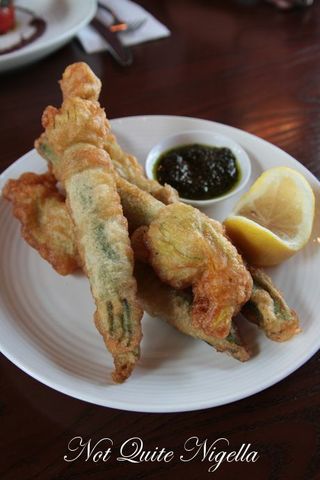 Amaya and Tuulikki liked the serve of four stuffed zucchini flowers although we didn't try any of this or their salad. This is a massive serve and very good given the price (in fact they wonder if they've accidentally got a double serve but the bill showed a single serve).
_Grilled vine ripened tomato, bocconcini, basil pesto, olive tapenade, crostini $18
_
_
_
We dither over the chocolate fondue for two but Mr NQN is quite full as is everyone else. So we take the recommendation of the waitress and try the Bannoffee pie which is always a favourite. Also bananas are like gold nowadays so we try and sneak in banana wherever we can get it. This bannoffee pie is very tall and comes as a narrow slice with a thick biscuit layer, an inch of thick caramel, a thin layer of bananas and a serve of whipped cream. Each component was quite good but there was a bit too much caramel for the banana and cream. Still we did finish it off!
The promising sunny morning has morphed into a greyish, chilly afternoon now that the sun has retired behind the clouds. We look around and see that there are displays of food, fruit and vegetables and we ask whether they can be purchased. The dry and jarred goods can be purchased any time but the fresh vegetables and fruit can only be purchased on week days as they tend to use them all up over the busy weekends.
So tell me Dear Reader, do you get the urge to go out when it is sunny? And where do you head first?
The Pantry
Ocean Promenade, North Steyne, Manly, NSW (at the main beach end of the corso)
Tel: +61 (02)9977 0566