"It's like a Southern baptism!" The Second Wife exclaims when the bottles of Coke come accidentally crashing onto the table. Pointing out that perhaps in the South they don't do things by halves and Coca Cola could quite likely be the choice tipple over plain old water. Our waitress is apologetic and soon afterwards we are good as new with the tables and booths mopped up. It's that kind of day.
Mr NQN, The Second Wife, Gravy Beard and are sitting in a retro style booth at Jazz City Diner on the northern end of Crown Street. Jazz music is playing in the background and the item that we thought was merely a prop springs to life and a black and white video of a jazz band appears. On either side of this screen are brass plaques with names on them. We enquire as to who these people are - we have heard of people buying a seat at restaurants and figured that this had happened. However here, they're the name plaques of regular diners that frequent the place seemingly every night or every second night and send their friends and family along. Two waitresses pass by in traditional red and white diner waitress outfits straight out a movie.
Open for four months since the beginning of December, I've seen reviews come and go about Jazz City Diner. Some have mentioned the milkshakes and cans of A&W root beer which at $10 and $8 respectively are on the expensive side but the food itself seems quite reasonably priced (and in an American touch, there is a glass on milk on the menu should you want some to have your meal or pie with). Most mention the comfort cooking of the American cuisine-and you know me, I love American food. Oh and the restaurant is cozily small too so best book if you want a table. This is a small restaurant that agrees with the idea of allowing customers to book.
Chef Dan McGuirt
Chef Dan McGuirt comes out to bring plates to other tables and a menu enquiry leads us to learn that his initial ambition to serve fine dining American cuisine was altered to fit in with customer's demands and tell us that one night there was a group of eight that all wanted chicken and waffles. Dan emigrated from America to Australia in 1993 as an I.T. worker for the I.T. boom and ended up staying and pursuing his real love of food.
The Ultimate Texas Chilli Cheeseburger $20
We're starting off big. Just because we think that's how they would do things in Texas. The ultimate Texas chilli cheeseburger is enormous and comes with a large Texas style spicy chilli beef square patty, guacamole, jalapeno chillies and cumin sour cream. It's tastes like Tex Mex Mexican food meets soft burger bun and is fabulously soft and comforting. This is the only burger not to come with a choice of sweet potato fries or onion rings, this comes instead with some spiced tortilla chips which are served as crunchy long threads with a spicy seasoning.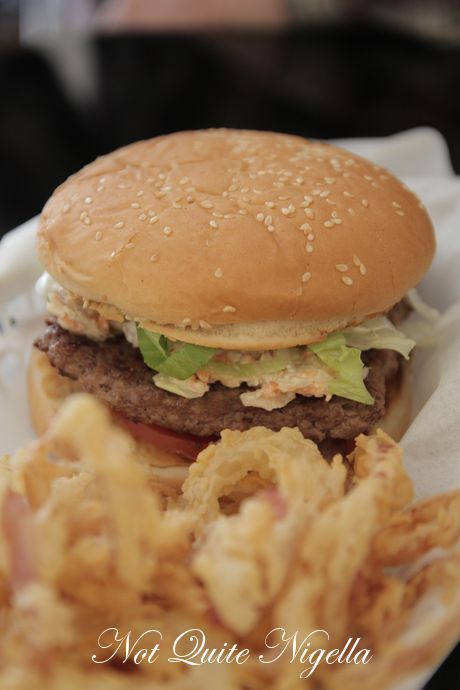 Backyard BBQ Beef Burger $16
I try some of Gravy Beard's Backyard Beef burger which is topped with a smokey beef burger bun, bacon, homemade BBQ sauce, bacon and coleslaw. This too is lusciously soft-I do love how American burgers have the super soft bun (crunchy or hard buns just aren't the same) and the coleslaw, always  for me a very welcome addition on burgers and hot dogs, adds a creaminess to the smokey burger patty. The onion rings are fabulously crunchy.
Southern Fried Chicken Burger $15
Out of the three, the Southern Fried Chicken burger was perhaps the least wowing. It wasn't bad but I was hoping for a earth shatteringly crunchy deep fried southern fried fillet. This patty is minced, seasoned chicken with a very thin coating of batter and didn't quite fill up the bun. A big plus was the Tabasco mayonnaise and fresh, juicy corn kernels in the burger which I've never really seen in a burger and the very fresh and crunchy shredded lettuce. The sweet potato fries are crunchy and have a lovely saltiness and sweetness contrast to them.
Chicken and Andouille sausage gumbo $18
I do love a gumbo, that spicy soupy stew filled with discs of smokey Andouille sausage, paprika, chicken breast shreds and rice. It's filling comfort food and a main meal sort of soup and we particularly like the smokey comfort of this dish.
Chicken and waffles $18
We couldn't go here and not try the chicken and waffles. Now if you like your pancakes with maple syrup and bacon I'll take a punt that you'll like these. Here the chicken pieces are dipped in buttermilk and then flour and deep fried and then placed atop a freshly made waffle made hot off their waffle press. The whole shebang is served with maple flavoured syrup and some butter cooked wilted baby spinach leaves. The chicken is delectably soft and tender underneath the carapace of golden crunch- perhaps it's the buttermilk or the fast frying but it works in the way that sweet and salt does.
Fried Green Tomato Salad $16
Now who didn't think of the movie Fried Green Tomatoes when they read the name of this dish? It's the first thing I think of and I've made fried green tomatoes with milk gravy before which was done using the Whistlestop cafe's recipe. Here they're breaded in a mixture of flour and cornmeal and deep fried giving them an otherworldly crunch. The green tomatoes are different from red ripe tomatoes, if anything they have less of a flavour but these ones are served on a salad flecked with little blossoms and a garlicky, creamy buttermilk dressing. Yep buttermilk is big here.
Buttermilk biscuits with sausage gravy $4+ $5
The buttermilk biscuits are similar to scones and are served with a blanket of creamy sausage gravy which is unlike any gravy we've tried before. It's creamy but with distinct pieces of sausage in it. We can't figure out if our hesitation is because it is so different to our idea of gravy and it really divides the table's opinions.
Jamaican Jerk Chicken wings $18
The Jamaican Jerk chicken wings which are coated in a combination of herbs and spices are quite mild in comparison to how we usually have had jerk seasoning which is quite spicy indeed. The chicken itself is juicy and moreish but we were hoping for some more spice. The plantain chips are addictive and remind me of cassava chips and they come with a cute metal tube of citrus dipping sauce.
Coca Cola braised beef short ribs $28
The beef short ribs are presented not diner style but more restaurant style. This is Dan's time working at Vue de Monde coming out. They sit on a bed of grits with four thick pieces of very soft beef short ribs. The coca cola isn't so much present in its usual form but lends a caramelised sweetness to the ribs and it is paired with baby vegetables and four crunchy onion rings. We'd just love a dab more sauce really.
Banana Cream pie $9
Now it comes to dessert time. You know I can't resist and when the waitress presents us with the bill we have to tell her that "No, we would like dessert". She shrugs and gets the menus and saunters off. We order one of each of the pies, for research purposes of course. The first thing that strikes me when the banana cream pie is set down is how much banana is stuffed into this pie given the current banana shortage.  It is chock full of thinly sliced bananas and a vanilla bean custard and puffs of whipped cream on top. The crust is  made out of Scotch finger biscuits, butter and reportedly banana it has a hard to cut texture. On the black slate plate is a thick caramel sauce. This pie is my favourite as I adore banana cream pie.
Buttermilk pie $8.50
We weren't quite sure what the buttermilk pie would be like and if we were to compare it to anything we would compare it to a pumpkin pie such are the spices used like cinnamon and nutmeg and the custardy, silky texture made with eggs with a light pumpkin coloured shade to it.
Pecan pie with butter pecan ice cream $8
The pecan pie here is different from the thick toffee like pecan pie at the now closed South restaurant. Here has almost a layer of custard underneath a top layer of pecans. This is gravy beard's favourite pie and I have to say that the butter pecan ice cream (house made) is delicious too with a nutty, butterscotchy flavour to it. In fact I could have a bowl of the ice cream quite happily. Oh and a serve of the banana cream pie, the Texas burger, the chicken and waffles and the backyard BBQ burger....
So tell me Dear Reader, which restaurant are you a frequent diner at?
Jazz City Diner
238 Crown Street, Darlinghurst, NSW
Tel: +61 (02) 9332-2903
Open: Lunch Tue-Fri 12pm to 2.30pm, Dinner Wed-Sat 6pm to 10pm, Brunch Sat 10am to 2pm, Closed Sun & Mon