Sometimes you ring a restaurant and are told "No need to book, just come in". Then you come in and the place is so busy there is not a single table free for another hour and you wished you had insisted that you had booked. Sometimes, if you are lucky, your Plan B ends up being better than your Plan A. This was luckily one of those cases.
I was meeting my darling friend The Second Wife and we exited the place of Plan A when we told that there wouldn't be a table for the rest of the afternoon. So when we were left without a Plan B The Second Wife, in her infinite wisdom suggested The Norfolk. The magic words? "They have awesome soft tacos". Now I need to admit one thing, I'm not a pub girl - a _pug _girl perhaps but not a pub girl. My low tolerance towards alcohol means that nursing three glasses of sparkling mineral water while everyone gets progressively happier isn't my idea of good fun. However that said, beer or wine can be very happily substituted with good food.
We're standing at the bar and it is 3:30pm. We've only had a lemon tart between the two of us and of course this leads to some crazy ordering.
"Let's just get each of the tacos!!"
"OMG sliders!"
"Chicken wings! Do you like wings? I looove wings!"
"Ceviche-yum! I looove ceviche. Let's just get one of everything!"
and in unison
"DEEP FRIED PICKLES!!!"
The menu has bar snacks and mains but even to our hunger crazed eyes the bar snacks look more interesting. The main menu has items like schnitzel, fish and chips, a burger, linguine an smoked trout salad. The bar snacks menu has more Mexican and North American fare. Also, it turns out that just yelling out every item in the menu won't net you everything so I would suggest ordering in a calm, efficient manner as I realised that we didn't get the chicken wings...
"This place used to be so dodgy" the Second Wife whispers to me. "We came here drunk with a bottle of wine and we just drank that here and nobody cared" she giggles "this was _pre _zhushing". It certainly has changed and we make our way to the sun drenched courtyard where Surry Hills folk frolic and play musical tables and chairs. Zhushing involves Thomas Lim, ex of Tetsuya's taking control of the pub menu and revamping it.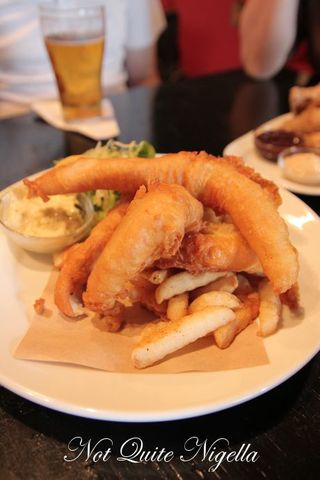 I told you I'm a tee totaller didn't I? Well I am when I'm driving as I've got a 0 alcohol limit and I'm too in love with my license to risk it. So Ribena with sparkling mineral water it is for me :)
Now if anyone said to me that deep fried pickles were a) a good idea or b) so damn good you'd forget your diet instantly then I wouldn't have believed them. But here they are in all of the deep fried glory, a spongy crispy golden batter on the outside and a pickle inside with a ranch dipping sauce. The Second Wife nails the description after just one bite "It's like a fillet o' fish but better."
Tacos can be bought for 4 for $20 and come in five different iterations with pork, fish, chicken, beef and vegetarian. Beef is not available currently though so we settle for two of our favourite: the fish tacos. Having had fish tacos both here and overseas some have contained deep fried fish and some haven't. These marinated grilled whiting pieces have an anchiote chilli paste, lettuce, pico de gallo and of course the lime wedge that all of them come with. It is packed full of flavour.
The pork taco has braised pork beck, onions, cabbage, apple, mojo verde sauce and coriander and although nice enough, it didn't really appeal to me as much as the fish or chicken tacos.
The chicken taco is delicious with grilled juicy chicken thigh, red onion, guacamole, lettuce, chipotle mayo (love this stuff!) and cucumber. It is my favourite along with the fish taco as it had a great balance of flavours.
The vegetable taco is tasty with fried mushrooms, braised red cabbage, almond pico de gallo and pickled cucumber which all helped to give the taco a robust flavour.
The salt and pepper squid is a generously portioned dish and the squid is tender and lightly battered but there is an absence of both salt and pepper so we dunk it in the hot sauce and the jalapeno aioli which reminds me of a tartare sauce.
_
_
The corn comes as two pieces per serve and they're rolled in a chipotle mayo, queso cheese and lime with a smokey char grilled flavour. They're not bad although I do prefer my corn plain with butter.
The food necessitates a return visit with my partners in crimes Queen Viv and Miss America along with my beloved Mr NQN. Interestingly, when we order the pickles they come out entirely differently (oops we didn't photograph these hunger being the culprit). They're sliced in half horizontally and coated in a light batter. Out of the two ways, the first way with the thicker batter (eaten on a Sunday whereas the halved ones were eaten on a Thursday) is better.
This time we're sitting in the front area as the garden area is chock full of smokers. I was curious about the apple cider on tap here along with the churning slushie which I'm told is Jim Bean and Coke. The cider is a cross between sparkling apple juice and apple cider vinegar.
Mr NQN really likes the stuffed potato skins which are smokey with diced bacon, cheddar cheese, ranch dressing and scallions. I'm not as smitten as he is. There doesn't appear to be much cheddar in it which would have been a nice match to the bacon.
I do love a good chicken wing and this comes as a serve of eight wing pieces coated in a crunchy batter and paired with two sauces, a hot sauce which is a spicy plummy "hot" sauce and a red eye mayo. And yes they're great when you dip the wings in one sauce and then the other.
The spiced Norfolk fries we later learn are not strictly necessary as a separate order as many dishes include them. They are fat crinkle cut fries and they are fabulously golden and well cooked. The spice I can taste most predominantly is star anise which lends them an interesting dimension.
Sliders of any sort are something we don't get much of here. The serve comes as two small buns which are quite hard and chewy (sort of like that texture after you microwave bread and it cools off) with regular frankfurt sausages. It is topped with a range of toppings including bacon, sweet mustard relish, pickled cucumber, crispy onions and jalapeno sauerkraut. The toppings added a lot but the regular sorts of red frankfrurts and bun took a bit of the gloss from it-a nicer hot dog sausage would have been great.
I was much more smitten with this little roll that the hot dog slider. In the soft, bronzed bun is a horizontal slice of soft pork belly complete wihh sliver of crispy crackling. Along with this is a creamy, crunchy cole slaw and more of these Norfolk fries.
_Pork Ribs Half rack $12 (Thursday special) _
Each day of the week has a special attached to it and on Thursdays they have half priced ribs where a half rack of ribs can be had for a mere $12. The ribs are coated in a thick sauce and are tasty although they don't quite reach the level of La Casa or South where the ribs really fall off the bone and there is an aroma we can't quite put our finger on. But for $12, we're not too fussed.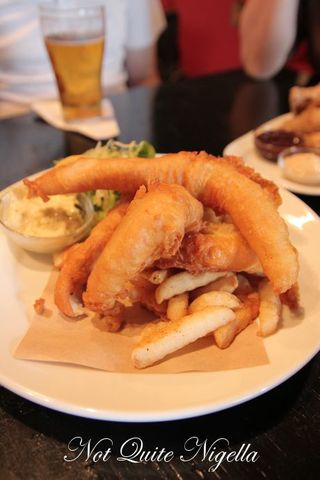 Miss America has the fish and chips and they're very slender fillets which prompts him to muse out loud about the fish. The batter is crispy and it is paired with those crunchy fries that are worth reaching over and stealing and risking a rebuke.
So tell me Dear Reader, do you share meals with your friends when you eat out?
The Norfolk
305 Cleveland Street, Redfern, NSW
Tel: +61 (02) 9699 3177