Hello Readers! I'm off to visit another country today and of course the first step to a visit is to get on a plane. Speaking of, have you ever wondered what a First Class airline lounge looks like? I have always wanted to know what a $20,000 airline ticket buys you access to. So when we were travelling to New Zealand with Relais & Chateaux to visit some of their best lodges the country had to offer and we learned that we were flying Qantas Business Class and were offered a chance to check out the First Class lounge we jumped at it.
Designed by Marc Newson it is nothing like I what I expected. I had expected something along the lines of Donald Trump's Trump Tower (without the crazy man with the birth certificate issues). All gold and I think an episode of The Simpsons imprinted a fountain and a swan in my mind somewhere. The Newson designed lounge is all sleek lines in pattern reflecting the airline wings. There are luxurious touches though and they come via little surprises such as the leather tiles in the library which are said to wear our so easily that they need to be replaced every three years.
The spa treatment area is a first class lounge only perk and passengers get a one hour treatment per person from the menu. They are contacted the day before they fly to be offered this and the spa is so busy that passengers can't walk in for a treatment. Although for $20,000 a ticket, I would want more than an hour's treatment! They couldn't pry me out to there... ;)
We sit down for breakfast and try the food on offer. Designed by Neil Perry there is a buffet of items to choose from but breakfast is table service. There are four very good champagnes on offer which we start with as well as a freshly squeezed orange juice. The breakfast offerings are similar to what you might find at a cafe and all eggs are organic there are items such as egg white omelettes as well as eggs benedict, porridge etc.
Organic oat porridge with banana, seeds, nuts and white clover honey
Although I usually go for eggs for breakfast and have to be in the mood to have porridge (Winter usually does the trick) this porridge is definitely one of the picks for breakfast. Nubbly with seeds and nuts the porridge is as Goldilocks would say "juuust right" in terms of sweetness.
Egg white omelette with vine ripened tomato, ricotta and chives
The egg white omelette ordered out of curiosity and to save some calories is excellent with the right amount of flavour and seasoning. I sometimes find egg white omelettes can be bland but this has plenty of flavour from the tomato, ricotta and chives.
A side plate of smoked salmon and Schulz's bacon is ordered to go with the egg white omelette (low carb eating and all!) and the smoked salmon is particularly good. Note no brown bits on the salmon so it is premium quality.
Scrambled organic eggs with field mushrooms and Schulz's bacon
We watch the view of the aircraft that we are to take and we test out their first class service. When you check into the lounge they take your boarding pass and they are supposed to alert you when your flight is ready to board you. We sit there waiting nervously seeing the time tick by wondering if they will let us know. It gets frighteningly close to take off time so we move ourselves just as they approach us and make a bit of a mad dash to the gate which is frustratingly close by but we have to walk down quite a few gates to get there from the lounge. Those in our group flying business class aren't getting paged but the economy passengers are which is interesting! I guess you fly business not to be bothered! :)
For the short flight to New Zealand, there is no first class service and business is the highest grade available. I get a seat in the first row and when they close the curtain I am reminded of the Seinfeld episode where Jerry flies in First class and Elaine in Economy.
We're offered champagne or juice while we settle in for take off and I opt for something soft (I know, shame on me!). The entertainment kicks in and I pop on my noise cancelling headphones and drift off calmly. The thing about business class is that they leave you alone. I find that with economy you get bothered by all sorts of things, people getting in and out and just other things but here they leave you alone. I suppose they think that you might be a busy business traveller who needs to think of important businessey things like global takeovers etc.
Smoked ocean trout with herbed orzo salad and caper dressing
This was my sort of entree. I do think that for business and first class they need to make the meals distinct and serving them on proper plates instead of the rectangular trays is one good way and the little tablecloth is another (although putting a tray on top of the tablecloth doesn't seem necessary. The very generous portion of smoked salmon is excellent quality and the herby orzo salad has a lovely crunch in it from the lightly blanched vegetables. Oh and before I forget, the cutlery and cups are designed by Marc Newson too and the cutlery is made by Alessi.
Beef fillet with mushroom sauce, rosemary and thyme butter, potato puree and broccolini
I know I shouldn't have ordered the steak as that is often the hardest thing for an airline to do but I was hoping that they would rise to the occasion. Presentation wise this would have been nicer on a proper plate and not a rectangular tray. My high from the entree is deflated as I cut through the steak to find it totally cooked through and quite difficult to cut and the mushroom sauce gives it an unappetising grey shade. And although I love butter there is just too much of it on the broccolini-you can probably see it on the left hand side. I should have gone with the non steak option but you know me, I live in hope! I should note that my travelling companions in economy were quite happy with their food although I didn't further the Jerry Elaine Seinfeld experience by going back there and seeing what it was like.
Maggie Beer ice cream and almond bread
I do love this trend that airlines have for giving ice cream for dessert instead of the mystery panna cotta/bavarois/cake square that they usually serve. We were served the famous and divine Maggie Beer burnt fig, honeycomb and caramel ice cream along with an almond biscotti.
I amuse myself with the entertainment system and my iPad and before we know it, we've touched down in Auckland and on the way lost a couple of hours so it's late in the afternoon. Our driver collects us from the airport and we take the drive to our accommodation.
I'm feeling dramatic. Allow me to explain why and why my feeling dramatic is more likely to take the form of accidentally flinging food (see prawn cutlet incident) than breaking out in song. We've checked in to Mollies, a luxurious hotel in Auckland and there's an opera singer singing his talented heart out in front of me in what they call musical h'ors deauvres. There are some 250 candles lit, flame swaying and glowing and around us surround thick curtains, enormous vases, long, slender art deco champagne glasses and sweeping flower arrangements that I would swear would rival Elton John's florist's bill. I expect a diva to join bass baritone Moses Mackay any minute now.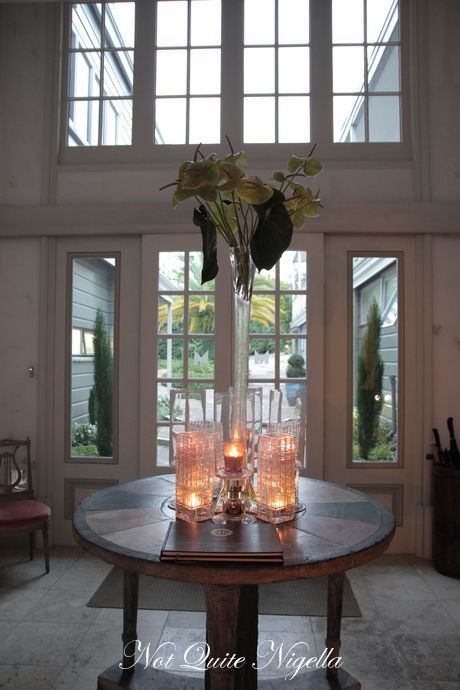 I'm touring around New Zealand's top properties as a guest of Relais & Chateaux which is an association of hoteliers much like the Michelin guide is to food, Relais & Chateaux is to hotels. They're not that widely known in Australia yet and a part of that is because there are only very few properties that are part of the Relais & Chateaux group. The standards are strict and the membership terms include details such as room size, ideal temperature for the room between 19-24C, a turndown service, being offered refreshment upon arrival, down to minor details such as "Elegant toothbrush glasses (if possible made of glass)" and placement of power sockets!
In fact Beyonce and Jay Z recently booked out the entire of Mollies and stayed in the room next to mine. Each of the 13 suites at Mollies is decorated differently. And I know, that raises some concerns with me as sometimes some rooms don't get as nice a treatment as others but when we're shown room after room any concerns about drawing the short straw are rendered invalid.
It's all the doing of one of Mollie's owners Frances, daughter of the original owner Mollie who back then called this the Harbour Bridge Guest House and formerly the residence of Auckland's first mayor. She's the musical link and provider of drama via deft decoration and we go from room to room carressing surfaces and oohing and aahing over details.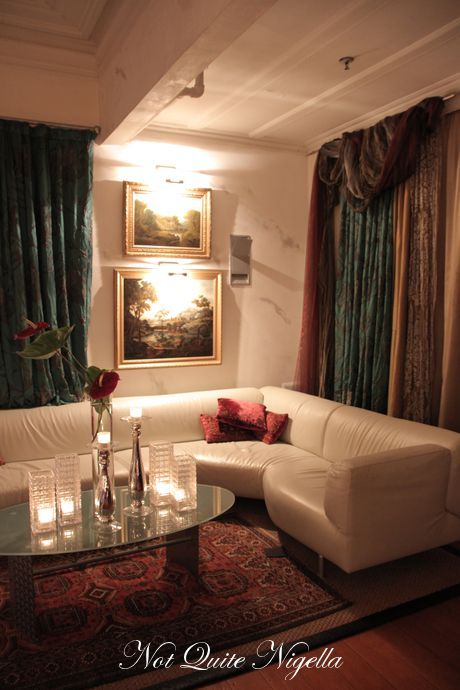 It is all decorated by Frances - half using existing items and half using things that she liked to collect over the years from when she was a teenager living in London to later in Europe and New York. Plus there is that stunning view of Auckland Harbour which is not too shabby at all.
My room, number 9 is a two tier room and 40 feet large with two balconies on which to play Juliet on. I'm qutie taken by the bedroom which has a Parisian apartment outlook but with more leafy trees. The bathroom has a spa and full sized Grown toiletries for guests to use which are just divine to use-nothing beats real toiletries and I find that no matter how nice the hotel, a home branded lotion is just nowhere near as good as a branded one. Down some steps is the kitchenette and dining table and lounge room with the larger balcony and two French doors which look out onto Auckland Harbour. And wireless is fast and complimentary-I wish every hotel had this policy!
And I can only imagine what a diva like Beyonce's room might have been like (when you have your pick out of all of them you can get choosy!). Unique vintage teacups and saucers line the shelves and there is complimentary cookies (Afghan biscuits my favourite and a NZ classic!) and two free bottles of Fiji mineral water, tea, coffee and fruit.
Even the spa is dramatic!
But back to the opera singer. We've just had a selection of canapes and the talented opera singer has just finished his encore, not an opera accompanied by Frances, a music teacher by trade turned hotelier but a number he plays on the piano himself. The candles adorn every surface and are a definite feature and took 45 minutes to light the 250 tea light candles this evening. On Friday and Saturday nights they can put out between 500-600 candles! Even though since our visit Mollies has now been sold and changed hands the tea light candles remain. However the nightly opera visits are more a special occasion kind of thing and the decor has been changed.
Even though we've only just arrived in New Zealand it's time to adjourn to dinner. On each table is a stack of four plates above a charger plate and a small torch to a) read the menu or b) for the waitstaff to point to each item on the plate as it is being described.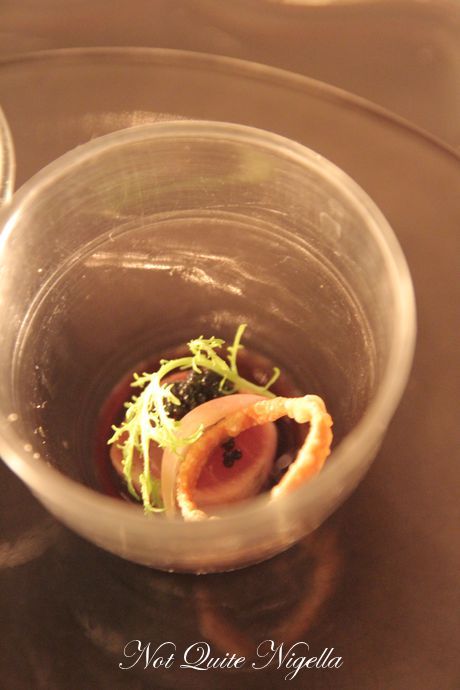 _Amuse Bouche _
The amuse bouche is a seared tuna with rhubarb syrup. Tobiko caviar and pickled shallot which is unusual. I'm not used to having tuna with a tangy sweet, cinnamon strong rhubarb sauce. Not that it doesn't work, the pickled shallot eases it back into the savoury territory as does the ring of crackling on top.
Tempura quail, cauliflower puree, wasabi aioli, radish, rhubarb $22
The tempura quail comes out as three pieces of the crunchiest tempura batter wrapped quail pieces which are just heavenly morsels. I could have a plate of these quail morsels with the creamy cauliflower puree. the wasabi aioli is light and the radish and rhubarb provide the acidity and tang.
Poached freshwater koura, goats cheese, whitebait, avocado, honey jelly $26
Their signature dish the koura is crayfish paired with goat's cheese, large individual whitebait fritters, pieces of avocado and a sweet honey jelly. It's one of my favourite dishes of the evening with the perfectly cooked koura and sweet honey jelly combining so well.
Pumpkin risotto, pine nuts, feta $22
The pumpkin risotto is rich and creamy with a good texture to the rice and is accented with little crumbles of creamy feta and given texture from an array of nuts and seeds including sunflower seeds, almonds and poppyseeds. It's good although I do prefer the other entrees.
Crayfish, baby garden vegetables, champagne sabayon $100
My baby! Oh yes I did order a whole crayfish although this was because we were sharing (haha seriously, stop laughing). The crayfish is cooked well (sometimes places cook it until it is rubbery) and the champagne sabayon has a restrained hand which I prefer, sometimes it's just a bit too strong otherwise. It comes with a slightly crunchy risotto cake and baby carrots, carved zucchini ellipses and salad. I have to admit that my crayfish did induce some food envy and half a crayfish would have been enough for one person.
Baked poussin, saffron goats cheese ravioli, carmenere marinated grapes, truffle foam $38
Rack of lamb, kumara, karengo, goats cheese, macadamia, polenta croquette $42
Tia Maria souffle, biscotti, chocolate hazelnut crunch ice cream $22
The Tia Maria souffle has the distinct flavour of almond essence which divides the group. German born Ute loves it whereas the rest of us are nonplussed. We don't quite know why there is the almond flavour as Tia Maria is a coffee flavoured drink. The chocolate hazelnut ice cream with sugary biscuit crumbs is delicious and moreish.
Dessert tasting plate for 2 $40
Who doesn't love a tasting plate? If I see one I must order it for maximum sampling opportunities (stop laughing! Please! :P). There is a bit of everything on the dessert tasting plate with an appealingly wobbly vanilla panna cotta with a sweet white chocolate flavour paired with a compote and sesame tuile. Then there is the unusual blueberry balsamic parfait with a thin gel layer on top which straddles the savoury and sweet and this divides people too.
The texture is firmer than thought and the taste distinctly balsamic. The Valrhona chocolate marquise comes with dark chocolate breadcrumbs which lends it a Milo flavour (in the nicest possible way) and there is a selection of sorbets including a cassis sorbet with a hint of tropical flavours and a creamy white chocolate and berry ice cream too and one that I had missed trying in all of the sharing!
Stuffed and tired we retire to our rooms where a chorus of 22 lit candles greet us. On the bed is a wrapped and ribboned packet of mints and hand sanitiser. We sleep like babies and awake to the aroma of bacon. As an infrequent breakfast eater, the only aroma that wake me is the allure of bacon and I am like a zombie rising out of a grave...
Eggs Florentine
I can't resist Akaroa salmon though so I order the eggs florentine with salmon and spinach and the eggs are beautifully poached with runny centres. A breakfast fit for a glutton no? ;)
So tell me Dear Reader, have you ever flown first or business class or been upgraded on a plane before?
NQN travelled to and explored New Zealand as a guest of Relais & Chateaux and Qantas
Mollies
6 Tweed Street, Ponsonby, New Zealand
Tel: +65 (09) 376 3489
http://www.mollies.co.nz/