I'm not sure about you Dear Reader, but I don't think that my nightmares are quite your garden variety. They're not of monsters or catastrophes, they're actually filled with visions of me living back in Tokyo and being lost and unable to find my way home. I haven't had that nightmare for a while, at least for a few years and friends that have analysed it (don't you love how everyone is qualified to analyse a dream if not a person).
They have suggested that the reason why I no longer have those dreams is because I used to be searching for something to do in my life where I fit in and enjoyed it and advertising wasn't doing it for me and I was essentially lost for all practical purposes. I can concede that this is a rather feasible explanation and the fact that the nightmares about being lost stopped after I started the blog might be further evidence supporting this.
I used to also have real life nightmares of screwing up a recipe and although they didn't permeate my dreams, they used to permeate my real life when cooking and I would panic. I first came across this recipe for brownie cookies at the Donna Hay 10th Birthday party celebrations recently held at the Museum of Contemporary Art. She has also launched her new iPad version which may also help those of you overseas that love the magazine but find waiting for a copy too hard (and it is free to download for the first month thanks to Destination NSW).
Photo: James Mills
After Donna made her speech they wheeled out a table of sweets to much oohing and aahing. The sight of all of those cakes, macarons, cookies and sweets brought forth a somewhat slow at first but then determined surge of people that wanted to try some goodies from the display. Apart from trying a slice of the chocolate cake that currently features on the cover, there were also trays of brownie cookie sandwich with a peanut butter filling going around-and I happily succumbed. They were so lusciously crunchy and decadent that I knew instantly that I wanted to make them.
So the next day with the recipe I started off making the cookies. I decided to do a slightly different version with salted caramel buttercream instead of the peanut butter filling but both fillings have a similar texture and a lovely saltiness to them to balance the rich chocolate brownie cookie. I'm not usually one to eat batter-to be honest it doesn't do much for me but this rather unusual texture made me dip my finger in and take a taste. It was fantastically good and I could have served up the batter by itself and had some very happy eaters. The batter was thick and I tried shaping them in rounds and baked them. And then I opened up the oven to horror.
They were one giant cookie!
Arrgh a monster cookie! Hmm not bad an idea in itself...
It could have been me as the original recipe specified a whisking time of 15 minutes until the eggs and sugar were light and pale but I found that the eggs were very light, pale and thick after 5 minutes (so I made another batch of the cookies and whisked them for 15 minutes but obtained the same result). I was determined that it wasn't a complete waste so while they were still hot and with burning hot finger tips, I cut out rounds with a cookie cutter and allowed them to cool. The instructions didn't say how far apart these needed to be and apparently they needed to be quite far apart (about 2 inches apart minimum) as they spread enormously.
I found my version tasted different from Donna's-that was due to changing around the buttercream flavour but it was also due to me not reading the recipe properly and putting  in almost double the amount of chocolate instead of reserving some. By all means if you want it more cookie like than brownie you can use Donna's in the magazine (using a total of only 350g of chocolate in the cookie and melting 200g/7ozs of this and then using the rest as chips). I actually did like this more brownie version although I will admit I went a bit too heavy in the salted caramel buttercream (what's new?).  It was thick, chewy with a crunchy crust and luscious melted chocolate bits and a contrast from the silky salted buttercream filling. Both had merits and you certainly wouldn't kick either out of bed on a lonely night.
So tell me Dear Reader, what sort of nightmares do you have or what fears do you have? I also have the fear of running out of food (which is why my pantry is always bursting with food).
Brownie Sandwich Cookies With Salted Buttercream Filling
Adapted from Donna Hay magazine
350g/12 ozs. dark chocolate, chopped
50g/1.7ozs Lindt caramel chocolate, broken into chips (or their caramel and sea salt if you can get it)
2/3 cup (150g) caster superfine sugar
1 teaspoon vanilla extract
1/4 cup (35g) plain all purpose flour
1/4 teaspoon baking powder
Cocoa for dusting at the end (optional)
Salted caramel buttercream filling
1/4 cup caster or superfine sugar
175g/6ozs unsalted butter, at room temperature
2 cups icing or powdered sugar, sifted
Step 1 - Place the 350g or 12 ozs of chocolate and butter in a microwave proof bowl and heat for 60 second bursts at 50% power being careful to stir between times. Or melt in a saucepan on low heat making sure not to burn the chocolate.
Step 2 - Place the eggs and sugar in the bowl of an electric mixer fitted with a whisk attachment and whisk for 15 minutes until pale and creamy. Stir through the flour, baking powder and chocolate mixture as well as caramel chocolate chips until combined and allow to stand for 10 minutes. Preheat oven to 180C/350F.
Warning: not enough of a space between cookies!
Step 3 - Spoon tablespoons of the mixture onto a baking parchment lined baking tray at least 2 inches apart. Bake for 8-10 minutes until puffed and cracked on top. Cool completely on trays (they are delicate to move when they are hot).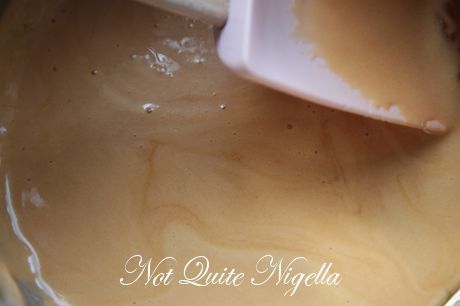 Step 4 - While the brownie cookies are cooling make the salted caramel frosting. In a heavy bottomed small saucepan, dissolve the sugar into the water and then increase heat to medium and allow to turn a golden caramel colour-it will take about 5 minutes to reach the desired colour (but don't forget that caramel still cooks a little after taken off the heat). Add the cream and salt to the caramel and stir well to combine as the caramel will naturally harden and pool together. Allow to cool completely (or place it in a small metal bowl in the fridge or freezer to hurry it along).
Step 5 - In the bowl of an electric mixer fitted with a beater attachment, beat the butter for 5 minutes until pale and fluffy. Turn down the speed to low and add the sifted icing or powdered sugar and beat for 3-4 minutes. Then add the cooled salted caramel and beat until smooth. If it is too liquid, place in the fridge, I found it just right to use on the cookies. Spoon one brownie cookie with the salted caramel frosting and then sandwich on top with another cookie. Sieve cocoa on top if desired.