Game of Thrones cake by Planet Cake
Three suckling pig's heads sit in a bowl while wait staff sweep past wearing long black robes with fur collars. Black wrought iron candelabras hold glowing wax candles lighting up an incredible silver cake with knives and swords embedded in it. I feel right at home here. No, it's not my Halloween party but a dinner at the acclaimed restaurant Gastro Park to celebrate the upcoming release of Game of Thrones on DVD. It was a pairing of three of my favourite things: food, tv and a theme. And this is not just a one off - should you be a fan of the series, from March 7 to April 7 you will be able to order your very own "King's Landing" feast!
To create the feast Grant King watched the first series and based the entire menu on it and as the pig heads suggest, the menu is decidedly carnivorous. "Sordid medieval fantasy, royal gluttonous feasts and battle scenes oozing with gore, all set against a stunning backdrop - what more could a creative chef ask for from a brief?" he says.
Fallen eyeballs and bleeding stag
I can attest that when you bring a display of eyeballs and arrow speared flesh that people will coo and giggle with delight and every camera will come out. OK perhaps this is not the reaction you would have in Westeros but here they certainly did. We're served a log (chopped down by King himself on a property three hours outside of Sydney) with arrows sticking out of it impaling seared venison pieces with "dripping fake blood dressing" made from bonito, soy and ginger. I could have easily had much more of this the venison tender, succulent and full of flavour. There is a deliberate lack of cutlery and plates here as King wanted everyone to eat with their hands much as they would have in Westeros.
On top was the olive and bread "soil" dressed with white balsamic vinegar dressing, roasted vine tomatoes, French breakfast radishes and eyeballs. The soil has a savoury flavour very much like Vegemite and goes well on the buttered bread. And eyeballs? Well they're not actual eyeballs and at first we thought that they might be mini mozzarella balls or bocconcini but instead the eyeballs hold a surprise inside. The outer shell made of cocoa butter resembles a super thin unsweetened Lindor ball shell and inside is filled with a liquid mozzarella which resembles whey. The eyeball's iris and pupil detail were actually finished by a make up artist to complete the look. Alas the eyeballs will not be featured on the regular menu and were just a test for that evening.
A Soup of Crushed Skills and Raven Feet (photo by Dan Boud)
"I was obsessed with the ravens" King says to us when explaining the next dish. In the show the ravens were trained to deliver messages between the castles and the seven kingdoms and would "bring dark wings and dark words." Here the raven motif is represented with claws which are squid ink battered piquillo peppers cut into a raven claw shape and deep fried until crispy. It is served with a garlic potato galette shaped into a small skull and a "raven broth." "To be honest ravens are illegal to kill" King says, so he used quail and hare in the mushroom based consomme instead. The raven's claw and skull are delicious and stay quite crispy and the consomme is rich and deep in flavour.
Chunk of wild cooked pig served on Godswood log
The pig's heads on the nearby table were a hint of the main to come and it is with a flourish that we were served the pork. It was a leg of pork with a wood patterned rind, a generous separate chunk of crackling served with a split log, moss and roasted fruit. The pork is divine and forget the throne, the crackling is the hotly contested prize. We're given two Laguiole knives to hack into it. He also wanted us eating this course with our hands which I did to give it the Game of Thrones experience. And to accompany this simply roasted pork is a range of roasted fruit including roasted yellow peaches, blood plums,  white figs and red and white grapes (which by the way are incredible, must do this at home!).We take our time with the leg and we even see some people having theirs wrapped up in foil to take home.
The inspiration for the dessert was the "A Golden Crown" episode and this is the most dramatic course of the evening. It starts with King coming out with seven of his staff, each of holding either a trowel, an ornate jug or a basket. Each takes their turn dramatically depositing their portion of the dessert onto the square slate plates. King says that he intends to serve the dessert at dinner with similar dramatics if time permits.
Textural dessert of the Land with Dragon Eggs and Liquid Gold (photo by Dan Boud)
On one side there is edible earth aka dark chocolate "mud", a rich velvety chocolate pudding,  three golden honeycomb nuggets (a fourth would have been good to avoid bloodshed fighting for them ;) ), crumbled buttery soft chestnut shortbread sand and ginger cake soil. Liquid gold is poured all over this which is actually a liquidy orange curd and a dragon's egg is gently placed atop. And this isn't your run of the mill dragon's egg - if there is such a thing. This is filled with two oozing layers of passionfruit curd and vanilla custard in a beautifully thin layer of white chocolate which was sprayed with metallic edible paint.
On the other side there is also a vanilla and buttermilk nitro rock made by placing a vanilla and buttermilk panna cotta in liquid nitrogen and cooking it in minus 190C temperatures which King calls "negative deep frying." This sits on top of a white chocolate and French black truffle clay which caused quite a sensation at some tables for it's sexual aroma - well you know they do say that truffles smell like sex! And this has got to be the most fun dessert I've had in a long time as we all dig in and claim bits of the dessert, the contrasting textures and myriad flavours making it compulsive eating.
And there was even a spare dragon's egg which I took home to Mr NQN!
So tell me Dear Reader, are you a Game of Thrones fan? And what other tv shows are tickling your fancy?
P.S. Look out for a Game of Thrones Season 1 DVD giveaway coming up! ;)
Chef Grant King in cape (photo by Dan Boud)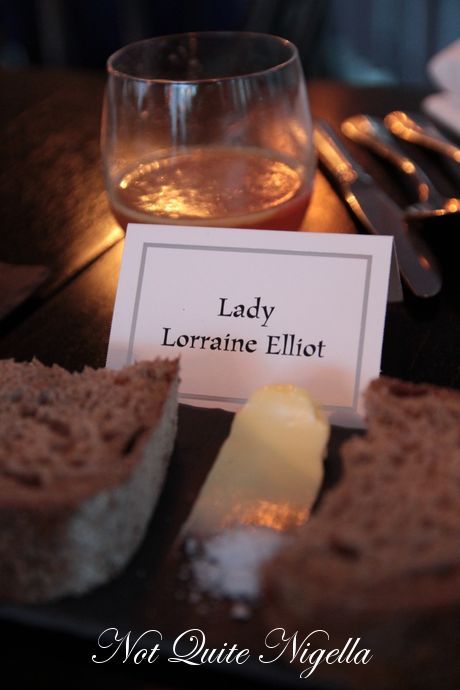 NQN dined as a guest of HBO and Warner Bros
Gastro Park
5-9 Roslyn St, Potts point, Sydney NSW 2011
Tel: +61 (02) 8068 1017
The Game of Thrones dinner is available from March 7th-April 7th, 2012 and is available for a minimum of four diners and must be ordered when making a reservation. The price per person is $100 excluding drinks.