Going out to lunch in the CBD means that restaurant meals are delivered quickly and you're usually seated next to a table of people in suits. If you venture further out, outside of the CBD your fellow patrons change and the further east you go and reach the leafy surrounds of Woollahra, well instead of grey and dark suits surrounding you, there are chicly dressed ladies that lunch.
It's a busy week day lunch time at Chiswick, the newest place from Aria's Matt Moran. In the conservatory style building that was formerly Pruniers. Chiswick is at the back of small but pretty Chiswick Gardens. The restaurant is light and airy and this past week, it was still warm enough so that when they open up the windows at the front, the breeze is welcome. Service is very friendly and recommendations are forthcoming.
Alas my poor dining companion Joan Holloway is feeling under the weather and will be eating lightly so the prized dish the Moran family shoulder of lamb for two has to wait for another visit only a few days later as I couldn't resist but come back. And like Joan Holloway herself might notice, Joan notices that there are a couple of media personalities dining at another table.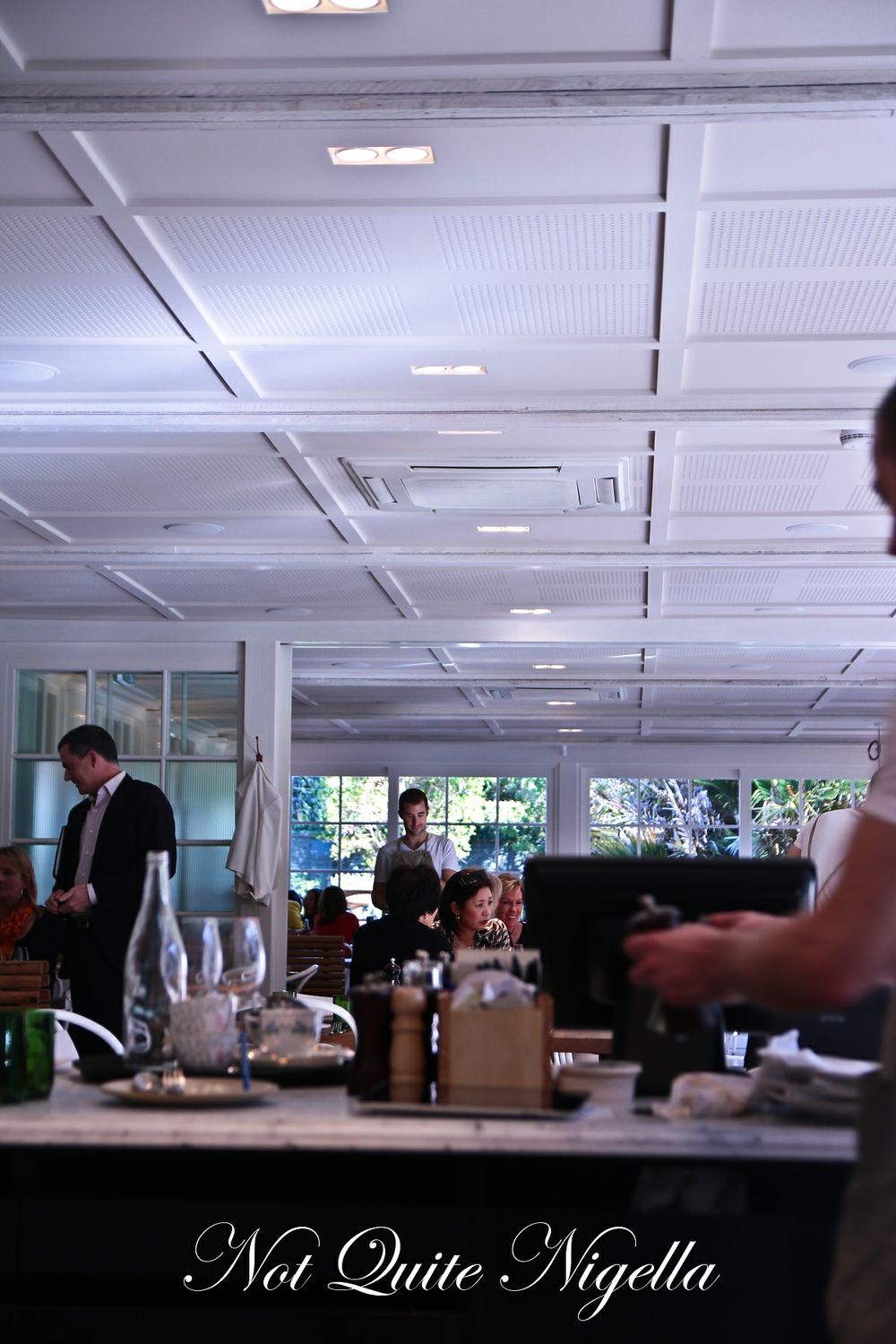 The menu is printed on a folded piece of paper and points us to the side garden which diners can peer at through the window. It's mostly a herb garden and the menu also makes note of the cherry tomatoes and rose radishes also grown there. Recycled items like wine bottle glasses are used throughout the restaurant, there is a lobster pot light above the large communal table. Chairs are tables are made up of benches, outdoor tables and other conservatory and garden furniture. Music is from the boxed vinyl collection and there are echoes of the 80s and today there is the Eurythmics.
Veal Slider "vitello tonnato" $8
Our food arrives quickly and the vitello tonnato slider is the first to arrive. I could eat vitello tonnato every day for the rest of my life and be happy. The outer is a warm black and white sesame seed toasted bun with a juicy veal patty, semi dried tomatoes, green beans and tuna flavoured sauce. It has a really good balance of flavours and slightly tangier than vitello tonnato usually is from the tomato and lemon rather than lemon alone.
Crisp butter milk chicken, cabbage, harissa, mayonnaise $20
The chicken comes as several pieces of crunchy on the outside and tender on the inside chicken that falls apart easily when bitten into. Ms Holloway reports back that the cabbage salad was good but we both felt that the harissa mayonnaise wasn't quite the match that we wanted for the chicken.
Char grilled Moran family grass fed beef, fresh horseradish $35
The steak, using grass fed beef raised on the Moran family farm "Green Hills" on the Central Tablelands in Rockley, NSW is a neat piece of sirloin steak adorned with a side slice of lemon and a lovely fresh horseradish. The steak is good, and perfectly cooked medium rare with just a little chewy bit on one end.
Hand cut chips, thyme, black garlic aioli $9
Once I saw the steak I quickly put in an order for chips as I like the flavour of black garlic which is rich and earthy and wanted to see what it would be like in an aioli. It turns out that it is really delicious and the unusual taste of the black garlic aoili goes well with the bronzed batons of crispy hand cut chips.
Steamed broccolini with garlic and chilli $10
The steamed broccoli with garlic and chilli was very good (but not broccolini as the menu suggested).
Wood roasted Moran family lamb, chick peas, mint $59 for two
A few nights later, with the lure of the shoulder of lamb too strong, I revisited Chiswick with my friend, lamb lover, Christie. We knew exactly what we wanted and ordered the wood roasted Moran family lamb with chick peas and mint sauce and a side salad. It is a nice sized shoulder, perhaps too ambitiously sized for two of us although two hungry Mr NQN's could happily devour it. When Christie goes to take the fork out the meat just falls apart and we smile at its supple, soft texture. The chick peas come as literally a few chick peas (we got about three) and a chick pea puree but an inquiry with our fantastic waiter brings more chick peas (which he tells us it should have had). There is mint sauce on top as well as a small side salad of onion, tomato and basil. We both thought that some more of the puree or a sauce might have been good to help cut the richness of the lamb.
Salad of baby cos, crushed hazeluts, pomegranate $13
The salad was just the thing to pair with the lamb as it gave the rich, unctuous lamb acidity and crunch.
Tea
Herbal tisanes and drinks are served in vintage mismatched cups and saucers and herbal teas are by Penelope Sachs and regular teas are by The Tea Centre. They come in clear glass teapots and both of us manage to inelegantly spill a little on the table on the way to the cup.
Caramelia éclair, almonds, sugar plums $15
The caramelia eclair is delicious, topped with a crunchy sweet sable biscuit topping and filled with what tastes like a milk chocolate caramel mousse and is apparently named after Moran's daughter Amelia. To the side there are toasted almonds and sliced red wine soused plum slices although they do appear as more regular plums than sugar plums.
Oven baked pavlova, yuzu and Granny Smith $15
This dessert is from my dinner with Christie and we were so full with the lamb that we thought that something light and tangy would do.  The pavlova round is just the order and is filled with a smooth and tangy yuzu custard inside and topped with a fantastic granny smith sorbet which has just the right balance of sweet and tart. Some yuzu jelly cubes finish off this refreshing dessert.
After dinner mints
Ahh remember those Red Tulip after dinner mints that came in the thin paper sleeves? Well here they've got an updated version and served complimentary with tea and coffee. I do like them a tad mintier but I might go off and see if I can buy one of those boxes on my way home...
So tell me Dear Reader, do you think you'd like to be a lady that lunches or do you think you would get bored? And do you remember those after dinner mints? I couldn't find any at the store...
Chiswick
65 Ocean Street, Woollahra, NSW
Tel: +61 (02) 8388 8688
Booking is recommended