So where is the most unusual place that you've had high tea? 30,000 feet up int the air perhaps? I should really explain myself (and no we weren't perched high on a mountain Everest when we were doing this).
Mr NQN and I were on our way to Hong Kong for a eating and shopping feast to celebrate Hong Kong's Summer promotion. We would be travelling with two fashion bloggers and if there's a way to make one feel very insecure about their wardrobe, it's travelling with fashion people. We check in at the Virgin Atlantic counter and were upgraded to Upper Class, the Virgin version of business class. I let out a not so silent squeal as I knew that that meant, not just flat bed seats and the perks that come with business class travel, but also the afternoon tea, 30,000 feet in the air!
Express passes mean that we clear the queues quickly and we bypass duty free as we know that there will be plenty of shopping as Hong Kong is a duty free port. We take a seat at the Air New Zealand lounge while biding our time for boarding. The food choice is mainly sandwiches, a few hot items in small ramekins and perhaps the most interesting thing was the free wifi and the hot dog stand where you can help yourself to a bun, frankfurt, sauteed onions, cheese and four sauces. It's not long until boarding and we board the upper class cabin.
The configuration is a herringbone style where people are positioned for privacy so that they can't see each other. Each "booth" has high partitions so you can't see the person in front of or behind you and as soon as we sit down the flight attendants offer to stow our items for us and offer us some Lanson Black Label champagne in old fashioned coupe glasses.
A quick check of the entertainment system shows two movies I've been wanting to catch: My Week With Marilyn and The Artist and Mr NQN breathes a sigh of relief that there are two episodes of my latest favourite comedy show 'The Big Bang Theory.'
The best part of business class, well apart from the fact that you can recline on the bed and nothing is ever too much trouble, is of course the food. We were handed our menus early on in the flight and on today's almost nine hour flight would first be lunch and then afternoon tea two hours before landing. The amenities are a tooth brush and toothpaste, earplugs and a drawstring bag for your shoes.
We start with a drink of our choice as well as a small cup of bbq potato chips. The Virgin Mary is very good and there is also a little canape to go with our drinks. It is a tasty bocconcini cheese ball with tomato and basil rolled in pesto.
Creamy mushroom soup with pan fried croutons
There were two choices of bread, a seeded bread and a white roll. I know that bread is a real challenge to serve on board and out of the two, the seeded bread was the pick as the white roll was a bit too light and dry. I had selected the pad thai king prawns with noodles but was told that they had run out of these so we had the mushroom soup which was actually everyone's favourite including mine.
Braised pork rib
I love Asian food on flights as flying depresses your sense of taste so the braised pork rib with a sweet, glossy soy sauce was just what I needed. The pork was soft and easy to eat falling off the bone easily although the greens were quite wilted and conversely the rice quite stiff.
Sweet potato and leek ravioli
I didn't expect to like this very much but the ravioli were actually very nice and came as four enormous long half moons. The sauce on top resembled more a bechamel with some cheese in it and there were some sauteed leeks and red capsicum.
White chocolate mousse cake
There was a choice of two desserts or cheese but as we have been eating a lot of cheese lately, we thought we'd go for the desserts. The white chocolate mousse cake sits on a vanilla sponge layer and is very sweet and very light. It comes with a strawberry sauce which it needs (although the sauce presentation could have been a bit better).
Sticky date pudding served with butterscotch sauce
The sticky date pudding was light with a sticky topping to it. I like really saucy, sticky date puddings resplendent with sweet dates and covered in sauce mixed with vanilla ice cream so this wasn't to my taste.
There's another seven hours of the flight remaining and afternoon tea isn't served until 1.5 hours before touchdown so we have a nap on the fully flat bed (they make up the bed for us by laying down a little cover) and I watch the movies. For research purposes, and because we we got peckish around Sydney dinner time, we ordered a couple of snacks from the snacks menu. The smoked salmon with cream cheese on a bagel and the red red bean curd marinated chicken with stir fried sesame noodles appeared to be out and instead we got a crustless smoked salmon sandwich and a chicken sandwich which was part of the afternoon tea menu. The filling on both were excellent although the bread was a touch crusty on the outside.
It's an eager countdown until high tea is served and they ask us what we would like in our high tea from the menu selection. 'One of each please!' is our answer and before we know it, there is a two tier stand being brought to us along with the drink of our choice (and here you can make it a champagne high tea). As it is about 8:45pm (and therefore 10:45pm Sydney time) I don't order a tea but an orange juice. On the bottom tier there are three sandwiches, a chicken caesar, smoked salmon, roasted vegetable sandwich. We had tried and liked the chicken and smoked salmon ones and the roasted vegetable is also full of flavour although the breads were a bit crusted over on these.
Afternoon tea for one-served 31,000 feet up in the air!
The second tier had a variety of cupcakes and was slightly different to what was on the menu. There was a scone with clotted cream and strawberry jam which was my favourite from the sweets tier as the scone was lovely and warm and the cream thick and the ideal match with the little pot of Beerenberg strawberry jam. There was a vanilla cupcake, a strawberry frosted cupcake and a chocolate mini cupcakes and they were quite good although I didn't want to overload on cakes (did I really say that?). A few of us also thought that we would have preferred to have the afternoon tea when we first boarded as take off was around 2.30pm and then the lunch selection a few hours before we landed as by the time we got to our hotel after landing, it was after midnight and all that sugar late at night wasn't ideal for sleeping.
We get a quick lesson in Hong Kong weather upon arrival. In Hong Kong they grade rain according to colour from amber to black being the heaviest rain with the strongest wind. When we land, it is apparently black rain and it has caused a kerfuffle with the normally fast baggage services and we don't get our bags until about 45 minutes later. We're then on our way and we're all looking forward to a sleep. I'm singing Soft Kitty to myself and we're grateful to be headed to the hotel.
Lobby at the Mandarin Oriental
We reach the Mandarin Oriental Hotel and despite the late hour, there's no hiding how superb the hotel is and how stunning the Oriental Suites are. The check in is a breeze and done in the suite as one wonderful staff member whisks us upstairs. He takes our information from us in our suite while Mr NQN and I walk around the enormous space oohing and aaahing.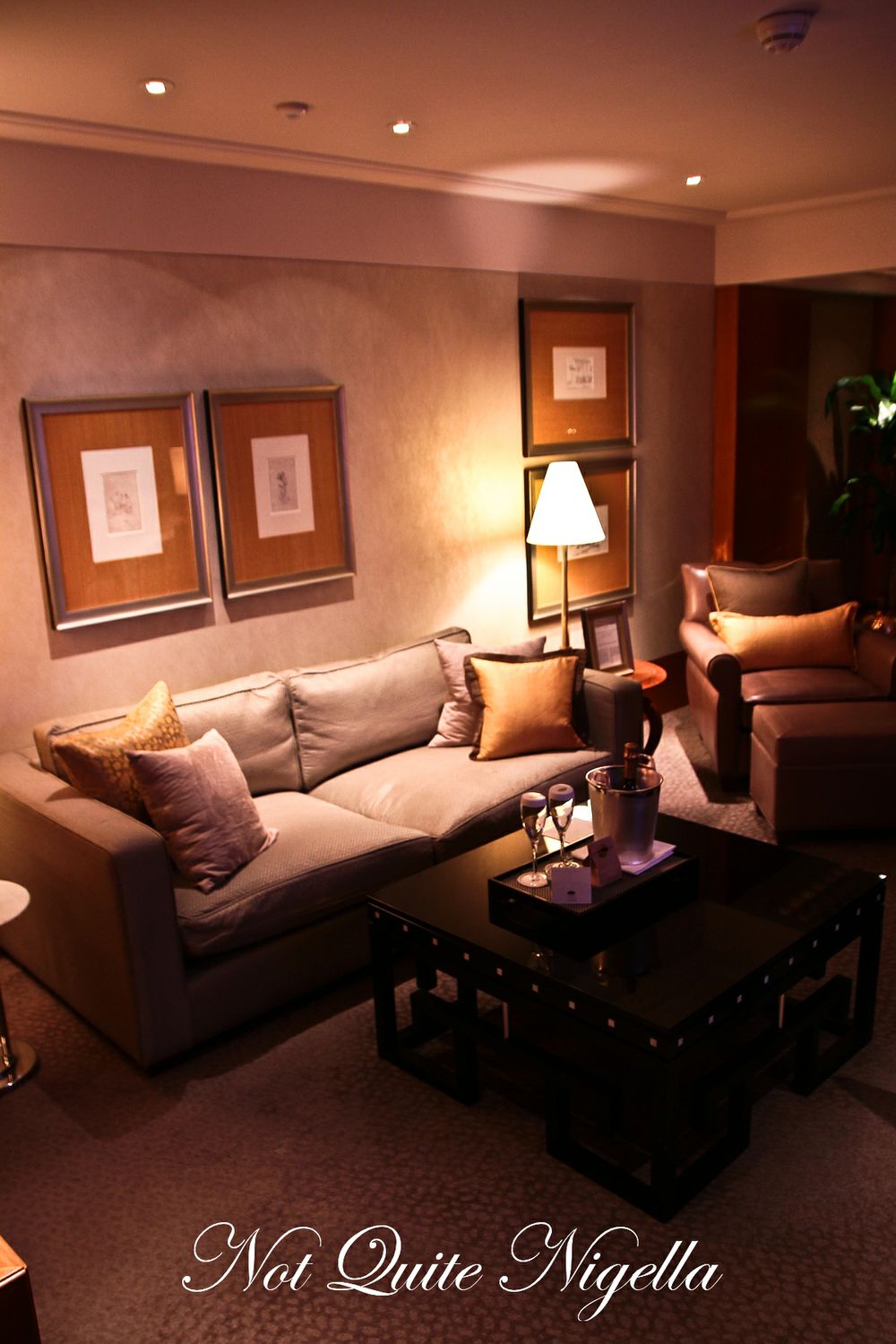 Our suite (#1704) is one of the Oriental Suites which are all corner suites that afford amazing views of Hong Kong city and the harbour. They are enormous at 72 square metres or 775 square feet (and in Hong Kong, rooms can be very small as space is a premium).
I become awake and excited by our room and I head straight to the bathroom which is always a favourite room of mine. I open drawers and discover a deluxe amenity selection set in the drawers which has pretty much any amenity you could think of. The shower has two heads which can be perfectly aimed and a shaving almost full length mirror. The bath is the centrepiece of the room and was designed so that you could bathe with a view. There are Acqua di Parma shampoo, conditioner, body wash and soap and his and hers sinks (other room types get Hermes toiletries) There are two types of robes, a covetable silky black robe and a regular plush terry robe.
Moving into the bedroom, we see that they have already performed turn down for us where they place  slippers on the side of the bed (fabulous slippers, easily the best we've seen and they even come in two sizes: small size in red and large in black). On the bed there is also a hint for sleeping well and some wash cloths to "wipe the day away." The bed is king sized with European pillows and velvety sheets and it looks so inviting. There is also an enormous television in the bedroom (there are a total of three televisions in the suite, one also in the lounge room and the bathroom).
The lounge room has a welcome bottle of Ruinart French champagne, some salted caramels in edible rice paper (so soft and gooey) and some delectable chocolate truffles. There is also a gift of pressed Chinese tea and a pot of freshly delivered and brewed jasmine tea as a welcome refresher. The ice bucket is worth looking at, it looks like it belongs in an art gallery and quality speakers and a sound system ensure that you can hear everything from every corner of the suite.
The mini bar is surprisingly reasonably priced - the 500ml bottle of San Pellegrino sparkling water was $55HKD which is about $7AUD/US-not too bad for a hotel room of this calibre (I've seen bottles of still at other hotels for $8-$10) and there are four bottles of still water provided complimentary and these are restocked every single day.
Ice bucket
Practical considerations are a safe which is enormous (I swear you could fit a server in there); one touch and easy to understand switches which steal away the light with one press.  There is a valet cubicle which is where they place messages for you and you can also leave laundry to be pressed. If there is a delivery of your morning newspaper or a message, a light at the door and by your bedside lights up to let you know that there is something awaiting.
The desk is large and has two universal adapters and a stationary kit, a technology kit (with chargers for ipods and other devices) and there is an iPod docking station . It's hard to fault a suite like this, the only thing I can really see is that I would have loved another luggage rack for the other cupboard as we had two large bags and also wifi is extra.
Hotels are a big deal in Hong Kong, the most important thing for a hotel here is the food and beverage offerings and whilst you won't find many hatted or starred restaurants in hotels in Australia, you will here. The Mandarin Oriental is a hotel with two Michelin starred restaurants: the two-starred Pierre restaurant with Pierre Gagnaire, the one-starred Man Wah restaurant and the Mandarin Grill & Bar also with one star and headed by former El Bulli chef de partie, Uwe Opocensky. Hotels here also show art exhibitions and Art HK is an art festival held in May and the Mandarin Grill & Bar is holding a special lunch and dinner menu. This evening we will be trying a preview of the Art HK dinner and I promise you, it is not a dinner one can forget ;)
We have a quick cocktail at the bar and then it we head into the dining room which is large with an open kitchen where  Chef Uwe has his head down concentrating on a dish. Even though a grill is usually quite a traditional restaurant with a traditional menu this one features slight twists in everything.
Cheese gougeres
We start with the amuse bouches, three no less and they really set the tone for the evening. Firstly are cheese gougeres, tiny bite sized morsels of pate a choux filled with a creamy burst of cheese.
Then we move to the slightly surreal, olive bursts under a bonsai tree. It tastes exactly like an olive yet the texture is a liquid inside a thin membrane sac.
Bread basket
Have you ever seen a bread basket this bountiful and varied? It's a delight to taste and there is a range of six bread types: black sesame, bell pepper foccacia, milky butter bread, laugem bread (like pretzel bread) and a seeded bread. They were all lovely, fresh and warm and I particularly like the bell pepper and the comforting aspect of the milky butter bread baton.
Small parmesan cookies
The small parmesan cookies were short and with a nice salty punch to them from the parmesan.
Our final amuse bouche was the sweet crispy cornet filled with very finely diced smoked salmon!
Sculpture
The sculpture course featured a large golden Farberge style egg whose top lifted off to reveal a red (or green) handpainted egg (chicken egg sized). we were to take the small wooden spoon given and crack it to reveal what was inside. the shell itself is edible sugar and crispy and inside was sour cream and Caviar Kristal. They tell us that kristal caviar exhibits all the desired qualities of its wild counterpart, gold osetra. That is, a deep gold colour, firmness of texture and the classic "nutty" flavour, with subtle tones of ocean brine. And I have to give a mention to my Sigma lens sponsor because the restaurant was quite darkly lit and we managed to capture these images with their lenses in very challenging conditions!
Graffiti
If the sculpture delighted us, the graffiti course completely took us by surprise. Chef Uwe Opocensky brings out an enormous curving Berlin wall (He is from Germany). He slices off each portion and places it on a plate. One even has the Art HK graffitied on the top. The top is made of fondant and the details are incredible. There are little sprigs of thyme and herbs to represent the trees that would have grown on it and each section has a different graffitted picture.
And yes even if two people dine they will present a smaller form that looks like the Berlin wall! Underneath the fondant cover which is adhered with apricot jam is a toasted brioche cut up as "bricks" and they are layered with foie gras pate. the serve is generous and the apricot gives the rich foie gras pate a nice break although only Mr NQN can finish the whole thing.
Photography
A pair of 3D glasses is placed on our table and we wonder what is next. A plate is placed in front of us and there is a oceanic scene in front of us featuring Brittany Blue lobster. Whilst this was visually stunning, this flavours in this course didn't really appeal to me. The lobster was tenderly poached and it was topped with miso foam and there was a bubble with smoked dashi inside and a mussel on top of a spinach puree. Whilst I loved the idea though, I wasn't particularly smitten with the combination of flavours.
Painting
The last course, and what was everyone's favourite (apart from dessert, but that blows expectations out of the water), was the painting course. Presented in a photo frame, there were purees like red pepper, yellow pepper, onion, spinch and eggplant. to the right was a sous vided egg yolk sitting in a highly aromatic truffled mash and below this was a fillet of fat cap beef, the upper part of the rib eye. they tell us that only three restaurants in the world can get this cut: the Mandarin Oriental, Per Se and French Laundry. The meat is wonderfully tender, an exceptional cut cooked perfectly medium rare and I particularly like this with the slow cooked egg yolk which isn't actually runny and is quite thick and the fragrant truffled mash.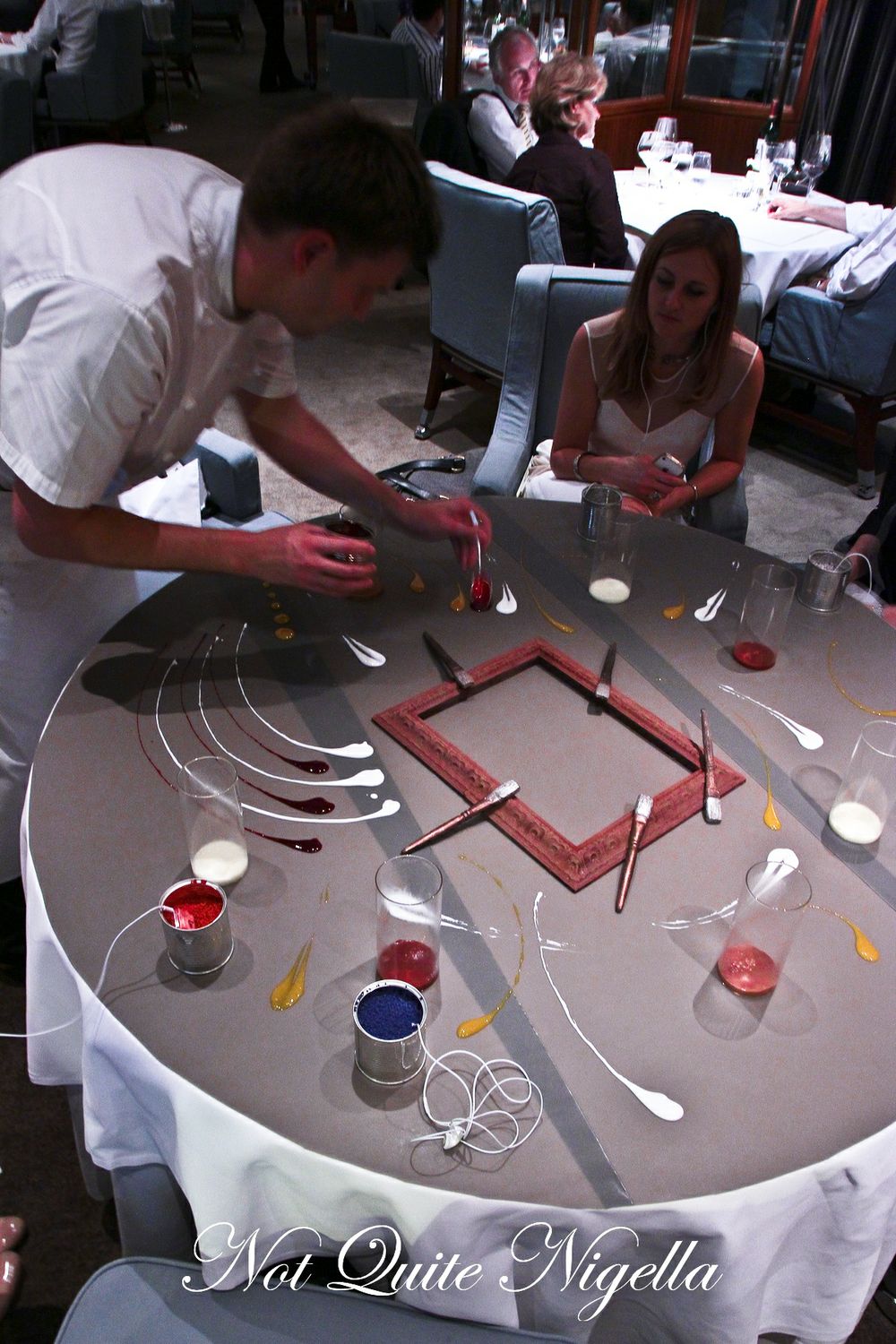 Music
The first hint that dessert was going to be an epic production came from the laying of the rubber mats on the table. Clearly we were going to be in for something a) messy or b) creative or both. Chef Uwe came out with his team and we were each handed an iPod. Mine was, most fittingly playing Madonna's "Music" whilst others had a selection of music. What follows to the soundtrack of Music is eight and a half minutes of Chef Uwe plaving each of the eighteen parts on the table. first he lays down a bottomless cylinder and pours liquid pudding into the bottom.
He then takes a variety of sauce used a spoon to direct curves onto the table, a solid chocolate photo frame is laid on the table. Chocolate paintbrushes and white chocolate coloured chocolate crayons and shavings are then laid down followed by chocolate coated macadamias and almonds all housed in edible containers dusted with cocoa. The whole dessert is an extravangza of chocolate-like an adult's version of play time with chocolate or Willy Wonka and we take the brushes and paint, chip off bits of the edible photo frame and nibble on chocolate crayons before collapsing back into our chairs in a happy chocolate coma.
Which is how all meals should really end ;)
So tell me Dear Reader, which airline do you enjoy flying with the most? And least? When you travel, do you sleep less so that you can experience more? And which is your favourite hotel in the world?
Bedside slippers waiting for us
NQN and Mr NQN travelled to and explored Hong Kong as guests of the Hong Kong Tourism Board, Virgin Atlantic and the Mandarin Oriental Hong Kong
Virgin Atlantic Airways
High tea is served on selected flights from Sydney
www.virgin-atlantic.com
Mandarin Oriental Hong Kong
5 Connaught Road, Central, Hong Kong
Tel: +852 2820 4202
http://www.mandarinoriental.com/hongkong/
The Art HK dinner will be held from the 1st-20th May. 2012. The three-course lunch menu will cost HKD688 and five-course dinner menu will be priced at HKD1,488