Taken on a Sigma 17-50mm F2.8 EX DC OS lens, focal length 50 mm, ISO 320, 1/50s.
Warning: this post contains very graphic images and text
Fish lie in shallow bowls with running water just barely covering them. They are all alive and their mouths open and shut while their tails occasionally flip. A woman surveys the plates of fish carefully and buys the plate with the most active fish. A lobster makes a quick getaway only to be put in the tank.
A cage of fat frogs is so full that frogs sit upon each other, their white bellies pressed against the metal cages. Large river fish are proudly hauled out of the water and then filleted while still struggling while blood splatters. The fishmonger then spreads the dark red blood onto the fillets.
Welcome to a true local's market in Hong Kong.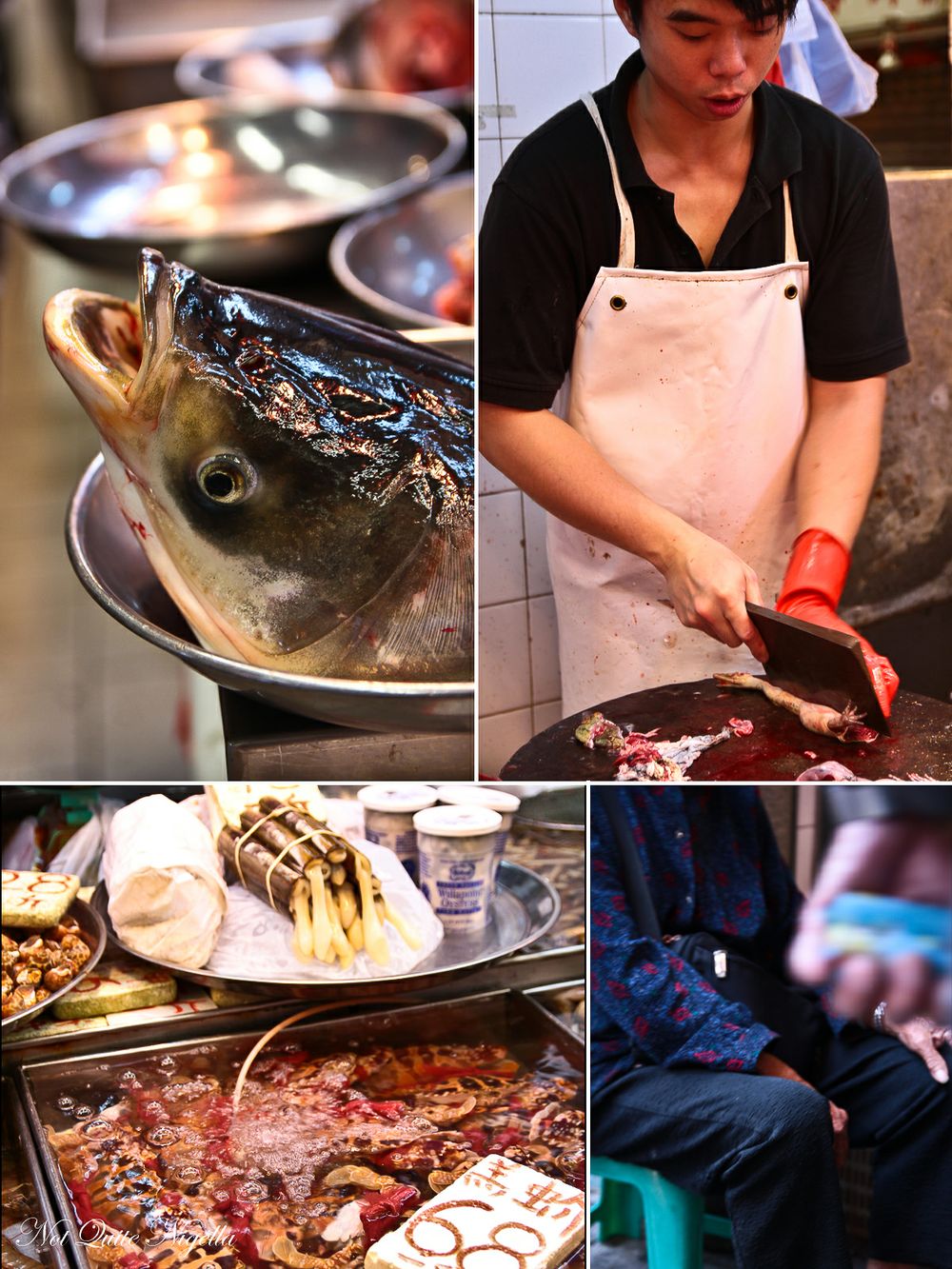 I'm willing to bet that every tourist that visits a city's market learns at least half a dozen new things, if not more. This market in Yuen Long, in the New Territories of Hong Kong operates every day. In this area, people buy their produce fresh daily.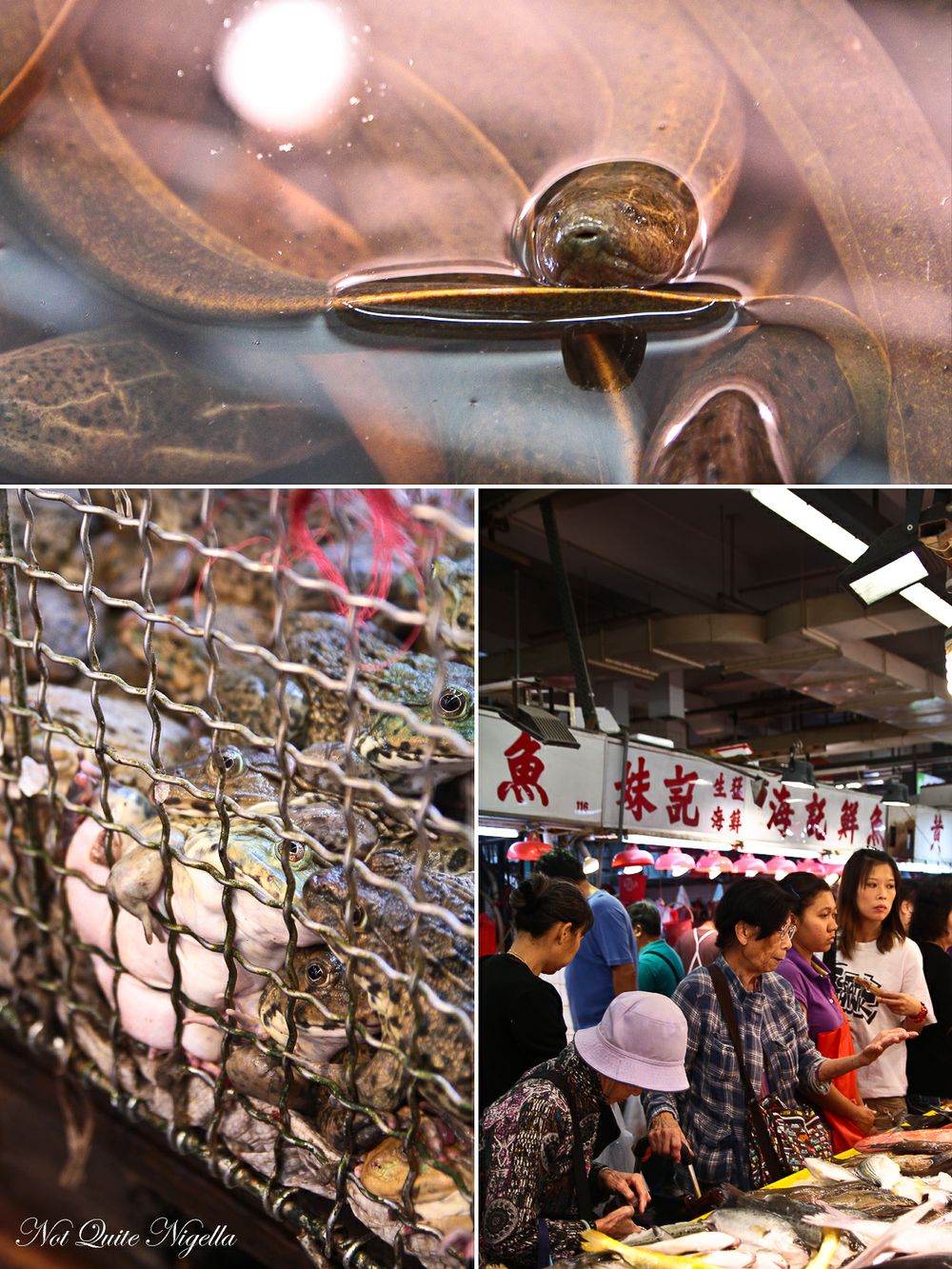 Clockwise from top: eels, customers at the wet market and frogs
Some of it is graphic, we watch as a baby faced man with a cleaver skins a throbbing frog in front of us and sections it into pieces. Eels pop their heads out of boxes to take a breath before disappearing back under. It's confronting and it's life here. People want fresh and none of the produce here is frozen. The shop keepers are good natured. "Good morning!" some say while others pose for photographs and wave.
Upstairs is the (less confronting) fruit and vegetable market. Neat bundles of greens are stacked and displayed prettily. There are gigantic hands of ginger, the size of a bear paw. Grey black hairy root vegetables and dirt laden carrots, sugarcane and shelled chestnuts are also sold.
Because this is outside of the main city area, the prices are cheaper. Everything is sold in kati which is a Malay measuring unit about 600g rams or 1 1/3 pounds. Also making it cheaper is the fact that much of the produce comes from China but with this comes risk and more food safety scares than anyone would like to count.
Sometimes the reality of a city can surprise you. My image of Hong Kong is that Skyline, full of tall buildings, bustling crowds, queues for Chanel and Louis Vuitton and a thriving commercial hub. People eat and shop at an Olympic level here so when I heard that we were visiting an organic farm, my first thought was "Hong Kong has farms? And organic ones?"
Margaret Xu
The owner of one of Hong Kong's organic farms is chef Margaret Xu. Formerly a designer, she began cooking as a hobby and when she lived on Hong Kong Island and grew all sorts of fruit from mango to grapes on the rooftop of her apartment building. Petite and wearing a trademark cap she shows us around her organic vegetable farm where she grows greens, roots, horseradish, beetroot, herbs, lemongrass, radish and taro among others. She only needs to occasionally buy organics in from the markets. She has two farms: the one we're standing in with one acre of vegetables which supplies her restaurant. A second fruit orchard is one and a half acres large where she grows a lot of citrus and harvests honey.
Indian lettuce
We wait as she picks golden beetroot  and small carrots for our lunch today. She even cooks the snails that she finds in her garden.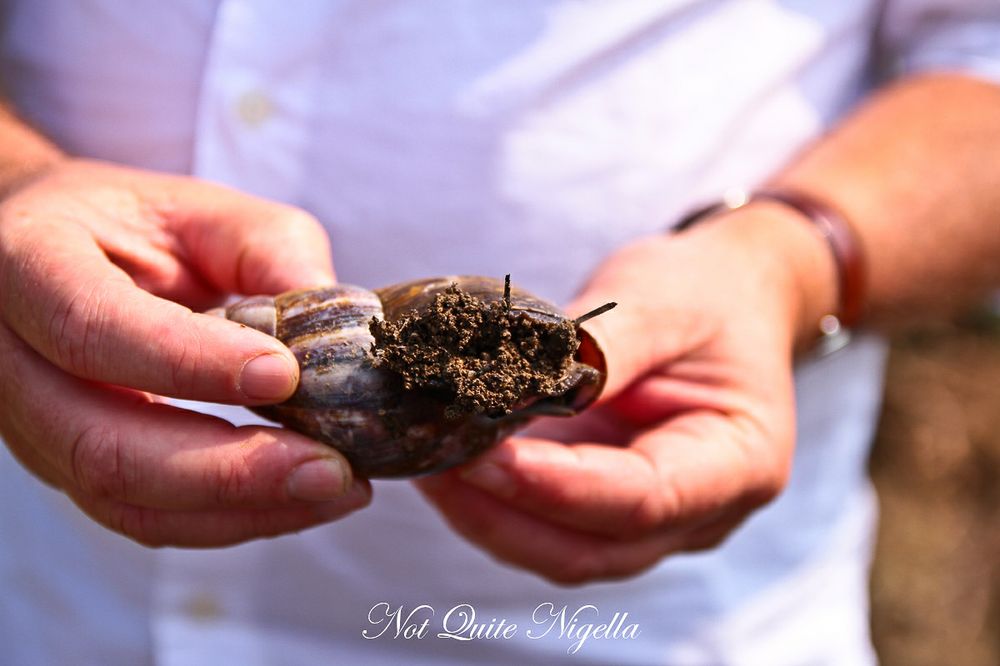 Her Wan Chai located restaurant Yin Yang was voted the number 1 restaurant by Time Out in Hong Kong beating neighbour and rival Alvin Leung. A three storey building in the very happening small street of Ship Street, inside it is traditional Chinese in decor.
Named after the famous Hong Kong Yin Yang drink of milky coffee and tea, Margaret is not a professionally trained chef.  Her skill in the kitchen has evolved from learning techniques from older housewives when she would visit rural Hakka villages and neighbours. Her food, like the name, is a mix of Asian and Western food.
She is immensely proud of her terracotta oven which is simply two pots on top of each other with a gas burner underneath. It is in this that she cooks the divine chicken and it helps keep the meat juicy and retains heat well and distributes it evenly. "Alvin tried to steal this idea" she says giggling behind her hand.
She first started using organic food so that she could tell her customers where it came from and frequent food scares contributed to that. But she says, "it is not for health reasons, it just tastes better." We climb the stairs to the top dining room where a balcony looks out onto Ship Street below. We're having a mix of dishes including their signature "Red Hot Pork" and the intriguing "Soup Without Water." Prices aren't inexpensive - a dinner degustation is about $1,280HKD or $168AUD per person but you can also order a la carte. Lunch, which is what we're having today (with a couple more dishes added) is more economical and good value at $388HKD/$48AUD per head.
Lemon, lime and bitters
It's hot outside so we start with a lemon, lime and bitters, served in one of these cute retro jars-I was quite pleased because I bought these handled jars in a shop in Gough Street! The lemon, lime and bitters is strong and salty with the addition of salty Chinese limes.
Summer Forest
The Summer Forest was a tasting plate with a range of five different items. Starting from the left were deep fried and lightly coated crispy little fish with a hot house-made chilli sauce. Below these were radish and little strings of beef floss. The next was a neat pile of just blanched lettuce shreds with little pieces of tasty salted egg white which was my favourite from the plate.
To the right of this was mustard greens and slender, tender pieces of squid and then thinly sliced cooked golden beetroot.
Wild Naked Wonton
The Wild Naked Wontons came out next and the food comes out pretty quickly from the small kitchen. These were home made won ton skins, deep fried with the centre filled with prawns and topped with her own grown Thai basil. A papaya sauce came with it and the prawns were so creamy and delicious especially with the Thai Basil (although the single piece was a bit difficult to break up into bites).
Yellow Earth Chicken
Hands down, this was my favourite dish. I know the pork is the signature dish but this one had all of us in raptures. It is first set down as a whole chicken, head on, in a bowl for effect, and then they carve it at the table next to us. The chicken is so moist and succulent, it almost tastes like duck. She tells me that they don't use free range chicken in this dish as it doesn't have enough fat to roast it properly and the texture is all due to the terracotta oven.
Chicken, cut up
It is served with some pieces bone in, some with just the skin (oh heaven!) and some with just the meat. There is also a ginger and curry leaf sauce that it comes with that actually reminds me of a green olive tapenade but I enjoy the chicken on its own and luxuriate in the texture.
Soup Without Water
A fascinating course, the Soup Without Water is simply the juices from the above chicken, without any water added.  A little goes a long way and it's a broth, not as intense as I thought it would be, served with a lotus root slice.
Red Hot 
The signature dish, the pork comes out as one large leg and gets the same treatment as the chicken as it is portioned off into neat little squares for easy picking up with chopsticks. The meat is soft and flavoursome underneath the layer of slightly tooth sticking crackling-not the earth shattering kind but more halfway between non blistered and auditorily volcanic.
It comes with a home made cumquat sauce which gives the rich meat a slightly tart and sweet flavour.
Lake Crab Music
Made with the current season of hairy crabs, Margaret uses certifiably hormone free lake crabs from Hong Kong. This is a free range egg custard like a chawanmushi underneath a blanket of hairy crab meat. Our helpful waiter tells us that this is at least one male and one female crab in it. This dish is very rich and comes with a mustard green studded iron pot rice. It's a little too rich for me as I find both crab and chawanmushi very rich on their own.
Organic Vegetables
The organic vegetables were simply cooked Chinese broccoli and Indian lettuce served with a side of the house made chilli and garlic sauce which certainly packs a hit and a house made oyster sauce. The vegetables are so crunchy and fresh and the chilli hit lingers. Just long enough before dessert is set down...
Thai basil ice cream
The desserts were comprehensive, and we did order a bit more than your regular set menu so that we could try things. We start with a Thai basil gelato, a milk based gelato strong in Thai Basil with a slightly icey texture to it. It was a little strong in the Thai basil for me although everyone else seemed to finish it easily.
Stone ground rice flour dumplings
Next was a stone ground rice flour dumpling which was in a white sesame sauce and on the same plate were sweet caramelised oranges from Margaret's orchard.
On our way out, before we make our way down the narrow stairs, we take a peek at her kitchen and the terra cotta oven. "These are my toys" she says proudly.
So tell me Dear Reader, how often do you shop for food? Do you have a local market nearby? And are you squeamish when you visit markets like this?
The "toys"
NQN travelled to Hong Kong with Qantas and the Hong Kong Tourism Board
Yin Yang
18 Ship Street, Wanchai, Hong Kong
Tel: +852 2866 0868