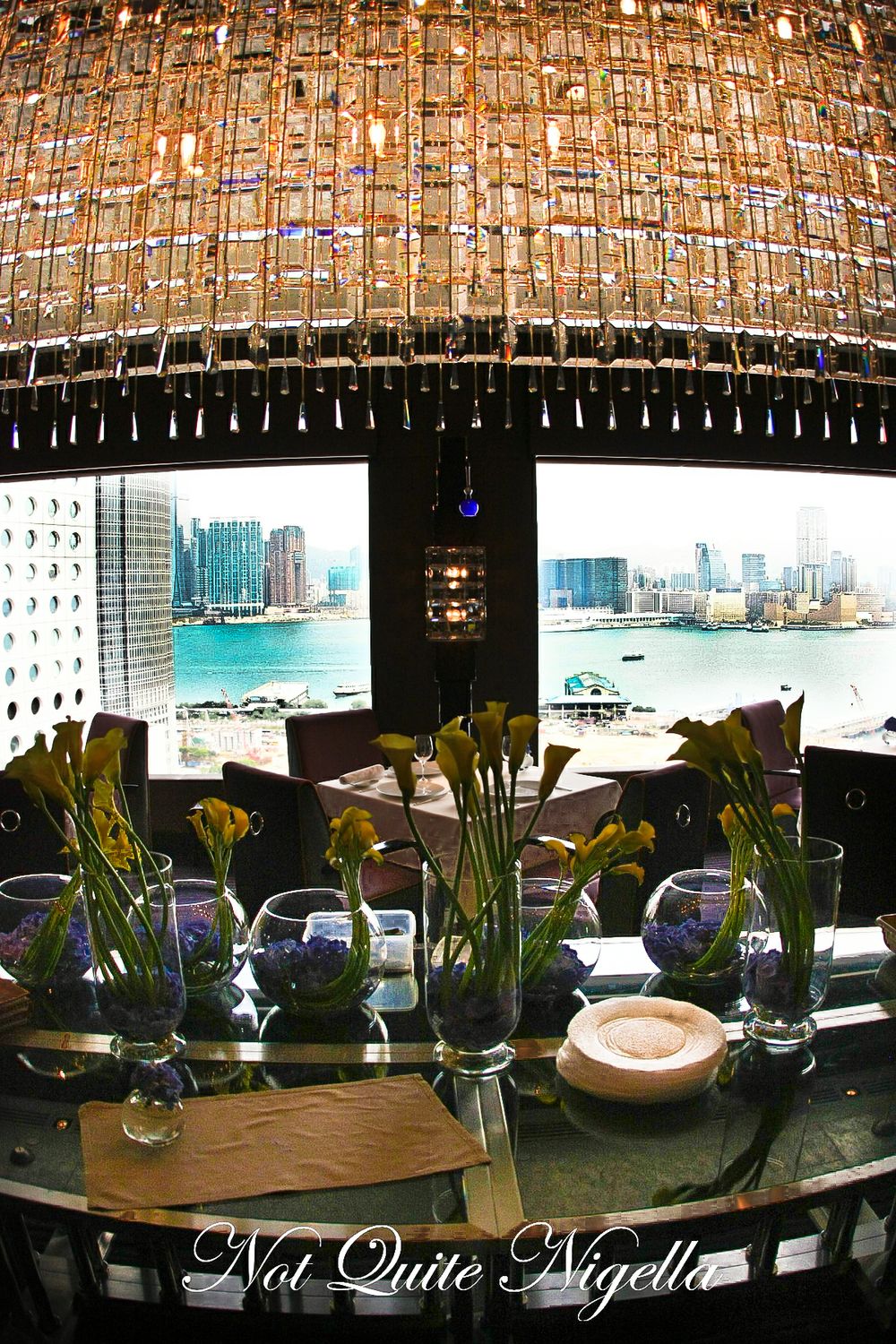 To many food enthusiasts, spotting a chef out of their chef whites and doing "normal" things is like spotting an actor doing the same thing. For the last two mornings when we were in Hong Kong, Mr NQN had spotted multi Michelin starred chef Pierre Gagnaire having breakfast while others had seen him working out at the gym. Indeed, when it came to signing the bill after breakfast, there was a note that let people know "Pierre Gagnaire is in residence." So it is the sweetest of serendipity that our trip coincided with his.
"How many courses would you like today? Six or eight?" The restaurant manager of Pierre by Pierre Gagnaire Julien asks us. "Whatever chef wants" is our answer. After all, who would argue with Gagnaire, one of the world's most renowned chefs and proponent of fusion cuisine. The restaurant Pierre at the Mandarin Oriental Hong Kong holds two Michelin stars.
Gagnaire visits the hotel three times a year and each time he cooks in the kitchen during lunch and dinner service (he will be returning on the 27th of October to the 5th of November this year). He comes out part way during the courses and happily shakes everyone's hands. The theme for these lunches and dinners is Bordeaux and Gagnaire has designed eight courses, five of which were incorporated into the Le French May festival.
We start off with a glass of Ruinart champagne which is always a good precursor to an exciting meal. The bubbles tickle our palate and we gaze out onto the view of Hong Kong Harbour below.
A plate of cheese gougeres comes out on a perspex tray and underneath there is a tray of hot stones to keep them hot. The cheese is incorporated into the choux pastry. Each one is a burnished bronze orb with a light puff of air in the centre of each mouthful.
The next amuse, and there are many, is an avocado, tomato and parsley dip which is smooth and rich in flavour and creaminess. These are served with croutons.
The next amuse is interesting. First, there is a cube of raw tuna and a cube of pork belly on a stick of raw spaghetti. You dip this into the lemon gel and then sprinkle some of the green tea and pinkberry salt. It has a mix of flavours and the lemon and salt really work well together.
There are also three little shortbread buttons which are flavoured with a striking lemongrass and ginger. These flavours are a good contrast to the buttery shortbread.
Last but not least is a punch of Guinness and whisky in the form of a square coated in gingerbread. The whisky and beer hits you at first followed by the fine and sweet gingerbread crumbs.
I haven't even gotten to the bread selection but it's a mix of different breads from a milky bread baton, a baguette, a cheese centered bun and a crispy deep fried cracker. All perfect for spreading butter on or dipping into the dip or lemon gel and flavoured salt.
Button mushroom jelly, Aquitaine caviar, iced potato soup with horseradish. Shot with a Sigma 17-50mm F2.8 EX DC OS lens, ISO 400, focal length 30mm, 1/50 shutter.
And that's just our amuses! Onto the first course, a pretty as a picture dish where the aroma of fresh mushrooms wafts up to our noses. At the bottom there is a button mushroom jelly, on top paper thin sliced mushrooms overlapping so as to look like flowers. On top of this is a champignon duxelle and on top of this is Aquitaine caviar. A frozen potato veloute with horseradish is then poured around it and the whole cloud like dish disappears in three happy mouthfuls.
Country style bordelais
The next dish is made up of five parts and is meant to be eaten clockwise from left. It is a tribute to the country style cuisine of Bordeaux. At the left most, we start with a Grenier Medocain court bouillon which is pig's stomach mixed with salt, pepper, herbs and garlic, cooked and sliced thinly. It has a slightly gelatinous texture with firm pieces and there are tiny cubes of braised turnip underneath it.
The next is the duck crackling which is a duck terrine with slices of shiitake mushroom and duck meat in a creamy sauce that tastes not like a Thai curry with coconut, lime and red curry. It is topped with a square of crispy filo on top and herbs. The next two are a duck liver terrine with some luscious caramelised pear pieces with espelette peppers which are perfect with some of the breads from the bread basket. And lastly in the centre is a black pudding and apple compote with golden raisin grapes and an apple tuile on top. It sits in a pool of grape jelly.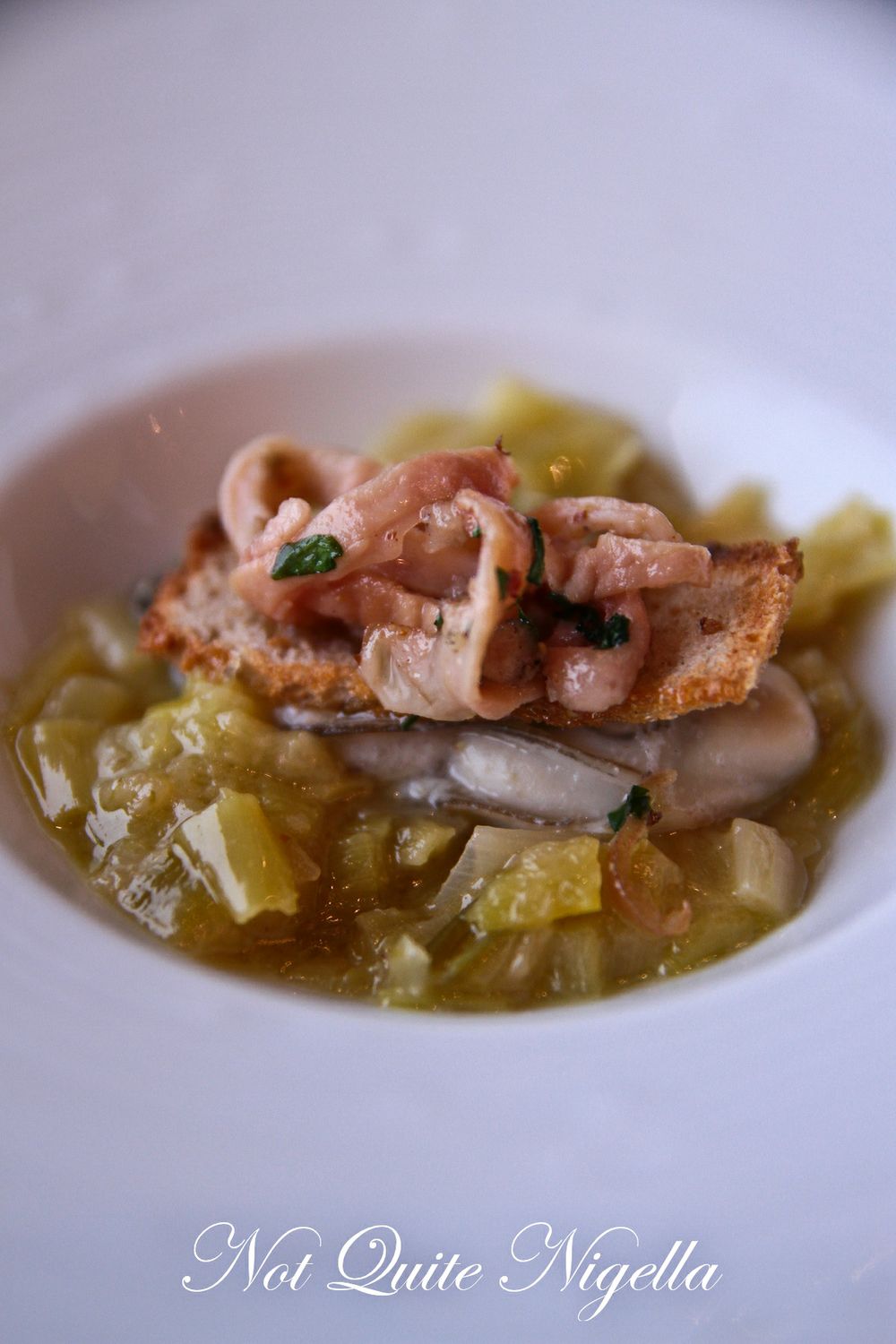 Oyster broth with Graves white wine, slow simmered leek with shallot
The oyster sits within a bed of slow simmered leeks and shallots and a Graves white wine broth. On top of this is a crisp crouton and above this is a tricandille bordelaise or tripe in thinly sliced tendrils which is crispy and flavoursome.
Heart of fillet of beef, bordelaise style chopped cepe mushrooms, beetroot syrup
Our last savoury course comes out next under a cloche and there is certainly theatre as far as a cloche is concerned.Underneath is a fillet of beef tenderloin, soft and tender and topped with a round of marrow (and Mr NQN and I have a deal, he doesn't love marrow as much as I do so I get his marrow ;) ). It is paired with a savoury umami cepe salad and a slightly sweet foie gras, beetroot syrup and horseradish.
Dessert was a three parter and was served clockwise. First was a thinly sliced multi layered apple cake. There was a layer of vanilla butter cake underneath it and black currant and red wine sauce and to the right was an omija gel which was similar to pink grapefruit. There were three frozen peeled grapes on top with their pips inside.
The next dish was all tangy flavours and fluffy clouds with an Armagnac ice cream, bitter fruit marmalade and a cloud of lime foam on top which was a good contrast with the tangyness.
Last but not least was the chocoalte cake with gingerbread crumbs and feuilletine giving it crunch. Next to this was a pool of rich chocolate ganache and a quenelle of chocolate ice cream. I can't really think of a better way to end the meal, except of course there is one which is meeting the man himself!
Pierre Gagnaire has changed out of his chef's whites and is sitting at a nearby table having finished his meal. I was fortunate enough to sit down with Pierre to quickly chat with him about his cooking process. He was one of the forefathers of fusion cuisine and he is known for pairing unusual ingredients together. He conducts the interview mostly in English so his answers are written as he speaks. I only wished that I spoke French so that we could have done the entire interview in French!
NQN: How do you come up with your dishes and menus?
PG: We change often - my job is to think for the chef. The chef finds it difficult, because they are busy. I'm like a writer like you. I write an idea and we have Skype and email and when I come I spend my time in the kitchen and spend time with the team. I try and work fast.
NQN: How far ahead would you devise the menu?
PG: It can be one minute, it can be 2 weeks. My life is totally involved in my work. It's impossible to give a time. It's a way to live, its' a way to think, it's the way to be. I'm lucky because life is good, I have a good team with me and all of my energy is focused into it.
NQN: What inspires you?
PG: It's impossible to explain...for example today I come to eat one dish. It was not very good. I must find an idea to obtain an idea of perfection. Perhaps I find the idea when I speak with you or perhaps it was when I was in the fitness (centre) but I must find an idea (pauses). But you must work with yourself. Creativity it's impossible to describe. It's you, it's with you always. Perfection, work, it's a balance. I spend time alone often, for me it's important. I look, I taste and I try...
NQN: How would you describe your culinary style?
PG: We try to be honest, we try to be the best, I try to be enthusiast with sincerity. I know my limits, I know my capacity.
NQN: Is your cuisine an extension of your personality?
Absolutely, absolutely yes. I'm not a business man, I'm a chef. I cook and through the cooking and food I speak with the people.
NQN: I've read that you don't want to be called an artist.
PG: The food can be art but it's not necessarily art.
NQN: Do you look at trends?
PG: It's not my problem but I'm like everybody. I look at the TV, I look at the street, you speak with the people you feel the the the changes in the environment. You want to feel comfortable with houses, music and especially with the global recession. Creativity is dangerous. Food is important to everybody. Today in Japan, they want Japanese because for many years they wanted creativity, they wanted new food, new clothes, now I think they come back to their history.
NQN: It goes in waves?
PG: Absolutely. Creativity for chef is linked to happy moments, however in Europe since the financial crisis, people tend to not to be as creative as they were and they focus on the value. Absolutely.
NQN: How important is Michelin to you?
PG: It's good things for the company (laughs).
NQN: Do you get anxious?
PG: It's the same anxious to be consistent and satisfy the guests. It's very important, the problem is with your capacity to be consistent. Today, this time, I think it's capital to be consistent and honest always. It's not always to be fantastic, but, if you can...
NQN: What advice would you give to chefs that want to have the same future that you've had?
PG: To love your job, to love the people, to know that you won't make much money (laughs). The job is full time , not part time. You must be involved, all your life you must be dedicated to that. It's easy to say but it's not easy to live. For me, I've done it for so many years. For some people that have just been married, it is complicated because it is during the day and during the weekend, it's difficult no?
NQN: And you go to the gym and you don't smoke? Have you always been very healthy?
PG: I'm like that, it's not an effort. To be happy, I don't think, for me it's easy.
NQN: What is in your future?
PG: I know the plan is that you must live. I have a full life but I don't have a complicated plan.
NQN: Do you want to be cooking for years?
PG: Absolutely, if the people want me, I am here. We shall see yes. For me, it's not the time to make to evaluatation, not yet. It's too early.
NQN: What do you think of food bloggers? Do you have many in France?
PG: Too much (laughs)! No because the problem is not to say the world is changing. It's is not to say good or not good. It's impossible to say you know the job or the food. Everybody can say I like or don't like. It's important. Everyone is eating. If you're coming from Thailand, Bangkok, Koh Samui, because the way to eat, the way to approach the food is not the same. For example, Michelin it's in Hong Kong, or Tokyo. How can we judge on the same line the Chinese or Japanese food the French food? You have good blogger and bad blogger but what is bad and what is good? Finally, it's the level of your business. Perhaps you are a genius chef but you have no guests. You have writers and you have novelists who sell millions of books all over the world but they are not the best writer. But with time, if you have the talent you have the readers.
And of course I couldn't not ask him to sign my menu!
And whilst we're talking about a day of "bests", I don't think it is possible to visit Hong Kong without visiting The Peak, one of the most famous spots in Hong Kong. Many years ago, the people that lived at The Peak were the wealthiest - to get up to the peak, you had to be carried up in a sedan chair. The cost for one of these trips up was a whole month's salary for the ordinary person. Now with the road built to get there, it isn't quite the same challenge but the residents of the Peak are certainly still among the wealthiest in Hong Kong.
My new fridge magnets also enjoying the view
To get up there, you take the Peak tram which is $65HKD . There are a variety of cute stores that sell inexpensive toys and jewellery-I nabbed some bracelets for $2.50AU each and some fridge magnets. Alas, the fog has come out so the view isn't that clear but it's worth a visit if the day is clear to see the breathtaking views of a city that is so busy yet contains a surprising and lovely amount of greenery. Gardens spring up when you least expect it to prevent it from becoming a sprawling urban jungle.
At the top, on the way back to the tram to go descend, there is a gelato store called Gino's gelato. There are gelato flavours in interesting variations such as red date and longan, Thai coconut and osmanthus.
They are quite icy but in the heat of a Hong Kong summer that's not necessarily a bad thing. Out of the three, I preferred the Thai coconut with little chewy pink rice flour balls and shreds of coconut laced through it.
So tell me Dear Reader, what has been your most memorable chef sighting? And who would you like the meet and interview the most?
NQN and Mr NQN travelled to and explored Hong Kong as guests of the Hong Kong Tourism Board, Virgin Atlantic and the Mandarin Oriental Hong Kong.
Pierre
5 Connaught Road, Central, Hong Kong
Tel: +852 2522 0111
http://www.mandarinoriental.com/hongkong/
Pierre Gagnaire will return to the Mandarin Oriental Hotel Hong Kong during the 27 October – 5 November, 2012
Virgin Atlantic Airways
www.virginatlantic.com