I'm positive that I'm in the wrong place. That is, we're supposed to be in a restaurant and we're walking past dumpster with garbage bins and the cross gentleman that we've just inquired with tells us that we're at a loading dock. The taxi driver's wave to us and comment "Yes it's here!" rings in my ears. John Lethlean, the food writer for The Australian and I are on the hunt for a restaurant in Hong Kong.
We're supposed to be in the IFC mall at St Betty. The new shoes that I've just bought that seemed so comfortable when walking on the ten metres of carpet in the store start to bite back and we walk around the building and suddenly, there are shops and air conditioning  Designer labels, people and genii in stores assure us that we are now on the right track.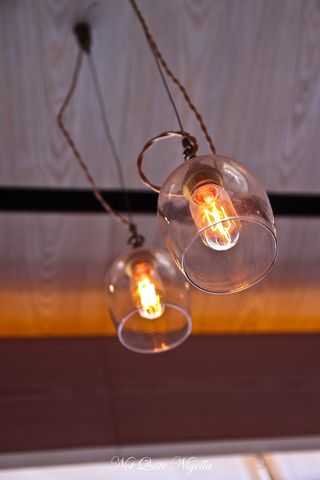 St Betty has an Australian connection through their new chef Shane Osbourne, the first Australian chef to earn two Michelin stars. Formerly known as Betty's Kitchen, it's one of Alan Yu's restaurants. It's an eye-catching space that make you feel as if you aren't in a shopping mall.
There are touches of Scandinavia in places while two rows of wooden ceiling fans evoke Singaporean memories while the view is of Victoria Harbour. The staff are wearing green corduroy, bows and tartan. The Australian connection is in the menu with a proliferation of Australian ingredients.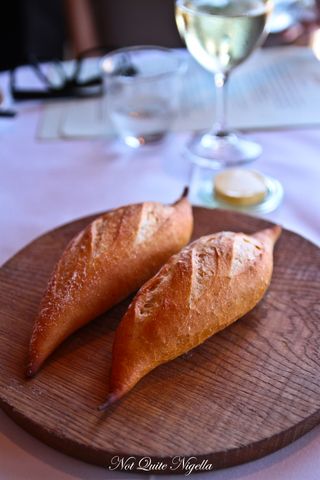 All of the bread is house made and while it resembles an epi, it is not as dense or thick, indeed it's a very light bun with a similar texture to that of the light rolls from Vietnamese bakeries.
_Amuse bouche. _Taken on a Sigma 17-50mm F2.8 EX DC OS lens, focal length 30 mm, ISO 100, 1/100s.
An amuse bouche comes out from the kitchen and it's a sourdough crouton spread with crushed avocado, sweet chilli jam and red peppers that have been roasted, then sous vide'd and then infused in Minus 8 Canadian ice wine vinegar. It's a delicious start to the meal.
The first entree is lovely looking (and special mention must be made of the cutlery which changes with every course). So what makes up a 21st century egg? Well it's a breaded and deep fried egg with a gorgeously runny yolk inside. It sits on a fine dice of century egg white and black truffle. Added to it is a neat pile of char grilled asparagus, a quenelle of lemon mayonnaise and crunchy toasted hazelnut pieces. It's one of their signature dishes and after a taste you can see why.
The broth of abalone was beautifully subtle with a white wine flavour to it along with slices of abalone, scallops and squid and empire leaves. What are empire leaves? Well neither of us knew but they were tasty. There was a little colour provided by the pink seaweed and thinly sliced radishes.
Sagabuta pork was unfamiliar to the both of us so curiosity had us ordering this dish and we were amply rewarded. Sagabuta refers to the Geographical region of Japan from which it comes from. They are raised in the mountains of Kinboshi where they are allowed to graze and put on weight naturally. The resultant meat is moist, tender and with a melting texture, not unlike the way wagyu melts in the mouth. It sat on a bed of silky smooth peppery black pudding and kernels of bright yellow raw Japanese sweetcorn and cider jus.
There were several mentions of the "Josper" on the menu so we had to inquire about it. It turns out that a Josper is a Spanish charcoal griller oven and St Betty had the first to hit Hong Kong. It's a simple enough machine, with temperature controlled through the top vent but is said to produce excellent results. The steaks are cooked on the grill and they are fantastic and served with a beautiful tarragon rich Bearnaise sauce, a divine halved crispy crispy roast potato made with smoked butter (also made in the Josper) and green beans.
It seemed only fair that we try one fruit and one chocolate dessert. The roasted pineapple was the more tropical offering
with soft, sweet pineapple pieces (also done in the Josper oven) with tapioca and dragonfruit and a divine coconut ice cream that tasted of tropical beaches.
In contrast the Black Forest-y dark chocolate mousse was showered with chocolate crumbs which reminded of Milo when combined with the mousse, a lovely salted peanut ice cream, a scoop of chocolate mousse and fresh pitted cherry slices.
I catch the Star Ferry back to The Langham and it's an easy ride across the harbour. I watch as a lone fisherman works his oars while an enormous barge carries tens of shipping containers while a helicopter hovers overhead. I make my way back to the hotel despite my total lack of sense of direction and pass by the designer boutiques like Chanel and Hermes that have queues outside. Food, shopping and Victoria Harbour, what a Hong Kong filled day!
So tell me Dear Reader, have you ever queued to get into a designer store? And do you ever ask the wait staff about how things are cooked and get them to explain things in detail to you?
St Betty
Shop 2075, Podium Level Two, ifc mall, 8 Finance Street, Central District, Hong Kong
?????1?????????2?2?2075??  Hong Kong
Tel: +852 2979 2100
St Betty is open for brunch (weekends only), lunch, afternoon tea and dinner.