My response to cold, rainy weather is to barricade myself in. Sounds dramatic yes, but the idea of rugging up in lots of layer and dodging rain and puddles isn't very appealing. However, there is only so long you can do that before. But what is there to do if you are going stir crazy indoors, you've baked your body weight in cakes and breads and you've eaten enough soup to fill the Nile's riverbanks? It turns out there is more to do in Sydney during winter that one would think!
The Grounds, Alexandria
At The Grounds in Alexandria, they hold coffee roasting classes. Called "coffee cupping", it it not related to that strange Hollywood trend some years ago of cupping for therapeutic purposes but more the actual process of roasting and appreciating coffee. Jack Hanna, one of the two owners of The Grounds holds these classes where he shows coffee enthusiasts and just the curious into their Research Facility for an introduction to roasting. For $50 a person, a group of up to six people can attend these classes and afterwards have coffee and lunch.
There are two types of beans in front of us: green ones which haven't been roasted and brown ones which have been. Roasting is simply the process of removing moisture from the beans and Jack explains that there is a difference between roasting and baking beans. If you have the incorrect amount of beans for the roaster, it will result in the beans being baked instead of roasted and this is not desirable as you will get brittle beans and a petrochemical aroma to the beans.
The beans that we are roasting today are arabica beans from the Santa Rita region in Guatemala . Jack explain that coffee depends on three things in equal measure: the farmer, the roaster and the barista. He puts 10 kilos of beans into the roasting machine and sets it to reach 205C. Espresso beans are roasted darker than other beans and even after they are roasted, they will be stored for 1-2 weeks for the aroma to develop. We watch as the coffee roasts and turns from a pale green to a dark yellow to a dark brown in its final stages. During this time, there are two stages in which the coffee "cracks" which is when it makes a cracking sound and this is caused by the beans expanding.
Jack examines the beans
The roasted coffee beans come out of the roaster and they're hot to touch but rapidly cool down. He takes large handfuls and smells them inhaling deeply for the aroma and to check that they've been roasted rather than baked. He also examines the beans carefully to see if there are any scorched beans. We find a couple but most of them are unscorched. He fills some bags with beans and reminds us that we need to wait 1-2 weeks for the flavours to develop. And before we know it, we are off to the next stop with our bags of coffee (which rapidly start to become fragrant over the next 24 hours!).
Kitchen by Mike, Rosebery
About 5 minutes away by car is Kitchen by Mike in Rosebery. Here it is a curious mix of food that would feel at home in a restaurant but it's canteen service with people lining up and having their food weighed. Even though it is cold and rainy, it doesn't stop a fast and furious trade with pretty much every table taken up with holidays kids and their families and nearby office workers out for a quick lunch.
Apparently it's a favourite spot for mums as there are wide spaces for prams. For shoppers, there is also a  Koskela shop that shares the same space. They sell plenty of covetable items and my credit card could get quite a workout here!
We're here for a super quick lunch as there is plenty on the agenda today. The food comes out quickly and has been preordered for us.
Chai
The chai needs honey as it is only lightly sweetened and tastes predominantly of cinnamon with the sprinkling on top. I prefer the spices to be a bit more even in a chai and I also prefer it when it is sweetened with honey.
Bread and butter
The bread has a lovely crunch on the outside and is soft on the inside. It's served with some creamy butter. Prices here aren't inexpensive though and as this was a set lunch, I'm not sure what the exact prices were but I did see that the butter was $3.50 a slice. The rest of the food is charged by weight and although it is canteen style in service, the prices are definitely not that of a canteen and friends that have dined here have spoken of small servings.
Beetroot, chickpea salad
The beetroot, chickpea and dill salad is very good with pieces of creamy, salty feta interpersed through the simple vegetable salad dressed in oil, vinegar and herbs.
Baked sweet potato
The baked sweet potato comes as gigantic pieces of roasted, caramelised sweet potato with a raining of pomegranate seeds, Nigella seeds and a sweet honey dressing. Alongside this is a delicious spiced yogurt dip.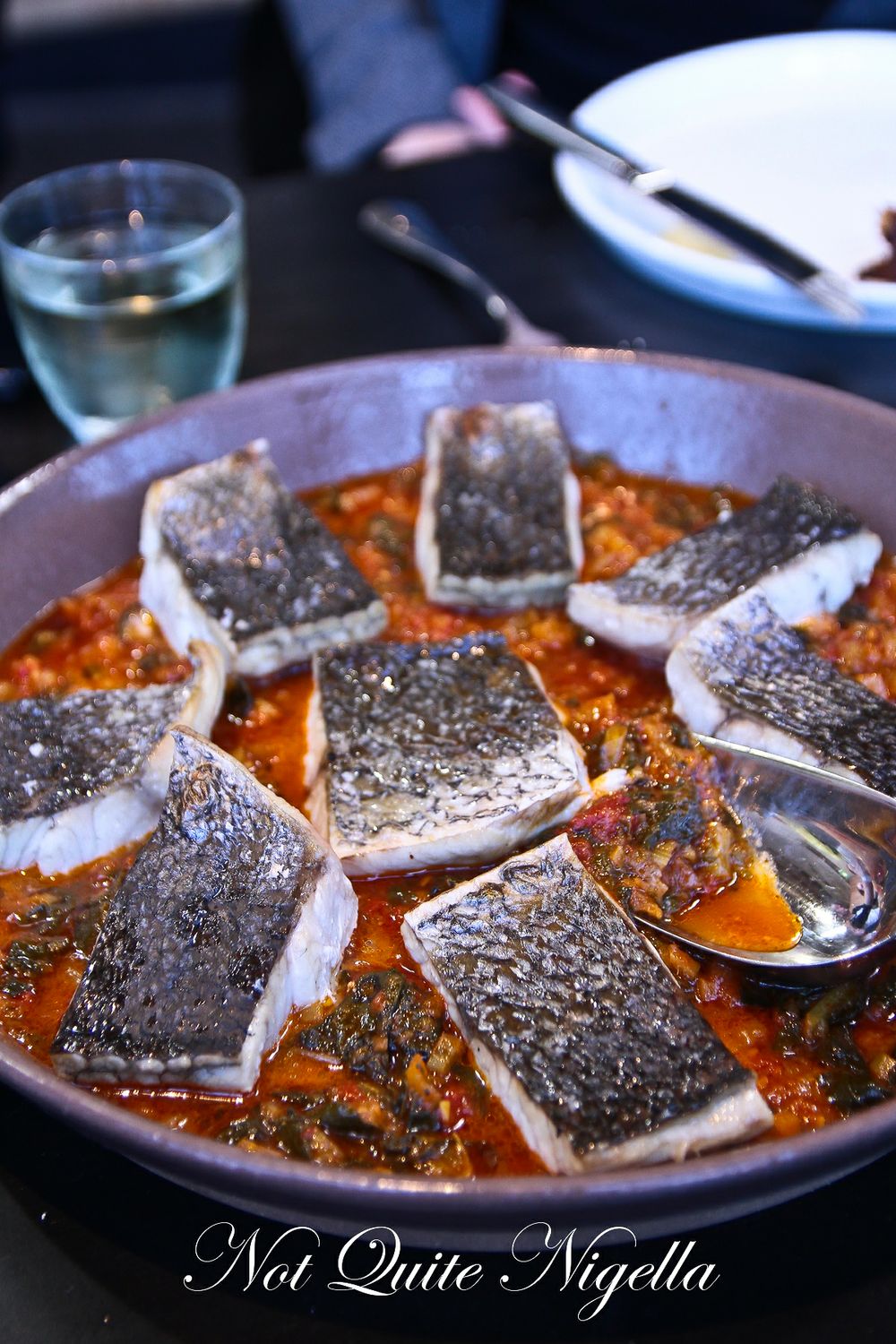 Fish
Every now and then, when I come across a picture that I like, I might just add a bit more information about how it was taken as a few people have emailed me about this. This picture of the fish is one of my favourites and was taken on a Sigma 17-50mm F2.8 EX DC OS lens, focal length 35mm, ISO 400, 1/100s. The fish needs a little seasoning but it's simply roasted with a roasted vegetable sauce to accompany it.
Display at Koskela
Alas there isn't time for any dessert as we are due upstairs at "The School" for some more fun! Now I'm not creative like those fantastic crafty types. I once tried to carve fruit and that turned out to be an unmitigated disaster that people refer to simply as the "banana sculpting" incident accompanied with a look. When I describe my crafting skills I use the term "low level crafter." So when I'm told that flowerbombing is the latest thing and it can be easily done, that makes me very excited indeed!
The "I Made It" classes are headed by Megan Morton who is a very talented stylist and works on ad campaigns and magazines. She holds classes herself and also brings in people like Holly Hipwell who has revived the flowerbomb or floral pomander and she is taking our class today. How hard could it be? Or how simple? Holly recommends using flowers such as carnations, roses or dahlias as there are many flowers that don't suit flowerbombs.
Unashamedly bossy, confident and just a little bit cross, she combines her words with a little girl voice and humour to soften the blow (she tells us that she has recently had to take "charm" classes to avoid offending potential clients). In front of each of us is a bucket of cold water, a florist's foam sphere and a pair of scissors. At the front is a wheeelbarrow full of carnations in some beautiful hues that Holly picked up this morning. To make a flowerbomb, you want carnations or flowers that aren't buds as the open flowers are what give the flowerbomb its burstingly full look.
My flowerbomb colour scheme
First things first, what colours do you want in your bomb? You need to decide that first. Each bomb takes between 3-4 bunches of carnations. We take three bunches of our favourite colours from the wheelbarrow.
Spreading open the buds
The length you want the stems to be
She starts with demonstration how to cut the carnations. The key is to cut the flowers 1.5 cms from the base as shown above. Cut the flowers at an angle to allow the flower to pierce the foam and also water to soak through. Pop the foam into the water but don't submerge it and within minutes, it will sink into the water on its own accord (if you submerge it, she says that you end up with a wet outer sphere and a dry core).
After trimming the carnations, we place the balls in the glass jars and begin inserting the flowers into the now wet florist ball. It's surprisingly quick and only takes about 10 minutes once the flowers are cut. To put flowers on the bottom, you upturn the flowerbomb as the carnations are sturdy flowers and simply continue placing carnations in them.
Bouncing the flowerbomb gently to ensure that the flowers are at the same length
To insert the ribbon, find the top of the netting and hook the ribbon through the netting near the ring (you may need to remove some flowers to do this). Et voila, here's one I prepared earlier! ;) You can sit these on vases, buckets or hang them up with ribbon. Mine is sitting at home in a vase on a shelf and I honestly smile every time I look at it.
Later that evening, I'm taking part in one last adventure. Secret Foodies is the fun guerilla dining experience started by the fabulous Ms Darlinghurst aka Alex Adams. At 4;30pm that afternoon, I received a text from Ms Darlinghurst telling us that our evening was starting with cocktails at The Roosevelt in Potts Point and we would be headed somewhere else afterwards.
At the former site of Apres, walking in is like walking into a set for Mad Men mixed with Art Deco themes.  A cocktail trolley sits to one side and waiters and staff dress you as ma'am and wear suits and 50's style dresses. The building was opened in 1947 by Abe Saffron and has seen performances by Sammy Davis Jr, Ella Fitzgerald and Frank Sinatra who were all flown in to perform. Saffron got around prohibition laws by having staff take orders for drinks before 6pm but serving the drinks later. In 1957, the then police commissioner declared it a "disorderly house" having breached many liquor laws and Saffron was forced to sell the Roosevelt. Since then, there have been various restaurants and even a radio station at this location.
The cocktail menu is a list of their top 30 cocktails whittled down from a list of 300. They truly do seem to have fun with
the cocktails and their way of serving is worthy of a theatre stage. They also pass us a note from Ms Darlinghurst and I take a peek. It's a handwritten note telling us that our next destination is on William Street.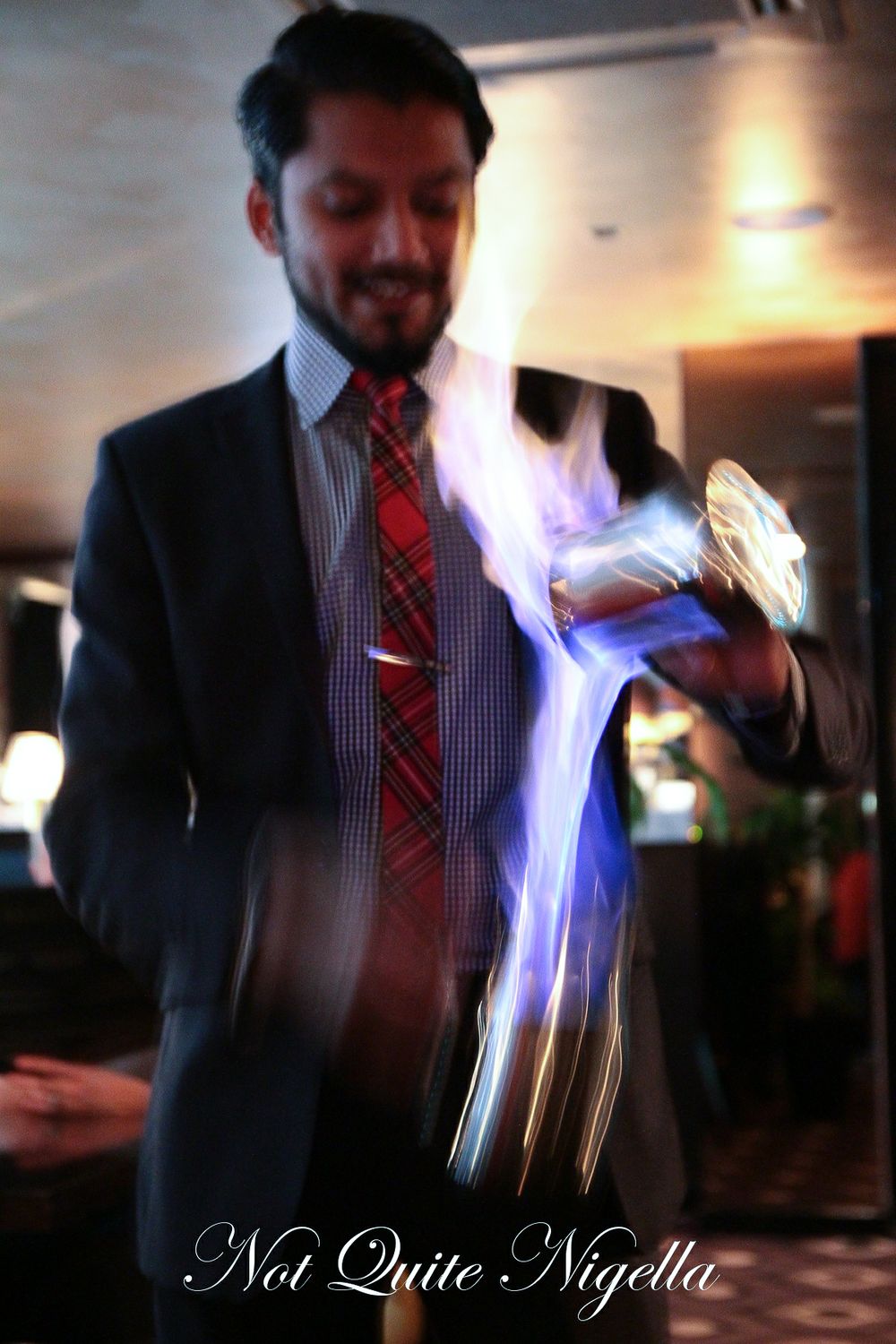 @BoozeGenie preparing The Roosevelt Blazer cocktail
The Roosevelt Blazer is described as "muscatels, figs, cinnamon & burnt orange infused Ron Zacapa is set ablaze and spiked with a dash of coffee & tonka bean bitters. Served with caramelized Moscovado sugar and garnished with a selection of warming spices. Accompanied by a side serve of muscatels, toasted orange slices, dehydrated fruits & Pedro Ximenez dried figs." It comes with quite a floor show too and initially I was going to order this but as I'm hopeless on strong cocktails I was gently advised to go for one of the cocktails on the bottom of the menu. I did attempt a sip of this but the fumes almost made me pass out! ;)
Nitro Colada $ 23
Come to mama! Mine was utterly perfect for me. Described as "whipped fresh pineapples & coconut cream with liquid nitrogen into a house made Pina Colada Sorbet that is crowned with a blowtorched meringue and accompanied by a large measure of coconut infused Pampero rum." You can see why it's the kind of cocktail for me right? ;) It's really a dessert combined with a cocktail and it isn't strong enough to knock you out but is fun enough to give you a little buzz. Like a frozen tropical dessert topped with fluffy torched meringue this is fun and so drinkable... or should I say edible.
Cocktails, false courage and warmth taken care of, we make our way to the secret address. We arrive at the William Street location and Ms Darlinghurst greets us and we take the elevator upstairs. Secret Foodies arranges for dinners at restaurants or arranges private dinners at special hand picked locations. I've been to another Secret Foodies event and if I were to write a top 10 list of fun food things to do in Sydney, Secret Foodies would definitely be on the list.
The Secret Foodies dinners can be themed, for special occasions or just for a group of friends to get together. Tonight's experience is a private dinner and is at a photographic studio that they've converted for the evening. Ms Darlinghurst's go to chef for these events Sarah French welcomes us and shows us the bread board.
With Pepe Saya butter mixed with truffles, Sonoma bread, volcanic black salt and a fresh truffle to shave on top of the bread it's a delicious start and before I know it, I've polished off one slice before I've ever gotten to the shaved truffle-oops!
Coq au vin
Our main is a winter warming dish of coq au vin. It's paired with a creamy mash and roasted vegetables on the side. The
flavour is rich with sage and some thyme and we make quick work of this rich and wintry dish. If only I had kept some bread to mop up the sauce!
It comes with an assortment of roasted winter vegetables which are sweet and caramelised from their time in the oven.
Dessert is another winter warmer with a bread and butter pudding with rhubarb and yogurt on top. The topping with the rhubarb is tangy while the custardy, buttery layer underneath is sweet and creamy.
One last course-cheese! There are two cheeses here , a lovely "stinky" Pico and a Dauphonoise double brie along with quince paste and water crackers.
I might just have to revise this whole staying inside thing...
So tell me Dear Reader, what's your favourite type of cocktail? A sweet, light one? Or one that is strong with a mix of alcohol? And are you good at crafts or are you a low level crafter like me?
NQN explored these places as a guest of Destination NSW and stayed at The Darling
The Grounds
Building 7A, 2 Huntley Street, Alexandria, NSW 2015
Tel: +61 02 9699 2225
Coffee cupping classes are held every Friday at 12pm
Kitchen By Mike
Shop 1, 85 Dunning Ave, Rosebery NSW 2018
Tel: +61 (02) 9045 0910
The School
Unit 2/85 dunning ave rosebery nsw 2018
Tel: +61(02) 9693 2782
theschool.com.au
Secret Foodies
http://secretfoodies.com.au/