When I first told people that I was going to Oman, there were a few different responses. Some mistook it for the Aman resorts, some mistook it for Amman  and a few people actually knew where it was, next to Dubai, Yemen and Saudi Arabia on the edge of the Arabian sea and the Gulf of Oman.
Curious about this country that you may not have heard of before? Until 1970, very little was known about Oman as its walls were high and the country was well hidden. One might presume that because of this recent introduction to the rest of the world that perhaps Oman is one of the more conservative countries in  the middle East. That's not necessarily so, which I would learn.  Buildings show both Arabic and English names. There is no income tax and education and health is free including tertiary education.
The Middle East is mysterious to many, mostly because they haven't visited it. It is diverse and for those who like to discover a place before the tourists swarm, Oman is on the verge of hitting its touristic stride. Developments for the latest Missoni and Louis Vuitton hotels are set to be completed in 2014 and 2015. But if the idea of getting in before everyone else appeals, then the time is before they finish.
Oman's official name is the Sultanate of Oman and is ruled by the monarch the Qaboos bin Said al Said. Despite the reputations of their high glam neighbour Dubai with the tall buildings and artificial snow fields, Oman is quieter, the buildings smaller and all is not desert in Oman as we would soon learn. Souqs (markets), dates, wadis (lush valleys) would all become known to us.
We arrive in the capital of Muscat. It's hotter than we've ever experienced here and I take a look around. Women are wearing traditional abayas dress with niqab (veils) and men are wearing dish dashas with a tassel hanging down from the collar. These tassels would traditionally be dipped in perfume. On their heads they wear  either kumma, a round hat or msarr which are wrapped like turbans. Most people are in traditional dress. Arabic is the first language although English is widely and well spoken.
And what about the food of Oman? We start at the best place to find out about any sort of food, the markets. Our guide Abdul shows us Muscat's daily vegetable and fish markets which are fascinating. It is late July and it is coming towards the end of the date season. Dates are used extensively in Omani cuisine. Abdul tells us that when his father was growing up in the 50s, he ate only dates, Arabic bread and dried fish. Indeed much livestock is fed on dates and there are countless varieties of dates in Oman.  The yellow dates which come last in the season are called khalas and when they arrive, it signifies the end of date season.
Vendors sell boxes of dates outside the markets and there is an abundant supply of them. One of these boxes of Omani dates will set you back 1 OMR or $2.50AUD.
We come across fascinating fruit that we haven't seen before. Looking like an olive, zam fruit has a sweet, chalky taste to it.
The butt fruit (pronounced boot) resemble blueberries in shape and size. They are wonderfully sweet and syrupy with a little hard peppercorn sized pip in the centre. It's like a very sweet, juicy and round red grape crossed with a syrupy sweet berry. I could eat cups of these little gems.
A friendly vendor offers us tastes of red and yellow dates. Oman dates are different from Medjool or California dates which are large, wrinkled and rich. Omani dates are syrupy inside when ripe and are smaller in size. A bite into the thin skin produces a little spurt of addictively sweet date syrup. The vendor's stall sells honey in tall bottles, dried limes,  piles of dates, dried shark and za'atar which he encourages us to rub between our fingers to smell. He also sells Omani garlic which at 5 OMR a kilo is more expensive than Indian and Chinese garlic but is much more potent.
Our nose leads us to the fish section of the market which is open from early until 10am when the sun becomes too strong.
The fish in the top right picture is a skeel which is a prized fish with white meat which fetches 35 OMR or about $80AUD for the whole fish. The vendor proudly shows off its blood red gills to me. We watch a small fish auction which is taking place outside. A man haggles a price with the vendor for a large pile of fish on the tiles.
Another man cuts at kingfish and there's a bowl of maleh or salted dried fish to his right. Dried fish is a common ingredient in traditional Omani cuisine.
We drive to nearby Mattra Souk which is the most famous souk or market in the country. Look for the Muttrah cornice and enter the doors to find a labyrinth of treasures. The undercover market full of clothing and jewellery and traders spruik their wares chiming in after one another trying to catch your interest. It's enormous and there is some beautiful jewellery. Clothing, well, it tends to be blingtastic with no shortage of sequins and baubles.
We arrive at the Chedi Muscat. While there are 5 star resorts down to whatever you might like, there just aren't in the same number as surrounding countries. The Chedi is set against the backdrop of the Al Hajar (The Rock) mountains, a sepia backdrop to the surrounding white houses and low rise buildings.
The lobby is all aglow with a stunning lighting fixture which glows a steady amber and ruby. Service is deferential and extremely polite and the overall impression is that of a serene oasis. The smells of flowers and scents occasionally wafts under noses - Oman is a something of a perfume capital which we will later discover.
Special mention should be made of the hotel shop. Although clothing in Oman is generally quite different to Western tastes, the Chedi's surprisingly large store has stunning clothes and homewares although the bowls that I was coveting were 118 OMR/$290AUD each and the dresses were about 123 OMR/$302AUD.
A private beachfront affords sun bathers views of the Gulf of Oman coast. Our rooms, Chedi Club Suites are flowing spaces decorated with Omani and Asian influences. The sitting room has a long lounge and in one corner sits bottles of complimentary vodka, gin and whiskey as well as pistachios, almonds and dried apricots.
The mini bar is also complimentary in the Chedi Club suites and the whole space measures an enormous 67 square metres. The rooms are moodily lit; they never quite reach the point of brightness at night and remains a seductively lit space made for couples.
Walking through to the bedroom, there is a king bed and in some Chedi Club Suites, there is a domed ceiling with a chandelier hanging from it on top of the bed. There is a Bose sound dock and there are two televisions, one in the sitting room, one opposite the bed and there are his and hers everything. There are two areas in which to sit in the bedroom in front of a mirror; in the bathroom there is two sinks and two closets as well as two bedside phones.
A sunken terrazzo tub faces you as soon as you walk into the bathroom and there is also a toilet with bidet and a separate shower. The products stocked are by Bvlgari and include soap, shampoo/shower gel, conditioner and body wash and there are also cotton tips, pads and an emery board. Nice light robes and slippers are also provided.
As we've been flying for almost 24 hours a quick shower is most certainly in order, given the heat. I slip into a dress and heels and negotiate my way back to the main lobby area. There are 158 rooms and the property sits on 21 acres of gardens so it's not impossible to get somewhat lost although you'll never stray too far away. I could say that I inadvertently tried... ;)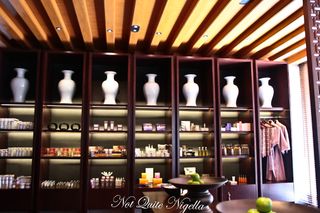 The Chedi Spa is in a separate building from the main lobby, where a golf buggy will deposit you if you wish. It is beautifully appointed and we take a glass of iced hibiscus tea and cool down from our walk. We are then shown into the relaxation room where the view is a heart stopping blue and green from the sea. There are teas and magazines to read while waiting for your therapist.
After a few minutes, they come to get us and we are led into our treatment rooms. My therapist Sheera tells me that I am having an Organic Naturelle D'Orient facial using a French made skincare line made with Morrocan Argan oil. It is said to contain omega 6 and 9 fatty acids for anti ageing and cell renewal. The facial is 35 OMR/$84AUD.
\
Clockwise from top left: the view from the relaxation room, iced hibiscus tea, flower display and lounges in the relaxation room.
She starts with a shoulder and upper arm massage with their heavenly orange cream and then proceeds to the cleanse. After this is a diagnosis and then she starts the rest of the facial which includes extensive massage on the face and arms while one of the masks infuses. We finish with another glass of iced tea.
Dinner is at the main restaurant called "The Restaurant", an enormous space that boasts five open kitchens and a bar. There is a pastry kitchen and Western, Asian, Middle Eastern and Indian fare. The restaurant was designed by Japanese architect Yasuhiro Koichi of Design Studio SPIN and this Sunday evening, it is quite full. Crystal chandeliers are suspended at different lengths.
_Cold mezze plate 2.50 OMR/$6AUD a person _
We start with a hot and cold mezze plate. The cold plate has tabouli, quarters of Arabic bread, smokey baba gannoush and the smoothest, creamiest, dreamiest hummus. It's addictive and so good that I ask for the recipe which I promise to share if it works out! ;)
The hot mezze plate has a range of items including felafel, halloumi, lamb kofta which I particularly enjoy. But I keep going back to that hummus which is just so lovely.
This is enormous and to be honest I had no idea that it would be this big because I knew that I wouldn't be able to finish it. The large lobsters are a bit tougher so it makes it difficult to eat it although the Arabic spices with sumac are good. It comes with a bowl of long grain rice and try as I might, I just can't finish it.
A better choice was the local fish, a hammour fillet, a firm but moist white fleshed fish served with fried cauliflower, tahini sauce and baba gannoush.
And is there room for dessert? I make the fatal mistake of checking my phone which shows me the Sydney time of 3am so we take dessert to go in a box. I choose three macarons: a halwa which tastes of sweet sesame seed halwa, an orange and lavender which is strong in lavender and a saffron rose, resplendent in that honeyed flavour of saffron. And I sleep happily ever after with the intoxicating perfume of Muscat perfuming my dreams.
So tell me Dear Reader, have you ever been to the Middle East and what did you think of it? And which country would you want to visit to get to know better?
Fish and Vegetable Markets
Dhow Harbour, Oman
Old Muttrah Souk
Al Bahri Road, Muscat, Oman
The Chedi
North Ghubra 32, Way No. 3215
18th November Street, Muscat, Sultanate of Oman