Travelling from the cool climate, laid back sprawled area of the Salalah region to the back into the heat of the city Muscat by plane, we exit to a warm cloud of humidity that we gradually acclimatise ourselves to. We have a late lunch at a Omani restaurant which has African influences called Zanzibar. Said to make home style food they offer choices from their cookers and they are kind enough to let me into the kitchen to choose what to eat.
What is fascinating about this restaurant is that the walls are virtually a photographic history of the royal family of Oman. Framed pictures cover every inch of wall space. You can even find quirky photos like the record breaking racing camel that sold for 500,000 OMR/$1,250,000AUD.
We sample a bit of everything including their qabuli which is traditionally an Afghani dish made with rice and chicken cooked into it. It's much like biryani which they also have. Other items on the plate include a creamy cassava which is a little bland; slow cooked beef which is delicious; chicken curry; fantastic beans and spinach and fish.
The African pickles pack quite a punch and are filled lemon and carrot. Their heat matches the outside temperature!
We wash this down with karkade juice which is a wild hibiscus flower, not unlike cherry or blackcurrant. Along with this is tamarind juice which is lovely and sweet with a fruity, tangy flavour to it and sweet passion fruit juice.
Sweets are diamond shaped coconut bites which are like coconut ice with a slightly Scottish tablet-y texture to them.
And of course bowls of dates to customers to help themselves to!
Our hotel for this evening is the Shangri-La which is about 50 minutes drive from the airport. Interestingly, many of the top hotels are a drive away from the city centre. Driving through the area of Siddab is an interesting one, once you leave the city centre the view gives way to some truly beautiful scenery. The mountains set a dramatic backdrop to the traditional white Omani fort style low lying houses with the blue Gulf of Oman to the left and the mountains to the right. The views are lovely and at times, slightly incongruous with the mountains displacing any images of desert country in favour of mountainous European regions.
Interestingly, the Shangri-La hotel is actually made up of three properties catering for different types of guests. The Al Waha (the oasis) is family oriented, Al Bandar (the town) is more of a business hotel and Al Husn or The Castle is the  luxury hotel where we will stay the night. Separate driveways lead guests to each one and the Al Husn towers above the other two. Al Husn's design is based on Omani forts and Moorish architecture and all three hotels share views of the coastline and have no shortage of eating options with 20 restaurants between them. A refreshing lemon and mint welcome drink and cold towel awaits us which is a lovely respite from the  heat.
There is a daily complimentary afternoon tea from 3:45-4:45pm (damn, we missed out by 15 minutes!) and nightly complimentary cocktails from 6-7pm. There is also a 24 hour gym and guests can also borrow iPods. The Al Husn resort only caters to adults and children over the age of 18.
There are 179 guest rooms and we have a deluxe sea view room (room 1116) which is 48 square metres. The room has a stunning view of the beach and a spacious balcony. The king sized bed and bedroom is decorated Moroccan style with beautiful hanging lanterns and Moroccan lattice screens. The non alcoholic items in the mini bar are all complimentary as is the internet (hooray!). The only surprise is a non plasma television.
The marble bathroom has a separate bath and shower and the bath has a lattice screen that can slide across so that you can gaze out to the ocean while taking a bath (yes, that's the plan after dinner!). The toiletries are by L'occitane and include shampoo, conditioner, body lotion, soap, shower gel, toothbrushes, sewing kit, razor, mouthwash, loofah, shower cap, cotton buds and pads, comb, and emery board. There are also four complimentary bottles of water.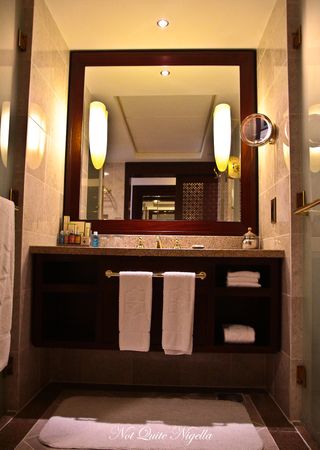 There is a toilet alongside the bidet and the shower has two heads. The walk in robe is spacious with an iron and ironing board, slippers and robes.
After a couple of hour's work, it's time for dinner and tonight we are booked in to the Shahrazad restaurant, a Moroccan restaurant which we are told is the only Moroccan restaurant in Muscat with Moroccan chefs. Inside the restaurant, it is absolutely stunning. Moroccan screens, incense, spices and tagines are recurring decorative motifs and on the ceiling is the twinkle of lights, as if you were dining under the stars. Booths are comfortable and luxurious and the overall feeling is that of opulent, elegant comfort.
After I finish gawping at the stunning surrounds (and almost walk into my own reflection in the mirror at the end of the restaurant! ;) ) we get down to ordering. We're dining from the Moroccan experience menu which is where they will give us the signature tastes from the menu. At 30 OMR/$75AUD, it is a good way to sample several dishes for the undecided.
We start with some bread rolls and some divine harissa paste which is spicy but not with mouth burning fury. It's paired with Moroccan olives which are salty and quite firm.
Our first course is a selection of dips including sweet pumpkin topped with crushed nuts, carrot half moons, fava beans, lentil and my favourite the spinach dip and eggplant dip which has a wonderful depth of flavours.
There were two types of pastries, the triangle was a baked crunchy filo pastry parcel filled with finely minced spicy and herbed chicken which was my favourite of the two as well as the cigar of filo pastry filled with lamb minced flavored with ras el hanout spices. Both had an earth shatteringly crunchy outer when we bit into them but the balance of spiciness of the chicken won me over just a tad more.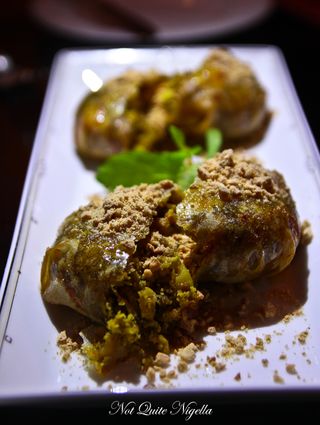 Whenever I see this dish, I love to order it because it's such an interesting combination of sweet and savoury flavours. Typically a Moroccan wedding pie, this crunchy pastry is filled with pigeon meat, crushed almond and scrambled egg in nutmeg and cinnamon sauce covered with honey and more crushed almonds. Although it does err to the sweet side (I've had versions that are dusted in icing sugar at other restaurants), a topping of harissa brings it back to the savoury side and really complements this dish. And for a crispy pastry addict like me, it's one of my favourite dishes.
There's quite a break between the entrees and tagines which come out next. All four come out at once and we start with their signature tagine. Said to be from the city of Fes it was large pieces of tender lamb braised with onions, ginger, saffron flower, cinnamon served with pieces of boiled egg, honey prunes and grilled almonds. It has a lovely sweetness to it from the honey prunes and the lamb was tender.
My favourite tagine was the very common Omani fish called the hammour. The fish was marinated in Moroccan olive oil, lemon juice, garlic and array of spices and herbs. It was then cooked in a spicy tomato sauce and served with bell pepper and potatoes. The fish was cooked perfectly and the thick tomato based sauce was full of flavour with the right balance of herbs and spices.
Tagine djaj mkelli 8.500/$21.33AUD
The chicken tagine had four pieces of chicken on the bone that came off easily. From the city of Tétouan, the braised chicken had onion, garlic, saffron, chicken liver, preserved lemon and Moroccan olives. The preserved lemon gave it that distinctive salty lemon flavour.
The fine grained semolina couscous was fluffy and served with carrot and zucchini batons and chickpeas in the centre.
Even though there wasn't much room left at the inn, I could resist when I heard that the dessert was a pastry. The kounaffa is like a Moroccan mille feuille with wonderfully crunchy filo pastry layers, filled with saffron cream, crushed roasted almond, icing sugar and cinnamon and topped with a scattering of more crushed roasted almonds. The roasting of the nuts really brings out the flavour of them and thick creme patissiere is a voluptuous foil for the crunch from the filo and nuts. It's the kind of dessert that you might find it hard to stop eating. Well, that's my excuse ;)
And my other excuse for going back to my room? The bath!
So tell me Dear Reader, do you usually dine in house at hotels or do you usually go outside for dinner? And when you're offered complimentary high tea or cocktails, do you make sure that you get to try them?
Zanzibar Island Restaurant
Near Porsche Garage, Al Ghubrah, Muscat
Al Ghubrah, Oman
Tel: +96824510120
Shangri-La's Barr Al Jissah Resort and Spa
http://www.shangri-la.com/muscat/barraljissahresort/