All the plans were in place for an easy Saturday night dinner catching up with my friend Mystery Guy. I had called a restaurant in Glebe, a place I had been meaning to go to for years, and I turned up. Curiously, Mystery Guy was waiting for me outside. "I have some not so great news" he said, looking serious. "They don't have any trace of your booking." And indeed they did not. An offer to call us if we went to one of Glebe Point Road's bars proved fruitless and when they hadn't called within 10 minutes as promised (we actually waited about 30-40 minutes), we wandered down the street.
"How about the Szechuan place at the end of the street?" he suggested and I was instantly mollified. I had wanted to visit there for the longest time. Having reached the top end of the street, we saw that there were two Sichuan restaurants, one hot pot and one regular, the latter having a menu outside to peruse and on the basis of that, we decided to go there.
Inside, it was full of large groups and families enjoying enormous lobsters and plates of steaming, chilli laden food. It was just what I was in the mood for on this surprisingly chilly evening. Many items on the menu had a 1-3 chilli rating and our initial thoughts about what was good was quickly put aside by the waiter who steered us away from what we thought we wanted to what he recommended. "Don't get the crab" he told us and then added quietly "it's frozen."
Chinese tea was brought as well as small wine glasses for the wine and before we knew it, the food started arriving. A stainless steel bucket of rice came along with the first course, lamb ribs with spicy sauce. It's an enormous serve of cumin scented lamb with chilli and green onions scattered on top. The lamb ribs themselves are juicy, fatty and tender with an almost sticky quality to them and the heady perfume of cumin. If I were more gluttonously inclined, and I never feel far from it, I would have polished off the whole plate.
The stir fried prawns were rated with three chillis and they are hot although still completely edible for us. This dish has the tongue and lip numbing Sichuan peppercorns, sesame seeds and a generous amount of medium sized curled prawns and diagonally sliced cucumber as well as an abundance of dried chillis. After every bite of this dish, my tongue got that unusual metallic numbing flavour from the peppercorns.
I know, this is a lot of food for two people but we rested assured that we could take some home with us. Said to be the most popular dish at the restaurant, the deep fried spring chicken came on the bone under a blanket of chopped peanuts, sesame seeds and garlic. The aroma of garlic completely hit us as soon it approached the table. The chicken is plentiful and soft and quite sweet in flavour with a nice fiery hit from the chilli oil.
"Do we need vegetables?" it suddenly struck me when we were ordering this meat-fest.  We went with the opposite of this rich, spicy food and instead Mystery Guy chose the spinach with vegetables which were soft and mild flavoured. It was a complete contrast to the previous dishes and the perfect antidote should the fiery, numbing effect overtake.
There's so much food, enough to fill four containers and they oblige and pop these into laminated paper bags, just as if you were buying something in a boutique. By now, it's 10pm on a Saturday night and I look out of the corner of my eye. "Did they just wheel a blue garbage bin and some shopping trolleys past us through the front door?" I ask Mystery Guy and sure enough, a steady procession of blue council garbage bins and supermarket shopping trolleys glide past us out the door. Just behind them is everyone else in the restaurant as we find ourselves the last two diners. We're still going with the wine but then there is the not too subtle bringing of the bill and the smiling face that hovers hoping that we'll just go. Sigh...Sydney on Saturday night!
So tell me Dear Reader, do you find it frustrating finding somewhere that opens late at night? Or do you prefer to eat early?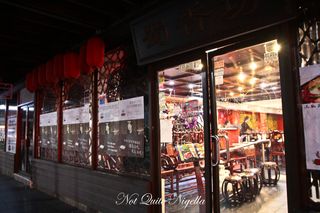 Spicy Sichuan
1-9 Glebe Point Rd, Glebe, NSW
Tel: +61 (02) 9660 8200