"What on earth is she doing" I overheard another mum say to my mother one day.
I had my head buried in an book on animals and I turned the page and a picture of a snake appeared. Repulsed, I shut the book quickly and threw it down. I picked up another book on animals and after reading through that for a while, came across a picture of an earth worm. I gagged involuntarily and refused to touch the page using a pencil to turn the page instead of my hand.
"She refuses to touch pictures of animals that she doesn't like. She thinks that they'll come alive if she does" my mother explained. What my mother also didn't know if that I refused to get changed in front of photos because I thought that the people in the photo could see me.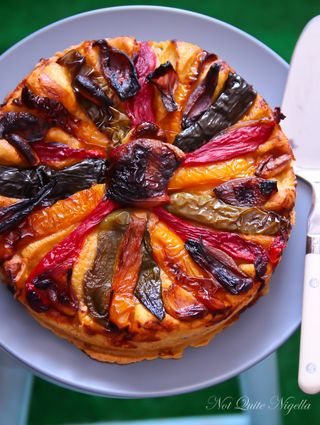 Even today I still refuse to touch pictures of snakes and worms and it's a habit I've kept since I was little. Other pictures, however, are meant for drooling and I would be only too happy if only they could appear and come alive when I touched them. I first saw this bread on Kelly's blog KellySiewCooks and within seconds, I was slack jawed and drooling and I immediately put it on my "to bake" list.  It was a recipe from chef Franck Heuze for a Mediterranean Foccacia. Admittedly, it wasn't the easiest bread but the effect and her photo of it sliced up made me want to eat it.
Describe as a crunchy crusted bottom with a spongey top layer filled with flavoursome roasted vegetables, it was a meal in itself. The vegetables are roasted until the sweetest flavours emerge and the filling made up of cheese and olive tapenade (my changes to the recipe) and the spongey foccacia centre and crispy base make it hard to resist. I call this rainbow foccacia for the colour and stripe effect of the vegetables.
So tell me Dear Reader, did you have any unusual habits as a child? And do you always butter your bread?
Rainbow Foccacia
255g bread flour

184g water

1 teaspoon yeast

30g polenta

3/4 cup olive oil

1 teaspoon sea salt

1 each of green, yellow and red capsicums

1 zucchini

2-3 Red Onions

Salt to taste

Juice of half lemon

4 tablespoons olive tapenade
Step 1 - Put flour, warm water (about 40C/104F), yeast and polenta in the bowl and mix by hand. Knead for 5-10 minutes (if you have a stand mixer, set it to slow for 5-7 minutes). Cling film the bowl and allow to rest of 60-90 minutes in a warm place until it has tripled in size (if you're in a cold climate, I recommend placing it in a metal bowl that sits in another bowl full of hot water to encourage it to rise-change the water a few times to keep it warm).
2. Meanwhile, roast all the vegetables whole in oven with gentle splash of olive oil. Cover with an aluminium foil and cook in 170C oven until soft (about 20-30 minutes). Set aside until needed (few hours to overnight).
Step 2 - Add the salt and start mixing in slow and then increase to a medium to high speed and add the olive oil gradually while mixing hard. You want the dough to come away from the sides-it looks like it won't but keep beating, it will do so after about 5-7 minutes. Set the dough aside and leave it to rest for 1 hour, then place it in the fridge until the next day.
Step 3 -  The next day, remove dough from fridge. Line a baking tray with parchment and place the dough on top, allow to relax for 20-30 minutes.
Step 4 - Cut the vegetables, capsicums into strips and quarter the onion. Season with lemon and salt.  Place half of them on the dough and fold the corners over the vegetables, carefully not to overwork the dough -use the sides of a baking tin to make a round shape if desired. Allow to rise for 30-40 minutes. Scatter the rest of the vegetables on top, arranging nicely.
Step 5 - Bake at 235C oven for 25 minutes, you might need to cover the top in the last 5 minutes. Use the leftover juice from roasting the vegetables to brush on the top. Once cooked, allow to cool down on the wire to retain the crispy crust. Split the centre open and spread with the olive tapenade.