Warning: this post contains graphic images and text
The bus rumbles along the road sharing the road with a herd of slow moving cattle. We cross a stone bridge and a mother hanging up the washing looks out from the distance from her backyard with two babies clinging tightly to her. Another woman tends to a wok at her street side eatery. Welcome to a tea pilgrimage in China's Yunnan province.
Tea is as fundamental to Chinese culture as food and each region of China grows its own type of tea. In Yunnan, Puer tea is the predominant type of tea grown. It's one of the most sought after teas commanding some of the highest prices in the world. Tea can be freshly harvested and dried or it can be aged-much like wine, the older the tea, the more expensive.
In the tea ceremony, the tea pet is usually in ten shape of an animal-commonly frogs or dragons are used and the tea or water is poured over them. Fermented tea produces a different result than unfermented. Indeed, if you pick up a brick of fermented tea it is hard to detect an aroma but bringing the unfermented tea brings a range of rich aromas. We are shown a special unfermented tea, not a Puer but its lovely with a distinct apricot aroma to it.
Like wine, some teas are made to age. Fermented tea is set drunk straight away whereas unfermented can be aged and develops flavour over time whereas fermented remains unchanged. Fermented tea is also uniformly dark so it is often used to mask lesser quality teas. Generally the more lighter tips the better the tea and this can only be seen in an unfermented tea.
All images taken on a Sigma 17-50mm F2.8 EX DC OS lens
Other factors determine tea price and one of the largest factors is the tree from which it came. There are three types of trees, the first being the terraced tea trees that use fertiliser-these produce mass teas. These are picked every week because the leaves grow so quickly because of the fertiliser. The second type of tea tree is the taller, ancient tea tree that rises high above the ground away from pesticides and fertiliser. These are picked every 10-12 days as they grow slower than the terraced trees and these command the highest prices. These ancient trees make up a small percentage of all Puer trees (some guestimate around 15%). The third type of tree is a small bush that isn't terraced and sits somewhere between the two in price.
The other determining factor is the time of the year that it is picked. Tea picking season ranges from March 20 to August with the prized "Spring" tea picked March 20 to April 10. The tea picked on April 9th is said to be the best and even seasonal variations will not change this date. Tea connoisseurs can pick the difference between the dates and Spring tea is said to be shiny with more tea buds whereas tea picked after August is dark and dull in colour.
Leaves from the Spring period can command five times the price of tea picked during the rainy season. We pass a tea picker who is lugging an enormous sack of tea. It took four people five hours to pick this bag of tea and this will fetch them Y200 ($34AUD) whereas if it were picked from March to mid April they would receive Y1000 ($170AUD).
Our first stop is the area of Yuwu (pronounced ewu) one of the biggest trading towns of Puer tea. We walk through the traditional town where people peek out curiously and smile and respond to our "Ni hao!"  A woman smiles and looks out a small window while sewing and there are plenty of chickens roaming around as well as dogs.
We visit a tea store where large round trays of tea dry in the sun, a playing card indicating where and when the tea was picked. Enormous trays of tea sit drying on rooves. We stop at another house that usually conducts tea tastings but they aren't able to today so we move onto another.
At a six generation tea shop, a man takes out eight small glass cups and fills a small bone china cup with five grams of tea that has been aged for three to four years. He places the lid on and discards the first pouring as the leaves are considered too dry and then repeats the process filling everyone's cups with the hot liquid. The third or fourth pours are said to be the best  for flavour.
He shows us the various ways that they package the teas. There are long bricks of tea which were most commonly used in ancient times along the ancient tea route as they were easy to pack. Then there are the wrapped tea cakes or bing which are packaged in a set of seven. Each cake weight 357 grams and each cake sells for Y400/$68AUD with the prices of the entire package being Y2800 or $477AUD. Other shapes have the name of the seller embossed on top.
Warning: graphic photos and text to follow
We depart refreshed with the tea and make our way to lunch where we are to try Ghost chicken, one of the dishes of Dai cuisine, the Dai being an ethnic tribe in China. The restaurant is a local one where the whole family are involved. The family's mother and children cook or prepare the food and bring plates to the diners.
Ghost chicken is a simple dish which is made using black skinned bantam chickens. The chickens themselves are more expensive, a regular chicken is around Y40 or $6.81AUD while a black skinned chicken will set you back Y100 or $17AUD because they are more prized and take longer to reach size at one year and three months. Ghost chicken is so named because of the Dai ceremonial custom of offering up a boiled chicken to their recently deceased. There is another type of Ghost chicken which involves chillis, herbs and pan frying the chicken.
I watch as the mother in the family holds a knife to a chicken's neck and slices it  neck open. She holds it upside down so that the blood drains and then turns it on its side as it soils itself -she does this to ensure that the feces doesn't land on the body of the chicken. She lays the chicken down in a large metal bowl and goes to fetch a large bowl of boiling water. The chicken makes one last heart breaking spasm sending it out of the bowl.
She pours the water into the bowl and takes the chicken who emits one last dramatic breath before its neck collapses and dies. The chicken is then plucked of its feathers and the son takes over and chops it into pieces with a cleaver.
It then goes into a pressure cooker with two large ladlefuls of water and a slice of ginger where it will boil for twenty or so minutes so that the meat and skin fall off the bone.
The ghost chicken arrives in a large bowl. I fish out a piece of chicken which we are warned has plenty of small bones but is worth it. The chicken meat is soft and falls off the bone easily and the small pieces of dark liver are also tasty. The broth that comes with it offers comfort and flavour and I think of the chicken that only half an hour before was still alive.
Our next leg of our tea journey takes us to visit the Old Road where hundreds of years ago horse pulled caravans laden with tea took the route from Yunnan to Tibet to sell their Puer tea. Anapa our guide explains that it was often a dangerous job and there would often take twelve horses carrying the tea and if they made it there they would be rewarded with a horse of their own. The people leading the horses would feed the horse first as a sign of respect to the animal and then prepare their own food.
The process of fermentation was an accidental one that occurred on trips like these where it could take several years from picking to transport to sale of the tea and the temperature fluctuations meant that the tea would become fermented.
One of China's oldest tea trees
Our very last stop is at one of China's oldest trees, dated at 1000 years old. The tree itself is protected by padlocks and a cage to deter people from climbing the tree. Anapa tells us that it's an important tree because it shows the world that China had tree before Sri Lanka and India.
Back at the Anantara Hotel at the Mekong restaurant, diners can try out a unique tea infused menu. The restaurant itself is Asian chic with lots of chandeliers and a sparkling floral motif. Table settings are Thai or Asian in theme.
Poached salmon and asparagus with jasmine tea 
Our first course is a small square of  perfectly poached jasmine tea salmon. The salmon is beautifully moist inside and served cold and the jasmine tea flavour is subtle. It comes with two spears of asparagus and a salad, a little side of salsa and roasted sliced beetroot.
Duck consomme with Puer tea and pan seared foie gras
We can smell the aroma of the duck consomme as soon as it hits the table. It's aromatic and made with puer tea with spongy, rehydrated morel mushrooms and a small piece of pan seared foie gras in it. I would have loved a knife to cut up the foie gras but it's a gorgeous contrast from the rich foie gras to the clean, light consomme. The foie gras is sourced from a French company who uses Chinese ducks as foie gras has become popular here.
Steamed sea bass, lemongrass and puer tea risotto with saffron cream
I liked this subtle course with a fillet of steamed sea bass on a bed of puer tea risotto and a saffron cream.  The risotto is interesting because the first mouthful is sweet but then the flavour turns after a second or two and it become tannic from the tea. There are two pieces of celery which I must admit I didn't particularly go for but I liked the subtlety in this dish which meant that I could taste the tea.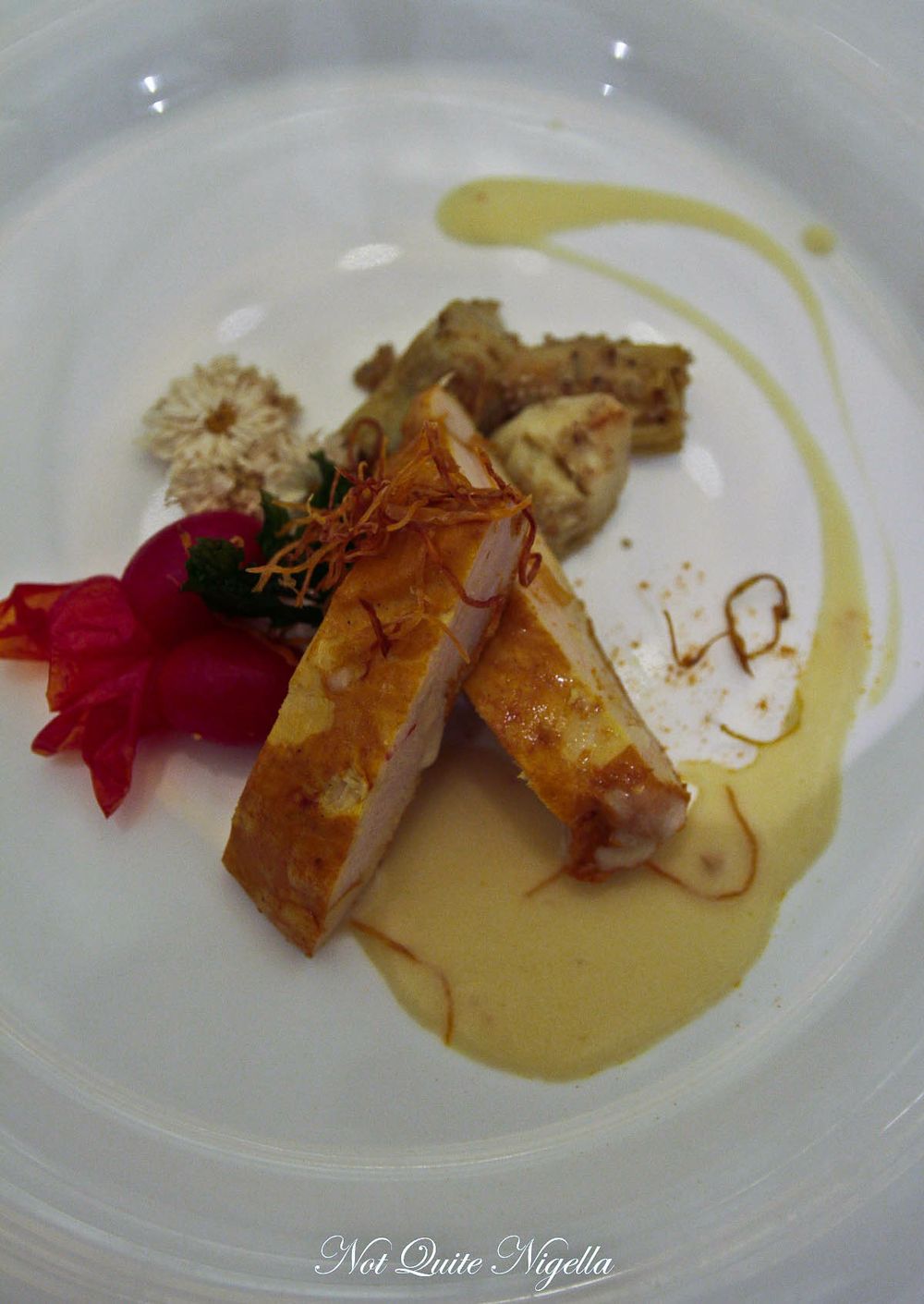 Slow roasted chicken marinated in turmeric, sauteed artichokes with quinoa and a chamomile tea sauce
Our last savoury course is made up of tender slow roasted chicken breast that is coloured and flavoured in a turmeric marinade.  It comes with a small artichoke heart split in two, a small amount of quinoa and a chamomile tea sauce and dried chrysanthemum blossoms. The sauce here with the chamomile is quite tannic, less so that the previous sauce but it also doesn't have the sweet burst at the beginning.
Green tea and blueberry tiramisu and puer tea ice cream
Dessert is a tiramisu in a martini glass.The green tea is not in the actual mascarpone cream but sprinkled on top and there are blueberries scattered throughout the dessert. It comes with a slightly icey puer tea ice cream.
Our tea pilgrimage is complete.
So tell me Dear Reader, have you ever tried Puer tea? And are you a tea or coffee drinker and how many cups do you drink in a day? And do you find animals being killed in front of you too much and would you have walked away?
NQN visited China as a guest of China Southern Airlines and Anantara Hotels
Anantara Hotel Xishuangbanna
xishuangbanna.anantara.com/?
China Southern Airlines
www.flychinasouthern.com/?