All images taken on a Sigma 17-50mm F2.8 EX DC OS lens
You don't just happen upon Xishuangbanna (Zissh-wung-banna). It took one plane from Sydney and two planes from Guangzhou and an hour long ride to get here but then again many people couldn't even fathom that China would have a tropical rainforest area. I also think you'll be hard pressed to find someone that wouldn't wholeheartedly agree that it was worth every trembling, travelling mile to get here.
The enormous property by Thai luxury hotel chain Anantara is just six months old. We drive from the airport past verdant fields passing banana trees with rippled shades of greenery. Situated in Mengla County among a forest in the Yunnan province it is just a few hours away from its neighbour Thailand and it shares many of the weather conditions. Anantara is the first and currently only resort in this area and it is a popular destination attracting the wealthy Chinese market that want a tropical destination without leaving China.
View from lobby
All Anantara resorts share a heart stopping grand entrance designed to make the heart skip a beat. Luosuo River borders the resort which has just over 100 rooms and suites-this is a small resort by China's vast standards. Check in is made easy and we hop on a golf cart which stops at the various villas where you are personally checked in in the villa and shown the features. My villa is #315, a Garden Villa.
Entrance to villa
We open the external wooden doors which can be latched for further privacy. The  door swings open and the living area is large and stunningly appointed with a welcome fruit basket, pastries and a large flat screen television opposite the lounge.
Lounge room
There's a chair and ottoman to the side and this looks out onto the pool outside. The mini bar is well stocked with no other than the very addictive Biscoff cookies by Lotus (I squealed, yes I did) and tea and a Nespresso coffee machine sits on top of another credenza. There's no milk for my tea but I call for it and within ten minutes a smiling face is holding a litre of either skim or full cream milk. "Fat or non fat?" he asks and I sheepishly say "Fat, thank you."
Petit four tray and fruit basket, replenished daily
It's hard to know where to go next-the pool or the bedroom but I'm curious to see what the bed is like. There is a king sized bed in the spacious bedroom with another flat screen television, DVD player, work desk, ipod dock, free wifi and a very tempting day bed and reclining nook that also looks out onto the pool. My eyes are drawn to the blue of the pool but I'm shown further into the villa which seems to go on and on. My greeter and shower turns to me and says "I think you're a man" while smiling widely. "Oh errm thanks" I answer figuring that "a man" perhaps sounds like something else...
Bedroom nook and day bed
Then we stop at the walk in robe which holds two types of robes, slippers, iron, ironing board, safe, umbrella and wooden hangers and a marble topped area for luggage. My next stop is the bathroom-the most important room for me apart from the bedroom because I'm always hopeful for a soaking tub. The first thing I see are the twin sinks and the amenity kit which includes a vanity kit, dental it, razor kit, soap and lotion. There's also a shaving mirror to the right and a scale on the floor.
Dressing table
Anantara products
In centre of the bathroom is a large round ottoman to rest on and on the other side of this is a wooden dressing table.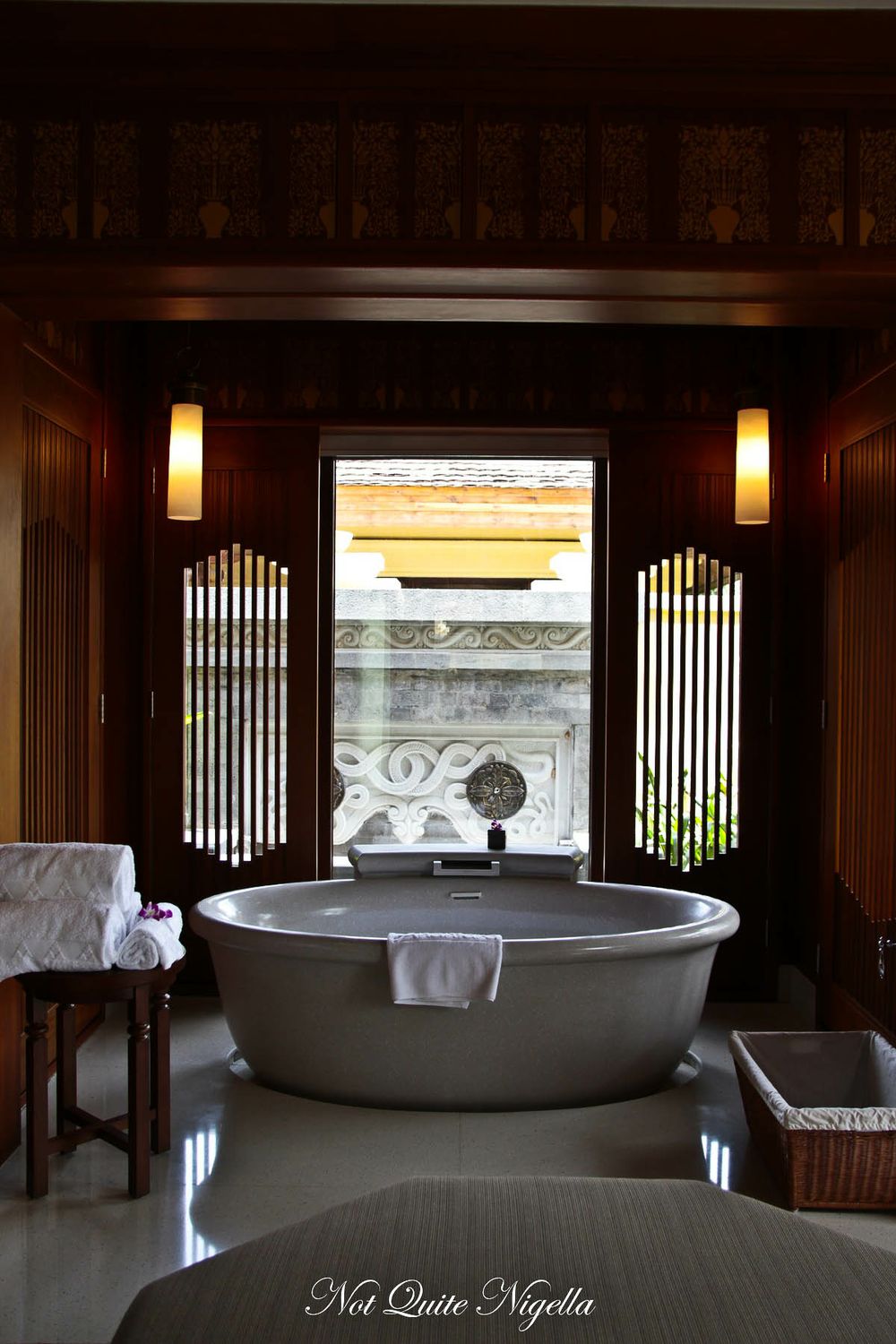 Bathtub
And then there's the bath. It's a beauty and I'd be lying if I didn't say that I wanted to abandon all plans for the afternoon and soak in it. The shower has a monsoon head and a cavity holds the shampoo, conditioner, body wash and soap while there is also a marble ledge on which to sit down. The shower opens out onto an outside shower area where you can shower by moonlight and there is also a barbecue there. The grass was a little overgrown in areas on the outside and needed a bit of a trim and tidy.
Individual pool
I wander out to the pool outside where there is a peacock motif. The pool is 1.4 metres deep and clear as crystal. There are two sun lounges and two lounge chairs as well as an inviting looking day bed which could seat about four quite happily. You'd think that the idea is to relax here wouldn't you with all of that lounging space available!
Pool day bed
If there are any downsides, it's that because it is tropical there are quite a few interesting looking bugs. They can get into the rooms quite easily as the doors have a small gap underneath them. I personally didn't experience any creepy crawlies but the journalist next to me had a very large cockroach and spider in her room-it's the tropics so it's almost expected. Also while the iPod dock is easy to use, the villa is so spacious that you can only really hear the music in the main bedroom. The master switch for all lights is also located across from the bed whereas putting it by the bed is more convenient and the pool area is the only area where there isn't a lot of privacy as you can see into the pool area of the villa next door.
Main resort infinity pool
There's a quick bite of lunch at the Luosuo restaurant in the main building which is a fairly close walk from the villas. Walking around the property, it's actually incredibly easy to forget that you are in China and about the restrictions on internet and I go to tweet something and realise that I can't.
Xishuangbanna pizza 
Lunch is a light salad and pizza from the pizza oven. There are three pizzas on offer, a Xishuangbanna pizza with a local specialty which is dried beef called "ganba" and local mushrooms. This particularly good and the dried beef isn't too desiccated and it has a strong flavour without being tough.
Yunnan pizza 
The Yunnan pizza features ham and local mixed mushrooms with a slightly spicy sauce to it. The pizza bases are thin and there's quite a bit of sauce and cheese on them too.
Luosuo pizza 
The Luosuo pizza is an interesting one with a topping a mix of tilapia fish and river snails and a sprinkling of dried seaweed which gives it a distinctly seafoody flavour. I don't really taste much of the river snail with the dominant flavours being the tilapia fish and the local seaweed.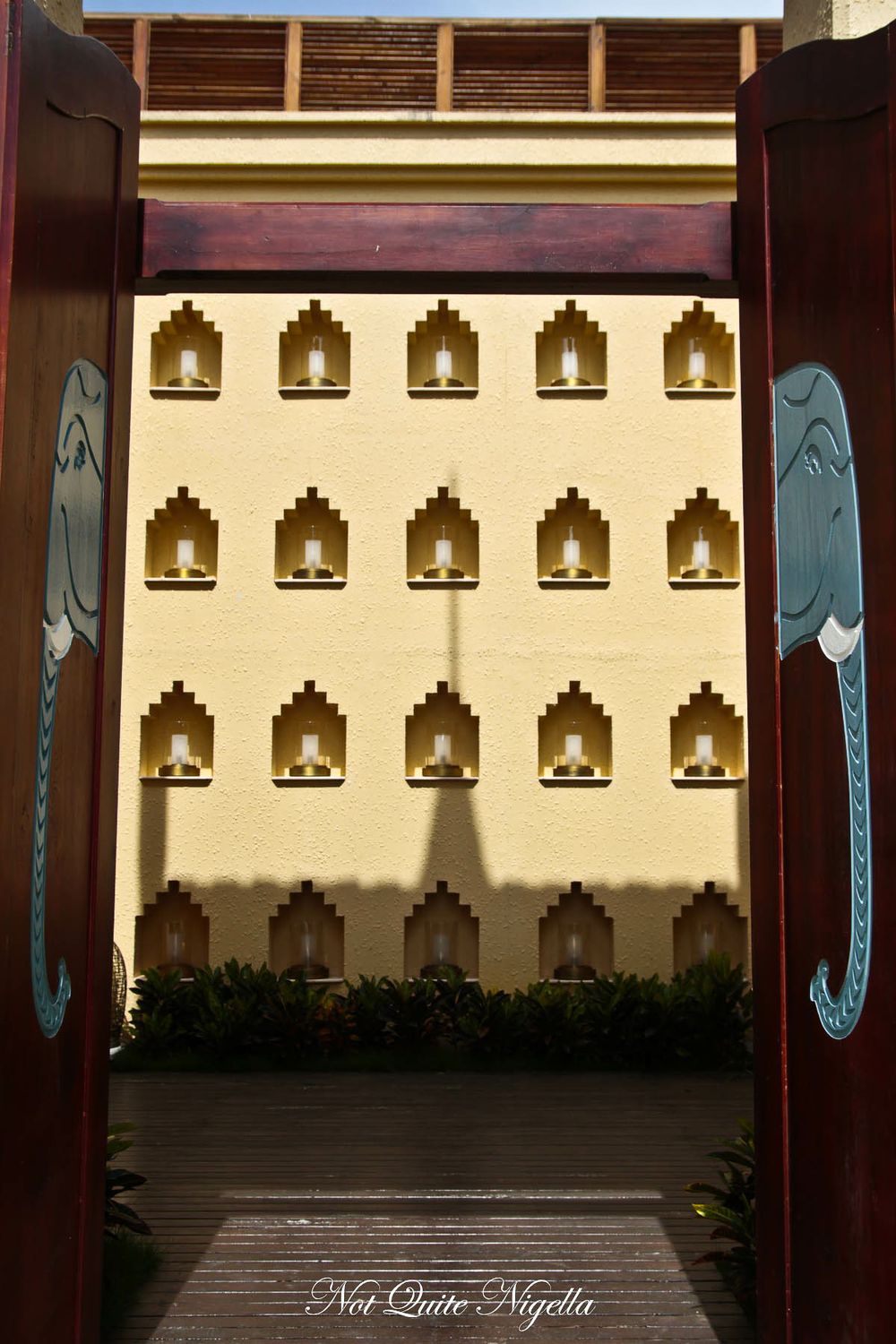 Spa entrance
After eating, we make our way to the spa. Anantara hotels are known for their spas and this one is quite new. Indeed there are a limited amount of treatments available and they're all massage based and facials are said to come. We're having the Anantara Signature Massage, a 90 minute massage that is available across all Anantara hotels.
Spa waiting room
My Thai therapist Rungnapa takes me to one of the eight pavilions where I disrobe and have the option of taking a shower which I take up in this heat. Everything is laid out for me and I shower and return to the main room where I remove my robe and lie face up. All my protests about not needing much work done on my legs are soundly deemed unworthy as I turn to jelly and fall asleep almost straight away.
I have also booked in for a 30 minute back massage and a sixty minute Indian head massage on another day and I'm delighted to see that I have Rungnapa again. She starts with sweet almond oil and despite her petite size and sweet demeanor, she gets into those knots hard while climbing on top and using her weight to get into the most tightly twisted knots. "You hold a lot of tension in your shoulders and back" she says and I murmur assent.
Paivlion treatment changing room
She moves up to my neck and using a dropper dots lines of hot virgin coconut oil on my scalp. She uses a mixture of fast and swift movement and long, deep strokes before she curls my hair with her fingers and gives it a gently but firm tug which releases a lot of tension. I turn over and she continues the massage concentrating on the top of my head and then I sit up where she continues. By the end I am almost fast asleep.
Afternoon tea at the Anantara is worth a stop as they do an East meets West version of the afternoon favourite priced at 108Y or $18.59AUD a person for the set menu. People can either select items from the a la carte menu or they can choose the set menu. As there are so many of us, we are offered the buffet which has been set up in the upstairs Lotus lounge, beautifully decorated in bright pinks and blues with a  floral motif.
There was a range of items to choose from including a deep fried durian puff, coconut dusted red bean cakes that resemble tiny squares of lamington, steamed coconut layer cake, egg custard tarts with blueberry, deep fried spring rolls filled with salted duck yolk and honey dew melon.
The Western selection has Puer tea mousse, olive puff pastry, a Napoleon, raisin scones and a blueberry mousse and everyone's favourite: passionfruit macarons. If you've ever tried to make these little buggers, you'll know how hard they are to make in a humid environment but the four talented pastry chefs taught by young Chinese chef Nick churn out divinely soft macarons.
Xishuangbanna Tropical Botanical Gardens
One of the most fascinating attractions in the area is the Xishuangbanna Tropical Botanical Gardens (XTBG) tour. For a time nobody believed that China had tropical rainforest and they had to send in samples of trees grown in a rainforest to prove that they had that climate. The XTBG is a huge attraction-huge as in area with 1,100 hectares of park and about thirty separate gardens to look at. Golf carts travel around the gardens depositing people where they need to go.
Shy tree
Today we have two guides. John is a Chinese plant physiology student who helps to translate some of the Chinese XTBG guide's answers for us. He shows us a tree and strokes the leaves "This is the shy tree" he says and remarkably our warm touch causes the normally robust leaves to shy away and gather together. Nearby is a shy plant that is raised just centimetres from the ground. In a fascinating show, we run our hands and umbrellas over it and it shrinks down as if instantly deflated.
Shy plant
Perhaps the most famous plant in the garden is the Dancing Grass and our guide plays Mozart on his phone. The tiny leaves in the plant voluntarily droop and rise at random. They flick up and down in response to the music.
Single man tree
"This is the 'single man' tree" John says and he shows us a tree without any leaves or fruit named because it cannot reproduce. The museum is also fascinating although the whole garden is really best approached with an English speaking guide if you don't speak Chinese unless you have good plant knowledge. In the museum are the original tree trunks that they submitted to prove that tropical rainforest exists in China.
There are also fascinating displays of Dai life and explanations of the different ethnic tribes in the area. Perhaps one of the more intriguing items are the framed butterflies. The Teinopalpus Aureus is the Chinese national butterfly and is considered as rare as a panda. The butterfly itself defies capture by suiciding when they are captured so finding an intact specimen like this is rare and it is worth a small fortune.
Back at the hotel the next day, breakfast, a meal that I am often prone to skipping is tempting. The selections are well chosen with a range of Chinese dim sum delicacies, popular local noodle soups and a selection of western savouries including bacon, sausage, salmon and scrambled eggs. There are also freshly made French toast, pancakes and waffles.
The coffee selection is also extensive with a dozen varieties from all over the world including a Yunnan coffee bean along with a barista on hand to be your coffee.
Yunnan ham
Another station houses the fruit and fruit juices and compotes while in front of this are the cheeses, cold cuts, smoked salmon and six types of yogurt from pineapple, poached apple to strawberry. The only item that causes a little confusion is a request for a glass of water!
I take a selection of items and please forgive me Dear Reader for not coordinating or theming the ingredients but I thought that I should try a bit of everything that caught my eye. The first plate features grilled salmon which is succulent and moreish (I went back for another piece later). The potatoes with bacon and onion were also good. The bacon is actually a beef bacon and tested similar to Chinese sweet meat.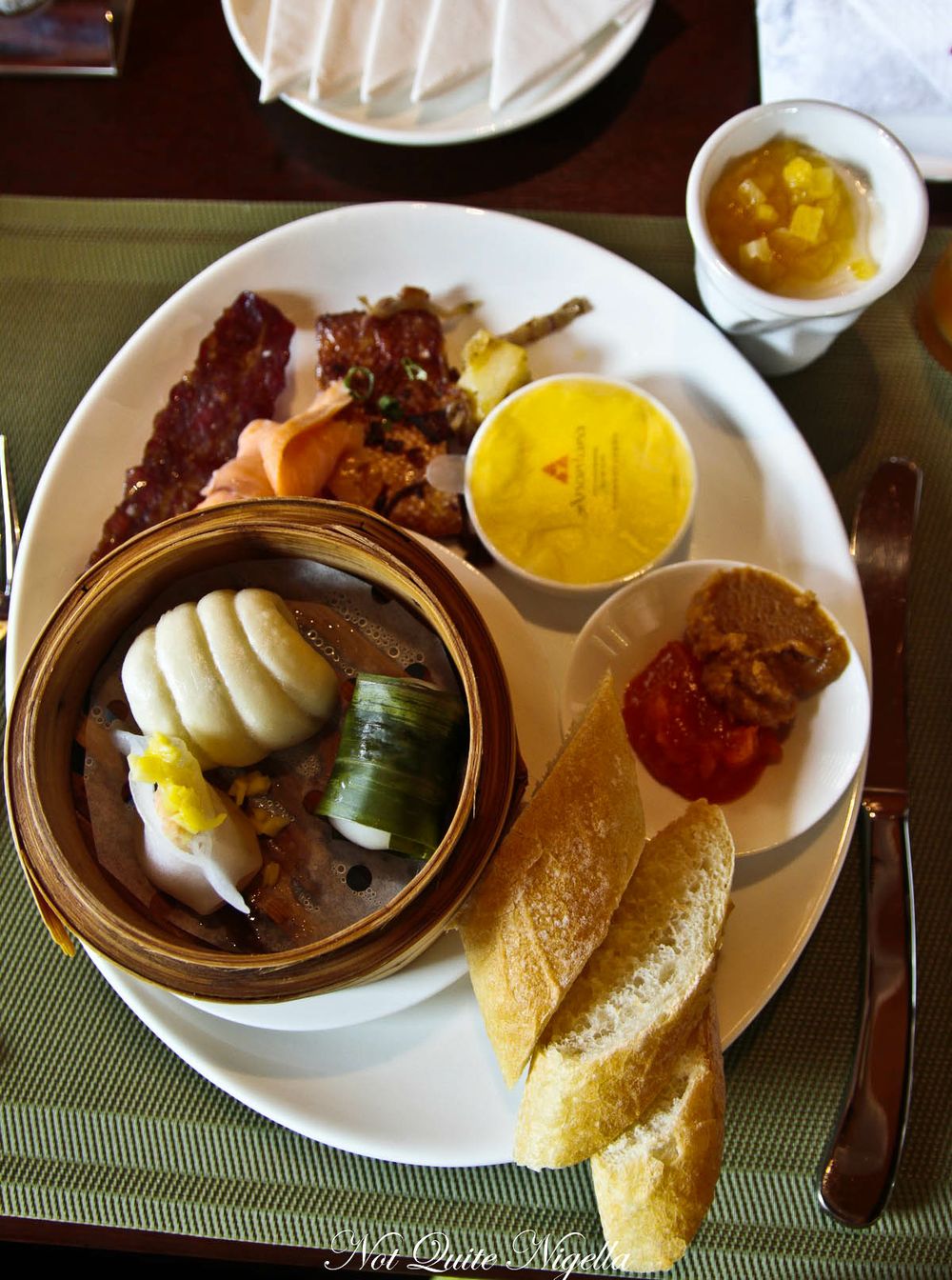 I liked the prawn dumpling from the dim sum selection although I wasn't quite as taken with the other two, especially the white bun with the sausage in it. The cheeses are decent too and the pineapple yogurt is delicious and creamy but not too heavy. The Yunnan ham is interesting-served as you would jamon and thinly sliced, the first impression is that of saltiness with a slightly tough texture.
And last but not least is the bowl of noodles that were freshly made. They come with some book choy, half a boiled egg and some beef mince on top. Underneath this are pulled rice noodles and a rich, spicy soup that made me rethink this whole no breakfast situation!
So tell me Dear Reader, when you travel, do you always eat breakfast at the hotel? And do you love hotels rooms as much as I do?
NQN visited China as a guest of China Southern Airlines and Anantara Hotels
Anantara Hotel Xishuangbanna
xishuangbanna.anantara.com/?
China Southern Airlines
www.flychinasouthern.com/?
Xishuangbanna Tropical Botanical Garden
english.xtbg.cas.cn/