I blink my eyes twice, three times then four. It's a mist that surrounds us. Just like an image of a fishing town, Halifax in Nova Scotia surrounds me edged in a grey mist. I see the sea etched deep in craggy faces that pass me in the light blue eyes of men with grey beards. My nickname for these maritimers: "Salty Pete."
The ocean is so much a part of life here. Halifax's main port operates 12 months a year - the port is a no ice port so there's no break from fishing and restaurants here offer the bounty of the sea. Fresh lobster is caught 12 months a year from various parts of Nova Scotia which by coincidence or fate, just happens to be shaped like a lobster. Nova Scotia (or 'new Scotland') was one of the first provinces of Canada to be settled.
I check into my hotel, the Westin Nova Scotian and make my way up to my room. It's a little weathered but comfortable and warm inside and I fall asleep quickly. The next morning I wake up and pull back the curtains. The mist is still there.
Our first stop is a tour with Ambassatours on a bus to help orient us with the city. The tour takes us on a view of the main downtown area pointing out historical buildings, the wharf area and the farmer's market as well as St Paul's church with its royal pew, said to be the oldest continuously running church in North America.
Quirky street lights made by local artists that light up at night
Shops have quirky names like The Foggy Goggle, The Stubborn Goat, The Wooden Monkey and Biscuit General Store. It's bucketing down with rain so we watch the views from behind a steamy screen, wiping them down when the view is too obscured.
Crests and gables signal historical buildings and our guide points out the Victorian Inn where Oscar Wilde stayed. We drive past a church that was built in one day.
The fate of pirates
Buildings formerly owned by Privateers now house boutiques. Privateers were legalised pirates that were given permission to plunder merchant ships from other countries. It's a controversial part of Nova Scotian history much like the Expulsion where from 1755–1763 the English removed the French Acadians.
The Acadians were the first Europeans settlers after the native Mi'kmaq (pronounced mick-maw). They were relocated to areas like Louisiana where they became "Cajuns." The Acadians are today revered for their ability to settle the land and for their work ethic.
We arrive at the Maritime Museum of the Atlantic where we take a peek on board the Acadia, a hydrographic ship used by the government to chart water depths and conditions. It's actually a fascinating look into the life of the crew and our guide Derek shows us the different levels of accommodation from the hydrographers whose quarters were luxurious to the crew whose conditions involved sharing a dozen to a room.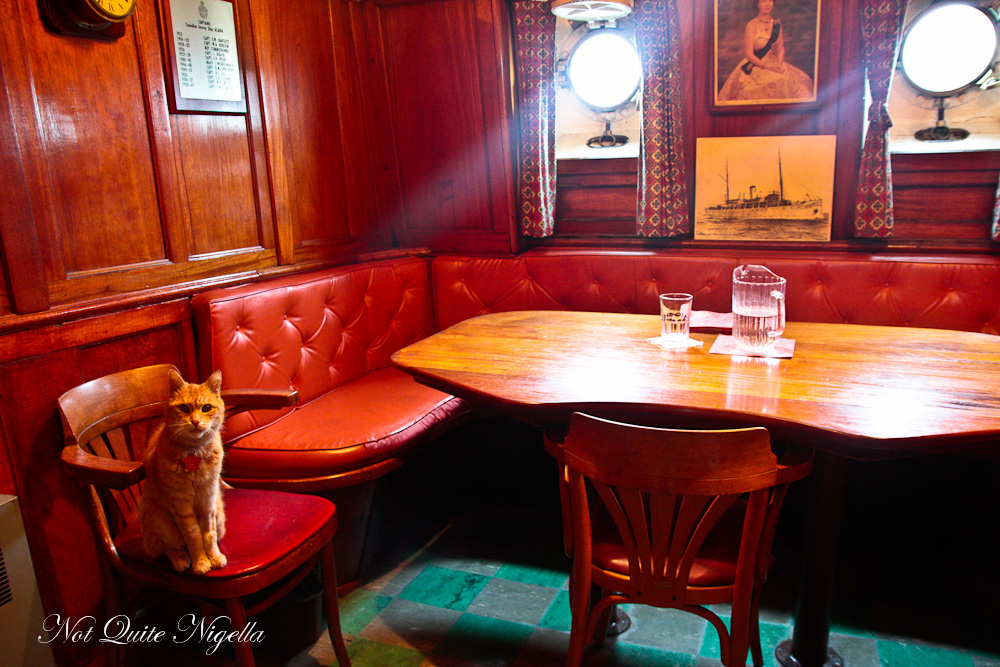 The head of hydrography even outranked the ship's captain and his quarters were enormous and well appointed. There's even a ship's cat.
The museum also holds two popular exhibits: a Titanic exhibit as well as an exhibit that displays artifacts and photos from the Halifax Explosion, one of the most tragic events in Halifax's history.
In 1917 two ships collided, one carrying munitions. About twenty minutes after their collision, when many had gathered on the dock to watch the ships after they had hit, a fire started on the SS Mont Blanc which was carrying munitions and a explosion wiped out people within a half mile radius of the blast killing 2,000 (1,600 immediately) and injuring 9,000. A tsunami and a snowstorm followed exacerbating casualties. It is considered Nova Scotia's biggest tragedy.
With all of this talk of the sea, we adjourn to the nearby Waterfront Warehouse restaurant for some lunch. Known for its seafood chowder and mussels, we take a seat in the maritime themed restaurant and order a few orders of each along with lobster roll.
Chowder Shrimp, scallops, haddock, salmon and mussels prepared fresh to order $14
The chowder is a large bowl of smooth, creamy soup with small chunks of corn, capsicum, celery and carrot as well as seafood to give it flavour and texture. It's a warming soup with an appealingly creamy texture.
Mussels Steamed herb white wine broth $11
There was a choice of chilli sauce or white wine and we went for the latter. The local mussels are small sized black mussels that are flavoured lightly with a white wine and herb broth which is rich in thyme. The mussels are tender and full of flavour.
Oyster plate
There was a display of about half a dozen oysters and we were given a selection of a few types including Village Point and Pristine Bay oysters. They're freshly shucked to order and best served with just lemon although there are quite a few sauces and relishes to choose from.
Lobster Roll with house-made chips & coleslaw $16
I couldn't resist but try the lobster roll. It's housed in a long bun and is stuffed with lobster mix blended up with mayonnaise and celery and a slice of tomato and lettuce. I must admit that I prefer larger chunks of lobster and the flavour is a bit watery but the thick house made chips and coleslaw are good accompaniments.
Lobster is such a popular item that you can even buy live lobster and the airlines will store it in the hold for you to take home (although I'm not sure how Australian customs would react to that! ;)).
After that, we're off to a food tour with Emily from Local Tasting Tours. Her tours allow you to explore the city on foot and try several food highlights for a very reasonable price of $30 per person. Each tour takes about two hours and they start at the farmer's markets which are situated right on the wharf, a short walk from the hotel and the main area of Halifax.
We begin at Norbert's which is a store that sells organic produce alongside cafe offerings. Much of the produce comes from Norbert's own farm Selwood Green and Norbert himself moved here from Germany in the 1980's.
The first taste is a sampler of the "Harvest Salad" which is full of crisp, fresh greens, slices of spring turnip and cucumber with a sweet vinaigrette made with local honey, apple cider vinegar and olive oil.
We walk along the boardwalk to Lower Water Street and arrive at Sugah which is a chocolate shop where we'll have a couple of chocolate tastings.
They show us the fresh lime zest that they'll use in an upcoming batch of chocolate. This will be dried overnight and then added to white chocolate along with cayenne pepper and pistachio which has a distinctive back top palate heat at the end. There is also a sample of the 54% dark chocolate with maple sugar.
The store has an excellent and quirky variety of chocolate and lollies and their chocolates are all made in small batches with the other confectionery made in a copper pot.
We stop in next door at the Rum Runner Rum Cake factory which is a nod to Halifax's prohibition past. Here they make rum cakes in chocolate, vanilla and whisky. They're generous with the free samples and the cakes are all moist and made on site - the kitchen with the baking bundt molds is at the back of the store.
The pick is the Glen Breton whisky cake which has a lovely aroma and flavour of spice and whisky and they are sold in two sizes, a smaller size and a larger cake in a tin for $23.95. The Glen Breton whisky is the first single malt whisky in North America.
Our next stop is at the original farmer's markets further in the centre of town where Emily brings out some bread and oil as well as a wooden box which contains some dukkah and za'atar. These are made by Spice Trekkers who usually have their stand at the location on the weekend. They're both good, the za'atar quite minty but the dukkah made with almonds is the pick.
We check the rain level-it's still absolutely pouring but the food tour goes ahead rain hail or shine and as we're covering so many places in a short period of time we go ahead getting drenched in the process. Bracing ourselves, we take our umbrellas and make a quick dash for the next location, at Ciboulette which is French for Chives.
Chives is actually the name of one of the town's best restaurants but Ciboulette is the casual version where people can buy sandwiches and snacks but with the same local, seasonable sensibility as Chives. The eating area is also located right above a yarn store which is a quirky location.
We have a freshly grilled panini filled with roast beef, cheese, spinach and caramelised onion and it's delicious. The panini has a crunch to it and the ratio of filling to bread is just right.
Moving quickly because time is running out and we're trying to beat the torrents of rain, we cross the road to Mezza restaurant which makes what is said to be the best shawarma in town. it is owned by a Lebanese family that moved here in the 90's.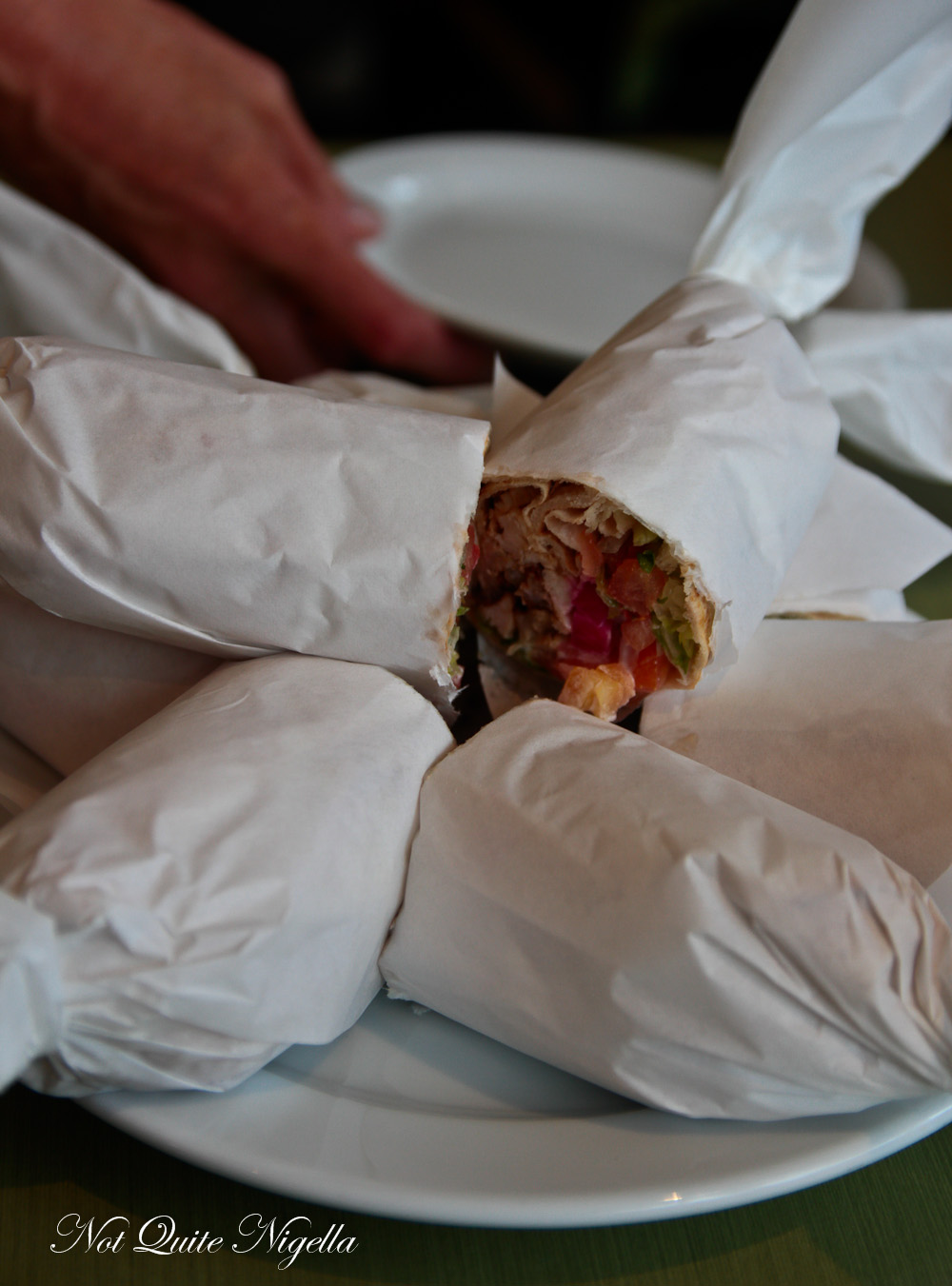 We pass around half shawarmas and they're filled with lettuce, pickles, tomato, chicken and a pungent garlic sauce. By now I'm getting very full.
Our second last stop is nearby in a late night area of Halifax. Burrito Jax's owners were formerly in real estate but decided that they wanted to branch out into food. When they decided to make burritos, they researched by travelling far and wide in North America tasting burritos from ninety different places. "Things happen a bit slower here" Emily says smiling and the first burritos were only here in 2009.
There are two on offer: a chicken burrito stuffed with spiced chicken, beans and rice or a pulled pork burrito. The burritos are enormously popular with the college crowd and they are slightly toasted on the outside giving them a crispy edge.
Our last stop is one for sweets. At Le French Fix, Geoffroy Chevallier makes cakes, macarons and canelés. We stop for a cup of single origin coffee and a chocolate macaron which has a crisp shell and a chocolate ganache filling.
Emily passes us one last farewell treat, it's a chocolate shortbread from Janes on the common. It's dark, rich and crisp.
That evening's dinner is at Stories At the Halliburton House, a lovely small boutique hotel in downtown Halifax said to be the best small hotel.
The slogan outside says "relaxed fine dining" which really speaks to the tone of Halifax. People here prefer to be comfortable rather than formal. A feature of this hotel restaurant are the many small private dining rooms which means that you are quite likely to have a room all to yourself, even for smallish tables. We're led to one towards the back of the inn.
The wine list has a good range of Nova Scotian wines and we take some recommendations from the waitress who explains each item in detail. And the bread is not to be missed, it's delicious with the house churned butter.
Pan seared rice paper wrapped sea scallops, ginger sesame vinaigrette $15
The scallop dish has been on the menu since the very beginning and customers will not allow them to take it off. It is six Canadian scallops wrapped in pairs inside crispy fried rice paper. There's a sweet ginger and sesame vinaigrette and a dressed salad in the sweet wafer inside. The crispiness of the rice paper is wonderful against the soft texture of the perfectly cooked scallops.
Grilled beef tenderloin, braised beef shank, bleu d'Auvergne cap, Cabernet reduction $35
My main is the grilled beef tenderloin that has been cooked perfectly medium rare. On top of it sits a soft braised beef shank and a rich bleu d'Auvergne cheese and there is a Cabernet reduction on the bottom. I also enjoyed the potato cake with the crispy potato outer and soft layered filling. There was also a medley of vegetables to the side which was a nice touch as we didn't need to order sides.
Semi-frozen chocolate terrine, mango coulis $9.50
I was uming and ahing over dessert. I usually go for something fruity but I was tempted by the semi frozen chocolate terrine which interestingly comes out at a stacked dessert made out of slices of the chocolate terrine. At first I thought it might be like a semi freddo but it's more like a chocolate ganache - all rich and smooth texture. It sits on a bed of mango coulis with fresh mulberries and raspberries. And despite my "one bite only" stance, I eat most of this.
As we walk back to our hotel, the ever present mist is still there.
So tell me Dear Reader, what is your favourite type of seafood? Lobster, mussels, fish, crab, squid or something else? And would you try and take a live lobster home to cook if you could?
NQN travelled to Canada as a guest of the Canadian Tourism Commission, Destination Halifax and Nova Scotian Tourism Agency.
Westin Nova Scotian
1181 Hollis St
Halifax, NS
(902) 421-1000
Ambassatours
www.ambassatours.com
Maritime Museum of the Atlantic
1675 Lower Water St, Halifax, NS B3J 1S3, Canada
Waterfront Warehouse
1549 Lower Water St, Halifax, NS B3J 1V4, Canada
Tel:+1 902-425-7610
Local Tasting Tours
localtastingtours.com/
Stories at The Halliburton
5184 Morris St, Halifax, Nova Scotia B3J 1B3, Canada
Tel:+1 902 444-4400